Mo:Ben is a handy food container that includes a built-in film heater component that can heat up foods to a pre-heated temperature. Mo:Ben's main mechanism of maintaining the heat is the combination of foam-filled cavity insulation and the built-in heating factor. There are two main parts of the device; one is the external box that features a carry grip, slip protective rubber base and cutlery storage, and another is the temperature sensitive substance for food preparation indication. The internal box holds the food and can be detached for convenient dish-washing. The arrangements inside the box are designed to encourage variety of food and mixing of food is prevented by different available compartments.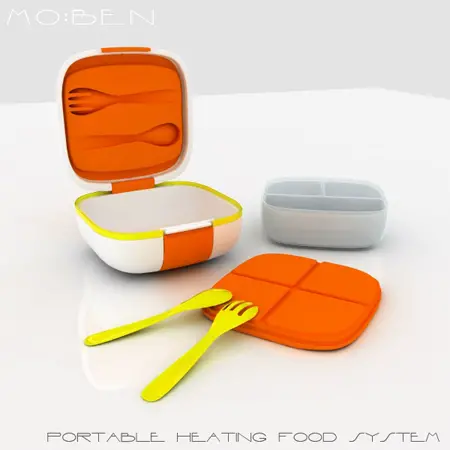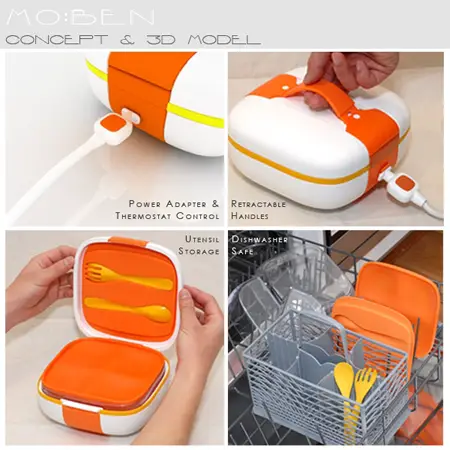 This design has been inspired by traditional Japanese ideals of functionality and simplicity of the bento box while fusing it with modern technology of heating, insulation and materials.
Customizable lunch options
– Compartmentalization to 2 different portion sizes.
– Variety and visual appeal.
– Healthier options with the relationship to food consumption.
Takeaway waste
– Negates takeaway waste as product can be reused.
– Food contact parts easily removed for easy cleaning.
– Ease of use and cleaning encourages users to reuse the product.
Aesthetics
– The product and user interface is designed with a simple and clean sense of quality.
– Retractable handles are flushed with surface when not in use.
– Overall package compacts into a single unit.
– Silicone rubber is reminiscent of traditional rubber band around a box.
– Silicone rubber acts as a non-slip base when eating with one hand.
– Band colour choices allow for personality customization.
Functionality
– Designed for usability, the product has been considered through the process from preparation to transport, idle period, eating experience, and cleaning.
– Tested ergonomically through a series of models and prototypes.
Standards
– Australian Standard for Plastic Materials for Food Contact Use, AS 2070-1999.
– Food Safety Standards – Temperature control requirements.
– Australian/New Zealand Standard for Safety of household and similar electrical appliances, AS/NZS 3350.2.15:2002.
– ISO 20282: "Ease of Operation of Every Day Products".
Materials
– Internal Box is made of Polycarbonate for its durability.
– External Box is made of A.B.S for its availability and strength in appliance applications.
– Foam is used for insulation, ease of manufacture, availability and cost.
Technology
– Film heaters embedded at the base of the product, heating the internal box from bottom up.
– Food is heated to 75 degrees Celsius, controlled by an internal thermostat.
– Electronics are divided up into an active unit – electronic control adapter and a passive unit – lunch box unit to enhance safety.
To conclude, the product seeks to address a culture through design and present a new and satisfying experience for the user.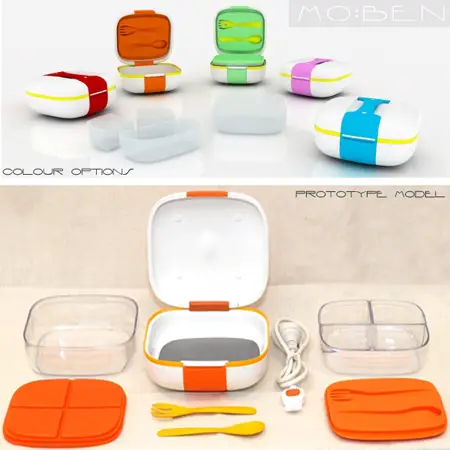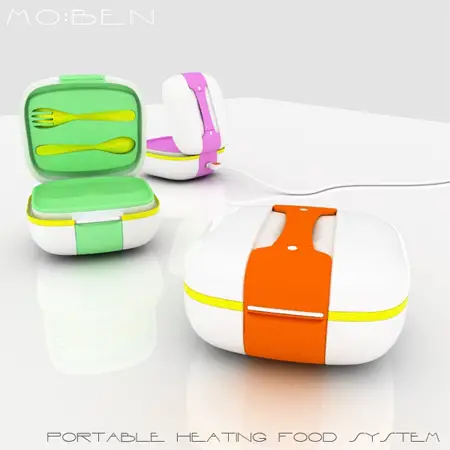 Designer : Alex Cheong
*Some of our stories include affiliate links. If you buy something through one of these links, we may earn an affiliate commission.