This most modern minivan must come to the retailers of present days. These small vans are run by solar panels and so they emit no obnoxious gases and so these are very eco-friendly. It has a body that is easily changeable and the inside can be fitted with different detachable modules which can be used to store different items according to the changing need of the market. Various items like frozen deserts, hot snacks, greetings cards, magazines and souvenirs can be kept inside it, as the solar panel on the top of the van suffice for the electricity supply needed without any extra cost.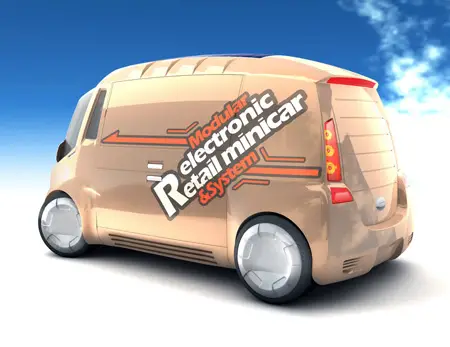 Zhang says:
MERM (Modular Electronic Retail Minivan) facilitates a mobile retail market that could bring retail services and vibrancy to city areas that have been drained of intensity due to singular functional uses or irregular visitor flows. With its various functional modules and transformable car body, MERM makes optimum use of the space it occupies. The electric engine does not produce any air pollution and the solar panel on the roof provides power for all facilities on board.
With the help of a central information system, a group of mobile MERMs could greatly increase the efficiency of the retail process, and reduce unnecessary municipal input. So that MERM can match various sales purposes in different environments, the central container has been designed with changeable modules. These accommodate "Magazines and Souvenirs", "Hot Food" and "Frozen Food". Users can purchase several types of modules and choose a two-module combination (one for each side of MERM) that best fits their current sales plan. Modules are easy to replace by simply sliding them out from the car body.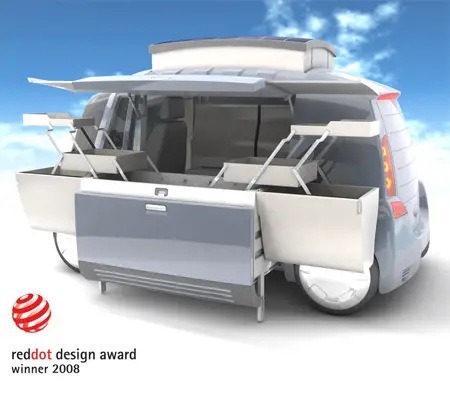 When MERM is in driving mode, all the inner space is fully used for storing goods. When it's switched to retail booth mode, the shelf can be easily unfolded for display outside the car, making adequate space for the vendor to stand inside. This feature minimizes the size of the car and thus reduces its energy consumption. Also, the compact size enables the user to drive in narrow urban streets.
Designer : Zhang Zhongren
*Some of our stories include affiliate links. If you buy something through one of these links, we may earn an affiliate commission.