Can u believe that your credit card is capable of diagnosing HIV at a cost of just $1? It's true, a portable blood test can be performed and the presence of HIV can be instantly indicated by mChip device designed by the scientists of the University of Columbia in New York. mChip is the device on the size of a credit card specially designed for this purpose. Various tests conducted among various majorities of people revels that the test has a perfect 95 % accuracy on an average. The cost is cheaper hence a large set of diagnostic tests is possible and is accessible even for common people. It makes a large difference in the mentality of people who hesitate to go to clinics or hospitals for testing their blood. A pin-prick of blood is taken and optics is used to read the fluid.
The blood passes through ten detection zones for analysis and returns a positive or negative outcome for HIV or syphilis. The time duration taken is about 15 minutes. A simple color-code similar to pregnancy test is used to display the result. mChip extremely cheap and efficient and serves as a major breakthrough in fighting against HIV throughout the world.
Designer : Prof. Samuel Sia via [DailyMail]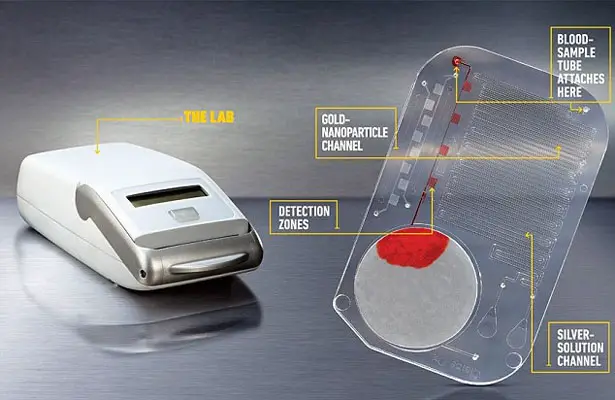 *Some of our stories include affiliate links. If you buy something through one of these links, we may earn an affiliate commission.