This amazing Oculus yacht design by Schopfer Yachts is really an amazing looker that literally can be said to be a design of the future. This 250 foot long yacht has luxury written all over it, be it the design or the interiors. In overall design, the added effect with the 12-foot high dome shaped ceiling is simply mesmerizing. The yacht is divided into three levels with the ground level being a common area for the guests to be entertained and the second and third level being private for the owner if chosen so, which are subsequently connected by stairs. All one can say is welcome to indulgence!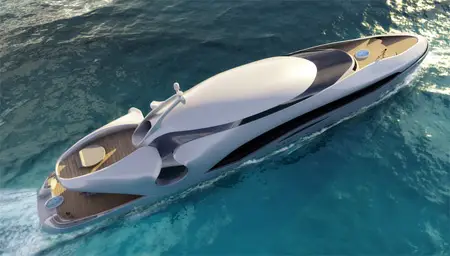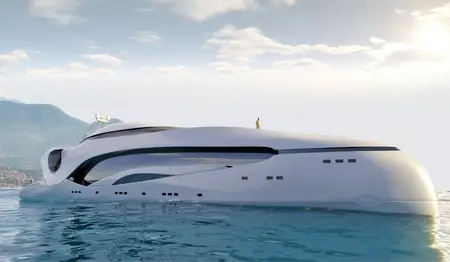 Text from website:
Oculus is the first "design launch" of Schöpfer Yachts LLC. This 250-foot vessel was designed by E. Kevin Schöpfer, founder and owner of his namesake company.
Designed to accommodate 12 guests in extraordinary comfort and style, Oculus is a long distance cruising yacht capable of speeds upwards of 25 knots.
The exterior styling is representative of the jaw and eye socket bone structure of large oceanic fish and mammals. Featuring a dramatic reverse bow configuration, the yacht's armature balances an elegant expression of symmetry and structure.
In addition to the bow, Oculus also features a "low rider profile". This slightly lowered surface allows for new side recreational areas, alternate dockage access and light cruising openness. Lateral retractable side panels close this area when heavier wave action is indicated.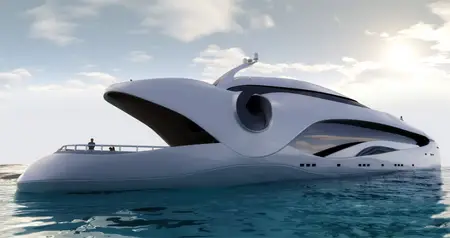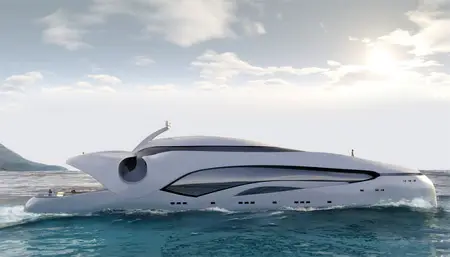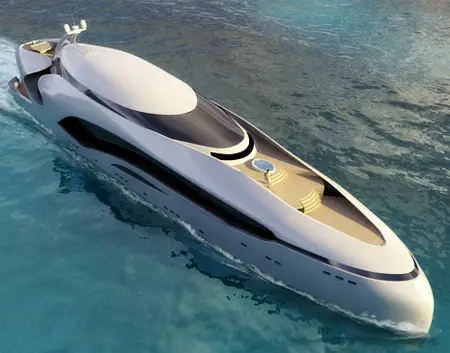 The interior features of Oculus focus on a 12 foot high ceiling in the main salon, a cylindrical double height dining room, central stair and elevator tube, and seemingly anatomical ceiling and floor lighting extensions giving definition to the seating areas.
The second level is the dedicated Owner's suite. Living areas and bedchambers are divided by a series of four freestanding tubes, which house bath and storage necessities.
In addition to the main common stair, the second Owner's stair connects to the third level aft private salon and deck / water feature.
The third level also contains the forward pilothouse and separate captain's quarters. The generous open decks with separate water features are located forward and aft for convenient guest use. Specifications and plans are in the final stages of completion and will be posted at a later time.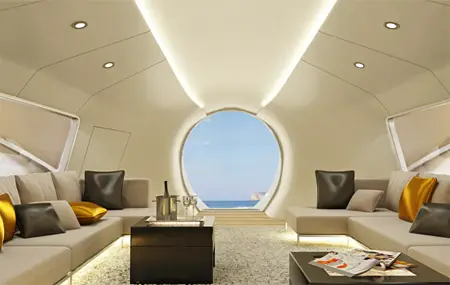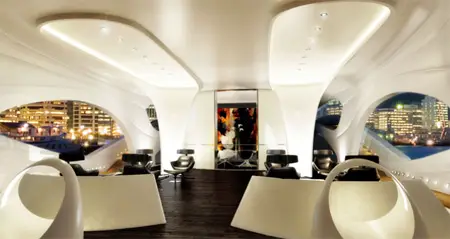 Designer : Schopfer Yachts
*Some of our stories include affiliate links. If you buy something through one of these links, we may earn an affiliate commission.