Vela is an 80m sailing yacht with the propulsion provided by a hybrid engine and by 1875sqm. of sail plan mounted on two Dynarig masts positioned in a way to maintain the center of pressure approximately in the middle of the yacht. The exterior design features sleek and soft lines, like a stone levitated by the sea. The body of the yacht is made of steel and it's painted in white, while the exterior ceilings are cladded in wood.
The superstructure creates terraces to create al-fresco spaces for dining and for parties, these spaces are directly connected with the interior ambient thanks to the big electrical glazed doors to enhance the contact with the sea and with the exterior. This design provides an inside-out experience to the guests where they can stay in the four guest cabins on the lower deck and in the master cabin on the main deck. The last one is a fully equipped luxury suite, with retractable balconies, Jacuzzi, and it's conceived as a big open space.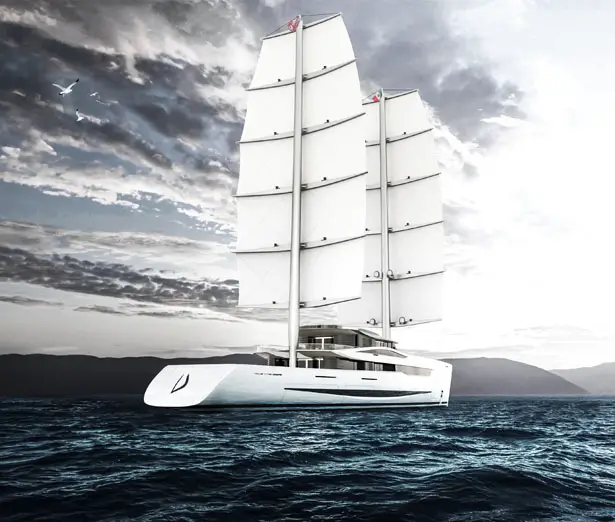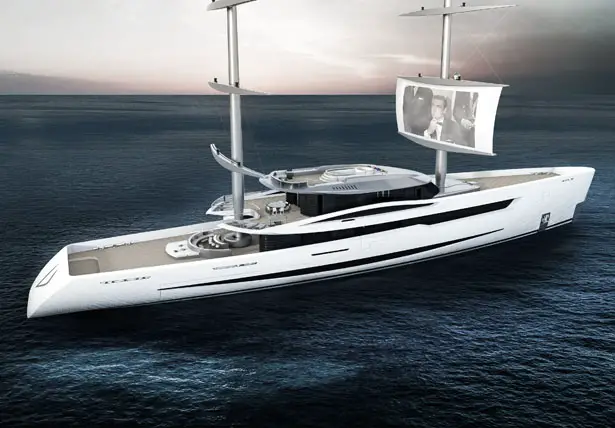 The passengers on board of Vela Sailing Yacht Concept by Gianmarco Cardia can enjoy a large amount of amenities, such as the large beach club with bar and beauty saloon. Moving towards the bow, they can find a wine cellar in the lobby of the lower deck, where a spiral staircase (with a glazed lift in the center) allows them to reach the main deck that features the main lounge with dining and a private conference room.
Moving on the outside the guests can have drink in the large bar near the mast, while relaxing on the sunbed. The upper deck contains a lounge with cinema, piano and bar, and you can classify this space as the main "party area". It's completed with wellness/fitness center towards the bow, just behind the wheelhouse. On the latter deck, there's a big sunbathing area with a Jacuzzi pool and a sofa/ sunbed where guests can relax while watching the cinema projected onto the sails of the front mast.
The accommodation for the crew of 16 people is located in one the lower deck. It's composed of 8 en-suite cabins, a crew mess with lounge, galleys, and tech spaces. The name "Vela" in Italian means "sail" and it's also the name of one the biggest and brightest constellations.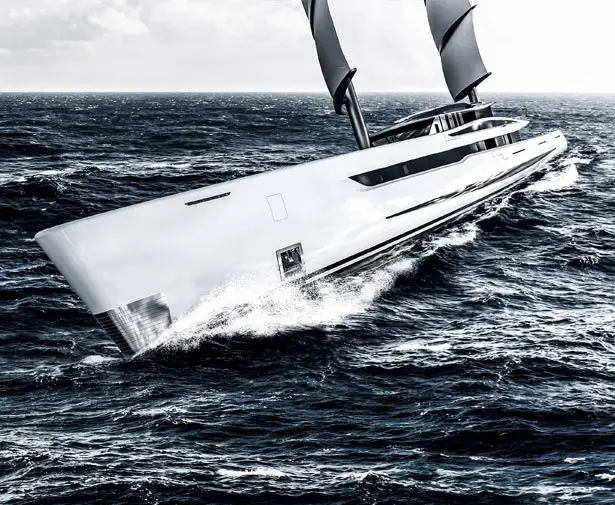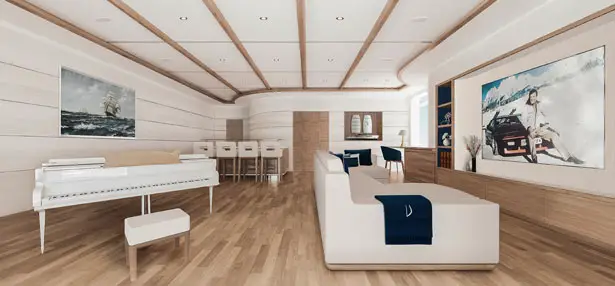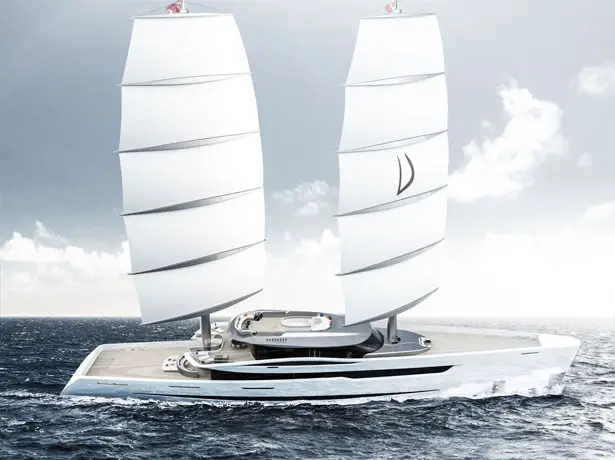 *Some of our stories include affiliate links. If you buy something through one of these links, we may earn an affiliate commission.