LUV is a walking frame designed to assist in the mobility of the elderly.
The universal design approach aims to create products that enhance our physical environment, are easily accessible, and allow comfort for users. The general approach is to create a comfortable product useful for anyone, regardless of age or ability. LUV has been designed to assist the elderly with mobility. Designed with adjustable height handles and supportive mechanisms, LUV can also be perceived as a support, which is able to help relieve stress and pain in the back.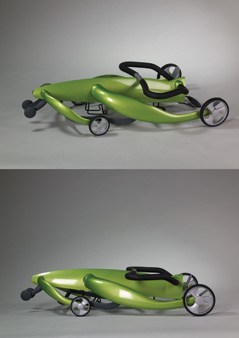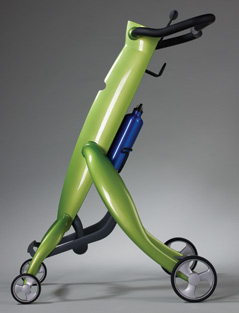 LUV has been designed as a foldable support with wheels and movable handles. These user-friendly features aid the user in carrying equipment, goods, luggage and other items. LUV is also designed with an integrated water bottle compartment. Its sleek, sporty design takes its formal inspiration from the Oriental long-headed locust and the grasshopper.
Designer : Chey Ho-Chyun, Moon Cheol-Woong, Hwang Kyung-Chan, Kim Hyun-Jeong
From Universal Design Center of Kangnam University,
*Some of our stories include affiliate links. If you buy something through one of these links, we may earn an affiliate commission.