The first impression of Guardian S Class speed boat, with its shape like a rifle bullet, may seem fast and powerful. But making it environment friendly has been more emphasized during the design process of the yacht concept considering the fact that a world without a living human due to massive global warming pollution may not need to be fast and powerful at all.
Guardian S Class is a carbon fiber solar hybrid vessel that gets power from the combination of a carbon Grossbauteile electric motor and an EPA car regulated Mercedes Benz Bluetec engine, making it 50% less fuel consuming and 100% GHG emission free in comparison with currently available technologies. It comprises a Lithium ion UPS that provides zero carbon cursing for up to 50 nautical miles, while the SunPower array plug-in generates enough energy to motor carbon neutral for around 1000 nautical miles a year. This yacht concept can easily become a milestone for the boat manufacturers to reduce 375 million metric tons of CO2 per year that has been recorded creating by recreational boats, thus massively reducing global warming pollution too.
Designer : Sauter Carbon Offset Design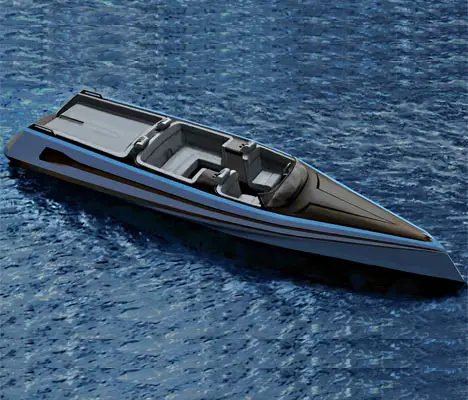 Currently available technology present in the Guardian S Class Tender:
Parallel Mercedes Benz Bluetec V6/ Carbon-Grossbauteile Electric power generation
All Carbon Fibre construction / CGB GmbH
Optimum SunPower 315 Solar Cell deployment.
Volvo 400 IPS Duoprop propeller system.
Advanced Wave Piercing Hi-speed displacement hull.
Plug-in Lithium ion UPS rated at 50Kwh.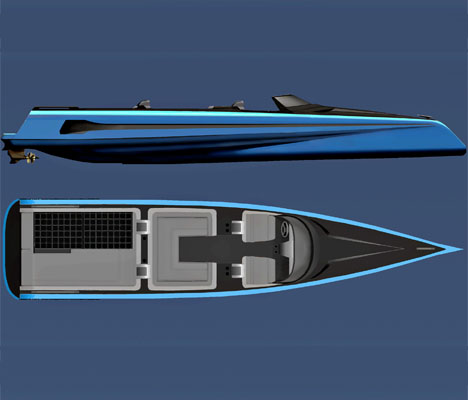 Guardian S Class Specifications
Length: 900cm
Beam: 210cm
Draft: 50cm
Passengers: 8 to 10
Weight :1.8tons
Max speed: 45 knots
Mercedes Benz BleuTec V6 / Carbon-Grossbauteile electric motor: diesel/electric
Total Power: 300kw
Fuel: diesel/battery
Zero carbon motoring range: 50nm
Fuel and CO2 reduction: 50 to 100%
Annual Carbon Neutral cruising range: <1,000nm
*Some of our stories include affiliate links. If you buy something through one of these links, we may earn an affiliate commission.