A pack of GIGS.2.GO USB flash drives which you can tear off to share them. The compact size (a credit card sized pack) makes it easy to carry and share, not to mention it uses low-cost molded paper pulp as its main material, a nice tiny reusable thumb drives. This concept is the answer of the challenge that small gadgets don't have to use oil-based plastic enclosures, it can utilize 100-percent post-consumer recycled paper as well.
Kurt Rampton, the designer, says that this concept is renewable, biodegradable, cheap, lightweight, yet durable enough to ensure each tab lasts many uses. He explained that this project was inspired by BOLTGroup designers who frequently running into problems when sharing presentation or files with clients, because not all clients are tech savvy while cloud sharing might not be the best option.
This small pack of flash drives can be shared easily and you can even give it to the client. It's flexible and requires low cost in production, thanks to the idea of using molded paper pulp. The result is a great opportunity for anyone to use up-cycle material as a gadget product enclosure, the ability to tear the material lends itself to the tear-off-tab concept. At the end of its useful life, you can easily disassemble GIGS.2.GO USB flash drive to separate the organic and technical parts.
Designer : BOLTGroup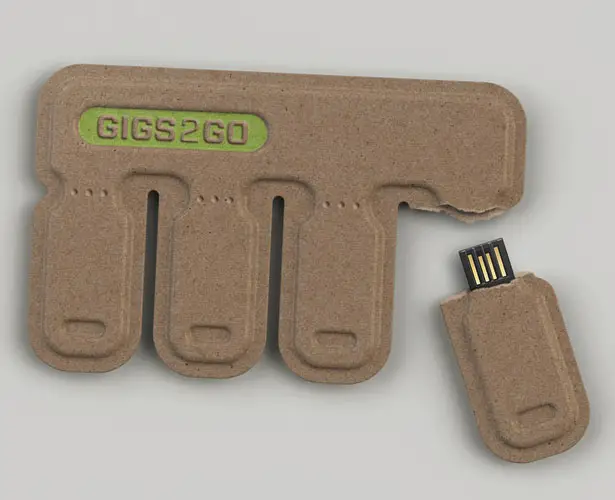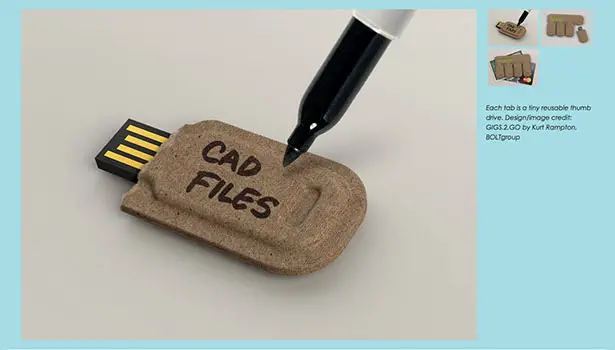 *Some of our stories include affiliate links. If you buy something through one of these links, we may earn an affiliate commission.