Symbiotic Towers concept is inspired by the formation of a desert oasis and a voronoi pattern. It's a beautiful tower proposal aims to integrate contextual environmental data into a synthesis of forms, skins, as well as public spaces. These towers would house a hotel, an office tower, a residential places, all would be connected on the ground level through a double-deck pedestrian shopping plaza.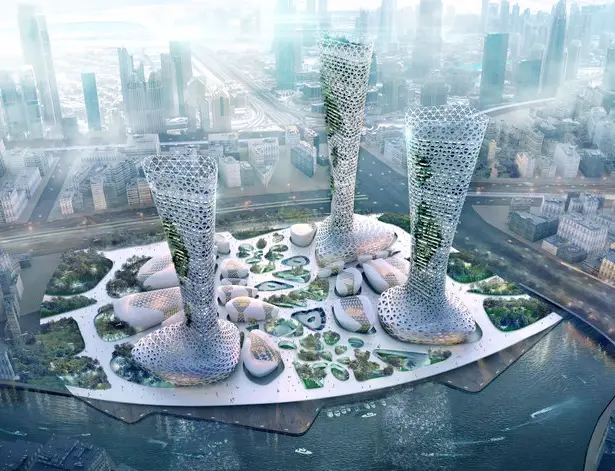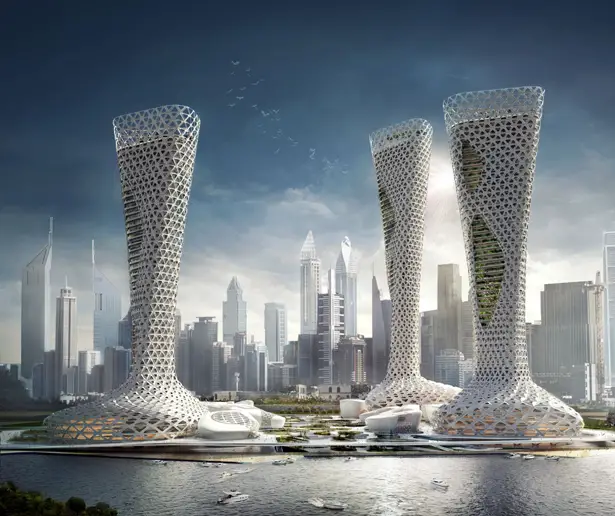 The connecting plaza of Symbiotic Towers creates two environments, which are highly functional throughout different seasons. The first environment is the lower deck, designed as a lavish green semi-shaded oasis level, jam-packed with trees and water, a perfect place for gathering during hot summer season. Amorphous Studio explains that this area is located on natural landscape level so that it is accessible for pedestrians from all sides. The second environment is a stretched voronoi perforated deck, where both ends are ramped up to form an elevated upper plaza but still connected with the lower level oasis through many ramps. There's a photovoltaic umbrellas that are placed on tree-like structure in some of these openings. Those umbrellas would collect sun energy and transform it into electricity to power the cross-ventilation system of oasis level.
Since Symbiotic Towers building has been designed to blend with its environment. Since it's meant to be located in Dubai, the towers' geometry and skins are specifically designed and developed in response to Dubai's climatic conditions. Towers geometry taper and twist to reduce the surface area that is exposed to high radiation from the sun. You can also see gradient balconies depth and skin openings help to minimize sun exposure, creating better and more comfortable shaded environment inside.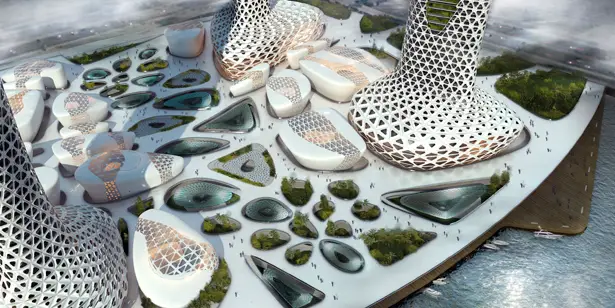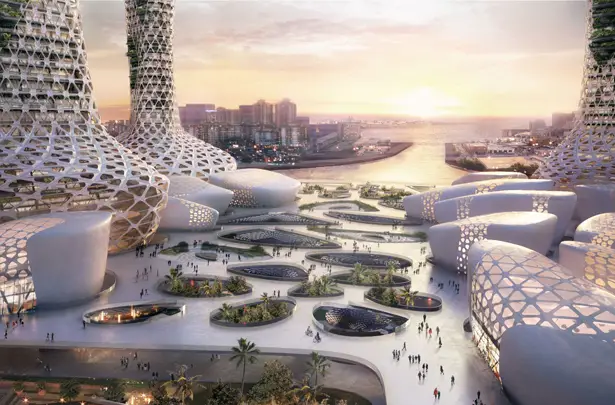 More images of Symbiotic Towers: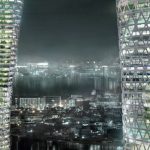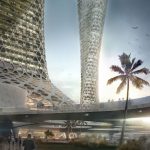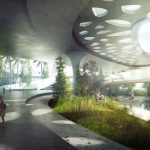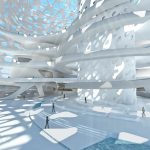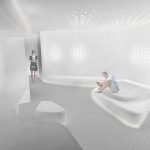 Location : Jumeirah Gardens, Dubai, UAE
Services : Concept Design
Status : On Hold
Type : Mixed Use
Project's team: Zayad Motlib, Marta Krivosheek, Raghad Al-Ali, Laila Najib
*Some of our stories include affiliate links. If you buy something through one of these links, we may earn an affiliate commission.