Due to global warming, we need an alternative propulsion system that is more environmentally friendly. The objectives of Scorpio project as a battery powered electric vehicles are lightweight design, cost effective energy efficiency, and preserve the nature. One of the easy ways to attract potential buyers is the minimal energy cost, this project aims to reach 120km range for only 1 euro with one quarter of weight of a modern small car. The futuristic design is an additional feature to attract users.
Designing a car/vehicle is far easier than naming it, so after a few days of thinking how to call it, my coworker came to me seeing that I was designing it for some time, with a comment: "What is that scorpion shaped thing?"… so the name came naturally after that. Two front wheels and one larger rear wheel give to the vehicle an unusual look, which can't pass next too you unseen, making a convertible style seating driver a center of attention on the street. Which we can't disagree that is not that important part of owning a vehicle. Battery positioned right behind the driver's seat together with low positioned electric engine (inside the rear wheel's circle) bring Scorpio's center of gravity on a perfect low height making it well balanced. A steel space-frame structure beneath a skin of conventional synthetic material are the principals that is Scorpio's lightweight concept based on. This allows a high level of safety as well as affordable pricing.
The use of expensive composite materials is deliberately avoided to follow lightweight-design philosophy, in order to make electric mobility affordable to as many people as possible. Having no roof, it creates the feeling of spaciousness with all-around visibility. The seat, pedals, and a steering console/column can be adjusted to the size of the driver, to fit like a glove to different driver's height.
Designer : Djordje Kovacevic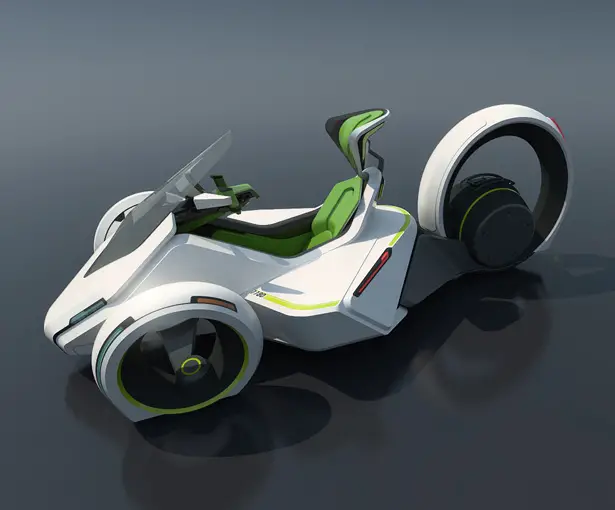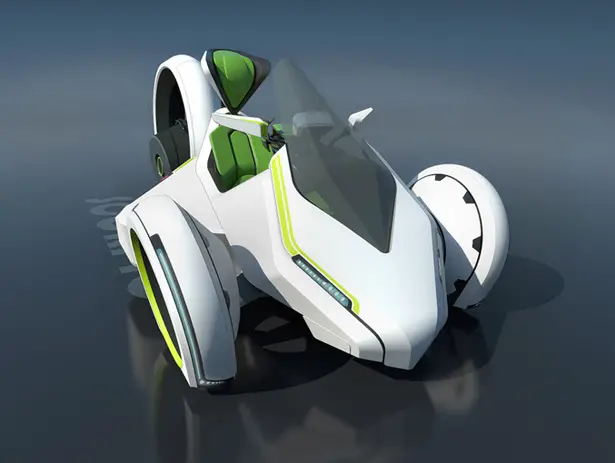 Vehicle's dynamic performance, low mass, and optimum efficiency coupled with maximum simplicity – are reflected in the appearance. Around three meters long and 125 cm high, the aerodynamic Scorpio offers zero-emission driving at minimal cost. After charging the battery for three hours at a cost of about one euro, the experimental vehicle has a range of up to 120 km. This results from the combination of low weight, narrow frontal area, low rolling resistance, and highly efficient electric propulsion. Energy consumption per person is almost 20 times lower than that of an economical small car. The cockpit features screen display that shows battery state-of-charge or in the future – the nearest charging station, infotainment equipment, and heating and cooling as well as your smartphone's display, which can be optionally automatically synced with your desired OS. Eye-catching arachnid-ish shape, unusually large rear wheel, and futuristic LED headlights, are aimed at young buyers or those whose spirit is forever young. Depending to local laws, even 16-year-olds could begin drive on this vehicle, adjusting only the speed limit regulations. Weight below 300 kg makes Scorpio only one quarter of the weight of a modern small car. The turning circle of just something above 5 m makes this vehicle ideal for inner-city mobility.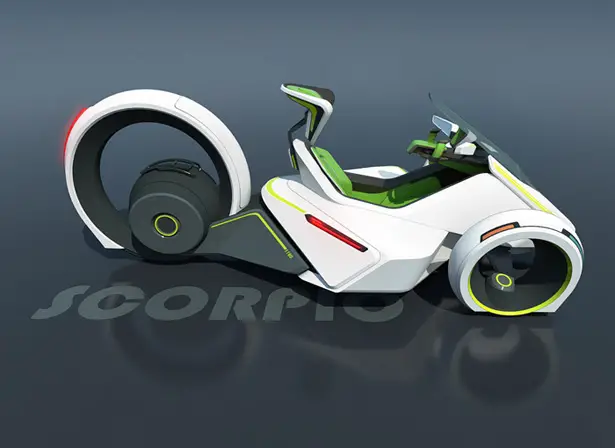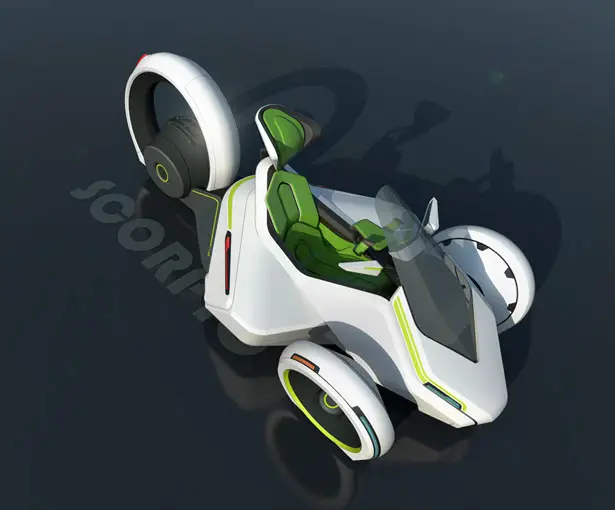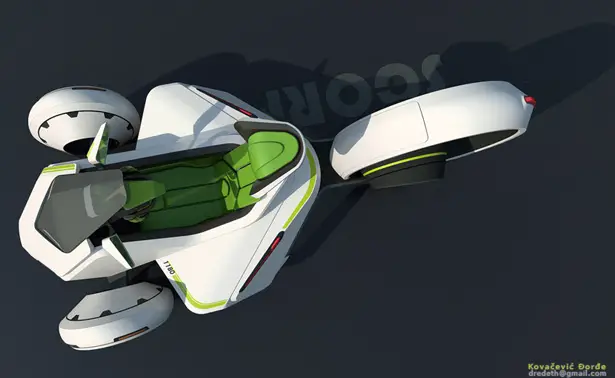 The door, together with steering console, opens forward to enable easy-entry, making no obstacles in the way; optionally remote controlled via smart phone enhances the optical effect of this action. The futuristic character of this one-seater vehicle is underlined by invisible chassis components, such as the wheel with integrated brake, both front and rear, as well as the motorbike-derived rear swing-arm. The rear wheel enhances agility and power momentum with a diameter of 1200 mm.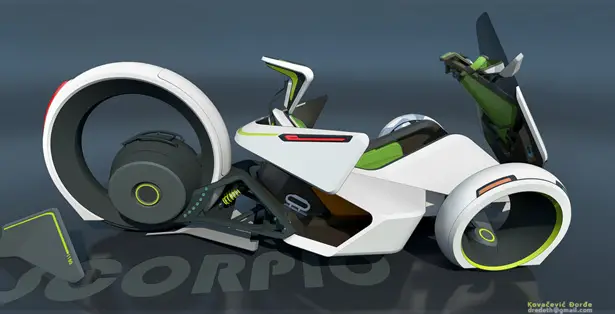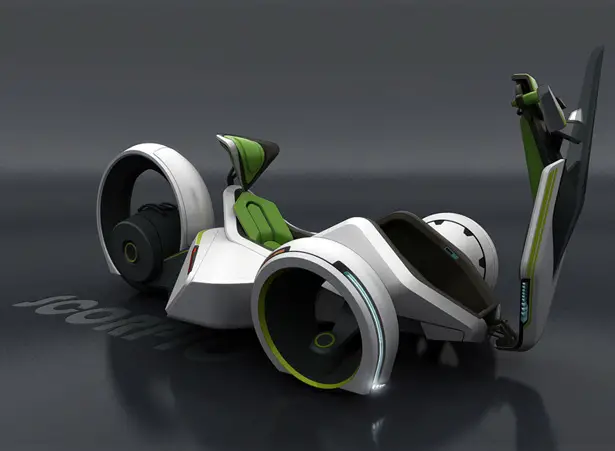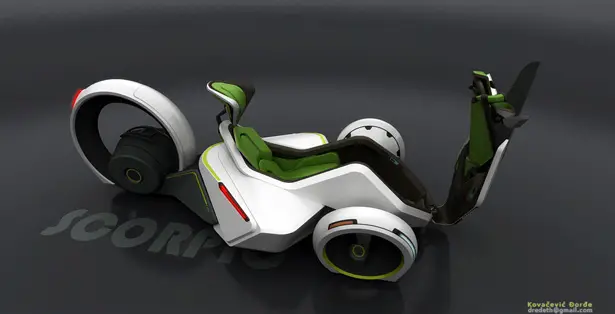 The projected top speed of 120 km/h, from 0 to 100 km/h acceleration in 10 seconds demonstrate that Scorpio's urban mobility includes motorway-capability. It takes very little energy Scorpio to deliver such performance – peak power output is 34 kW/45 hp; 10.5 kW/14 hp is continuously available. The useable battery capacity of 5 kWh enables a range of 120 km, which corresponds to fuel consumption of just 0.6 liters of gasoline. Over an annual 10,000 km the Scorpio's energy consumption would therefore be a modest 525 kWh. This could be supplied by a five square-meter, 500-Watt solar panel mounted on the roof of the garage.
*Some of our stories include affiliate links. If you buy something through one of these links, we may earn an affiliate commission.