Medical center concept designed by Sarah Schneider is a whole new concept of outer space home base right in the middle of Alps where people love to have Jacuzzi and fly ion jet wings. It is an unbelievable concept for a medical center for rehabilitation of trauma surgery patients. This unrealistic concept is no less than an Alien Space Ship. But no one can imagine how much investment and labor this concept would require for construction. Designed to accommodate 50 patients, it features balconies overlooking the mountains and raised walkways running through the surrounding forests. Looks pretty awesome for a medical center in the future.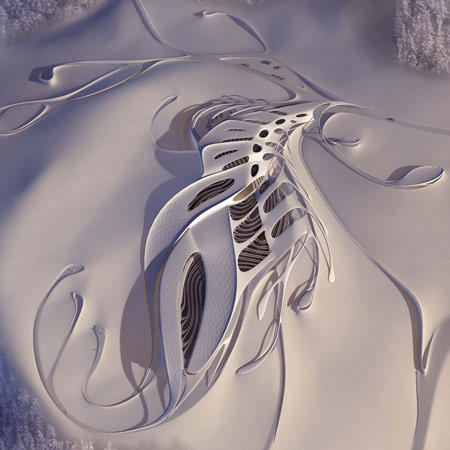 From Sarah Schneider:
Asemic Scapes – Rehabilitation Center Rainberg
This project is a conceptual design for a rehabilitation center for trauma and post surgery patients with a capacity of 50 beds in the Austrian Alps, in Vorarlberg. In general rehab centers like their predecessors the sanatoriums of the 19th and 20th century are based on a dualistic set of values: they embody the belief in the healing power of technology and the healing power of nature, which is why they are mostly situated in prestine landscapes.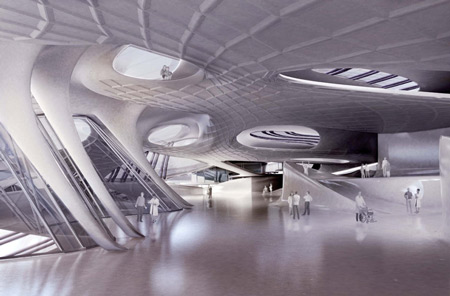 Therefore my attempt was to develop a contemporary relationship to the landscape based on calligraphic ornamentation. Calligraphy is adding an idea of creating variation through artistic expression to a technical matter of communication and is connected to ornamentation which generally uses natural motifs and often rules of natural growth.
The project develops an architecture that uses rules of natural growth and connects both growth and ornament, with a landscape environment, topologically and calligraphically. The ornament creates a symbiotic relationship with the existing environment by framing existing topographic features and at the same time giving a feedback to the landscape by creating topographical irregularities.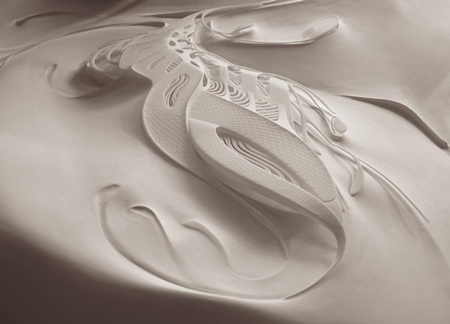 In the landscape the ornament starts to organize the ground by subtle terracing and it creates paths that break the clear definition of an indoor ñ outdoor boundary by running through the building, widening up to create bigger platforms and shrinking back to paths when leaving the building again. This ornamented landscape topography develops the roof structure transforming from a plan calligraphy into a complex volumetric condition of overlay and envelope.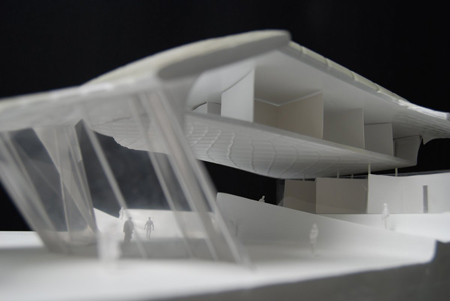 Designer : Sarah Schneider via Dezeen
*Some of our stories include affiliate links. If you buy something through one of these links, we may earn an affiliate commission.