Somewhere in not so distant future, we might be able to witness this fully autonomous unmanned ship sails across the Atlantic Ocean. Mayflower Autonomous Research Ship (MARS) was born out of the partnership between Shuttleworth Design, autonomous craft specialists MSubs, and Plymouth University. It's a revolutionary and futuristic project that aims to design and develop world's first full-sized autonomous ship to cross the ocean. At over 100ft in length, MARS uses renewable energy sources, wind and solar, to power its propulsion, giving this ship unlimited range.
This trimaran vessel will carry on board wide variety of drones through which it will conduct experiments during its voyage. The idea of this concept unmanned ship was to explore and take advantage any opportunities that arise from a ship that doesn't have to carry crew, can you imagine we can achieve here? A vessel that has the ability to use renewable energy to provide everything it needs to operate. During the design process, the team realized that the solar cell area required for optimum motoring is too large for efficient sailing as well as safety in large waves, therefore, the team developed a folding wing system in order to increase the solar cell area by 40% in calm conditions.
Designer : Shuttleworth Design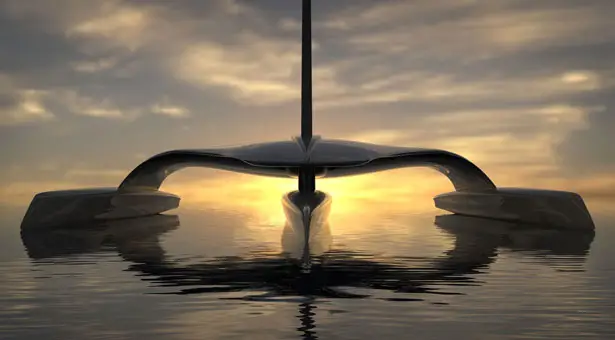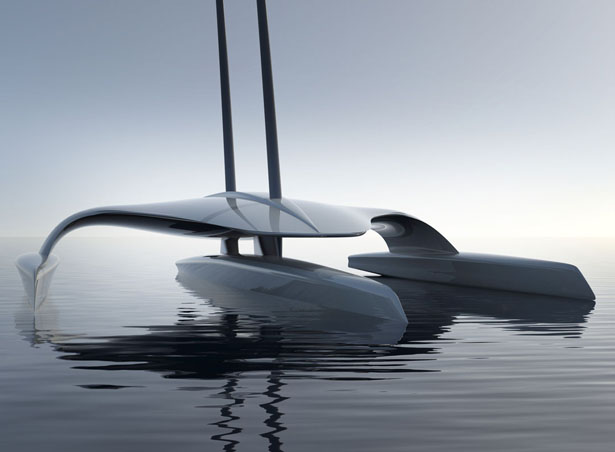 Why trimaran? Well, trimaran design was chosen due to its efficient hull form for low speed monitoring. The hull configuration has been designed to meet the requirement to reduce windage, also it keeps solar array high above water to reduce wave impact. The center hull is kept low to the water while the wings and deck are separated and raised above on struts, this allows waves to break through and reduce roll induced by wave impact. The outer hull has been designed to skim water and reduce resistance by 8%.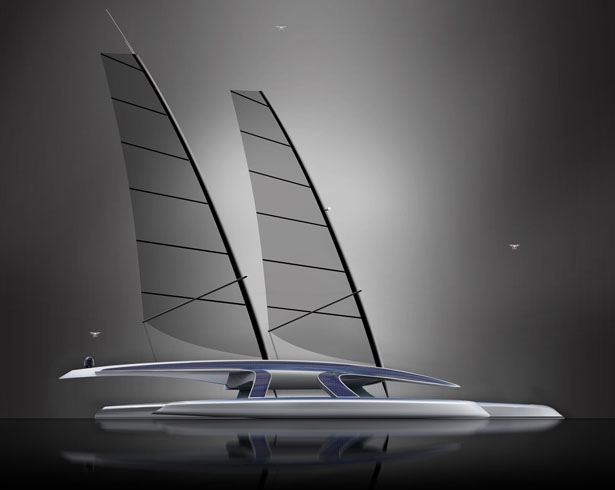 There's a two-masted soft sail rig to enable a top speed of 20 knots, it's been designed to work with both or either sails hoisted, giving 3 sail combinations for different wind speeds. Each sail is controlled by a single sheet, then the sails can stow into the deck taking up minimal space. When you stow the sails while motoring, this reduces windage and eliminates shadow cast over the solar cells on the deck, allowing masts to stay standing to carry navigation lights.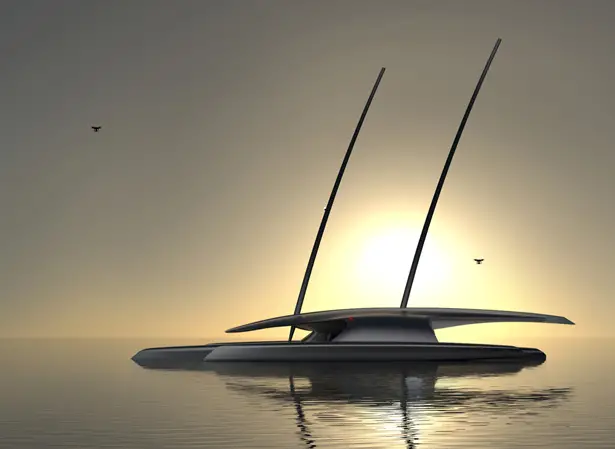 MARS is part of University's "Shape the Future" fundraising campaign that recently launched at the House of Lords. This multi-million pound project's initial funding has been provided by University, MSubs, and the ProMare Foundation, hopefully corporate and private sponsorship would continue ongoing support.
*Some of our stories include affiliate links. If you buy something through one of these links, we may earn an affiliate commission.