DARPA (Defense Advanced Research Projects Agency) has announced that they are looking for a tactical fly-drive vehicle designs or known as Transformer (TX). They have clearly stated that the objective of the program is "to demonstrate a four person flyable/roadble vehicle that provides warfighter terrain — independent mobility". AVX Aircraft Company has submitted their futuristic 4×4 fly-drive vehicle design proposal. This aircraft can carry up to 4 full-equipped soldiers to travel 250 miles by land or air just on a single tank of fuel. It is especially designed for use in Iraq and Afghanistan where soldiers face danger all the time from roadside bombs or any explosive devices. This vehicle will be better protection for soldiers to travel between base to base.
Designer : AVX Aircraft Company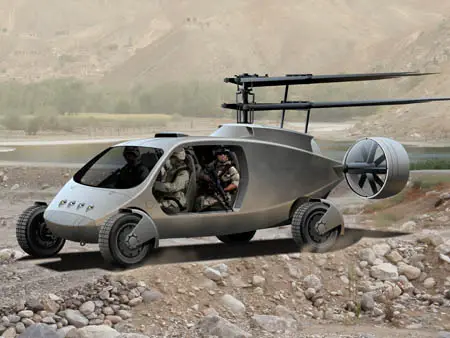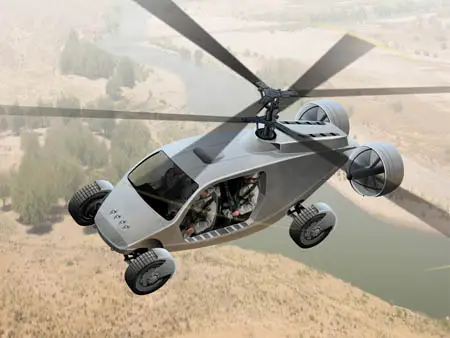 [Press Release]
AVX Aircraft Company has responded to a Broad Agency Announcement (BAA) from the Defense Advanced Research Projects Agency (DARPA) seeking designs for a tactical fly-drive vehicle known as the Transformer (TX).
The DARPA stated objective of the program is "to demonstrate a four (4) person flyable/roadable vehicle that provides the warfighter terrain-independent mobility. This presents unprecedented capability to avoid traditional and asymmetrical threats while avoiding road obstructions."
AVX Aircraft Company President and Chief Engineer Troy Gaffey commented on the proposal saying; "The ability of AVX Aircraft to respond to this proposal demonstrates the versatility of the AVX configuration. The design is very adaptable and can be configured for many different size and types of vehicles. The efficiency of the AVX design provides flexibility and performance to support both ground and aerial movement required for the TX design."
In a briefing prepared for potential proposers in January 2010 DARPA presented the program requirements. Specifically the program objective is to "Demonstrate a tactical four person vehicle that can fly and drive on command. " The design needed to;
Be manually driven on the ground like an SUV
Rapidly reconfigures between ground and flight configuration
Vertical Takeoff and Landing (VTOL) capability
Cruise speed equivalent to a light aircraft
Automated takeoff/landing flight control
The AVX (TX) design meets all the performance requirements of the DARPA BAA. The AVX (TX) will have the following performance parameters;
1040lb payload
250NM range on one tank of fuel
10,000 ft msl altitude at max gross weight
80mph on road speed, 30mph rough terrain speed
140mph flying speed
Converts from road mode to flight mode in 60 seconds
The AVX (TX) will have intuitive controls. They will provide the non-pilot operator control and navigation systems that are sufficiently intuitive to facilitate the transition from road operations to flight operations.
Additionally the AVX (TX) can be quickly converted to medivac with a vehicle operator, medical attendant and littered patient. Further it can be converted to a resupply vehicle and using a sling can move 1250lb as an unmanned vehicle or 1000 lb as a manned vehicle with the same 250 nm range.
*Some of our stories include affiliate links. If you buy something through one of these links, we may earn an affiliate commission.