This is not an ordinary bulb but it is known as a LED bulb recently created by Frog Design to provide more sustainable lighting choices. They have used LED lights because they believe that LED lights tend to produce a lot of heat and are less influential than incandescent bulbs. They have created Led lights inside a glass fixture that looks like incandescent bulbs. The power LED is set inside the bulb which dissolves its heat to the aluminum base. The main concept behind creating this bulb is to make it easy for the consumers to change their light bulbs.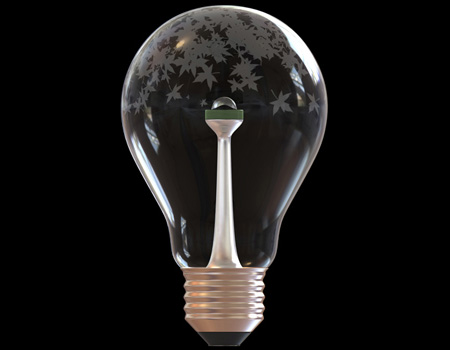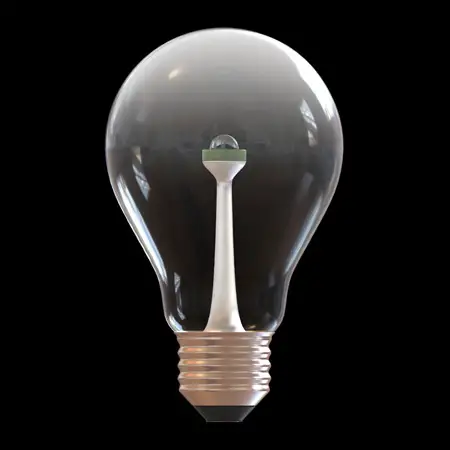 Text from the website:
Our original goal was to improve the CFL bulb, both in color and usability, but the technology to do so was not obvious. We began to explore colored filters and realized that any filter would reduce the lumen output. We then looked into adding LEDs to change the overall color output. This led us to the realization that florescent lights have huge environmental drawbacks. CFLs use ballast, which contains mercury, electronics and plastic housings. Most consumers just throw fluorescents out with the trash, even though they should be disposed of as toxic waste. CFLs are not dimmable and therefore use their maximum light output each time they're turned on. In addition, the form and cold color of CFLs keep them from being widely accepted as a replacement to the incandescent bulb.
As our ideas began to focus on combining LEDs with a fluorescent, we sketched several forms that tried to create harmony between the two technologies. The idea of creating a separation between work and home life through the modulation of the color output drove some of our early forms. As soon as we chose to use only high-output LEDs, our forms changed significantly, rendering the old concepts no longer valid.
As designers are inclined to do, we started to create beautiful forms that revolved around the advantages of the new technology and the form factor it lent itself to. This may have been our biggest wrong turn. With LEDs, that form was flat and thin; but this would not solve the problem we had defined for ourselves. To create the biggest impact on society, this design had to keep the barriers to acceptance as low as practical—which in part meant no super-sexy, fluid designs that would only be found in high-end design stores. Any unnecessary styling would cause a rift in its mainstream acceptance.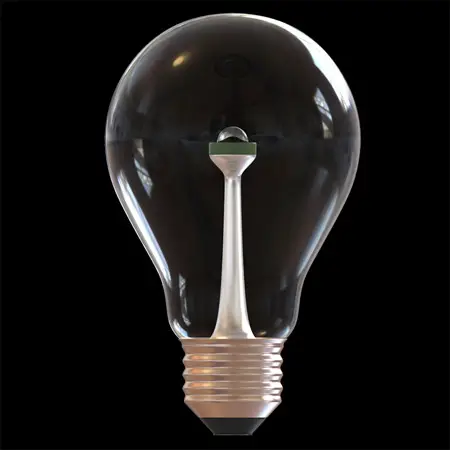 We realized the easiest way to create acceptance was to deliver the technology in an already widely accepted form. The form of a standard light bulb was then the obvious choice. It would not ask consumers to change their form of power, their light socket or replace the lampshade attached to the bulb. And it underscored the notion that good design is about solving problems for the whole ecosystem of the product.
Designer : FrogDesign
*Some of our stories include affiliate links. If you buy something through one of these links, we may earn an affiliate commission.