The Expand Recycling Bin concept with its various handy features will be able to reduce the recycling management difficulties and inefficiencies for electronic wastages easily. It can be easily moved from one place to another and it will alert the recycling agency about its exact current location so that they can organize their pickup routes accordingly when the bin is full.
The Expandable Recycling bin features a low starting and increases its height gradually with the wastages, allowing effective space management and low drop for brittle electronics. The facility manager of an apartment or office can have a visual feedback through the expansion and a maximum size bin denotes it needed to be emptied. It features a RFID locking system that ensures only valid residents with a RFID tag can open and use the bin. Besides, there will be a designated person with a special access tag to unlock the wheels. Biopregs, an eco-friendly bio-composite is the main material that has been used to create the two major parts of the bin. Cautious emptying in the pickup-vehicle has been ensured by placing a reusable bag in the bin which is lifted out with a crane. The bag is prepared of heavy duty fabric with durable chemical proof coating.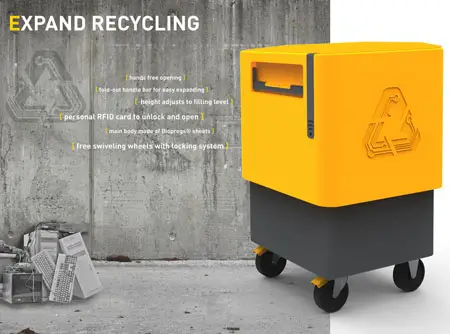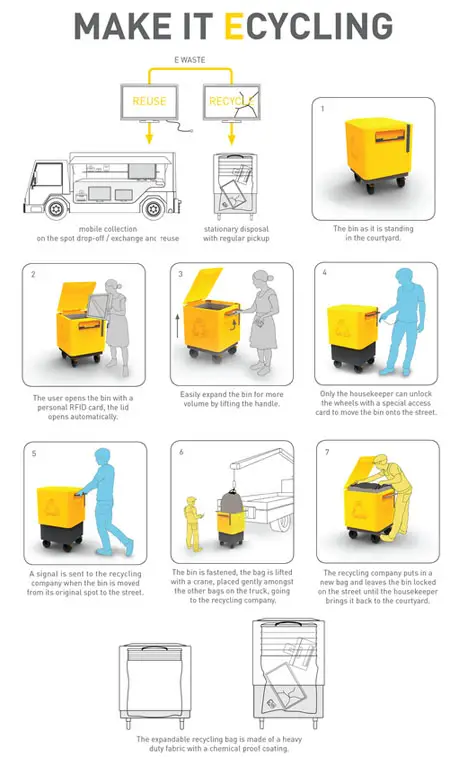 Designer : SpringTime
*Some of our stories include affiliate links. If you buy something through one of these links, we may earn an affiliate commission.