Emir is a gigayacht concept that pushes boundaries inside and out to features signature design of Gresham Yacht Design. It's a gigayacht, that stylish exterior design houses large interior spaces where guests would feel the grandeur and elegance of luxury yacht. All of these are also matched with operational elements where all crews can perform their duties without disturbing owner and guest areas.
On board, there are two certified helipads to make sure guests can come and go without affecting activities and plans of the owner. The helipad above owner's private deck is designed with fold-up bulkwarks on either side of this helipad, they offer security and safety once the aircraft has landed. It also makes sure smooth transition from helicopter, a private deck, to Emir's interior.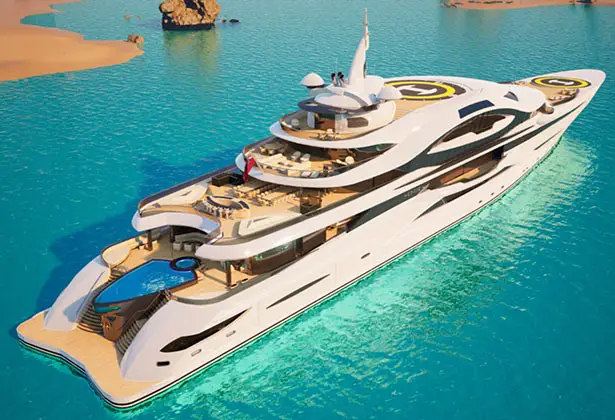 The grand saloon of Emir Gigayacht has a central seating area with balconies leading off on either side. It's a space where you can find a bar, dining area, and games table, the interior is finished in sycamore with deep blue accents on the bar and cabinets. The owner's full-beam master suit is located forward this saloon, it also has a private exterior deck, Jacuzzi, and of course, uninterrupted, magnificent views forward.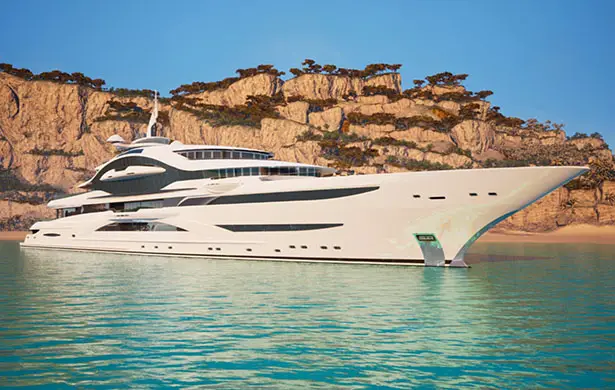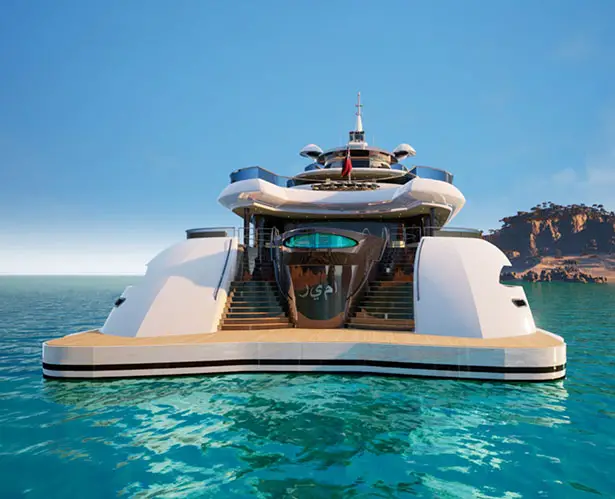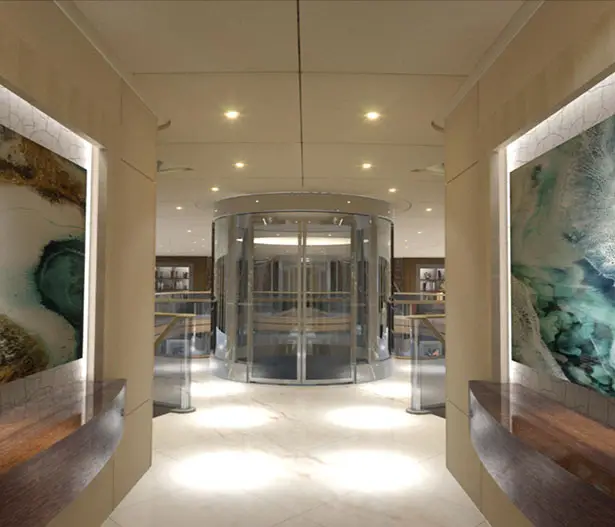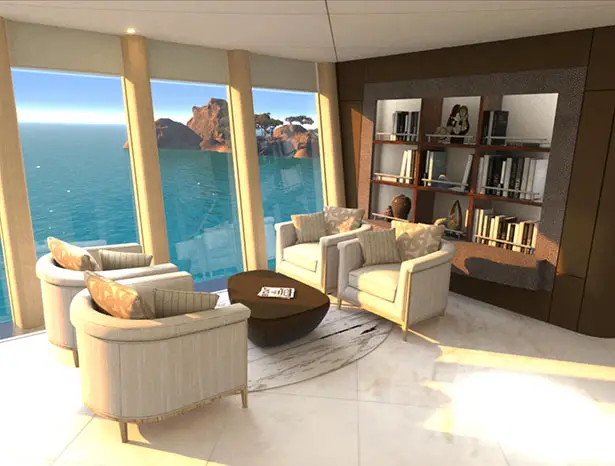 Gresham Yacht Design promises the one level below would be a place where guests enjoy and marvel at the double-height main saloon amidships. It looks like a ballroom with its high ceiling, guests can access internal walk-around balcony on the upper level to external balconies either side via sliding glass doors on the main deck.
There are elegant staircases around glass elevators that connect two levels of main saloon, it provides user with unobstructed views into the space at all times.
When the owner and guests are ready to take the party outside, Emir yacht's aft main deck is ready to entertain with a cantilevered swimming pool, designed with a glass window facing out to sea.
The lower deck provides guests with a spacious beach club and wellness center that includes gym and cinema. There are complement tenders and water toys stowed inside tender garage for any water sport activity.
More images of Emir Superyacht Concept: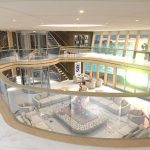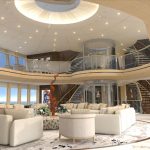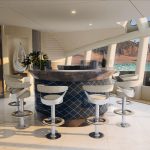 Emir Gigayacht has been designed with many features that reduce emissions and fully eliminate some. There's a mini-power station on board to recycle and reuse available waste. Bio digester eliminates organic waste and produces usable biodegradable nutrient filled soil along with natural gas. It is also equipped with waste water treatment center to further reduce emissions.
Emir Gigayacht's specification:
LOA: 120m
Beam: 19m moulded 22.5m including balconies
Draught: 5m
Max speed 20 knots
Drive system: DEPS with twin compact Azipods.
Maneuverability: Twin Bow thrusters.
Safety: Lifeboats located Port and Starboard on main deck.
Stabilisation: Zero Speed Stabilizer – Quantum Dyna-foil.
Classification: SOLAS 12-36 Passengers.
Gross Tonnage: 4,500
Range: 7,000nm
Guests: Up to 36
Crew: Circa 40
CAP 437 helipads for Sikorsky S76, Augusta Grand or EC135.
2 x 11.5m custom tenders + crew tenders.
Full dive facilities.
*Some of our stories include affiliate links. If you buy something through one of these links, we may earn an affiliate commission.