D-CAN digital camera reminds us to Digital Reflex Camera that features elongated body. D-CAN also redefines the camera shape in order to provide optimal functions in performance as well as size. Due to digital technology, photo-taking and video-recording practices have been revolutionized, however there are no significant changes in digital camera body design. D-CAN concept aims to reduce the volume of camera for better portability and easy manipulation. Designed to be used by professional photographers, this camera delivers only high-quality images.
Designer : Jean-Michel Bonnemoy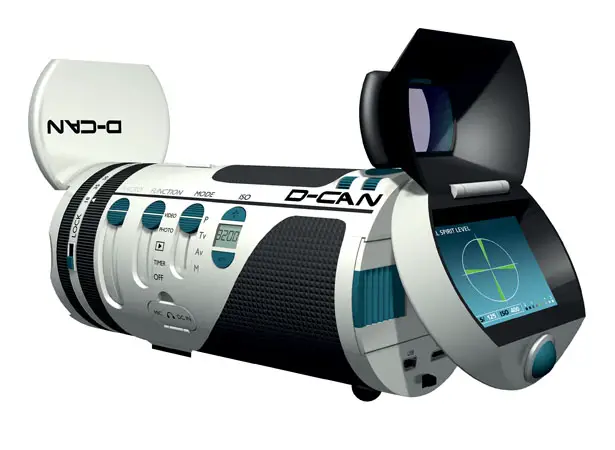 Jean-Michel Bonnemoy explaination about D-CAN Digital Camera:
This concept camera features a long-range zoom with stabilized USM lens, the focus is lockable. Due to lens cap design, it's impossible for you to lose it. D-CAN Digital Camera has an electronic flash and AF-assist illuminator, you can also attach a directional microphone or a remote control receiver.


On the left side there is an extension cursor for macrophotography; a cursor "function" for choosing between fixed views or video, picture reading, intervallometer, and power off; a cursor "mode" (P/program, Tv/speed or Av/aperture priority, M/manual); a double key ISO (100 to 6400 ISO); and sockets for peripherals such as a microphone, audio headset, and power supply.

The high-definition back screen is used for the aim, the control, and the parameter setting by means of a trackball. The system of aim offers two configurations. Firstly, eye-level aim allows for a precise centring including right in the sun, with precise control of the focus. The magnifier with dioptre adjustment gives an image enlarged on the screen. Secondly, aiming directly on the directional back screen can be undertaken after raising the magnifier.

The lithium battery of D-CAN Digital Camera can be replaced if necessary by a set of AA-sized batteries. When pushed at the halfway mark, the release button locks the focus and exposure. When pushed continuously, it allows continuous photo mode. The function of the thumb wheels differs according to the mode: thumb wheel 1 offers exposure correction (P, Tv, Av) or choice of aperture (M); thumb wheel 2 offers program shift (P), choice of shutter speed (Tv, M), and choice of aperture (Av).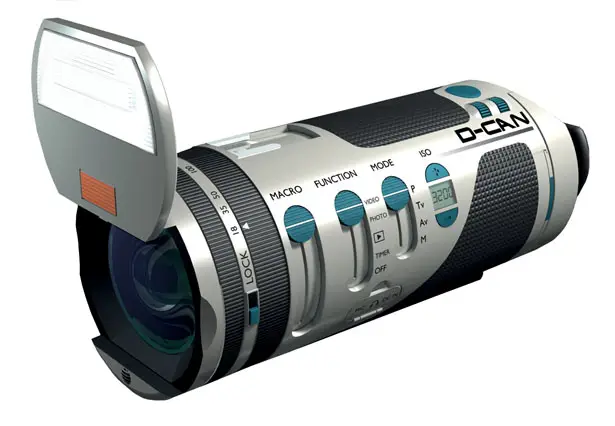 *Some of our stories include affiliate links. If you buy something through one of these links, we may earn an affiliate commission.