Uber wants to revolutionize the way we travel, and the future of urban air mobility might be closer than you think. No, it's not a chopper, it's something more affordable transportation service that we common people would have access on it. Just imagine soaring above traffic where you can arrive at your office or airport at the right time. Corgan CONNECT | EVOLVED is a concept proposal for an Uber Air Skyport, this infrastructure features scalable, connected, and sustainable design that would change the way we travel.
Corgan prefers to implement scalable design that integrates with existing infrastructure and considers its environmental impact. This futuristic skyport is comprised of a kit of parts that can be customized for a variety of budgets and locations, therefore, it can be installed in most places to encourage a lifestyle of aerial mobility and connectivity.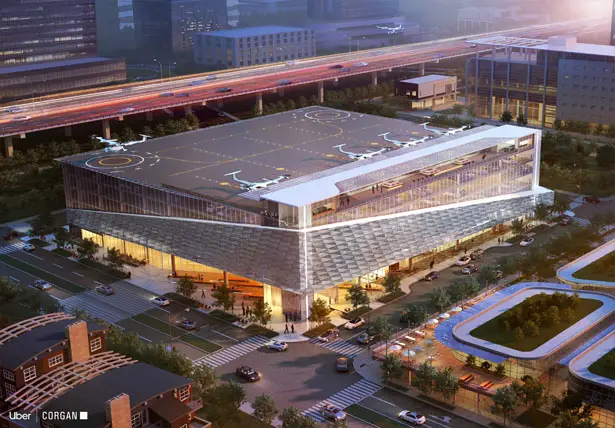 Corgan Architecture and Design Firm has designed a Connection Plaza for this scenario. It's a gateway and meeting point for community that includes restaurants, retails, hosts cultural or art events, it also connects to last mile transportation services such as bike and scooter charging stations. Uber lobby would become the first touchpoint where passengers and UberAir can meet. The reception services can help passengers to customize their air travel experience with biometric ticket and security validation, everything can be done in less than a minute. Next, passengers can go to the Quick Queue Lounge on the elevated Flight Deck. On this deck, eVTOLs would be in constant and fluid motion, especially during peak hours with potential of 25 takeoffs and 25 landings every hour, carrying over 200 passengers per hour.
CONNECT | EVOLVED Air Skyport for Uber has been designed to be a practical system of modular components that can be built upon demands for urban air mobility. As demand grows, it would be easy to expand and create additional landing or parking pads with minimal additional development. The sustainable design of this skyport utilizes innovative water management systems, air purification methods, and on-site energy generation. It harnesses kinetic energy of visitors through the floors, while green spaces such as urban farms, parks, and playgrounds help reduce the heat island effect in cities. During the day, it harvests sunlight to create soft illumination during the evening.
Corgan selected sites for this design is Dallas/Fort Worth area, it's the primary launch market for Uber Air. Dallas and its surrounding suburbs often experience daily population fluctuations due to visitors moving between downtown and the suburbs. Bound by a series of highway barriers, Uber Air offers an opportunity to not only connect tourists but also neighbors and residents that are separated by intrusive infrastructure. CONNECT | EVOLVED Air Skyport could build the future of urban air mobility by 2030.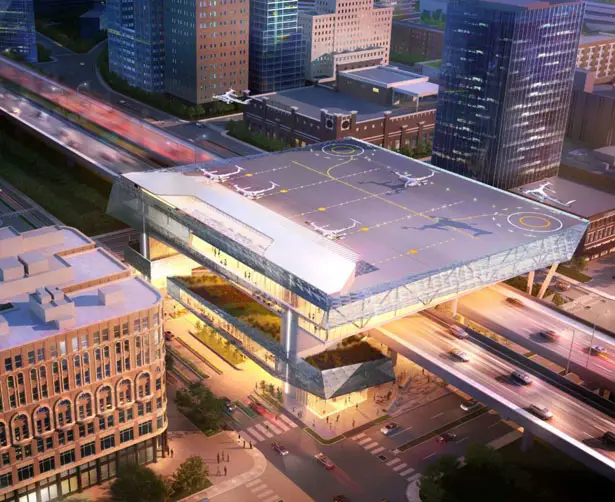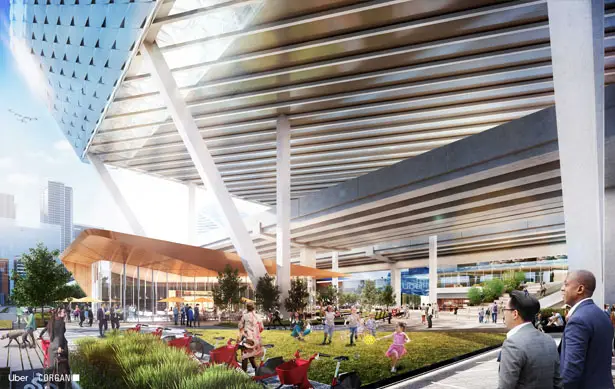 Click above image for larger view
*Some of our stories include affiliate links. If you buy something through one of these links, we may earn an affiliate commission.