Shoes for leisure, for summer or winter; shoes for elegant, sporty, or casual times; shoes in brown, blue, or black. There are an infinite number of combination for this fashion accessory. Besides their elementary function of protecting the feet, shoes also express and represent us ? our style, values, taste, and personality. The progress of trends means that we are again and again compelled to buy new shoes despite the fact that the last year?s shoes may still be in impeccable condition. They are just out fashion. Bubble Shoe is based on the convergence of fashion trends and functionality. It offers the wearer the possibility of expressing his or her own values, lifestyle, and look. It is a transparent shoe. Its style, occasion and look are determined by the designs of the socks or stockings worn beneath.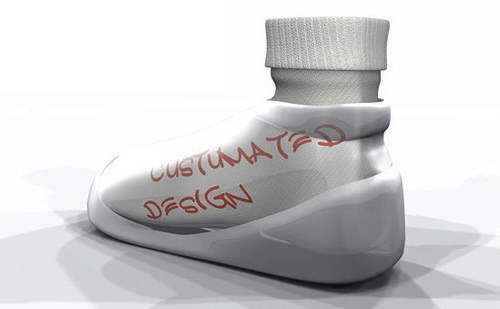 The shoe itself has a durable sole, resistant to scratches and shock, and a shell composed of two layers of silicon plastic with compressed gas in between. The vamp is vapour permeable, airy, and at the same time water-resistant. It features excellent thermal protection, but still reveals our foot and ourselves. The foot is thus put on display, in a position requiring the wearer to provide it with ?make up? according to their own judgement, choice and courage. Socks have been specially designed for this purpose, and can determine the style and the activity into which the wearer is entering.
Designer : Aljosa Senk
*Some of our stories include affiliate links. If you buy something through one of these links, we may earn an affiliate commission.