Boeing SkyHook JHL-40 is the new stunning aircraft by Boeing and looks more like the design of the WWII period. The aircraft runs on the heavy-lift motorcraft, which can lift up to 40 tons, and can travel a distance of up to 200 miles in one refill. It is designed to travel in regions where no other means of transport can access and all this with maximum safety and minimum cost. This eight engine aircraft has four vertical rotors to lift the body with four directional propellers and each having a rotor for directing the same. The icing on the cake is that this big boy is environmental friendly too.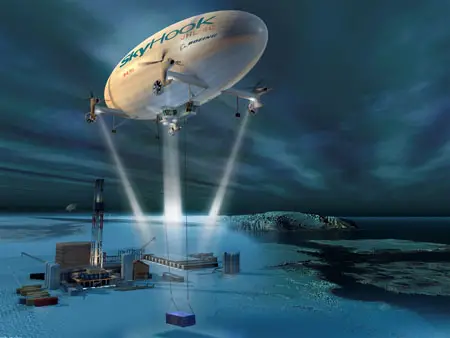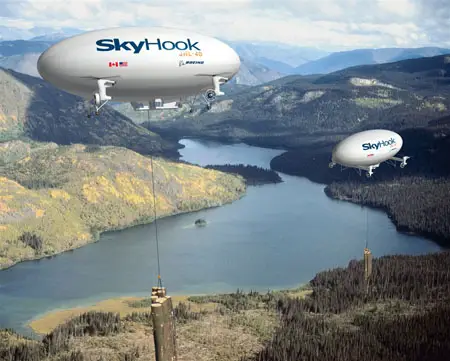 The SkyHook JHL-40 aircraft will be capable of lifting a 40-ton sling load and transporting it up to 200 miles without refueling in harsh environments such as the Canadian Arctic and Alaska. Currently, conventional land and water transportation methods in these undeveloped regions are inadequate, unreliable and costly. With its lifting capacity and range, the SkyHook JHL-40 aircraft changes that for a variety of industries around the world.
"There is a definite need for this technology. The list of customers waiting for SkyHook's services is extensive, and they enthusiastically support the development of the JHL-40," said Pete Jess, SkyHook president and chief operating officer. "Companies have suggested this new technology will enable them to modify their current operational strategy and begin working much sooner on projects that were thought to be 15 to 20 years away. This Boeing-SkyHook technology represents an environmentally acceptable solution for these companies' heavy-lift short-haul challenges, and it's the only way many projects will be able to progress economically."
Boeing is designing and will fabricate two production prototypes of the JHL-40 at its Rotorcraft Systems facility in Ridley Park, Pa. Skyhook will own, maintain, operate and service all JHL-40 aircraft for customers worldwide. The new aircraft will enter commercial service as soon as it is certified by Transport Canada and the U.S. Federal Aviation Administration.
via Boeing
*Some of our stories include affiliate links. If you buy something through one of these links, we may earn an affiliate commission.