Submitted by Djordje Kovacevic, BMW 1150GEth Electric Motorcycle is a concept study, aiming to create futuristic zero-emission motorbike. You can read his explanations below.
The GEth's unique look is something that clearly sorts it to a new kind of motorcycles. Beside it being electrical a new limb-suspension and steering system makes it aiming towards innovations. You can tell from this design that it is an electric machine. Design of the GEth is obviously more on the classical lines side, avoiding most of the popular aggressive fluid style shapes. With retro looking cockpit, similar to those on WW2 airplanes that integrate a high-end hardware, it is trying to make a new direction in design of futuristic motorcycles.
The basic idea of the body came from the "Mass Effect" video game's creatures, those creates are called Geths, aliens that are artificial life, machines. The styling of the GEth concept is designed to highlight this vehicle's autonomy and to encourage the concept of self-driven assistance of the vehicles in the future. Towards the future philosophy GEth's heart follows the electric path. Its ultra-compact 12.8kWh battery has a range of 200km and can be recharged to 80% capacity in 20 minutes. Ultra-rigid exoskeleton that integrates most of the components is made from strong light composite materials.
Designer : Djordje Kovacevic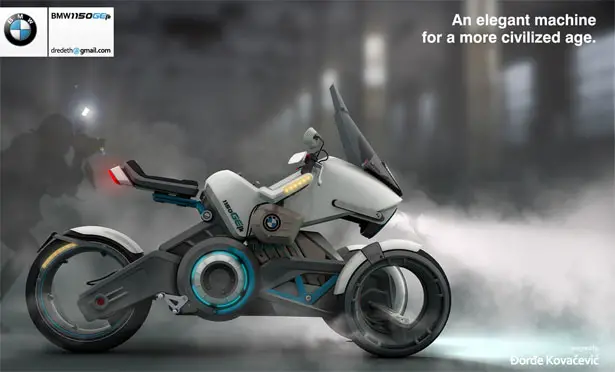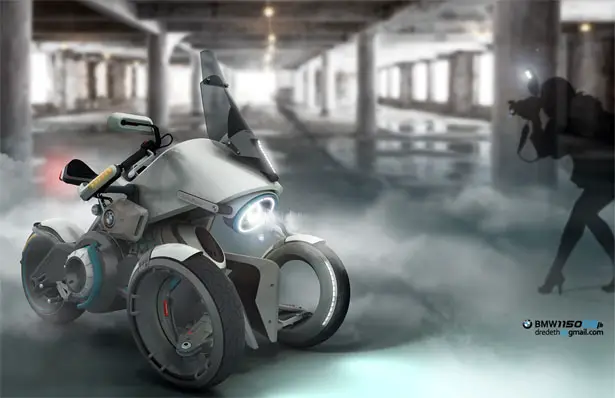 BMW 1150GEth Electric Motorcycle is a three-wheel concept vehicle, each one is mounted on a separate limb that improves the stability and steering. Those limbs are hanging on a system similar to our blood pressure, supported by a pump that is completely automatic and the actions are calculated by GEth's computer that gets the information through numerous sensors that are installed on the vehicle. That is what makes GEth almost self-aware vehicle. It literally thinks. Its software analyzes the materials that sensors pick on the way and it calculates the speed reducer and brake strength assistants.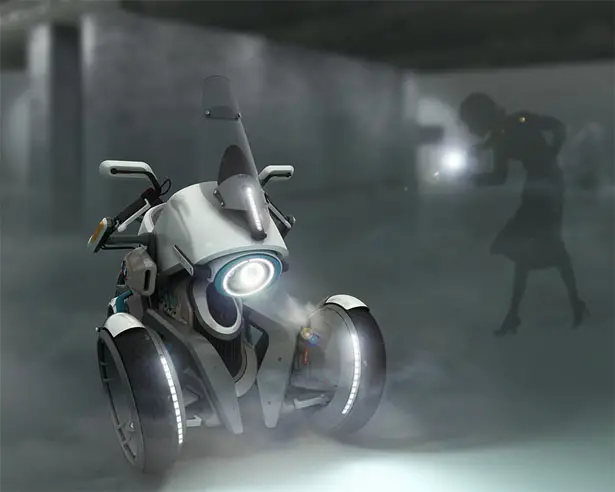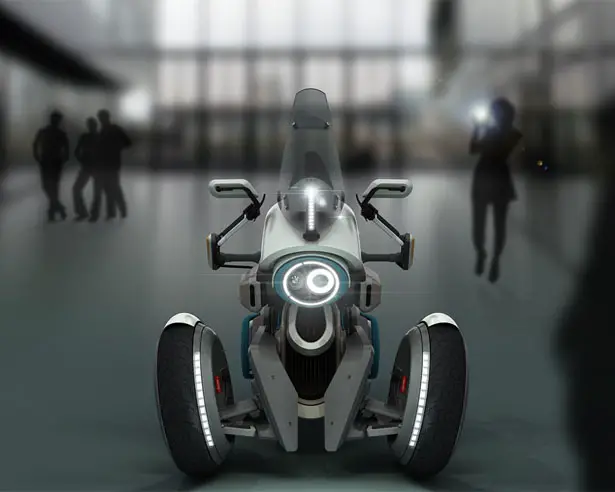 More images of BMW 1150GEth Tesla Motion E-Bike: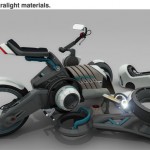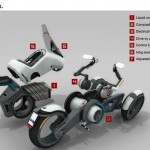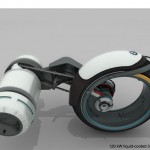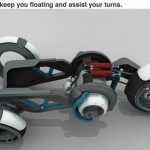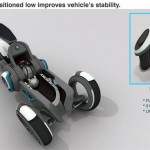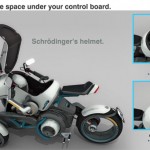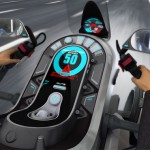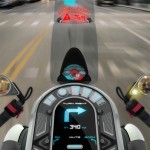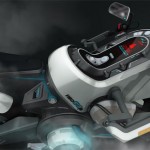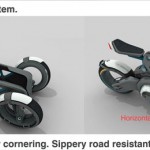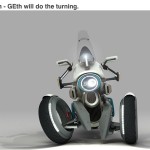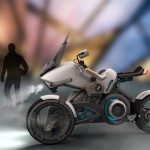 GEth's fairing/windshield is equipped with heads on display that brings the warnings and the most crucial information to driver. Everything to support this vehicle's safety. With the purely electrically driven trike concept, BMW is presenting a further solution for intelligent urban mobility. The innovative three-wheel study translates consistently the characteristic advantages of the pioneering BMW's electric drive e-car into a three-wheeler: compact dimensions, agility, high safety standards and the driving fun typical of the BMW as a motorcycle brand, not least backed by an efficient and locally emission-free drivetrain.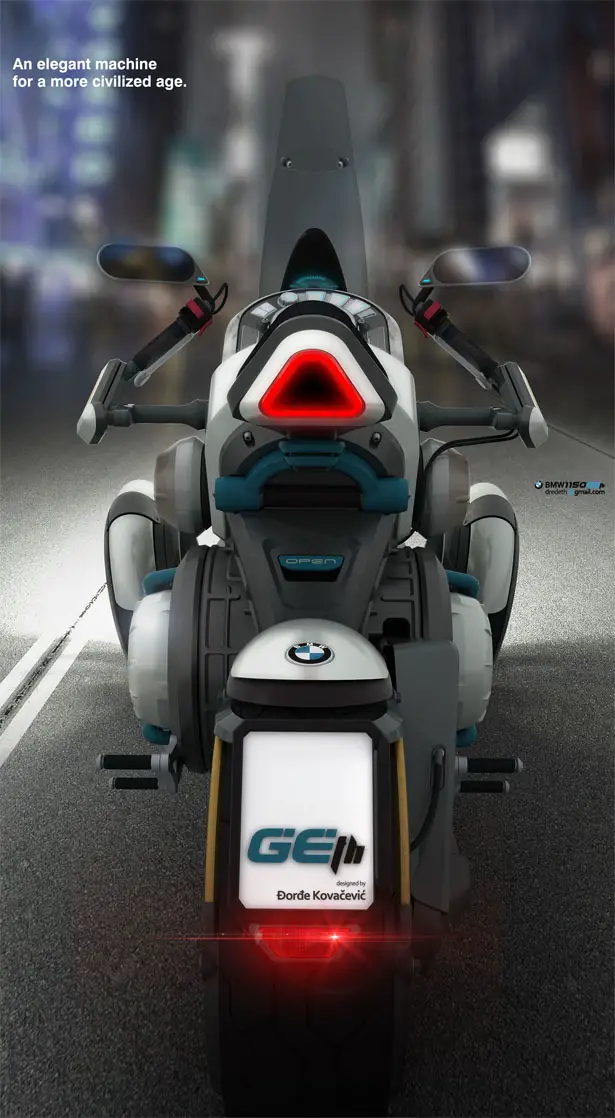 In addition to its innovative technical solutions, the new trike convinces with its distinctive design and simple handling. One more advantage is almost 100% automatic stability control system, which makes GEth close to impossible to flip over. As a result, safety, functionality, environmental sustainability and driving fun accompany this bike. The BMW GEth, as practical as unconventional, is most at home in big cities and their suburbs, where it can be used in a variety of ways. In urban traffic, GEth is an intelligent amendment or alternative to the car – with its superior maneuverability, exemplary comfort and pioneering safety features. The latter include an airbag, ABS anti-lock brake system and a Blind Spot Assist and a few automatic stability control options.
BMW 1150GEth Electric Motorcycle makes a first impression with its independent, unconventional design based on its alienish look. The design of it is characterized by its attractive position of its wheels: the front looks like it's gonna jump forward as well as it looks when viewed from the side, while the rear wheel gives the appearance of being positioned a long way behind the seat area, emphasizing GEth's forward thrust and agility. The dynamic, elegant appearance is underlined by its composition of complete surfaces and somewhat exposed construction. The cool appearance of Geth is emphasized by affectionately crafted details that enhance its high-value yet unusual effect – from detailed cockpit board to a well positioned, stable limbs. At the same time, the concept offers practical solutions, extreme ease of handling and outstanding safety and stability.
Tuvie has received "BMW 1150GEth Tesla Motion Electric Bike" project from our 'Submit A Design' feature, where we welcome our readers to submit their design/concept for publication.
*Some of our stories include affiliate links. If you buy something through one of these links, we may earn an affiliate commission.