Bayangtoys X16 is already one of those popular drones under $150, and recently the company announced that they have released the upgraded version. This time, Bayangtoys X16 Drone comes with a GPS feature. Thanks to GearBest for sending this to us so that we can do some testings and reviews of this drone. Please keep in mind we are not professional drone operators but we do test drones and play with them from time to time.
Upon opening the box, it looks that the drone is safe and protected inside its Styrofoam box. Can't see the battery at first, but that's because it's inside the quadcopter. The drone looks nice, love the white color and the weight feels just right, not too light yet not too heavy. [Buy It Here]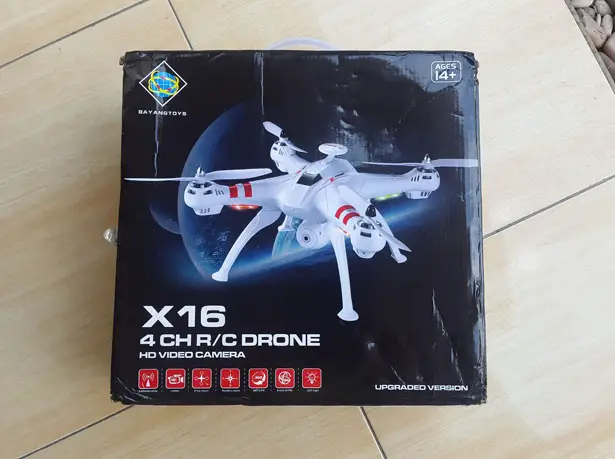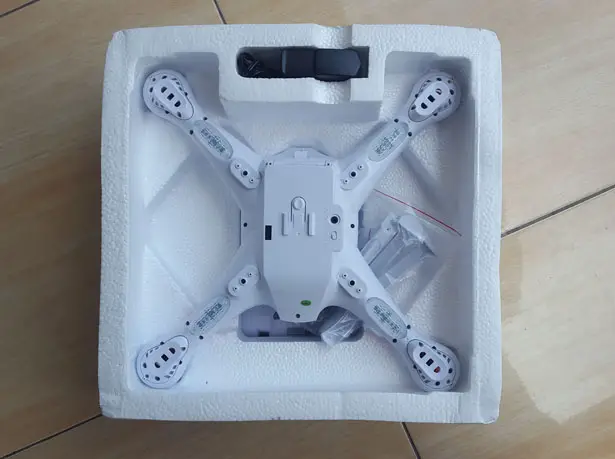 Bayangtoys X16 GPS Drone is a popular quadcopter, you can easily identify which is upgraded and which is not simply by checking at GPS label located on the top antenna dome.
Inside the box:
1 x BAYANGTOYS X16 Quadcopter
1 x 11.1V 2200mAh Battery
1 x Transmitter (Remote Control) – Battery not included
1 x Balance Charger
1 x Power Adapter
8 x Propeller
4 x Landing Strut
4 x Propeller Nut
1 x Screwdriver
1 x Set of Accessories
1 x English Manual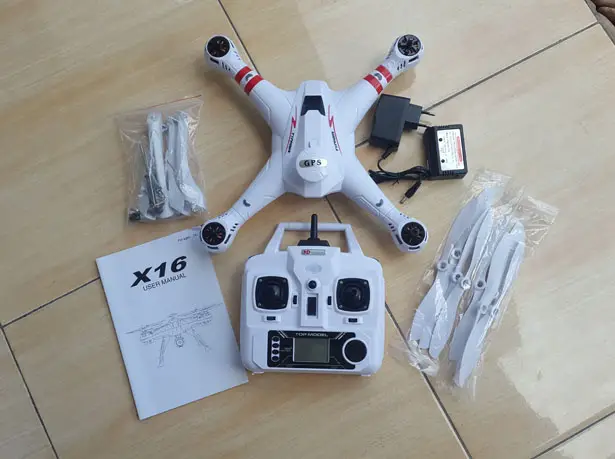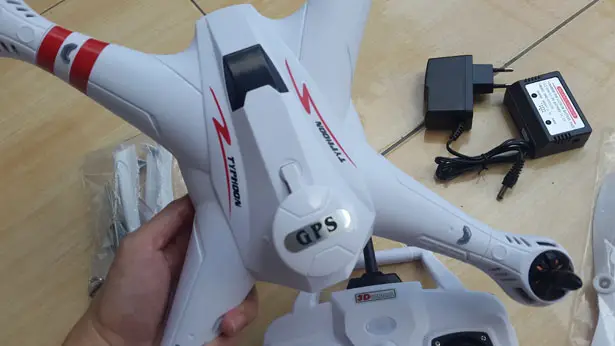 Featuring powerful and durable brushless motors, Bayangtoys X16 GPS Drone is very easy to use. Unfortunately it doesn't come with an action camera, but this drone is able to hold maximum payload of 450gr, that's pretty enough to hold a decent HD camera. It's very easy to use, highly recommended for you who just getting started a drone hobby. GPS module is really a nice feature that you need to consider when purchasing a drone, it helps for precise positioning, allowing you to call back a flying drone to its take off position automatically. All this can be done through push of a button, Automatic Return and Landing feature is activated. [Get Discounted Price Here]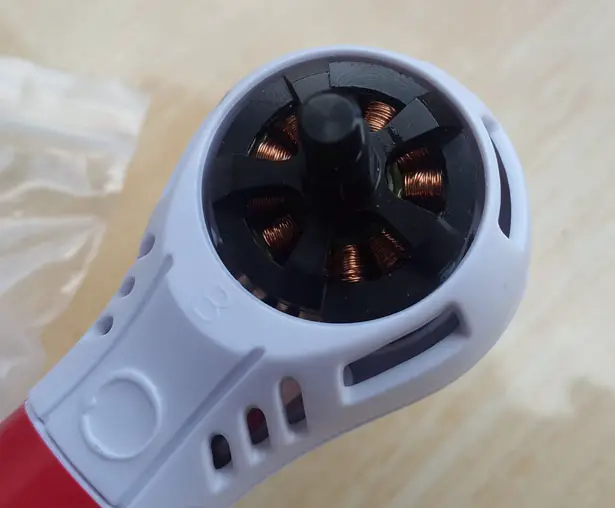 Several tests have convinced us that this special feature is really amazing, the accuracy is impressive, always spot on. One thing though, we suggest that you don't fly this drone too far away with low battery life, it might not be able to go back in time safely. The Automatic Return is very helpful for beginners to bring their drone safe and sound to its take off location.
Bayangtoys X16 GPS Drone also features Altitude Hold Mode, meaning that you can keep the drone at a certain height with better stability. It's a nice feature for beginner pilots, it helps them to focus more during video recording. Even when you forget to control the drone, it'll still hover in place. Aside from GPS module, this drone also offers Geomagnetic Headless Mode, this is enhanced version of Headless Mode, it works without the need of a calibration before take off.
More images of Bayangtoys X16 GPS Drone: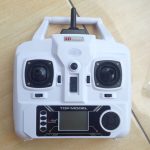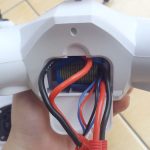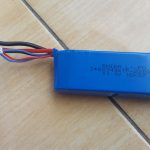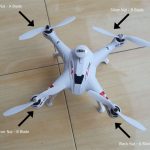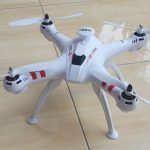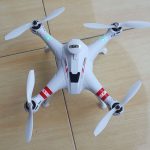 We didn't test this drone with GoPro camera, but we have read many customers mention that this unit is powerful enough to carry GoPro. Its 2200mAh LiPo battery is powerful enough to fly the drone up to 15-18 minutes (4 hours to get fully charged), yep, it's a cheap drone that provides you with flying time more than 10 minutes. Most cheap drones only give you like 3 to 5 minutes flying time. [Buy It Here]
What we like:
Automatic Return Home button and GPS
Altitude Hold Mode
Geomagnetic Headless Mode
Nice LiPo Battery for good flight time
High/Low Speed Switch
Affordable price for quality and features
What we don't like:
English manual is difficult to understand, see our photo for propellers setup
Unbalanced props resulting in lots vibration and jello effects in video
4 hours to get the battery fully recharged is too long
No HD camera included
Bayangtoys X16 GPS Drone specifications:
Brushless Version, No camera, Radio Control
Motor Type: Brushless Motor
Functions: 3D rollover, Air Press Altitude Hold, Automatic Return, Forward/backward, Headless Mode, Height Holding, Hover, Sideward flight, Slow down, Speed up, Turn left/right, Up/down, With light
Size: Large
Satellite System: GPS
Max Flying Height: 1000m
Max Ascent Speed: 5m/s
Max Descent Speed: 3m/s
Hover Accuracy: 0.5 – 2m
Built-in Gyro: 6 Axis Gyro Kit Types: RTF
Level: Intermediate Level
Remote Control: 2.4GHz Wireless Remote Control with 4-Channels
Radio Mode: Mode 2 (Left-hand Throttle)
Detailed Control Distance: 260-350m
Compatible with Additional Gimbal: Yes
Transmitter Power: 6 x 1.5V AA battery(not included)
Model Power: Built-in rechargeable battery
Battery: 11.1V 2200mAh LiPo
Flying Time: 16 – 18mins
Charging Time.: 210 – 260 minutes
Tuvie has received this product from our 'Ask for A Review' feature, where we receive test unit/product sample for a review.
*Some of our stories include affiliate links. If you buy something through one of these links, we may earn an affiliate commission.