Ark Angel LSV (Life Support Vessel) by Sauter Carbon Offset Design is claimed to be faster and greener than any megayacht in its class. It maximizes ecology, energy, and efficiency in fuel consumption and GHG emissions. Featuring Daimler EPA "on road" turbo compound engines, this solar hybrid Ark angel LSV offers the cleanest marine propulsion system in the world. To give you some clues, at 28knots fuel consumption and CO2 emissions are reduced by 50%, at 18 knots by up to 75% and at 14 knots by up to 85%.
Designer : Sauter Carbon Offset Design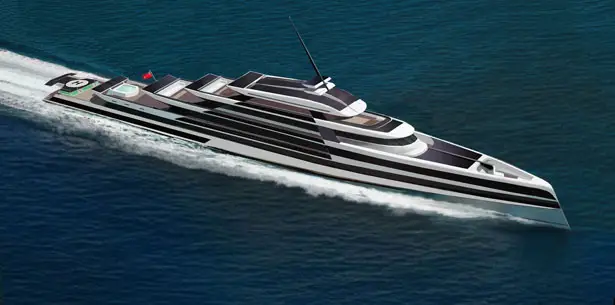 "I consider the Ark Angel the Champion of Green Power, not because she can do 28 knots and cruise for up to 5,000 nautical miles Carbon Neutral, but because in leading the campaign for responsible yachting, she is challenging all comers". — Richard Sauter, head of design.
The currently available Emax technology present in the Solar Hybrid Ark Angel LSV:
SUNPOWER Exoskeleton solar cell deployment rated at 100kw
MDR (Motion Damping Regeneration) rated at up to 100kw.
Auxiliary SkySail rated at 3 to 400kws with power sailing regeneration
Plug-in Lithium UPS rated at 3,000Kwh
Daimler Turbo Compound DD16 diesel electric power generation rated at 1,600kw
Azimuth wing pod counter rotating CLT high torque electric propulsion systems.
Advanced wave piercing Hi-speed displacement hull design
Advanced aerodynamic PV deck spoilers and radar tower canopies
Energy efficient equipment, AC & refrigeration with waste heat recovery
Computerized energy management, maintenance & guidance.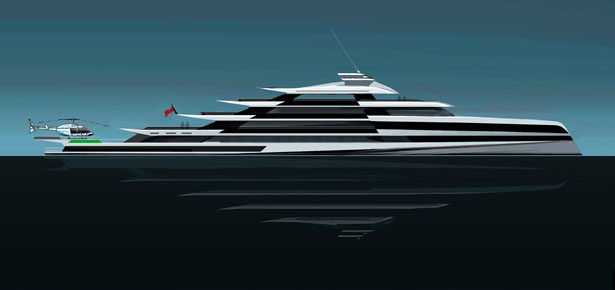 The 78 meter Ark Angel LSV harnesses energy from 4 renewable sources; MDR, Solar Cells, Winds and Currents, which combined with Plug-in power sources charge a Lithium ion storage system that runs all of her 5 star Hotel services day and night, This same 3,000kwh Lithium UPS allows the Ark Angel LSV to achieve her maximum speed, or to navigate harbors and inland waterways with Zero emissions
As a Certified Carbon Offset Project the Ark Angel LSV should save on average 4,000 tons of CO2 per year. Plugged in she is capable of generating 450Mwh's of electricity. When combined with power sailing SkySail, enough energy to offset up to 5,000 nautical miles of cruising every year.
Details
Length overall 78m
Beam: 10.0 m
Draft: 2.4 m (50% load)
Hull & decks: Carbon/Kevlar Composite
Superstructure: Aluminum
Displacement: 450 t
Engines: 4x 400kw Daimler Turbo Compound DD16 D/E power generation
Power: 4,000kw divided into 3 electric CRP drives
Fuel Capacity: 30,000 l
Carbon Neutral cruising range at 14knts 5,000nm.
Zero Carbon cruising range at an average of 10knts unlimited
Battery: Lithium ion 3Mwh. 24t
Fresh water: 20,000 l
Berths: 18 Guest/16 Crew
LSV facilities; Hydroponic farm & Fishery
Tenders: 2 x Solar Hybrid Atlantic Guardian S Class 9.5m Tenders
Helipad
*Some of our stories include affiliate links. If you buy something through one of these links, we may earn an affiliate commission.