Cities were first built at the water's edge to benefit from its beneficence, but some are nowadays threatened by rising sea level and their lands will decrease while their growth always requires more space and the surrounding land no longer allow expansion. Building on the sea is more than conceivable, especially as technically feasible.
Several solutions exist today to build on the sea, the most common technique now is the landfill to create artificial land, however, the future rather belongs to floating architecture, less destructive to the seabed, but more flexible than land or landfill to allow mobility of facilities, where there are needs, no more destruction and reconstruction, place to relocation site.
New technologies are being developed to provide the foundation for these future large floating architectures, and the first achievements are in the ways of finalization. Ultimately, these floating architectures will be different from land architectures only by their foundations and their implementation. The way is open, but major preparatory projects are still needed to carry out cities on the water.
Designer : HWANG Tzy-Lung Stefan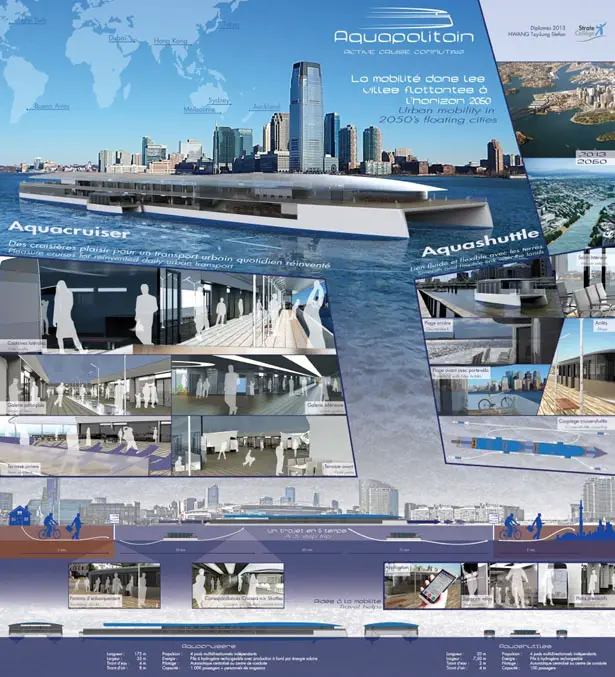 Rethinking urban transportation from the support element of the entire city, and together with the urban structure, suggests a new era of urban mobility. In these new floating cities, water may be the ideal way of mobility, offering a comfortable and relaxing trip, away from the present traffic and congestion.
With Aquapolitain, the journey will no longer be a wasted time where everyone occupies himself as he can, crammed into confined spaces, but a true moment to enjoy, alone or in groups, to relax or to save time with activities (shopping, dining, sports, etc..) that haven't been done.
The network consists of two complementary types of ships, Aquacruisers (or "cruiser") and Aquashuttles ("shuttle"). Operating in tandem and harmony, they offer a smooth and efficient service, flexibility and maneuverability of shuttles can serve a maximum of destinations while avoiding stop and restart maneuvers to the cruisers, which can provide a regular, stable and comfortable mobility.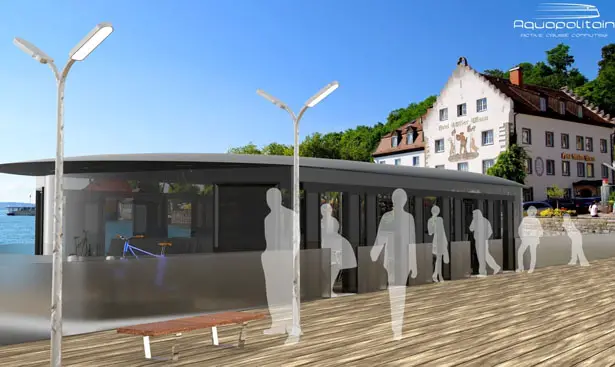 With 175m in length and 35m wide, the cruisers are the backbone of the network and carry passengers on most of their daily commute, at a constant speed without stops. Like a shopping and activities center, each cruiser carries a thousand passengers on two decks and allows everyone to find the space and services he expects from the terraces, coffee bar restaurants, gyms, shops, theaters, etc…
Real links between cruisers and the lands (mainland and floating lands), the shuttles commute between the cruisers and boarding-unboading stops in the neighborhoods. Their small size is optimal for the frequent rotations and stops required by their mission, and creates a denser mesh of lines, where the lane width does not allow the passage of large vessels.
Aquapolitain is more than just a network of urban and suburban transport is a piece of the city in perpetual motion. Taking advantage of the new urban organization, the system can provide wide waterway between the floating neighborhoods, and thus offer vehicles with additional services and much more space for passengers.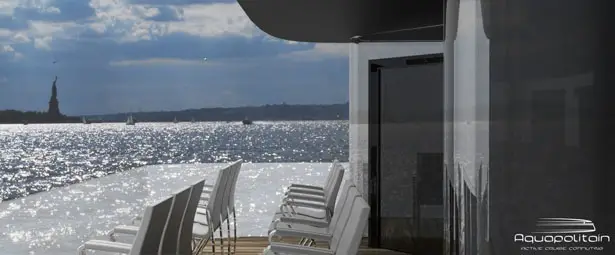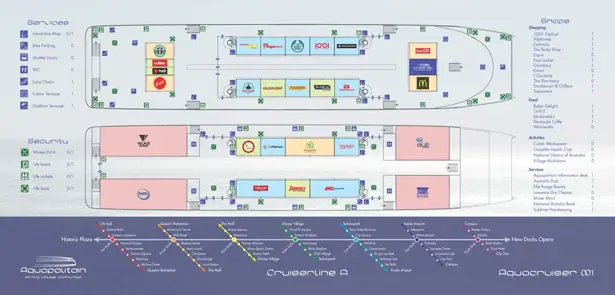 Click above image for better view
Tuvie has received "Aquapolitain" project from our 'Submit A Design' feature, where we welcome our readers to submit their design/concept for publication.
*Some of our stories include affiliate links. If you buy something through one of these links, we may earn an affiliate commission.