The ANTARES design might currently be considered avant-garde for a construction vehicle, however within the next 10-15 years, proposals such as these may be thought conventional.
The cab has a large panoramic glass area – to aid operator visibility.
(air conditioning is increasingly commonplace for these machines, as they typically work in dusty quarry environments. Solar gain could be managed effectively through the use of photovoltaic glazing)
Beneath the glass, a heavyweight ROPS structure ensures operator protection. The effect of this soft, inviting cab solution is a counterpoint to the hard industrial lines of the heavyweight ANTARES chassis and bodywork – and hopefully provides an appealing operator environment.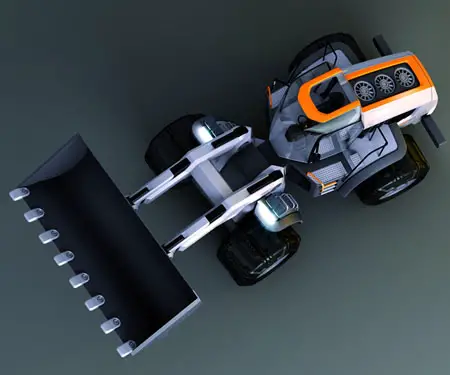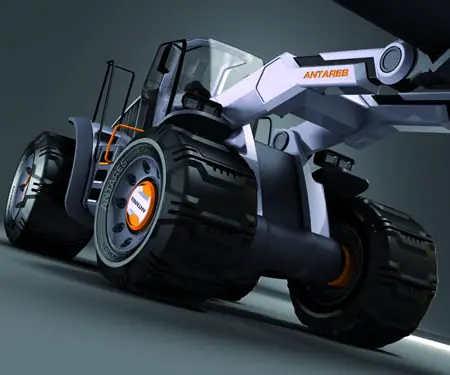 Text from Mike, taken from
IVT International
:
When I was asked to contribute design work for IVT – specifically wheeled loading shovel ideas for this article – I was absolutely delighted, as I've always had a real affinity for bigger wheeled loaders. I can't quite put my finger on exactly why – something about the overall stance and character has an inherent 'rightness' and single-mindedness in its functionality that has always appealed to me. One of my first sandpit toys was a small die-cast JCB410, and I've still got it in a drawer somewhere…
With Antares, aficionados will instantly spot the Porsche 917 engine fan design. Growing up as the son of a certified petrolhead subjected me to a daily diet of the very best in motorsport, but there was always something about the iconic 917 (especially in Gulf colours) that held my fascination. It was the first car I tried to draw – probably aged about four or five and working from grainy photographs – always from a high rear three-quarter view so I could include the fan.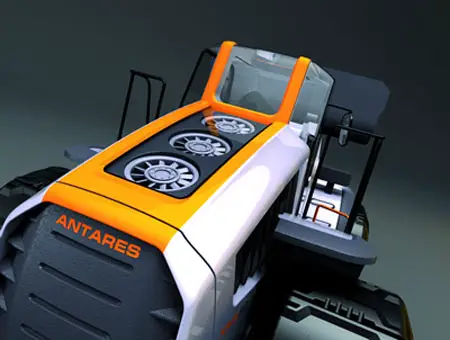 Porsche fans on Antares? Well, there's logic behind the passion, as the power source is envisaged as being electric-biogas reactor feeding a central fuel cell. Water and heat are by-products of this specific energy-generation process and have to be managed. A bank of fans seems the most obvious way of ducting the bay, and sends out a clear visual signal that this is no ordinary wheeled loading shovel.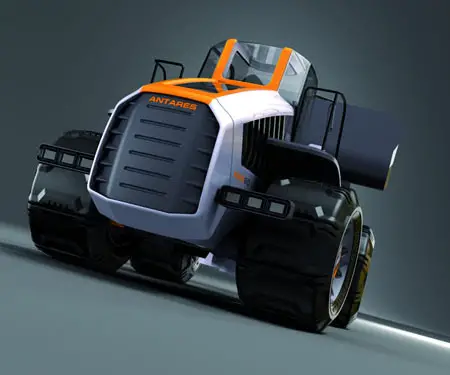 General bodyform is about keeping things as simple and uncluttered as possible – it's a concept rather than a fully detailed production machine, after all. Ditching conventional hydraulics for EAPs means the character of the loader end can be much cleaner, and I want to really emphasise this with as few fussy details as possible. I've got various ideas for composite structures that I want to showcase, so going away from traditional plate arms seems like the right thing to do.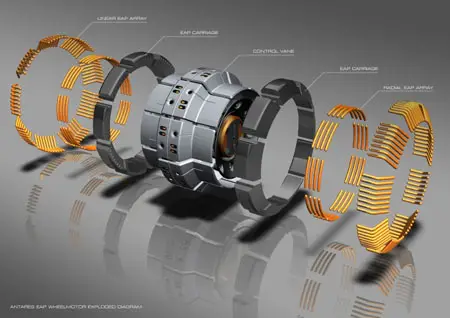 Obviously there's a trade-off in terms of loader arm thickness to maintain torsional rigidity as a composite structure, but I figure the EAP approach theoretically allows for the removal of a big chunky Z-bar linkage, so overall sightline view of the bucket is improved from an operator perspective.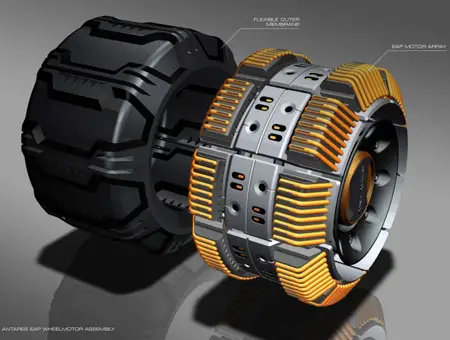 The cab is deliberately kept as glassy and like a goldfish bowl as possible. Visibility legislation is getting ever tighter, and air-con is now the absolute norm for machines like this working in dusty hostile environments, so I feel that a large glass area is justified. Solar gain could be managed through the use of photovoltaic glass or traditional sunshield blinds if necessary. Beneath the surface, there's a very sturdy ROPS/FOPS structure, but the overall feel is light and airy – a counterpoint to the incredibly heavyweight looks of the rest of Antares, and hopefully an appealing environment for the operator.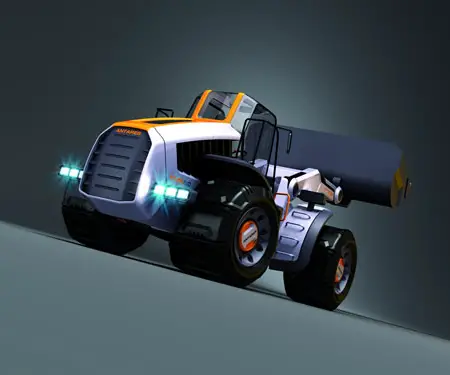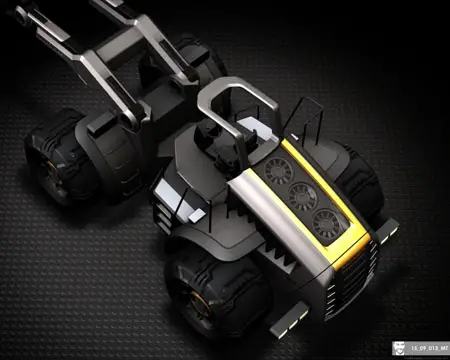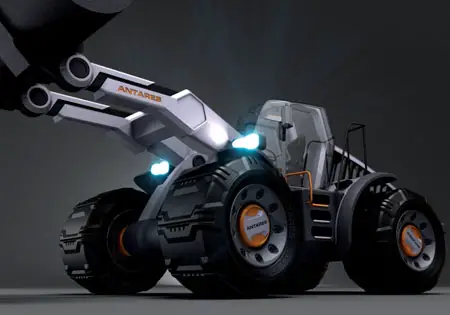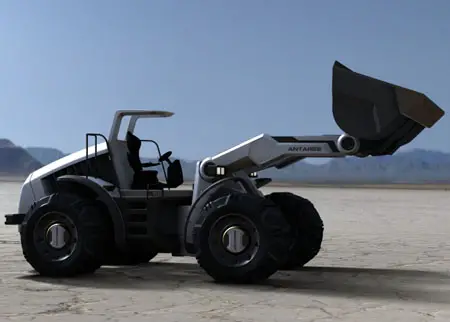 Designer : Mike Turner
*Some of our stories include affiliate links. If you buy something through one of these links, we may earn an affiliate commission.