Riding a bike or a horse is both a good exercise and a cool way of transportation, but sometimes it can be very dangerous specially when there are motor vehicles near you. Many accidents happen when the riders are not visible to cars or motorbikes, and this is usual at night or road junctions. There are many lights on the market but usually they fail at making your sides more visible. Pedalite has some products to solve this and what is even better, they need no batteries.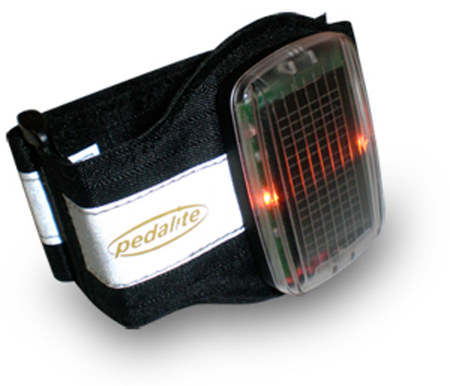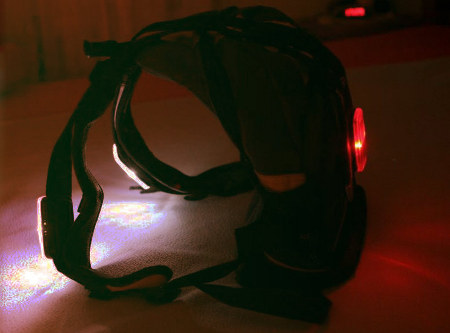 Pedalite has 2 wearable products, the Anklelite and the Baglite. The Anklelite, as its name indicates, is a strap with reflective material that can be used in any kind of sport and can be attached firmly to your arms or legs. It has a plastic screen and inside there are 2 orange bright LEDs and a small solar panel. Just with one hour of sunlight it has enough power for 6 hours flashing. It has a switch to change between charging and in-use and a button to select the mode: off, on, flashing.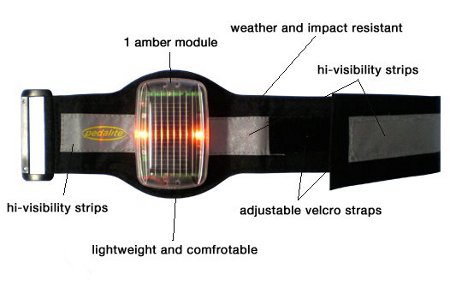 The Baglite has 2 shoulder straps and wider rear part. It uses 3 of those plastic screens with solar panels, one with white LEDs for each of the front straps and a red one for the rear. It uses elastic straps with velcro to be attached on a a backpack or directly as a harness. The equestrian version of the Baglite also includes a high visibility tabard.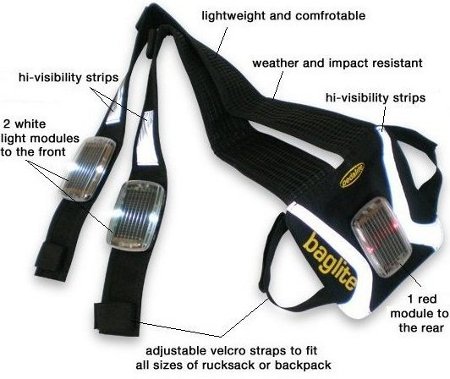 Thanks to these solar powered lights you don't have to worry anymore about getting fresh batteries for your lights and you will be seen from nearly 1 kilometer away. These lights are also very light and comfortable and are eco-friendly both in their power source and production.
Pedalite has also pedals that have a white, an orange and a red LED for the front, side and rear of the pedal respectively. They don't use batteries or sunlight but pedalling as its power source and they are shock and water proof. They offer a 360º visibility with 1 kilometer range.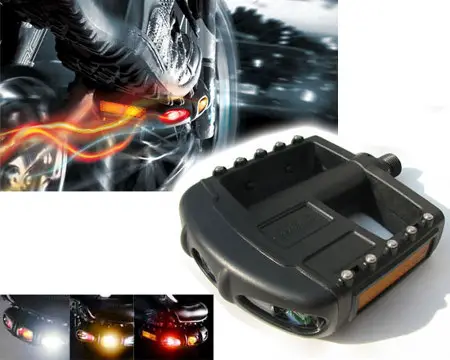 From: Pedalite [Buy AnkleLite for $21.85, BagLite for $43.75, PedaLite pedals for $69.99 and toe clips for $13.99 in their international shop]
The pros
High visibility during 6 hours.
Maintenance and battery free.
Light and comfortable.
Water resistant.
The cons
Bright enough to make you visible but not to see the terrain.
The lack of alternative power source could be a problem if you really need light and there is no time to charge them.
The verdict
All the Pedalite products are well made and although they are a bit pricey, the cost of batteries in just few months of constant use compensates so the pay for themselves. Also they can be recharged with direct sunlight or artificial light so you can just wear them all the time knowing that you'll always have positioning lights with you. Just in case you should also bring with you an emergency light and lights to see your surroundings if you plan to go through non illuminated areas.
Tuvie has received this product from our 'Ask for A Review' feature, where we receive test unit/product sample for a review.
*Some of our stories include affiliate links. If you buy something through one of these links, we may earn an affiliate commission.