Introducing Aequorea, 3D-printed oceanscraper from the seventh continent's garbage. Designed by Vincent Callebaut, this futuristic structure is an underwater farm that draws its name from a light-emitting jellyfish characterized by its tentacles. These tentacles help it to swim and ensure its stability while producing its own energy.
Printed in 3D from algoplast, a composite material made from mixes algae with garbage from 7th continent, Callebaut creates a futuristic underwater village. It's a future vision that could happen, in this century, every human is producing up to 10 times their weight in garbage annually, resulting in more than 250 million tons of plastic waste with a life expectancy of a thousand years where more than 10% of it end up in the oceans.
Designer : Vincent Callebaut Architectures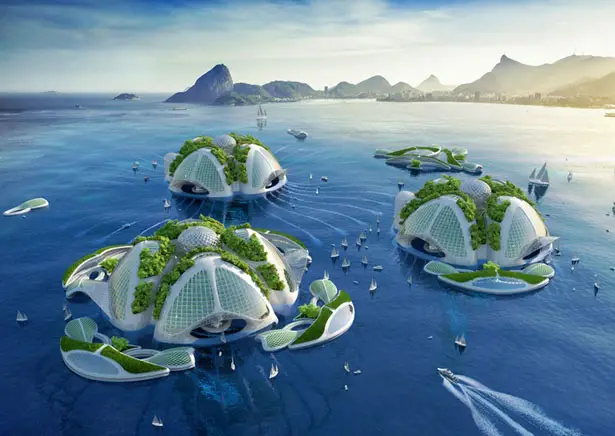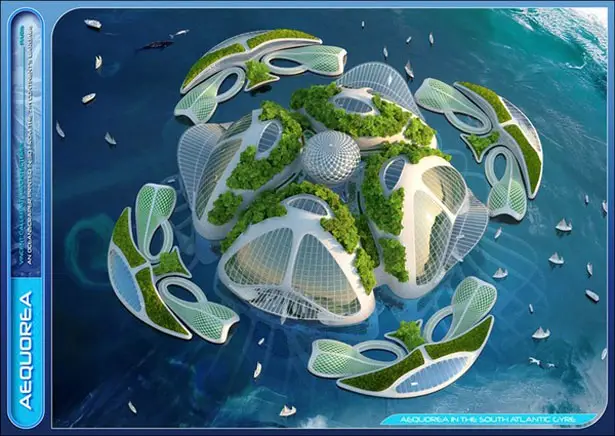 Callebaut even creates future scenario where People of the Land are so careless and not realize that they live on finite territory with limited natural resources. Due to climate change and the rise of water levels, a new civilization would be born: People of the Seas. Once the lands and islands were underwater and salinized, there would be more than 250 million climate refugees that got involved with NGO that defends an ethical approach to the oceans. Together, they would invent new underwater urbanization that is energy self-sufficient, recycled all waste, and fight ocean acidification.
Aequoreas has the ability to self-build through eco-friendly, natural calcification, just like sea shells, it uses the calcium carbonate contained in water to form an external skeleton. As you can see in the images, those are genuine blue carbon wells shaped just like twisted towers 1000 meters deep. It uses aragonite as the construction material for its transparent facades. Each village can accommodate up to 20,000 aquanauts (residents), the main access is on the water surface through 4 marinas covered with a mangrove rooted on a floating dome 500 meters in diameter.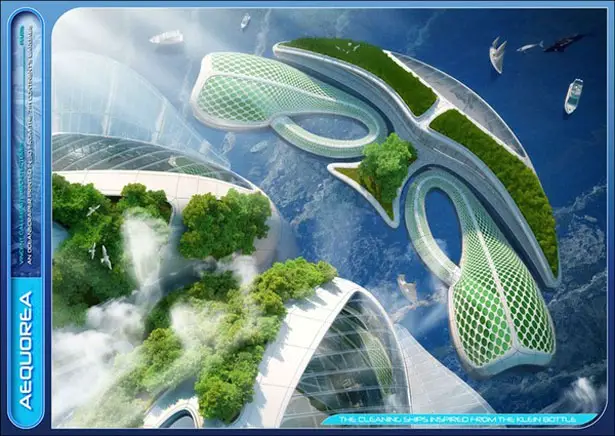 More images of AEQUOREA 3D Printed Oceanscraper: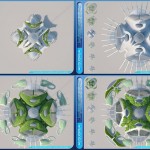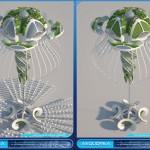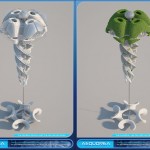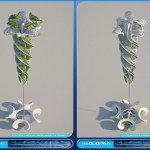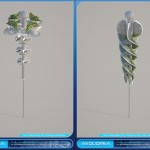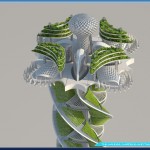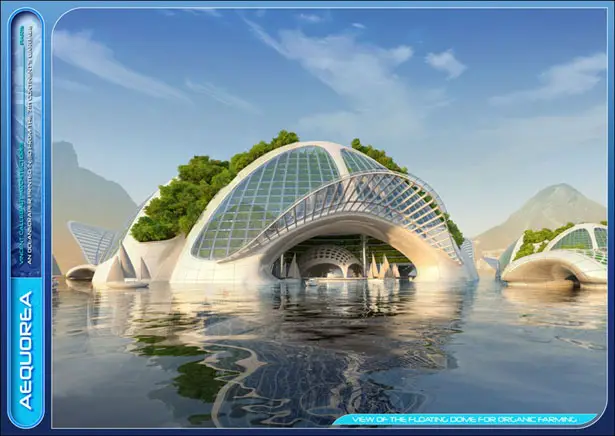 This type of structure creates modular living where living space, fab labs, science labs, educational hotels, sports fields, aquaponic farms, and phyto-purification lagoons stack up layer by layer. The twisting design of the towers is ultra resistant to hydrostatic pressure while the geometry allows it to fight marine whirlpools and reduce motion sickness. The double shell accommodates the ballasting, once filled with seawater, the ballasts would lower the Aequorea's center of gravity to counteract the Archimedean buoyancy. Each tower has OTEC (Ocean Thermal Energy Conversion) power plant that completes the panel of energy supply, it uses difference in temperature between warm surface water and cool water pumped deep down to produce continuous electricity.
The community would grow their own food, from algae, plankton, and mollusks, which are rich in minerals, protein, and vitamins. They can move around by algae fueled ship or submarine. Biofuels are made by extracting hydrogen and carbon from seawater through osmotic pressure, then synthesizing them. This eco-friendly process allows carbon dioxide to be pumped out of the oceans, thus neutralizing the acidification process that can destroy their ecosystems.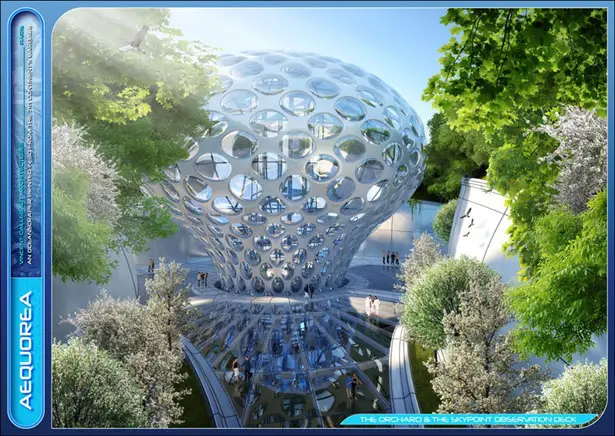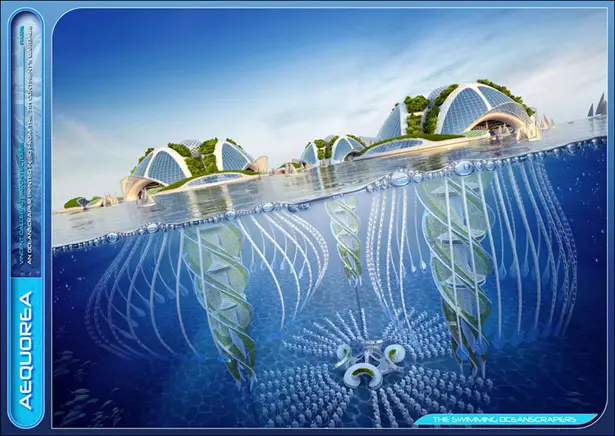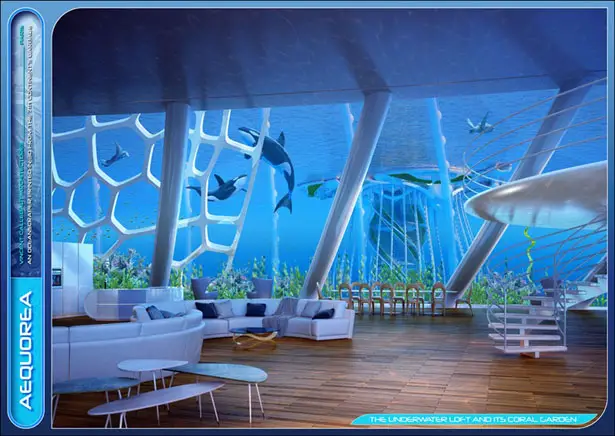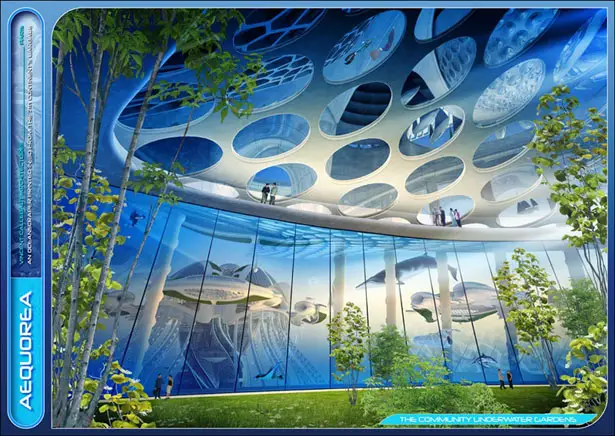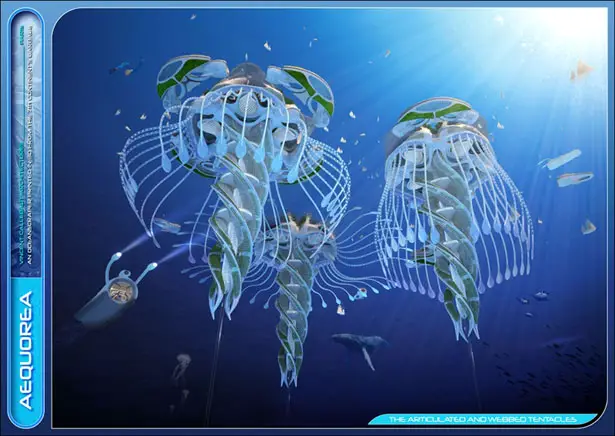 *Some of our stories include affiliate links. If you buy something through one of these links, we may earn an affiliate commission.