A' Design Award and Competition calls you to take action and submit your work, this competition is world's leading international design award organized in a wide range of creative fields. It's a prestigious competition that highlights best designers from all over countries in all disciplines. This design award also promotes fair competition where each entry is anonymously judged by an influential jury panel that consists of professionals, experienced academics, and press members.
There are so many design categories, but in this article, we'd like to highlight some winners specifically from Toys and Hobbies Product Design category. This category is open to all toy designers, game studios, industrial designers, and hobby product manufacturers worldwide. Only designs that are created in the last 10 years are eligible to participate.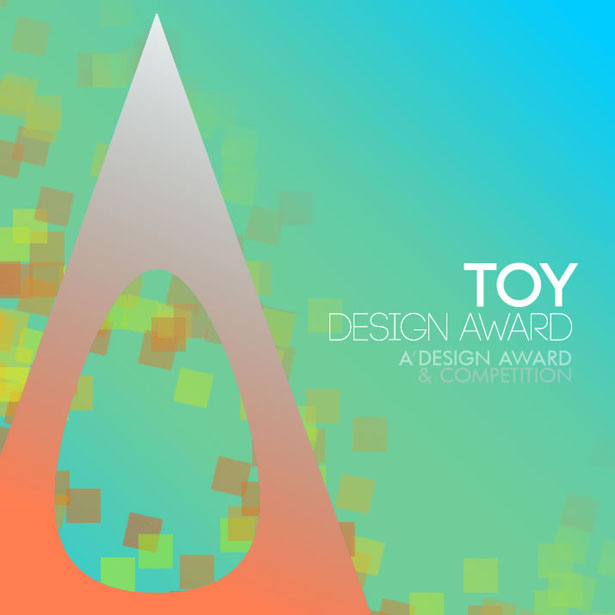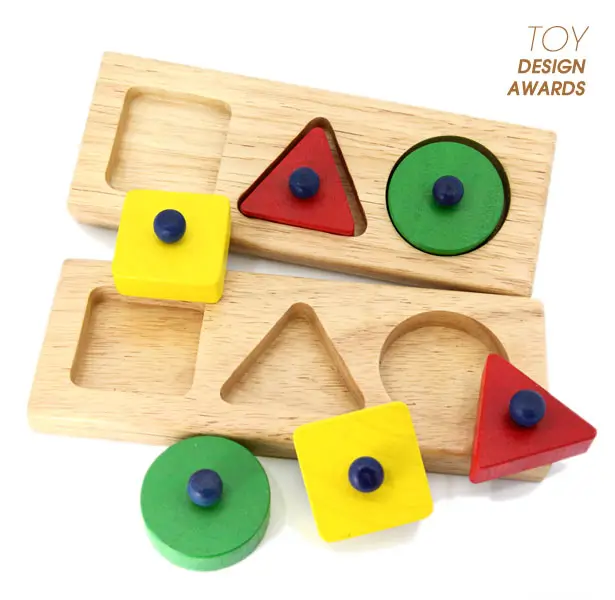 We are hoping that through these winning designs, you can get inspired to start your own project and submit it to A' Design Award and Competition. Joining a competition is a good learning experience that prepares you to present your work to clients, design team, or organizations, not to mention all benefits that you'll gain when you win this award.
Design Name: Minimals
Designer: Sebastian Burga [Details]
Minimals are modular animals toy set characterized by geometric shapes. The name itself was derived from two words: mini-animals, it's a unique set of toys where children are encourage to construct each module to form a cute animal.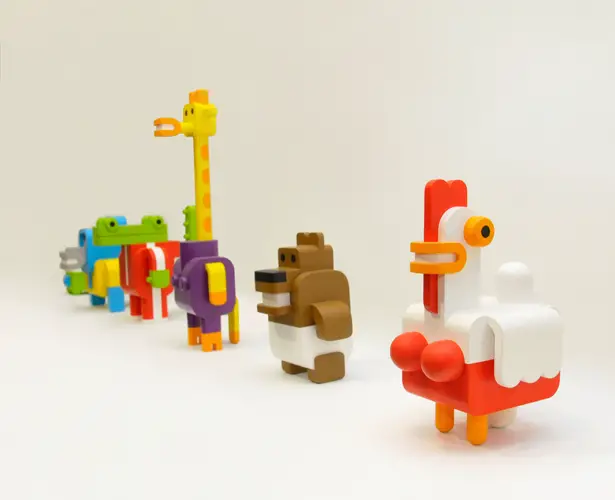 Design Name: Kinderfeets
Designer: Oscar Mulder [Details]
Inspired by his son and vintage Dutch "granny" bicycles, Kinderfeets is a wooden balance bike designed for children from two to five years old. In order to let children to customize their balance bike, Kinderfeets is equipped with a chalkboard. In this way, children can draw or color the bike with chalk.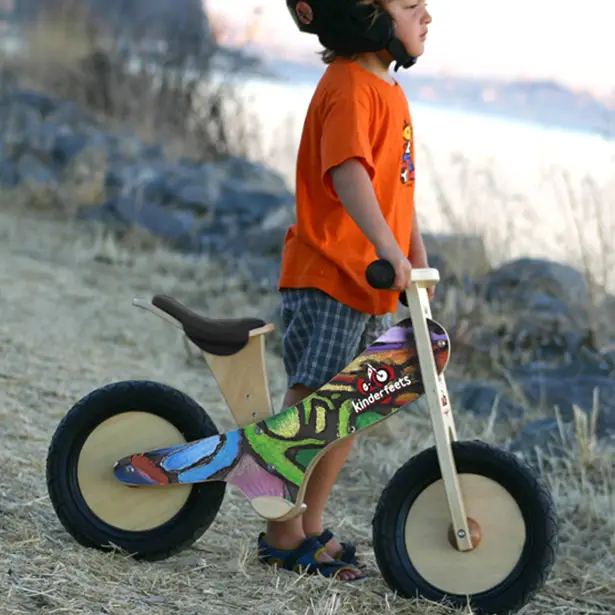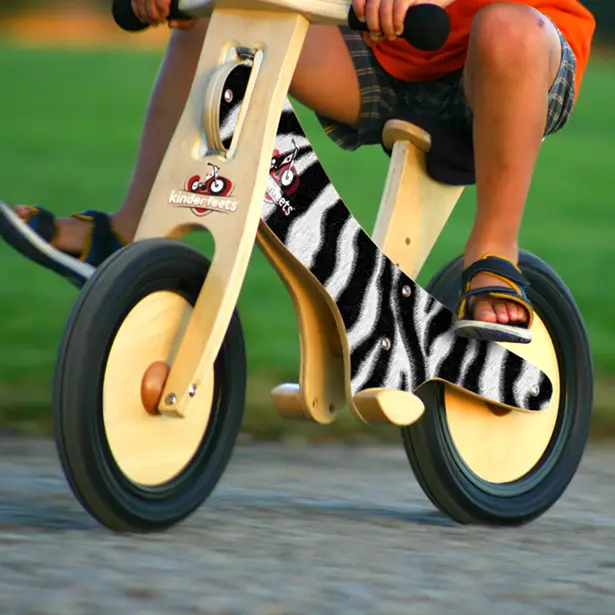 Design Name: Blindbox
Designer: Ufuk Bircan Özkan [Details]
Blindbox is an attempt to add a 3rd dimension to the classic game of maze, that static 3D maze is boring since it only has just one solution. Blindbox is a wooden game that combines puzzles with memory games, it'll strengthen your hearing and touching skills. Each player can change the 3D maze within each move during the game in order to gather one own marbles. In this unique game scenario, players have to score for their opponents by causing their marble fall down first.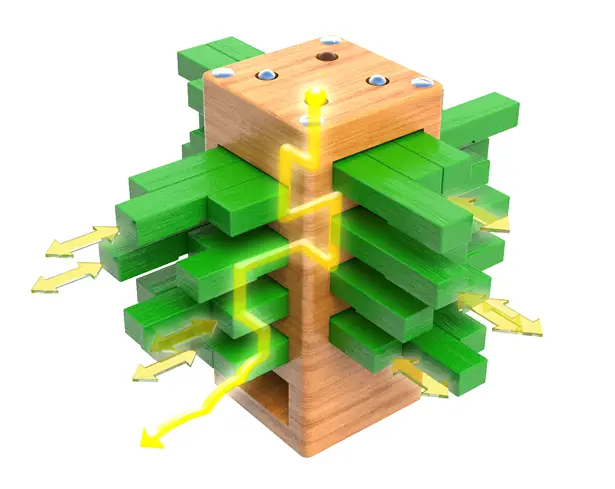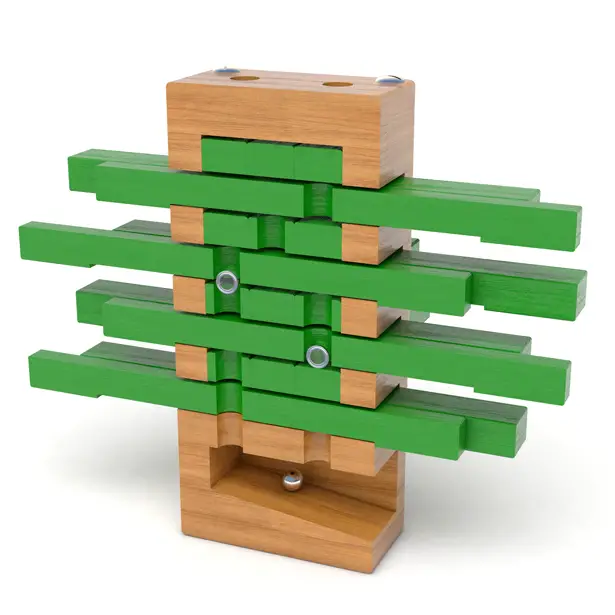 Design Name: DIY Rembrandt Press
Designer: Bill Ritchie [Details]
I guess you can tell where the inspiration came from, this toy mimics 17th century printing press at Rembrandts Museum. Basically this toy is a cute replica of the old-world press but it's actually fully functional hand press. There's flash thumb drive in in the woodwork where user can connect it to a device such as smartphone or tablet where user can download data provided free from online resources.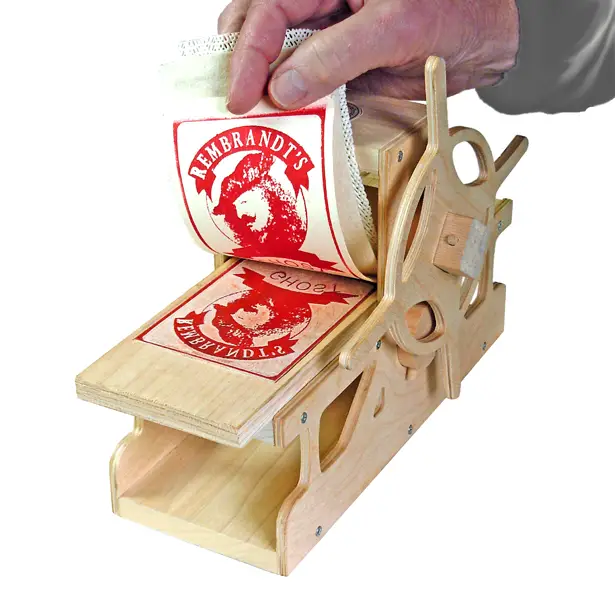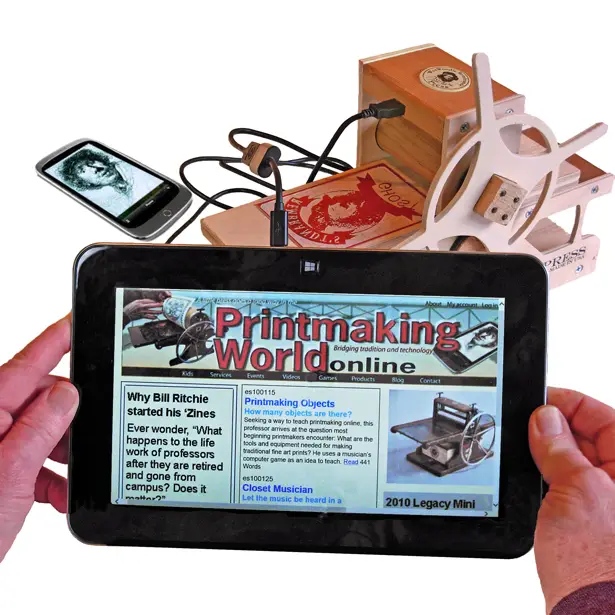 Design Name: Triqo Construction Toy
Designer: Triqo BV [Details]
What a unique construction toy, it consists of 19 parts that are clicked together by the way of holes and bulges. These parts feature flexible rods of variable lengths, arches, wheels, hinges, tires, and connectors. Thanks to flexible rods, this toy delivers unique aspect where children can build different shapes and objects using all these parts.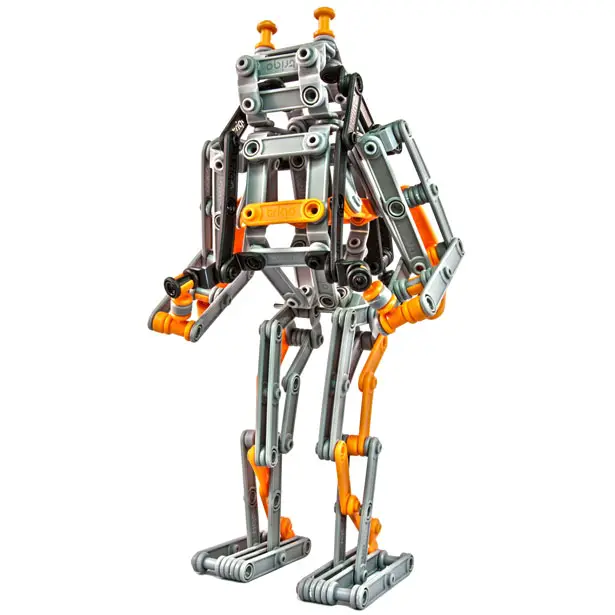 Design Name: Roly Poly Movable Wooden Toys
Designer: Sha Yang [Details]
Roly Poly is a tumbler toy that contains fabrics and different objects to represent the sun, rainbow, sea, sand, or even waves. Children can play and recognize the physical world, this toy stimulates their imagination as well as help them to understand their surroundings.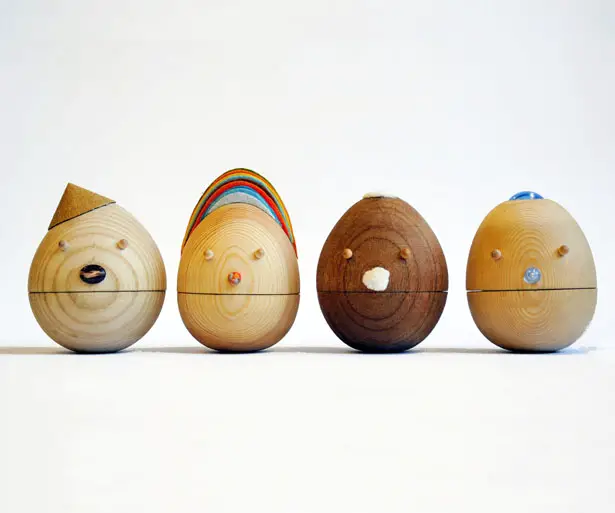 Design Name: Roman Snap Together Helmet
Designer: Stephen McCabe [Details]
Here's a series of snap together helmets, it's an entertaining and intuitive toy. It features flat patterns that can be transformed into an iconic structure of the helmet. Children will learn to construct 2D objects into 3D, it'll help them to learn about structure and geometry.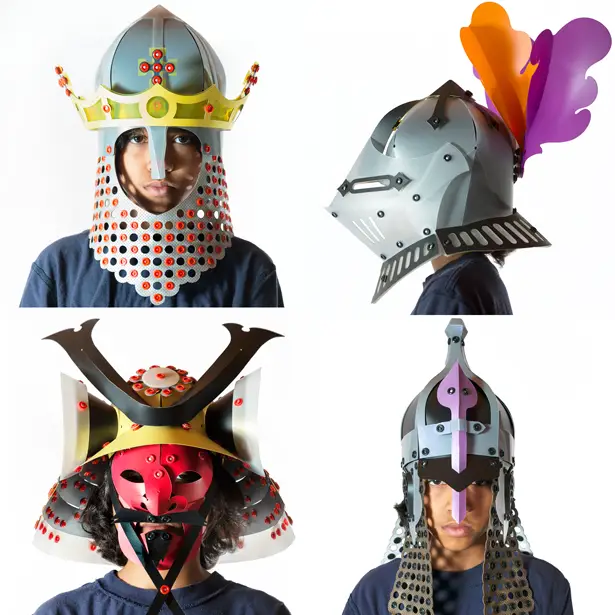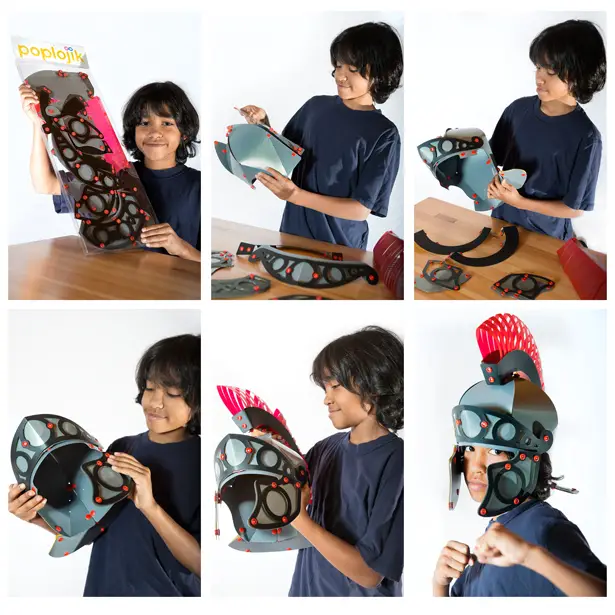 Design Name: Vic & Ddory (mascot)
Designer: KT Corporation [Details]
These mascots are designed to represent "Dokkebi", a traditional magical creature in Korea. It is said that ordinary form of Dokkebi might look scary but they still give silly, funny impression. These little monsters are actually good friends once you get to know them. These mascots are designed for Korea Telecom to celebrate the 10th anniversary of Korea's baseball team. It was inspired by the idea of "Magic" to connect with fans.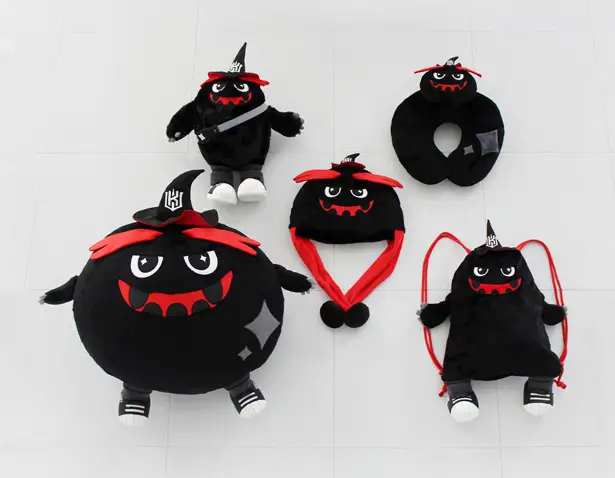 Design Name: Chesset
Designer: Duval H. Patterson [Details]
Here's a modern interpretation of the classic chess set. Made from birch hardwood, no carving is needed during the creating process. It's a piece of art and a functional game set. You can leave it just like that when not in use, it'll function as a decoration.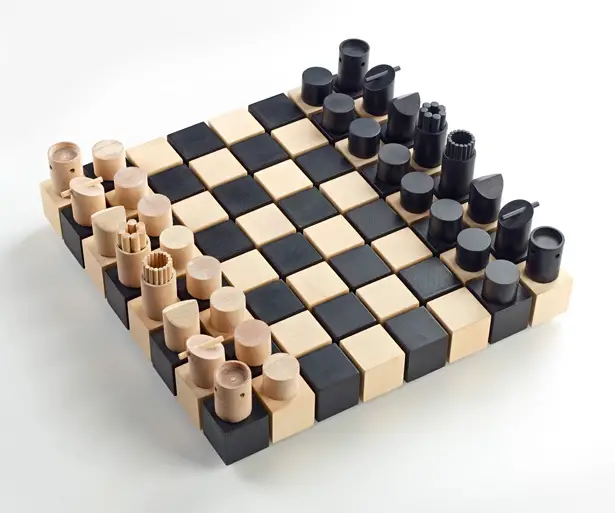 Design Name: Brickle C
Designer: Kuch Design [Details]
Brickle C is a set of cork colored building blocks where they can be easily stowed in a handbag. It's a nice set of toys that can be carried by working parents where they have to be with their children.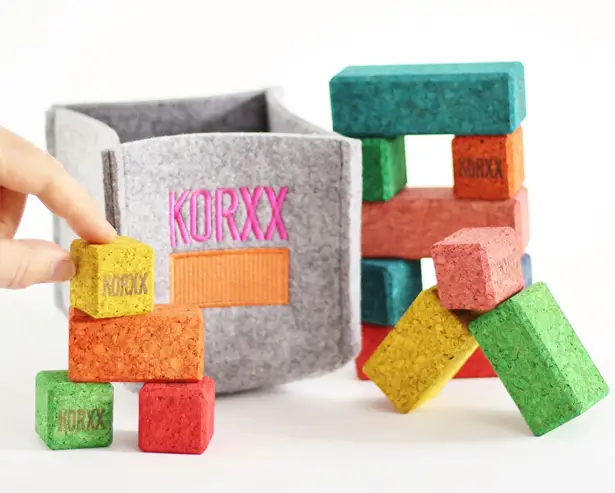 Design Name: Mastodonts Toy
Designer: Pablo Saracho [Details]
No need for instructions to play with this toy, you just need imagination to build it. The wood has embedded magnets where you can join the pieces, it allows you to create new and different toys. No plastic, paint, or glue, one body allows you to build four different animals simply by changing its heads, mouths, or ears.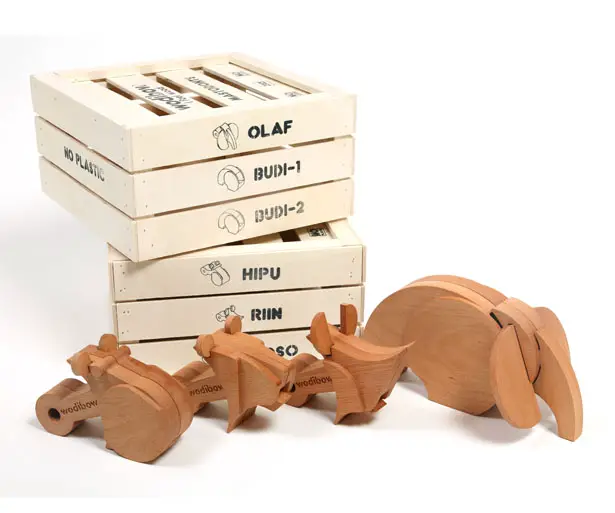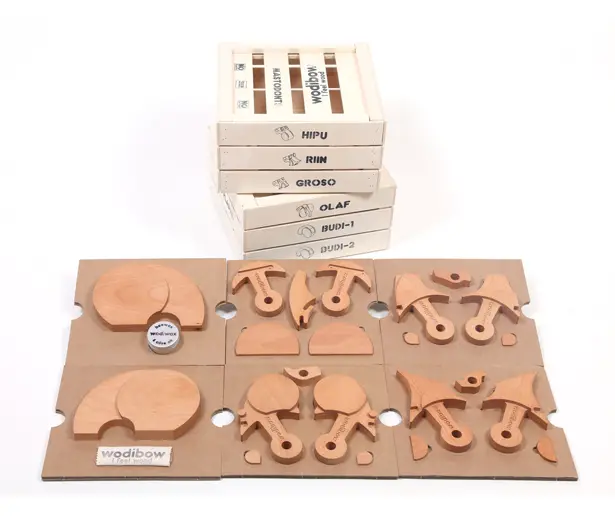 Design Name: DIY Mini Press
Designer: Bill Ritchie [Details]
The joy of printmaking is demonstrated by this cool DIY Mini Press. Similar to DIY Rembrandt Press, this toy produces a beautiful hand printing press of unique design, just like vintage wooden printing furniture.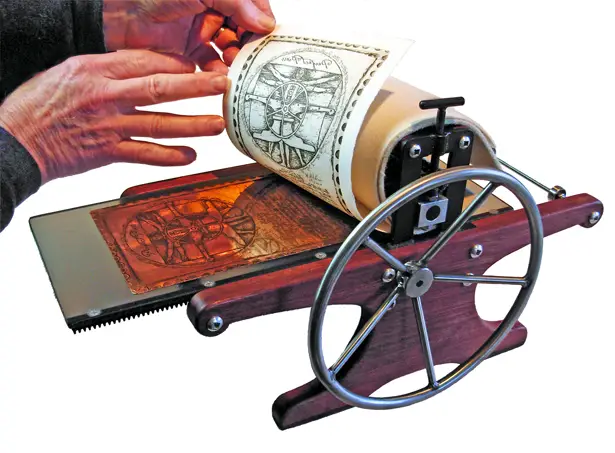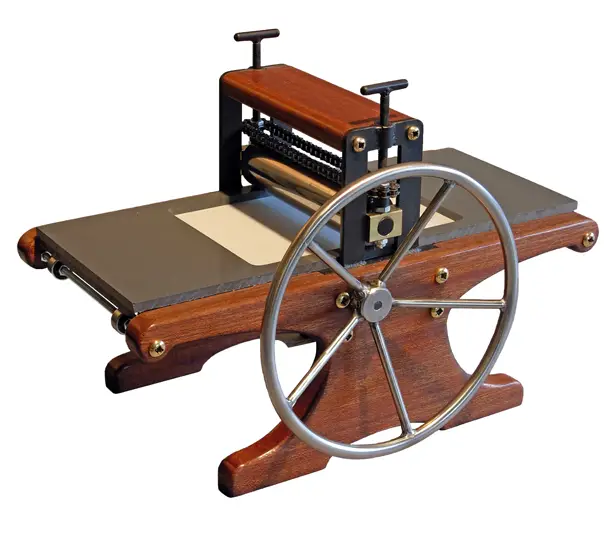 Design Name: Green Science Arouse Environmentally Friendly Concept
Designers: Flora Lam, Bonnie Mak, and Ricky Wong [Details]
What an amazing set of toys that introduces children about green habits at early age. As young minds learn and develop, it's important that they become aware the importance of taking care our environment. This Green Science toy delivers eco-friendly messages with many cool recycling tips that can be applied in their daily lives.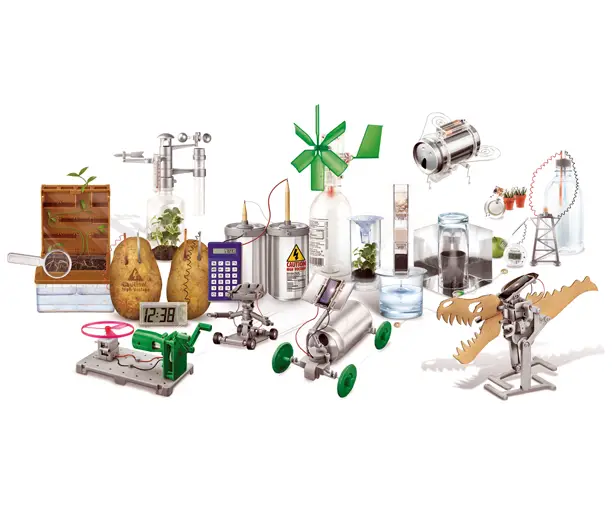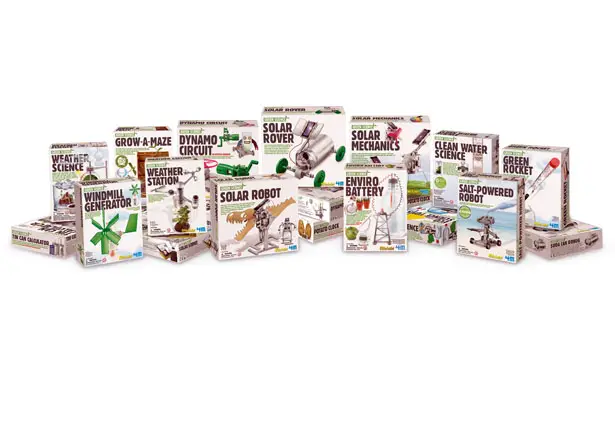 Design Name: Cwic Toy
Designers: Pablo Saracho and Mayte Ruiz de Velasco [Details]
Inspired by trees in the garden, these designers designed and developed Cwic, an all-seasons tree. It's a combination of design, interaction, nature, and of course fun. Children play with this toy using their imagination, mixing different pieces and colors to represent the season.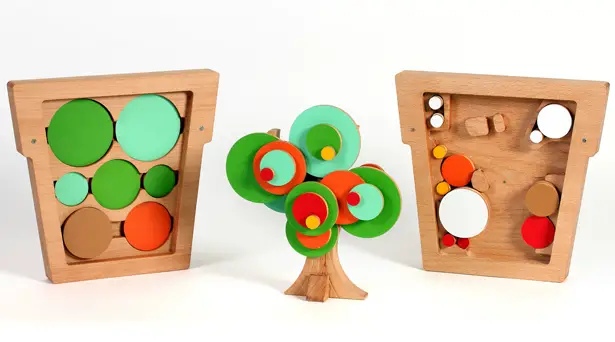 Design Name: DOCKLETS Toy Bricks
Designer: Thade Precht [Details]
It's a set of bricks with special hook and loop coins that allow them to be assembled to almost unlimited 3D constructions. Docklets toy proposes a new system of building blocks toys for both small and tall builders. The loop system also makes sure flexibility between blocks, creating ergonomic shape wouldn't be impossible anymore.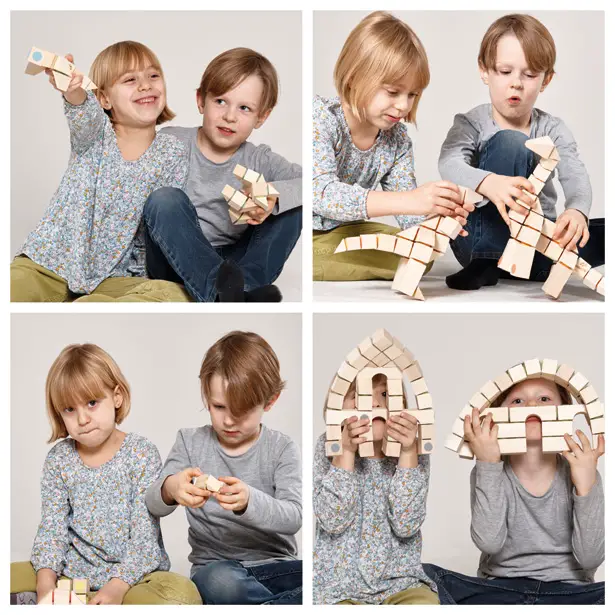 Design Name: Braille Blocks Toy
Designers: Alessandra D'Alessio & Alyssa Vani [Details]
There's limited range of learning strategies for visually impaired children. This Braille Blocks Toy focuses on a way where children can identify braille with everyday textures by combining a sensory board, braille, and everyday textures.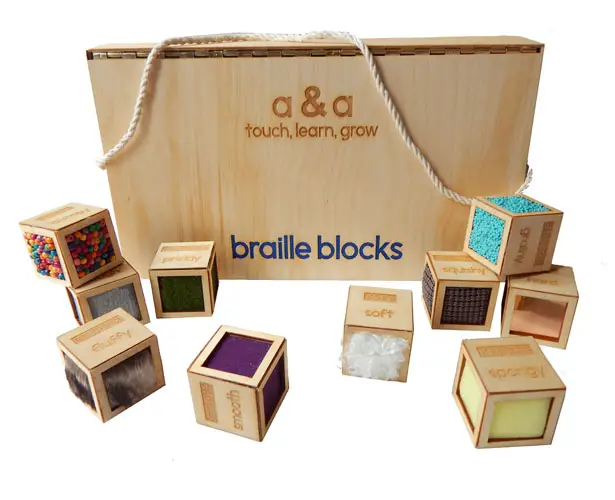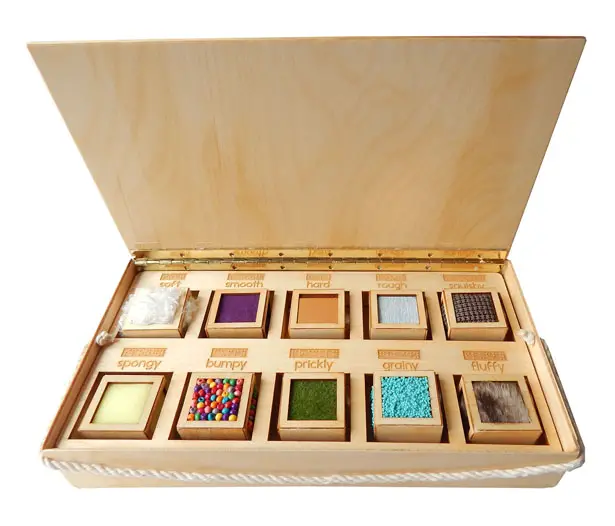 Design Name: Pinocchio Playing Cards
Designer: Elettra Deganello [Details]
These deck of cards want to pay tribute to the original version of Pinocchio, written by Carlo Collodi. The story is marked by a deep educational value through numerous stimulating characters. These playing cards bring back those characters to life, it's a work of art.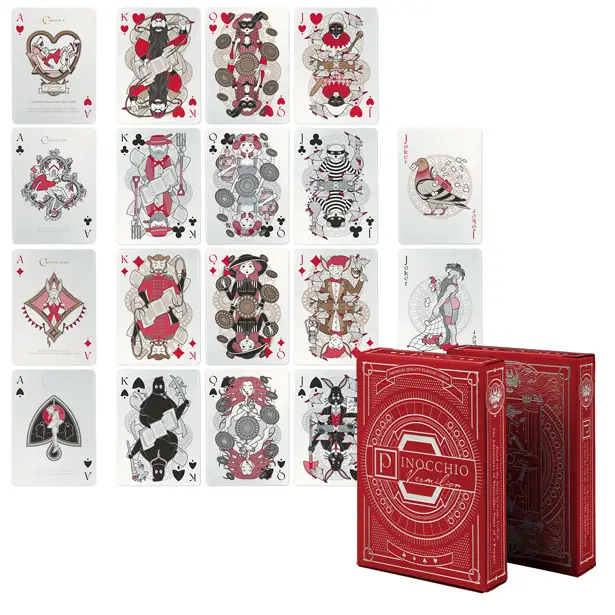 Design Name: ahaDRONE Kit Cardboard Drone
Designer: Srinivasulu Reddy [Details]
Here's an affordable drone made of cardboard yet it has everything you need to build your first quadcopter. Drones on the market are expensive, yet they are prone to crash on the ground. So why not creating one that doesn't break your bank account? This kit includes everything you need to build and fly the drone.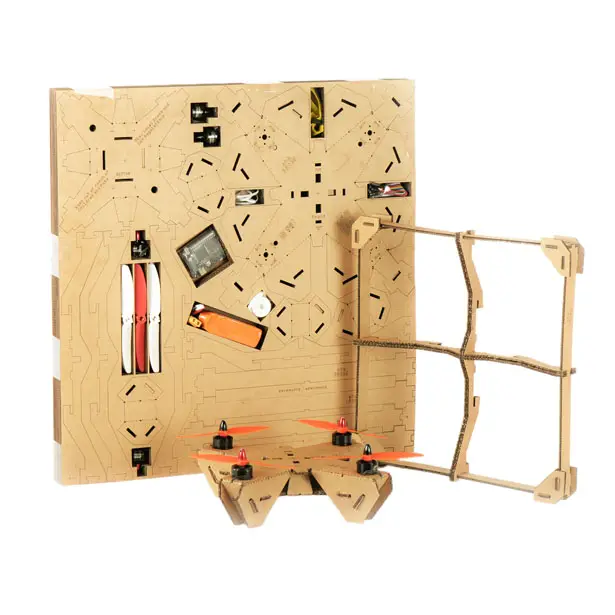 Design Name: Geniator Business Game
Designer: CBI Pioneer [Details]
Here's a creative business game. Geniator features logo, playing area, verbal, and visual cards, all of these is reflection of methodological framework presented in a metaphorical form. This game creates interaction between three planes: strategic planning, business processes, and brand communications. It's a great way to obtain all necessary information from the client by creating a mechanism of interaction of the process participants.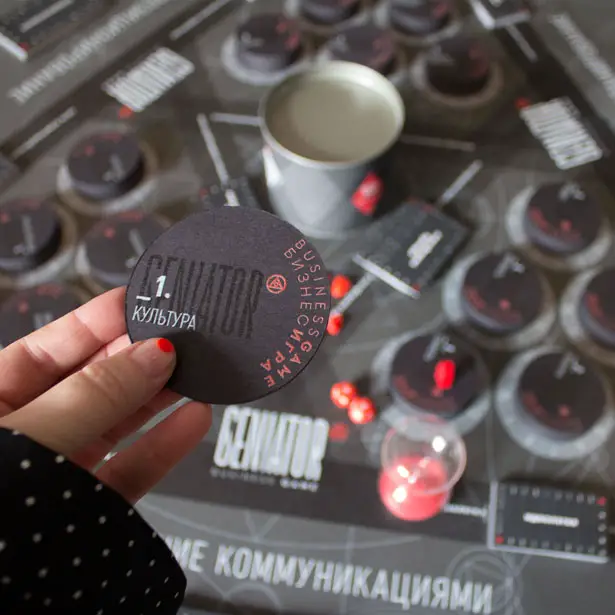 Design Name: HoneyComb M Music Kit
Designers: Carver Liu, Robi Wang, Hao Xu, and Lei Xu [Details]
Anyone even without engineering background can build this cool electric interactive music kit. By eliminating all technical difficulties, you can introduce your children to electronic principles and encourage them to learn more about musical instrument, logic, and creativity. Green is the input module, blue is the logic module, and orange is the output module. Connect all these blocks to compose a musical instrument.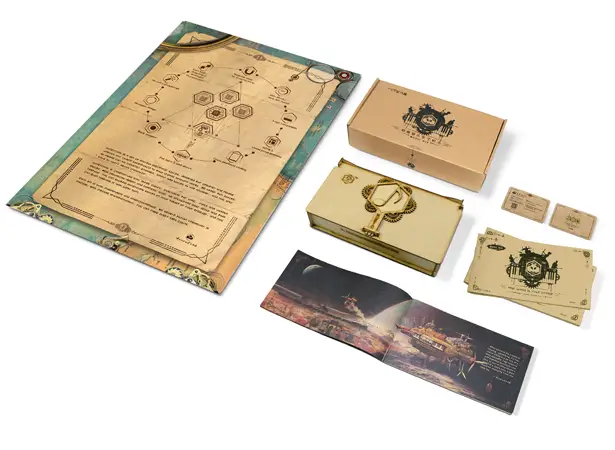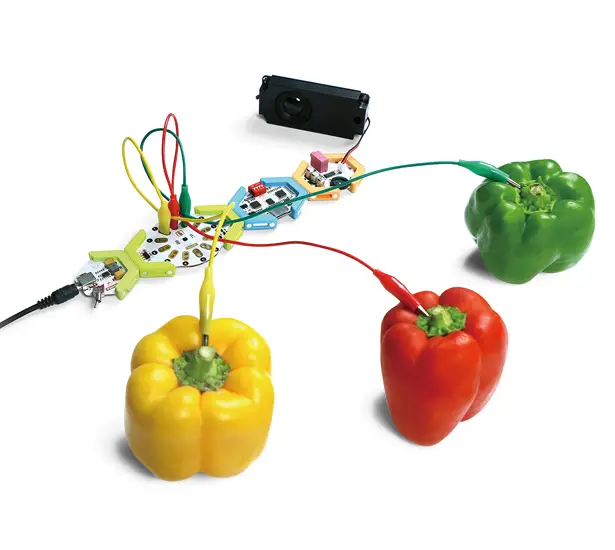 All designs are welcome to submit their works to this competition, you can also see more award winning designs from all categories through this link: http://designmag.org. The deadline for A' Design Award 2020 is February 28, 2020 and the result will be announced on April 15, 2020.
*Some of our stories include affiliate links. If you buy something through one of these links, we may earn an affiliate commission.