Let's take a look at peugeot's futuristic prototype two-seater. This 4WD Quark has removable interactive interface, innovative PDA concept, still serves the same purpose as ignition key which combine with instrument panel. 4WD Quark is also protected with small transparent and waterproof cover. Enough said, this 4WD Quark prototype has competed successfully at Michelin Bibendum challenge.The vehicle create its own class in four wheeler, which actually similar with 4WD machines that are selling so well in America at present, yet created low-emission inner-urban fuel-cell vehicle. To drive each of four 17″ diameter wheels, this 4WD Quark is using electric motor which connected to the chassis by means of triangular wishbones.
The fuel cell supplements electrical energy supplied by a Nickel Metal Hydride (NiMH) battery consisting of 40 individual cells, each with a voltage of 7.2 volts. The battery can therefore provide a nominal overall voltage of 288 Volts. In parallel, PSA Peugeot Citro'n have also developed new solutions to
simplify the fuel cell and reduce its size to help integration into more compact vehicles.The fuel cell of Quark is no longer water-cooled, but air-cooled, this could avoid the need for bulky water-cooling system and this means we can also avoid freezing point because of ambient temperature that could cause damage to water-cooled cell. So you don't have to put 4WD Quark in garage in any weather conditions.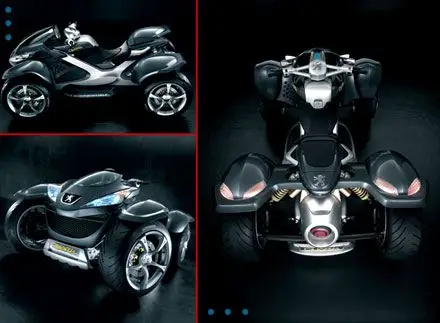 *Some of our stories include affiliate links. If you buy something through one of these links, we may earn an affiliate commission.