Harley-Davidson VRSCF V-Rod Muscle is a power cruiser with an overenthusiastic quality. Its engine is rubber-mounted in a hydro-formed steel edge frame. There is a shell that covers airbox located on the top of the engine. The engine has the super-power to produce around 125 hp at 8250 rpm and up to 85 ft-lbs. of touque at 7000 rpm. You will get an Anti-Lock Braking System i.e. ABS installed in your Harley Davidson VRSCF V-Rod Muscle. It is available in Vivid Black, Brilliant Silver, Dark Blue Denim and Red Hot Sunglo. The bodywork of this motorbike surely stands apart from all the rest. Another amazing work of Harley Davidson.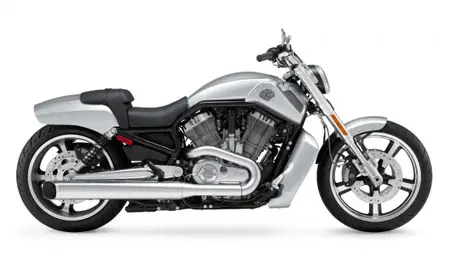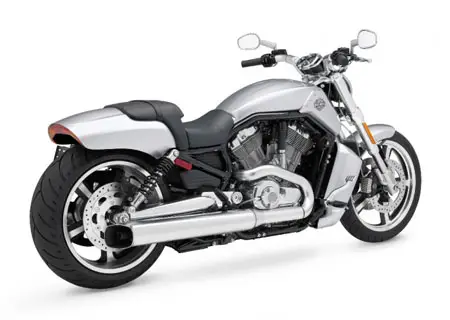 Press Release :
With sculpted bodywork stretched taut over a powerful new physique, the 2009 VRSCF V-Rod Muscle rides its way onto the Power Cruiser scene with a broad-shouldered presence. Gaping air scoops, sweeping side-pipe exhaust and a huge rear tire spinning under a clean, clipped fender speak to a contemporary, urban sense of style and performance. The Muscle pushes the Harley-Davidson V-Rod platform into a new turf, where it aims to hold its ground.VRSC Key Features
1250cc Revolution V-Twin: Standard on all 2009 VRSC models, the 60-degree Revolution 1250cc V-Twin is liquid-cooled and features Electronic Sequential Port Fuel Injection (ESPFI), dual overhead cams, four-valve heads, and a five-speed transmission. The engine is rubber-mounted in a hydroformed steel perimeter frame. A shell covers the large-volume airbox located over the engine. A five-gallon fuel tank is located below the seat on all VRSC models. The engine is tuned to produce up to 125 hp at 8250 rpm and up to 85 ft-lbs. of torque at 7000 rpm.
Optional ABS: Each VRSC model is available with optional, factory-installed Anti-Lock Braking System (ABS). Designed to work in conjunction with high-performance Brembo triple-disc brakes, this is the most advanced braking system offered on any power cruiser. ABS is designed to help the rider maintain control during braking events, especially those that happen in less-than-optimal conditions. The components of the Harley-Davidson ABS have been designed and packaged to be virtually invisible, preserving the uncluttered styling of the area around the wheels. Unlike many motorcycle ABS, Harley-Davidson ABS is not a linked system, meaning the rider maintains full, independent control of both front and rear brakes.
New V-Rod Muscle
The wide, angular air-box cover and chopped tail section look as solid and smooth as billet and give the new V-Rod Muscle lines that are clean and powerful. The size of the massive 240 mm rear tire is accentuated by the new broad, clipped and clean rear fender. The combination stop/tail/turn LED light is tucked under the edge of the rear fender, and the side-mount license plate leaves the fender surface smooth and uncluttered. Front-end styling balances the rear, with a trimmed fender that's blacked out behind satin-finished inverted forks and LED turn signals integrated into the mirror stems. The radiator shrouds are restyled and color-matched to the rest of the bodywork, while the new airbox side covers incorporate air scoop inlets covered with woven wire mesh. The silver five-spoke cast aluminum front and rear wheels are a new design for the V-Rod line.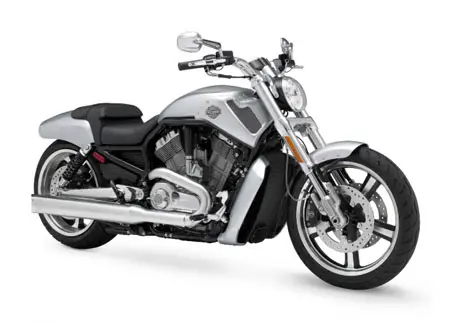 A new deep seat holds the rider firmly in place against the thrust of the Revolution V-Twin engine. The Muscle features forward foot controls, and a new handlebar with internal wiring. The handlebar is 1.5-inch cast aluminum with tubular steel ends and integrated risers. Bold polished forged aluminum triple clamps secure the inverted forks and frame the distinctive V-Rod teardrop reflector optic headlamp, housed in a satin black bucket.
The long profile of a 34-degree fork rake is stretched visually by new "sidepipe" dual exhausts in satin chrome with fat, turn-out mufflers exiting behind the rear axle. The V-Rod Muscle is available in Vivid Black, Brilliant Silver, Dark Blue Denim and Red Hot Sunglo.
New VRSCF V-Rod Muscle features:
Liquid-cooled, 1250cc Revolution V-Twin engine
122 hp at 8250 rpm/85 ft. lbs. torque at 7000 rpm
Pewter powdercoated powertrain with polished covers
Assist/Slipper Clutch with reduced lever effort
New clutch cover with relocated dipstick
New Satin chrome dual side exhaust with turn-out mufflers
New Five-spoke cast aluminum 19-inch front wheel
New Five-spoke cast aluminum 18-inch rear wheel
New Triple clamps
New 43 mm Inverted forks
New stylized rear shocks with black springs
New airbox cover and side covers
New front fender with black-out section
New smooth rear fender
New LED stop/tail/turn light
New LED front turn signals integrated in mirror stems
New seat shape
New Internally wired handlebar cast with riser
New instrument graphics and housing
New side-mount license plate
Black frame
240mm wide rear tire
Forward foot controls
Brembo triple-disc brakes
Teardrop reflector-optic headlight
25.6-inch seat height
Optional ABS
Optional Smart Security System
VRSCAW V-Rod
The evolution of the original Harley-Davidson power cruiser continues in 2009. The V-Rod rolls on a fat 240 mm rear tire. The sweeping exhaust ends in bright chrome slash-cut mufflers. A scooped seat cradles the rider just 26 inches off the pavement. Welded pull-back handlebar frame the clamshell instrument pod and teardrop reflector optic headlamp. Raked out to 36 degrees, 49 mm forks hold an anodized aluminum Profile laced front wheel. The V-Rod is available in six production color combinations, including new Red Hot Sunglo, Flame Blue Pearl, Vivid Black/Pewter Pearl, Flame Blue Pearl/Pewter Pearl and three new Custom Color combinations: Black Ice/Blue Ice, Light Candy Root Beer/Dark Candy Root Beer, and Big Purple Flake/Brilliant Silver.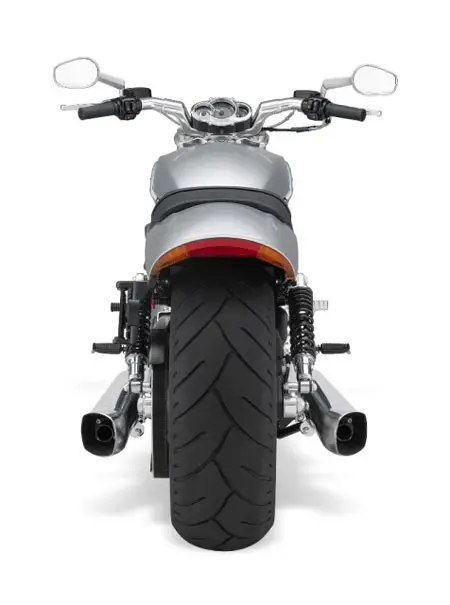 *Some of our stories include affiliate links. If you buy something through one of these links, we may earn an affiliate commission.