Get ready to have intelligent crockery with you, wherever you go. This crockery can analyze the sugar, fat and lactose level available in your food. This intelligent shaft has three different types of add on including spoon, fork and knife. The spoon adds the weight of food eaten, the knife can measure temperature and the fork can take small probes of the food and analyze the components of fat, proteins, and sugar. The device is equipped with Bluetooth and that is why it can easily send the data measured and displays it on a personal nutritional agenda website. This type of product can help you out in having healthy food everywhere you go.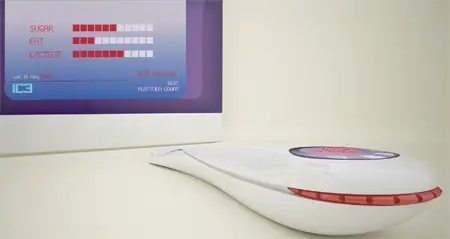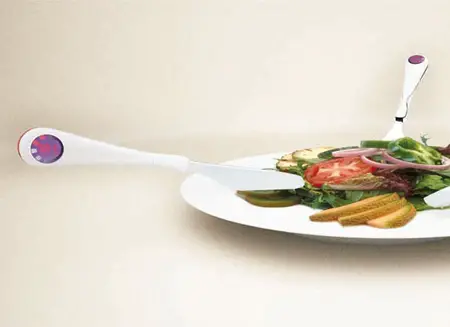 Text from the designer :
Imagine having always intelligent cutlery with you, giving you a feedback, no matter where or what you eat. That is IC3. An intelligent shaft has 3 different add ons: spoon, fork, knife. Each add-on can also fulfill another duty: the spoon adds the weight of food eaten, the shaft adds it. The knife can measure temperature and the fork can take small probes of the food and analyze it by its components like fat, proteins, lactose, sugar. Being equipped with bluetooth,the intelligent shaft can send the data measured for example to a personal nutritional agenda on the website of someone.
IC3 is not only a help for people suffering from diabetes or lactose insufficiency, but could help everyone to feed healthy everywhere. Located in the near future – e.g. all technology exist nowadays, only food analysis has to be miniaturized a step further. IC3 was chosen to be displayed at the "Designparcours Munich 2008″ at the "Forum for Young Design" same year.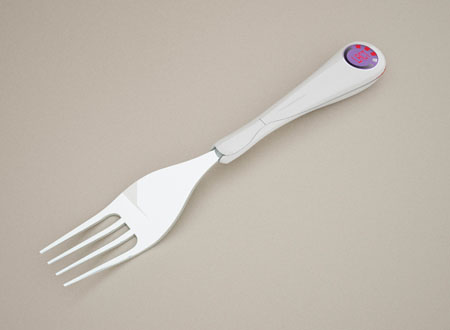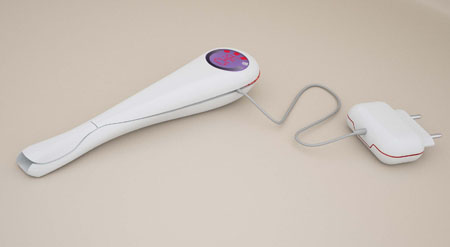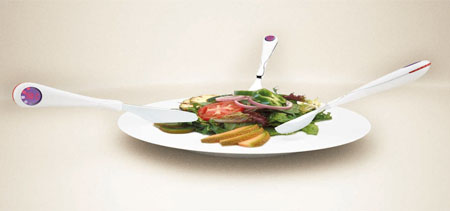 Designer : Alex Schulz
---
Breitling for Bentley has revealed yet another timepiece as part of its accolade to sporting qualities. This brilliantly designed watch powerfully complements the designs of Supersports convertible. The Supersports light bodied limited edition series evokes a stylish high-powered coupe car with its light and string titanium chassis, its dashboard-style dial improved by 3 ringed counters and its bezel with a naturally Bentley-style raised knurled motif.
In honor to its sporting characters, Breitling has equipped the watch with an intelligent and unique double-counter system, boasting a central minute hand with a twin-handed totaliser enabling the wearer to read the elapsed times of the day at a glance just like how one reads standard time from the watch. It is self-winding, boasts high-frequency with 28,000 vibrations/hour, 30 jewels, fused 60-minute and 12-hour totaliser, 1/4th second of a second chronographer, a titanium case, central 60-minute totaliser, a calendar, royal ebony dial, screw locked crown, rubber strap, cambered sapphire crystal, a bidirectional rotating pinion bezel with variable tachometer, and is water resistant of up to 100mts. This watch comes out in a limited edition of 1000 pieces only. With a brilliantly cut designs and awe-inspiriting specifications, Breitling for Bentley Supersports Light Body watch is sure to appeal not just Supersports convertible coupe car owner, but everyone!
Designer : Bentley Motors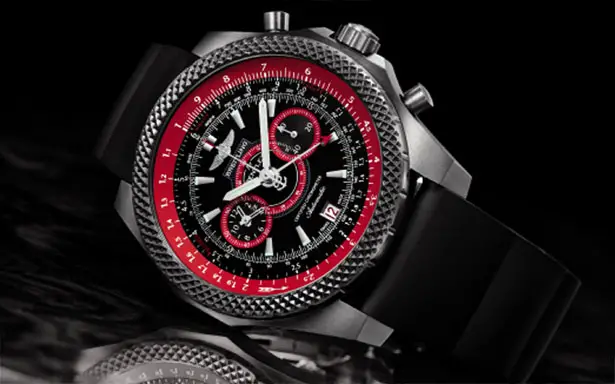 ---
As technology advances, our lives are increasingly integrated with electronics and the numerous convenience they provide. However, we are usually unaware of our own carbon footprint and the impact to the environment. Eco-pulse is a concept that aims to cultivate the habits of green consumers in their daily lives. It works by visualizing the electromagnetic fields as pulses on its display and thus allows the discovery of power usage that would otherwise remain hidden to consumers. It is intuitive as it amplifies the electronic pulse of appliances like a stethoscope. When appliances are in standby mode, Eco-pulse also enables the detection of vampire power that is being wasted.
Designers : Wan Xuan Lim and Tang Xueling Jane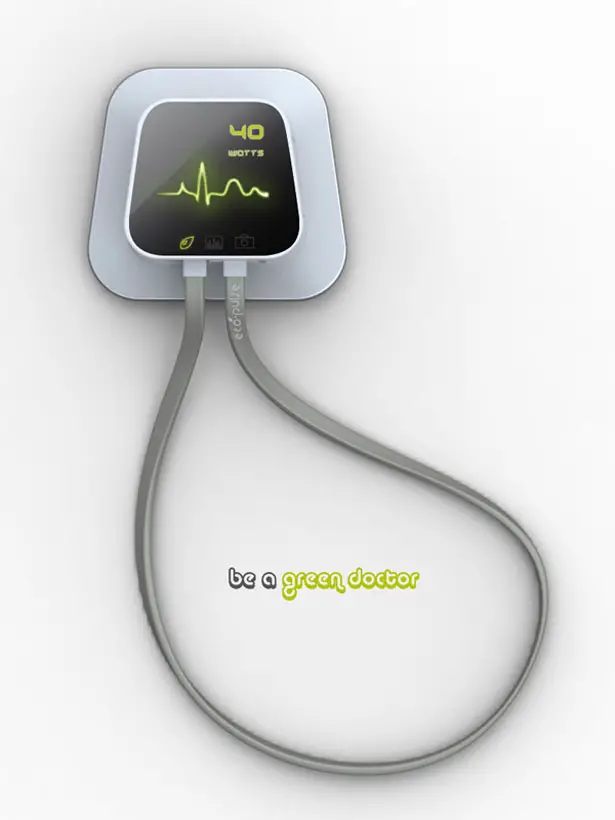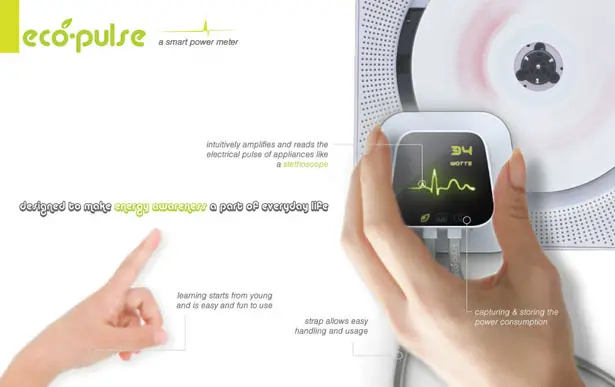 Eco-pulse is educative to both adults and children and helps to cultivate the habits of saving energy and to understand the power consumptions of home appliances. This will induce a heightened energy awareness and help cultivate green consumers.
How to use?
The pulse reading appears in different colors and amplitudes to indicate the level of power usage or wastage. The user can record the data by pressing on the capture button located on its right side. Upon capturing all the necessary power consumption data, the user can detach the strap and plug Eco-pulse into a computer to transfer the data into the Eco-pulse software. Here, the Eco-pulse system helps the user to pinpoint the main sources of power usage and wastage and thus allows him to take remedial action easily.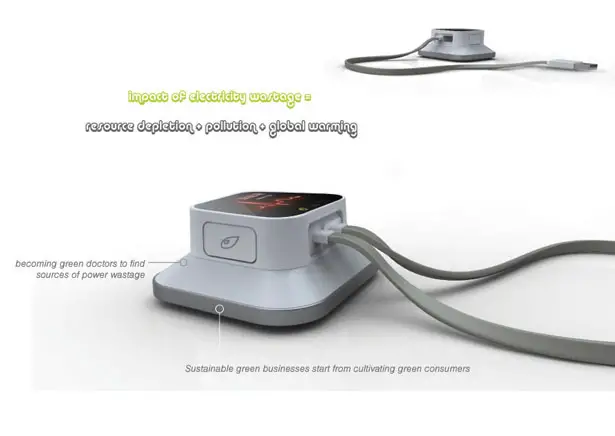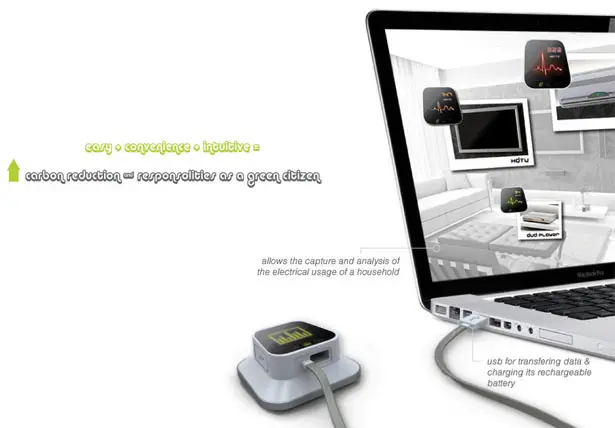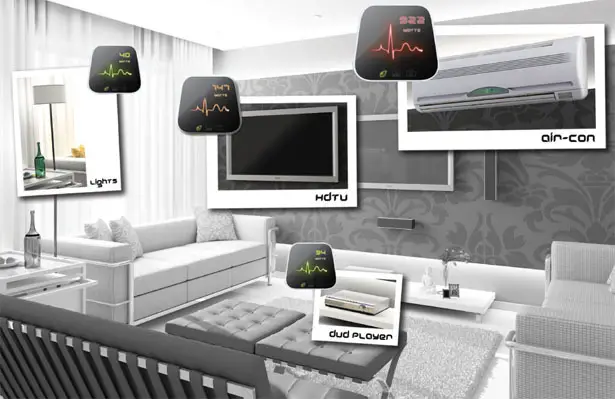 ---