Ely Can is a watering can that features unique design which mimics an elephant's trunk. Instead of carrying this watering can, user can simply pull and roll, thank you to 2 wheels on both sides. With this new design, you don't have to bend when water your plants. Do you know that gardening as an outdoor activity offer many health and therapeutic advantages for elderly people? Unfortunately, they usually have problem when they have to carry heavy objects such as watering can.
To answer this challenge, Diane Dupire, an industrial designer, has come up with redesigned watering can called Ely Can to help gardening become more accessible especially for people with physical limitations.
Designer : Diane Dupire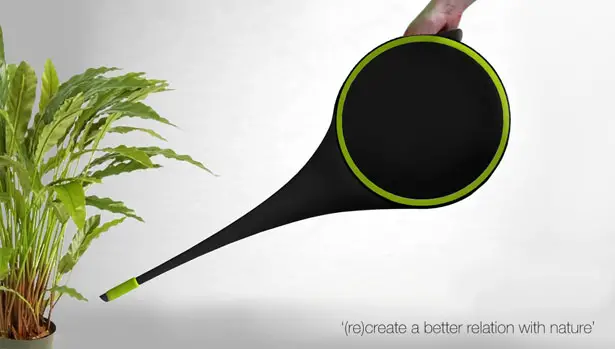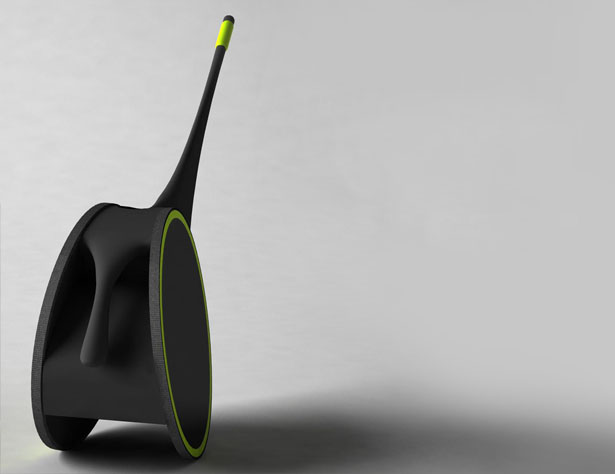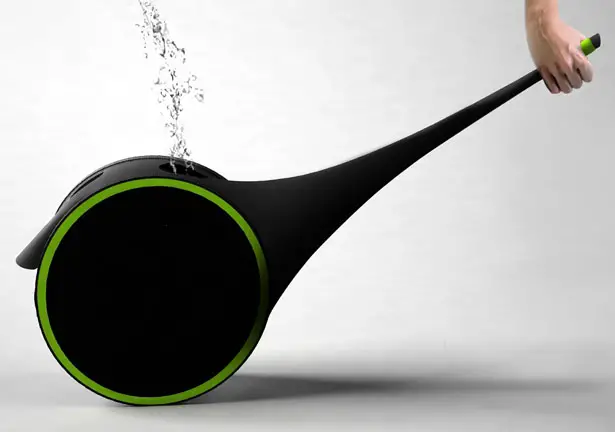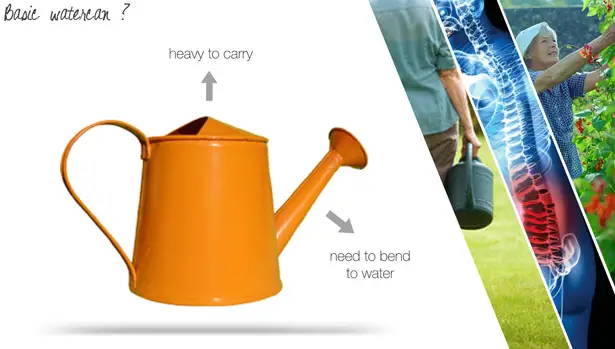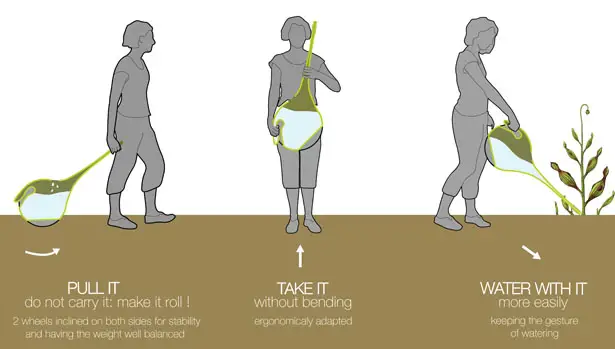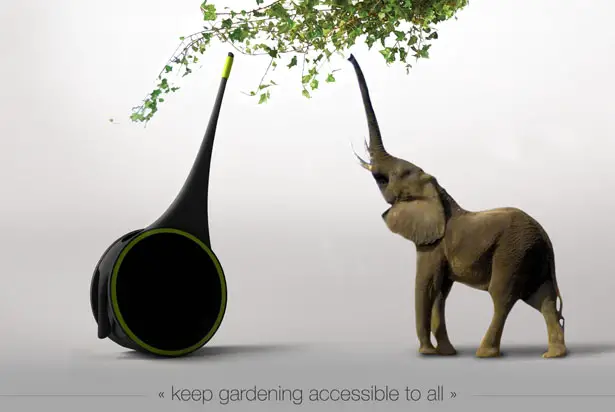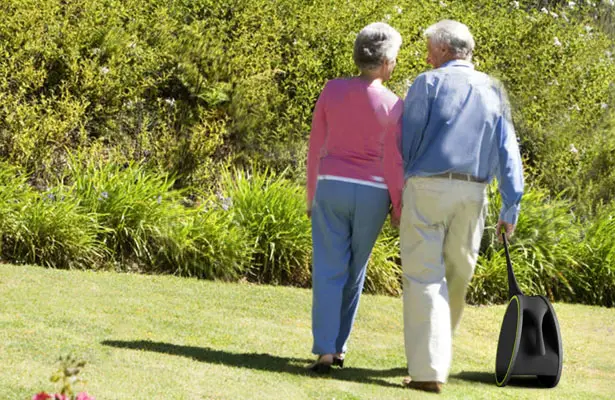 ---
Voo Doo Electro-Magnetic Racer is a concept racing car designed as personal project. It uses electromagnetic motor in each wheel that takes advantage of magnetic forces to send electricity.
This is a conceptual design with Electro-magnetic motor in each wheel powered by a future technology, maybe some type of fusion, or fission. I am no scientist, or an engineer so a lot is still unresolved. The Hydrotech livery suggests a splitting of hydrogen and oxygen from water to provide energy.
Designer : Kip Kubisz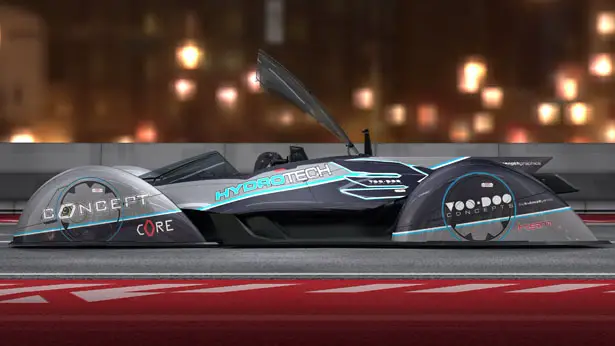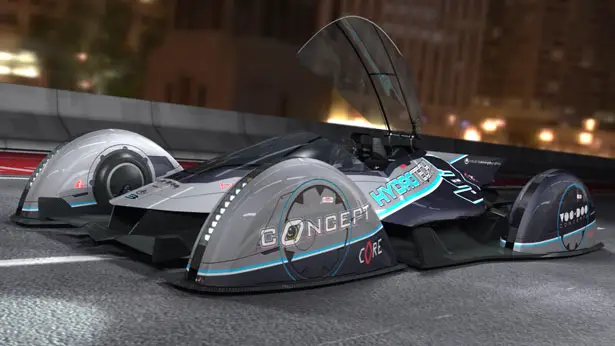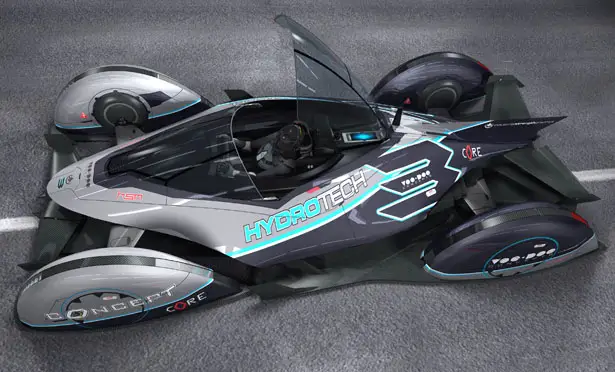 ---
Caravisio Concept Caravan from Knaus Tabbert is a project to raise the interest for camping which unfortunately has been declining for years. Caravanning industry has offered new and interesting concepts to encourage people to enjoy camping as a form of holiday making, but unfortunately those caravan concepts stay just concepts. This time, Caravisio takes different approach to provoke thought and solve problems faced by travelers, it's a caravan of the future.
Caravisio concept caravan has been designed and developed together with an expert group of industry-established and external suppliers and designers in order to come up with a possible development of future caravan. The work lasted for about 2 years, from sketches to completely designed and assembled caravan, it is also equipped with sophisticated today's technology. The interior layout features single beds at the front arranged in V-shape which can e turned into a double bed using a mattress extension. This position allows for improved aerodynamics. During the day, the bed with raised upholstery elements can be used to relax, passengers can enjoy great panoramic view through the large window.
Designer : Knaus Tabbert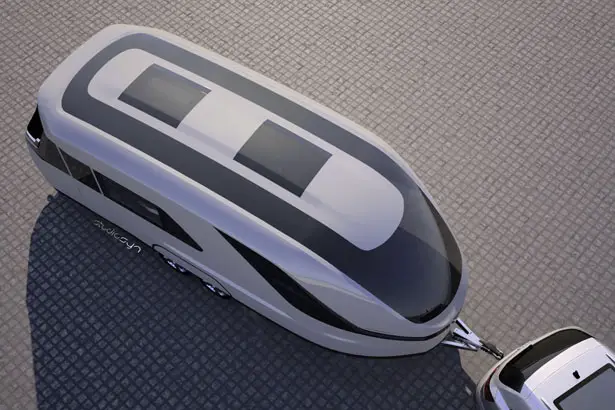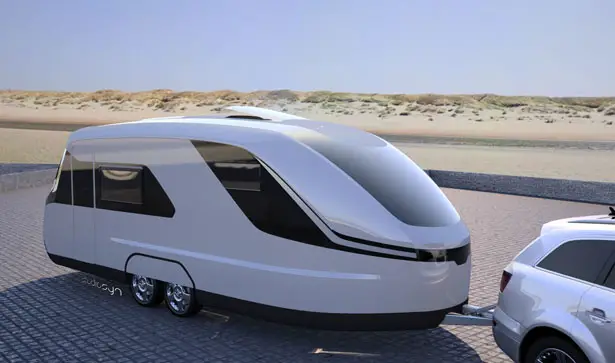 You can easily transform Caravisio concept caravan from motorhomes to caravans, perfect for both working and private life. There's a nice bathroom next to the front cockpit, shower and washroom are equipped with water control system with storage function that is controlled with a touch display. Effortlessly transform the lounge into a modern workroom, the cushions can be adjusted to create ergonomic sitting positions as you like.
The exterior still features the basic shape of a conventional caravan but with arrow-shaped front to create positive effect on the upstream flow angle. The C-pillars face inwards to reduce the wake turbulence, the constructive elements on the roof are integrated in the ceiling to allow optimal solution for both aerodynamically and optically.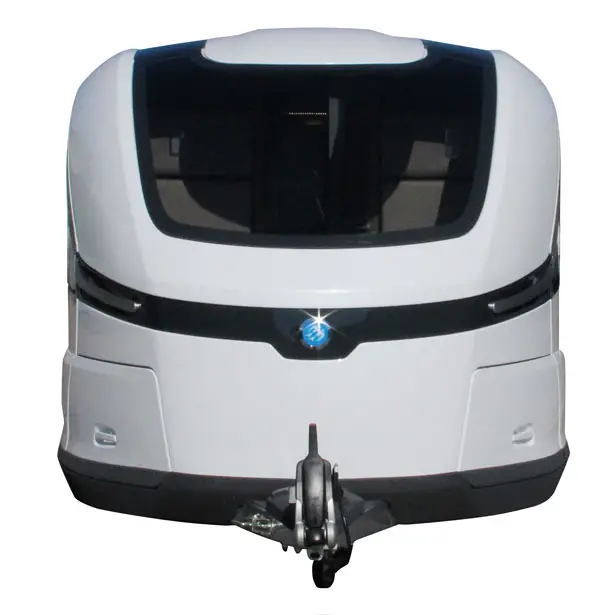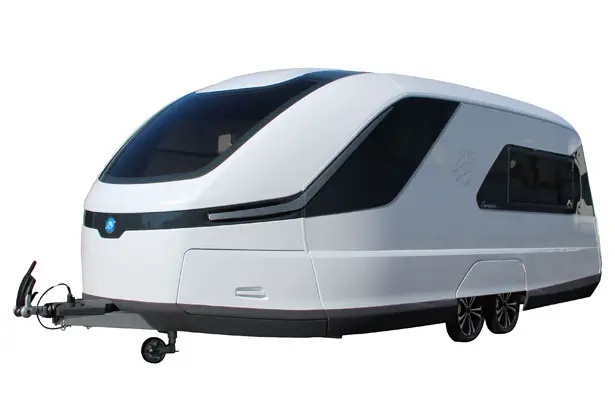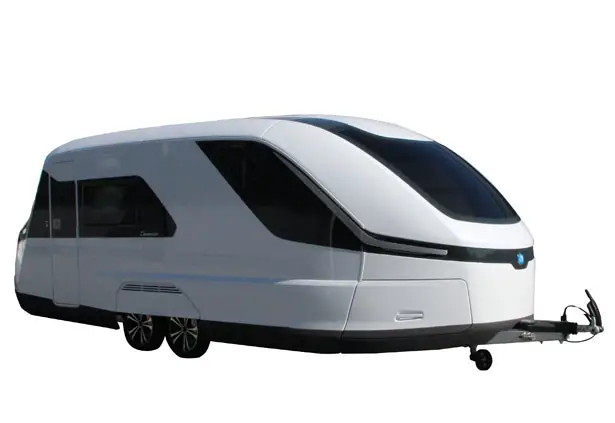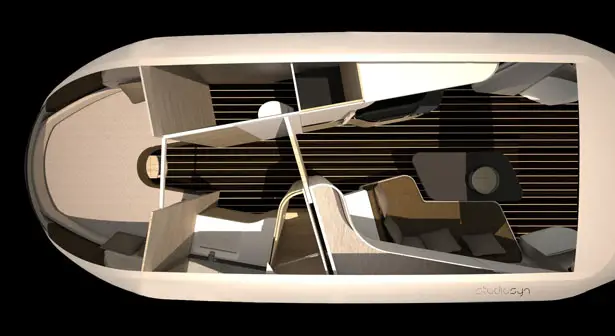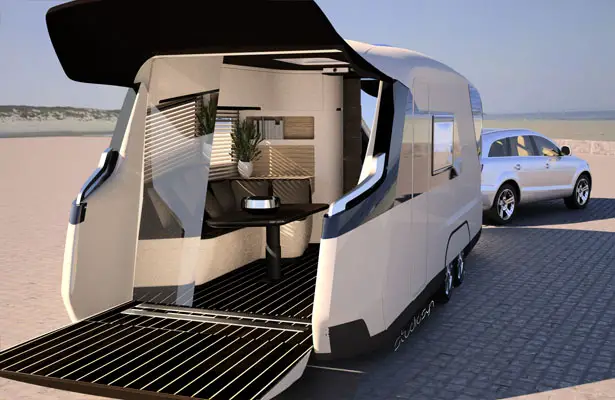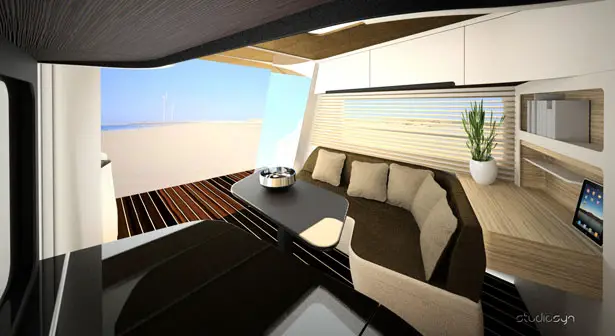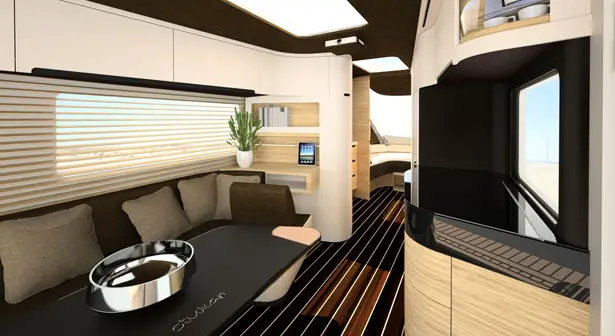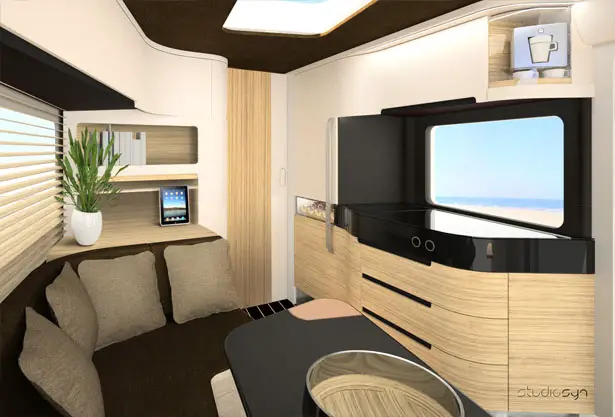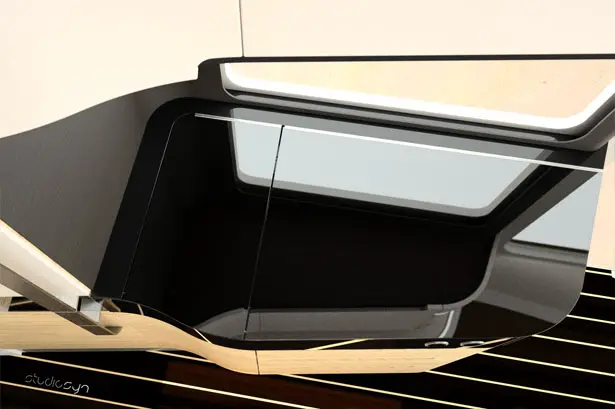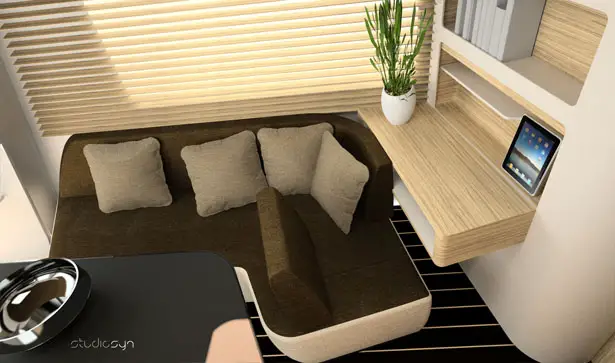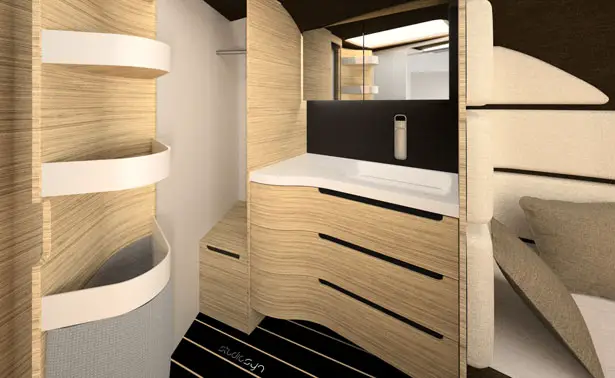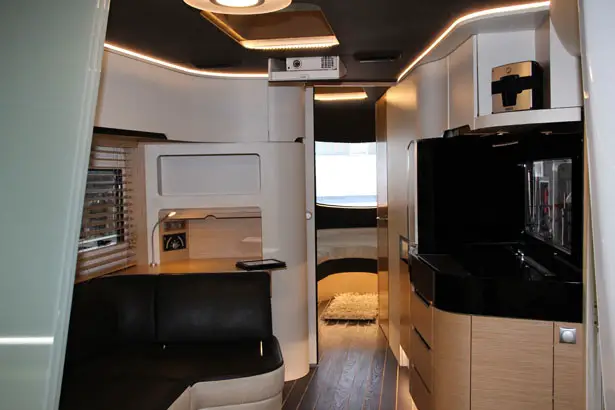 ---