"- +" is a modular smartphone concept that allows you to mix a group of functions into a single element. It is inspired by the recently popular innovation of customizable phones such as Ara Phoneblocks, the vision here is to design a phone with independent elements, which mean, each module can operates as independent component. Designed by Bez Dimitri, this concept phone is structured just like a lego where each element is stacked together, connected through USB micro B plug.
The great thing about "- +" concept is the structured connection, it won't have a problem like Ara. There's a mini USB plug connected to the "+" structure that allows mechanical and electrical connection between each part of the handset. There's no printed circuit that connects all functions, in this way, at any moment, you can detach an element without disturbing the others. However, there are still other parts which are connected to each other such as the camera module and the screen.
Designer : Bez Dimitri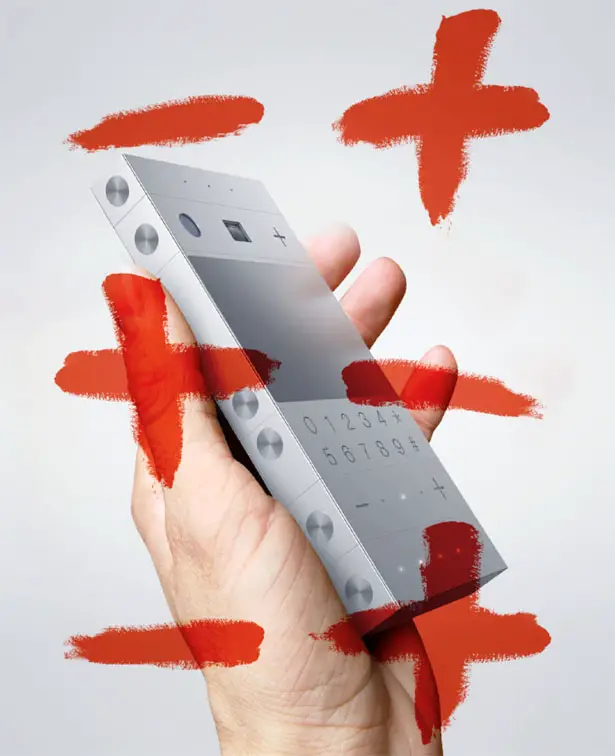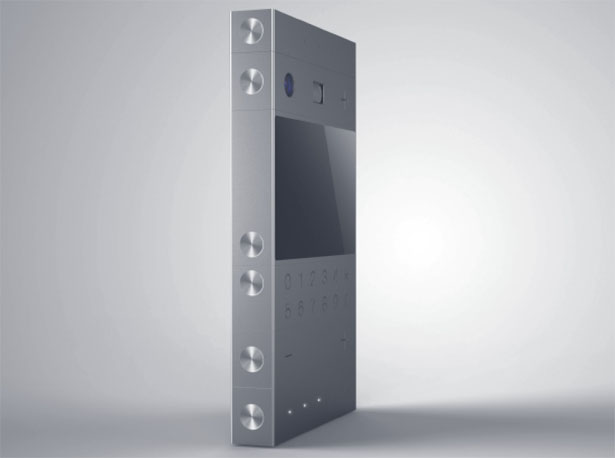 The idea of having a modular smartphone here is to avoid upgrading your phone each year just to be able to enjoy one or two latest features. Using "- +" concept smartphone, you only need to replace the model instead of buy all together a new phone, it's much more efficient and it keeps your hard earned money in your wallet.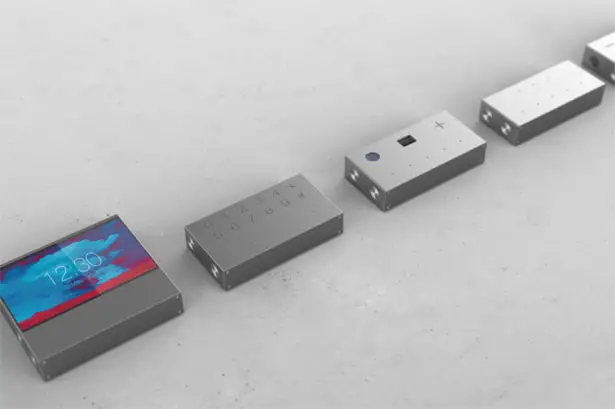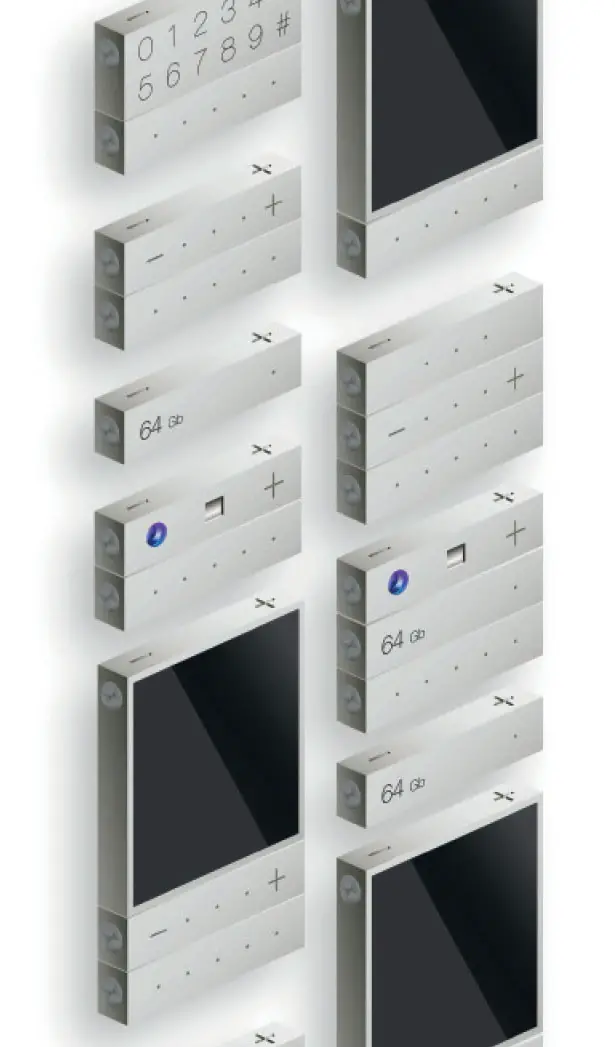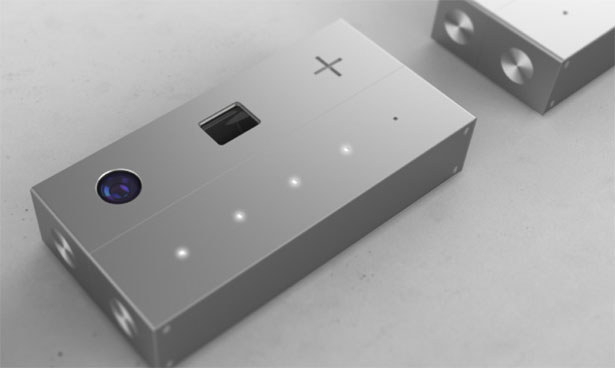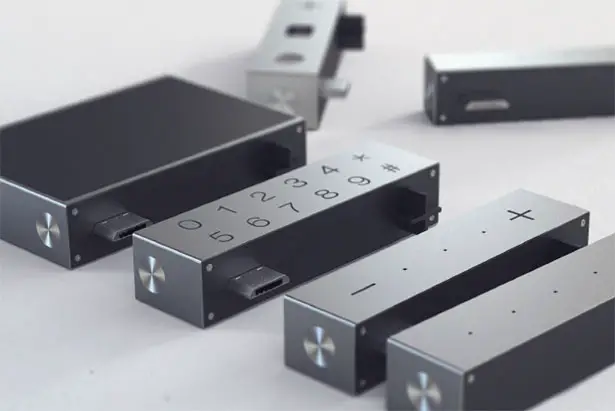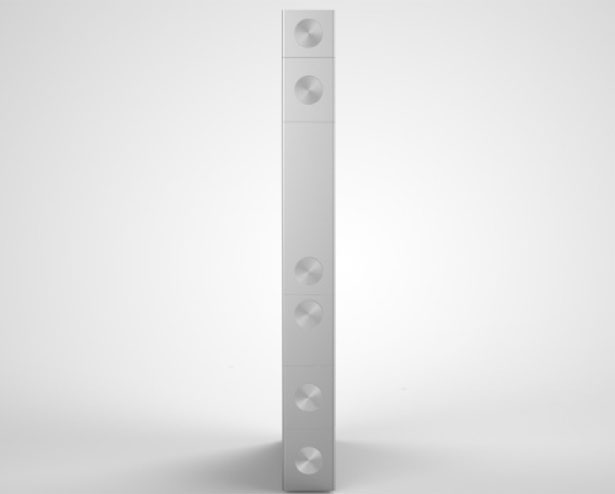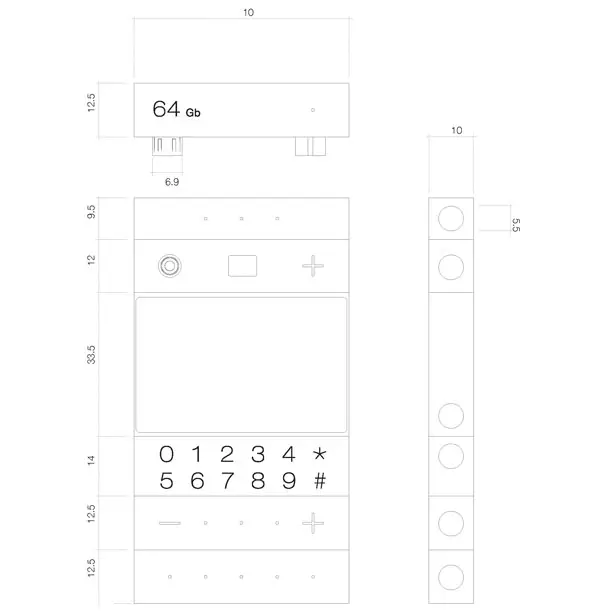 Tuvie has received "- +" Modular Smartphone Concept from our 'Submit A Design' feature, where we welcome our readers to submit their design/concept for publication.
---
Smart Consulting Service is an innovative service that allows people at the entrance of the hospital to register and pre-consult before consulting to their doctor.
Smart Consulting Service has been designed to reconcile patients and doctors. The service is located at the hospital's entrance, it allows people to register and pre-consult themselves before seeing a doctor. Aside for providing advice and guidance, the human-sized virtual assistant will guide patients through the pre-consulting process, all the way from there personal information to health recommendations. A touchable display, micro and camera's technology will detect people's disease and diagnose their vital signs.
Designer : Arthur Kenzo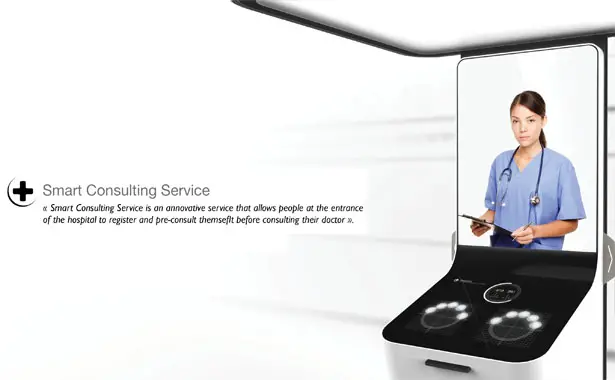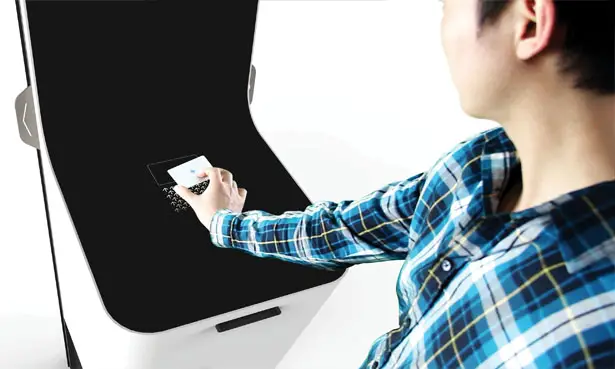 Once the pre-diagnosis step has been completed, Smart Consulting Service will guide patient to make an appointment with the appropriate or favorite doctor. It will send patient's health information and first-hand diagnosis to these assigned doctors, therefore making the consulting process more efficient and enjoyable.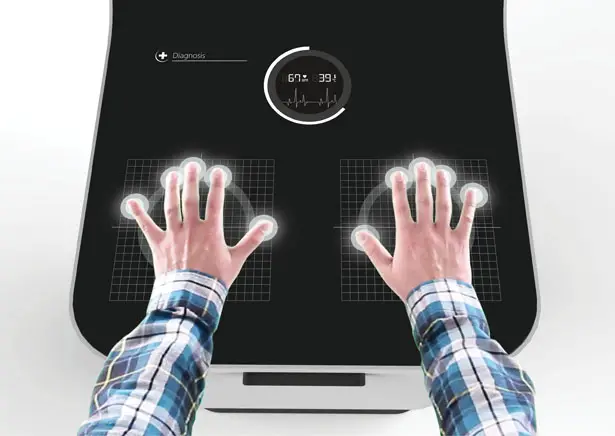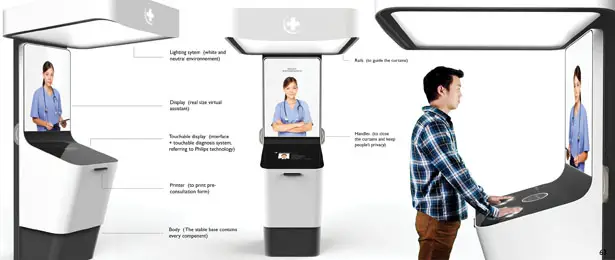 Click above image for bigger view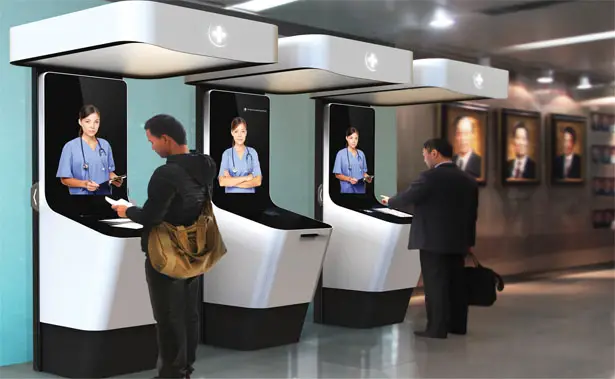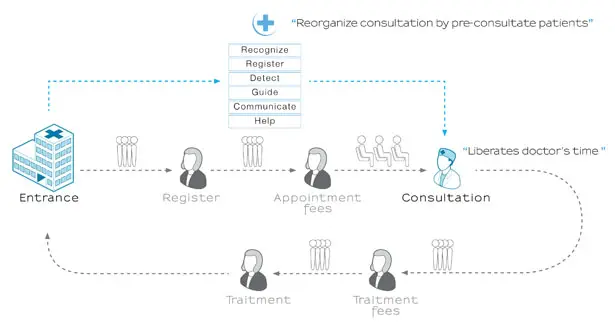 Tuvie has received "Smart Consulting Service" project from our 'Submit A Design' feature, where we welcome our readers to submit their design/concept for publication.
---
People who have lost their kidney functions should have dialysis procedure at least 3 times a week in order to treat kidney failure. This treatment performs many things that usually are done by healthy kidneys, it can take like several hours to run this procedure, thus limit the ability for patients to have flexible lifestyle. Mobilysis is an innovative concept portable dialysis system for patients who don't have the time to run dialysis procedure several hours 3x/week. Using this system patient has the freedom to decide when and where this blood cleansing process can be done.
Mobilysis consists of one flexible belt that separated into membrane compartments and filled with dialysis fluid with a hard shell front. There are integrated catheter connection and infrared cleansing unit as well. Taking advantage of our current technology, Mobilysis can be controlled using a smartphone application with comprehensive and intuitive possibilities or user can use the buttons to perform necessary functions located on the device itself. After each peritoneal dialysis cycle the dialysis fluid is cleansed in the technical section in readiness for the next cycle.
Designers : Maria Gartner, Dimitar Genov, Stefan Silberfeld and Nico Strobel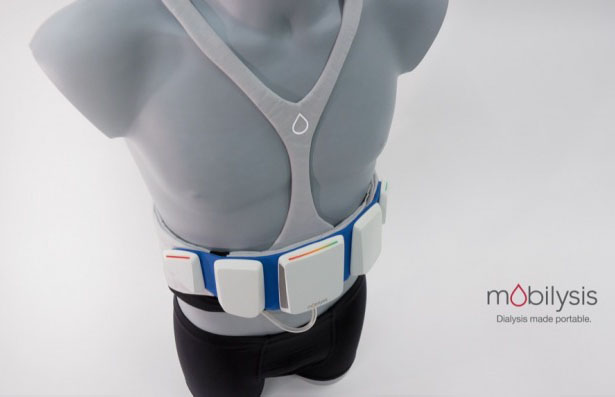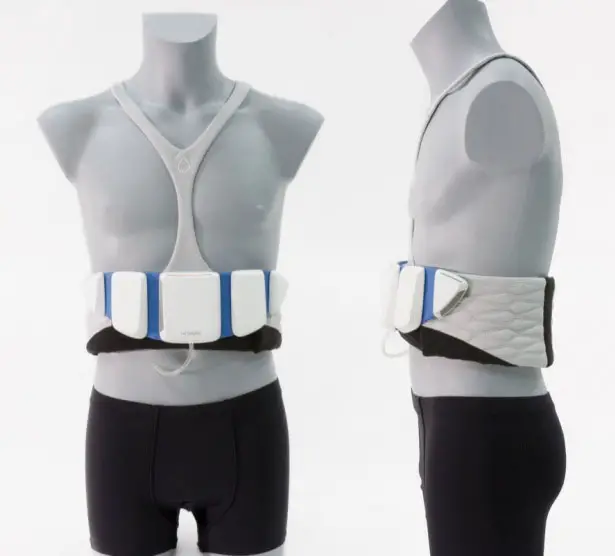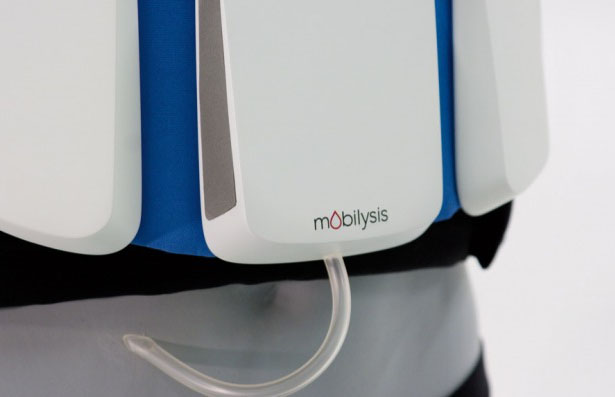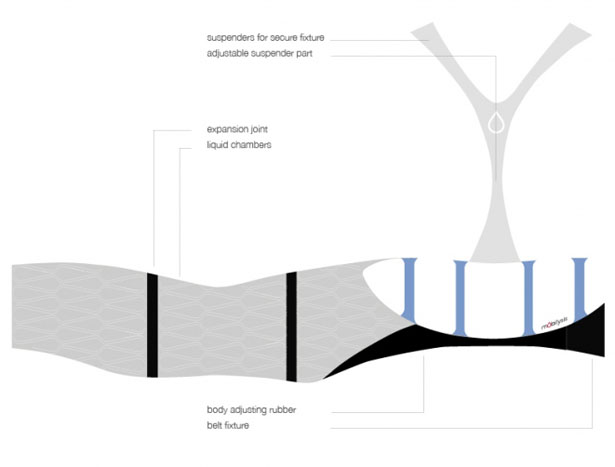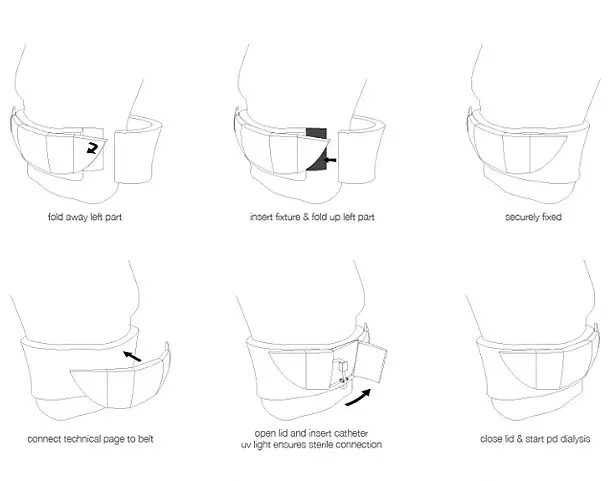 ---