Sara Gulyas, a Hungarian designer has submitted her project PIKKPACK shoes. She's been working with leather for more than 10 years and after experimenting with footwear for sometime, she wanted to create shoes with minimal amount of material and include you, the wearer, in the shoe making process. The name itself came from a Hungarian play on words which mean "piece of cake" with inspiration that came from old Hungarian shoe called "Bocskor" (pronounced: BOTCH-core) which was traditionally made from one piece of leather.
This is like DIY shoes kit, it comes with a flat piece of premium quality leather and cotton lace. You can easily transform the leather into usable footwear by assembling it with contrasting cotton lace, it is lightweight and flat packed, perfect for both women and men. It's an innovative footwear design that promotes the use of less material and shipping cost.
Designer : Sara Gulyas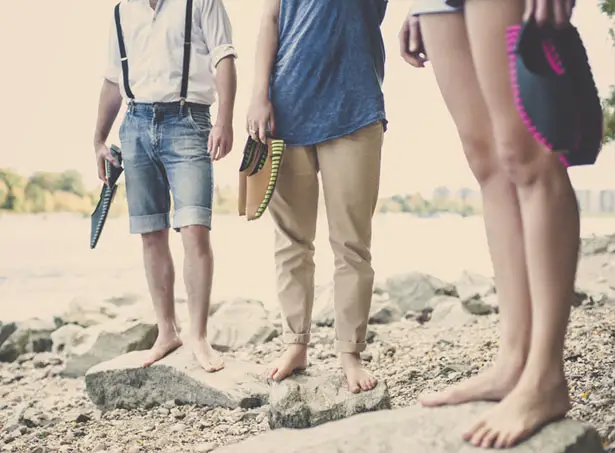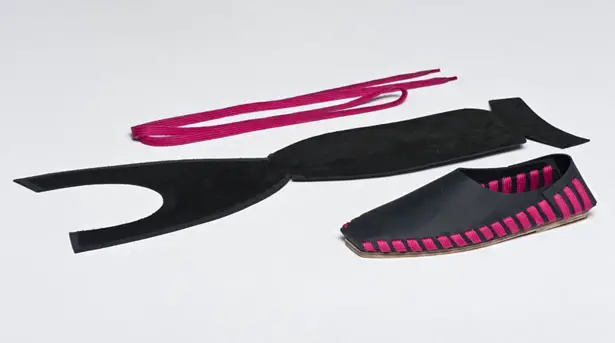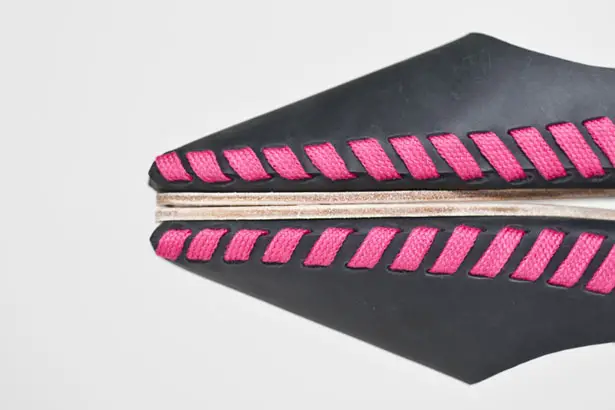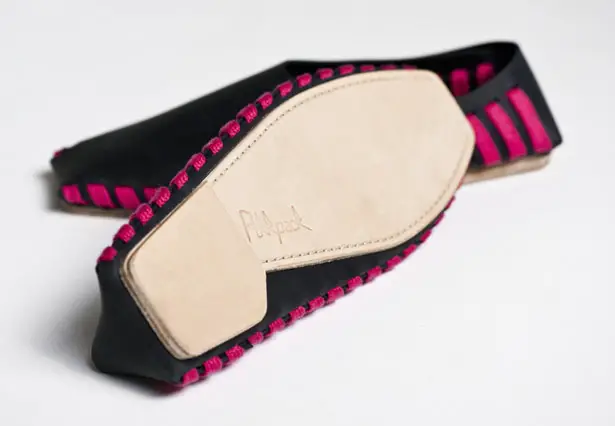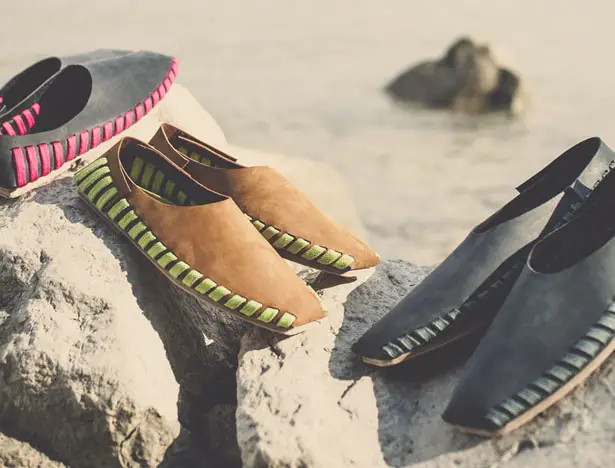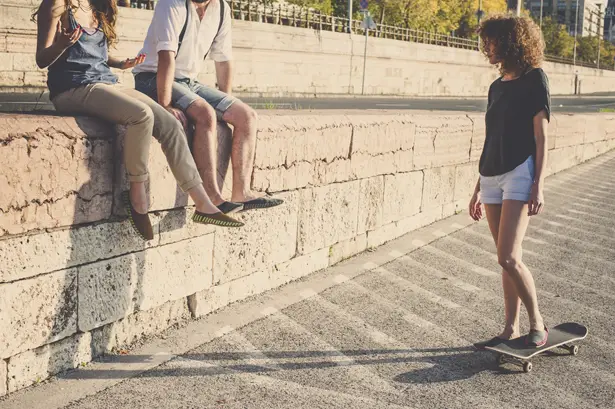 Tuvie has received "Pikkpack Shoes" project from our 'Submit A Design' feature, where we welcome our readers to submit their design/concept for publication.
---
Be it style or comfort, the Kalisto meets your daily needs. Few aspects such as easy access, dexterity, minimal maintenance combined with hyper stylish look makes Kalisto the ideal choice for contemporary city commuters. Kalisto has been designed for people who wish to have a stylish and efficient vehicle for short and medium distance travels. Watch the world via the big panorama windows of Kalisto and have an enjoyable travel experience. Just like the iPhone, this Electric Personal Mobility has been designed by Niklas Wejedal to be a fashion statement. The cover of the vehicle opens forward or upward in order to accommodate easy access. The opening could be manual, semi or fully automatic. The vehicle features room for the driver and a single passenger plus some luggage. Kalisto will certainly be the most sleek and proficient vehicles on the market. Built to be aerodynamic, the Kalisto's bio-design tear drop silhouette body is the outcome of efficiency plus beauty combined. From every angle, the vehicle looks stunning and elegant.
Designer : Niklas Wejedal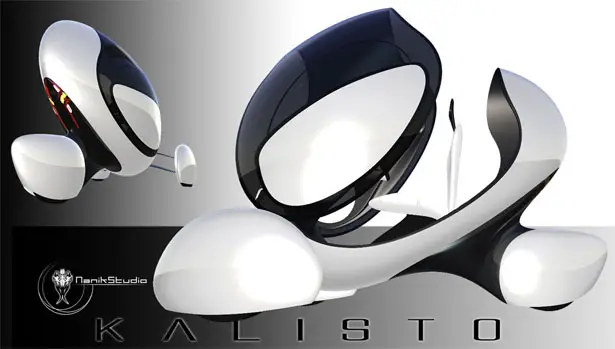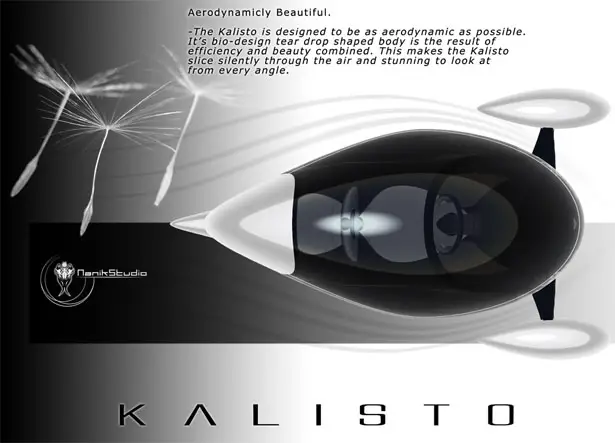 Text from Niklas Wejedal:
Get around town quickly and cleanly, go shopping or to work. The Kalisto meets your every-day needs, in style and comfort. Travel alone or with one passenger, watch the world trough the big panorama windows. Easy access, agility and a minimum of maintenance required combined with hyper sophisticated looks makes the Kalisto the perfect choice for modern city commuters.
Kalisto Measures:
Length: 107.3'' ( 2726 mm)
Width: 66.2'' (1682 mm)
Height: 74.6'' ( 1895 mm)
Wheelbase: 72,6'' (1845 mm)
Wheels: 16'' Rims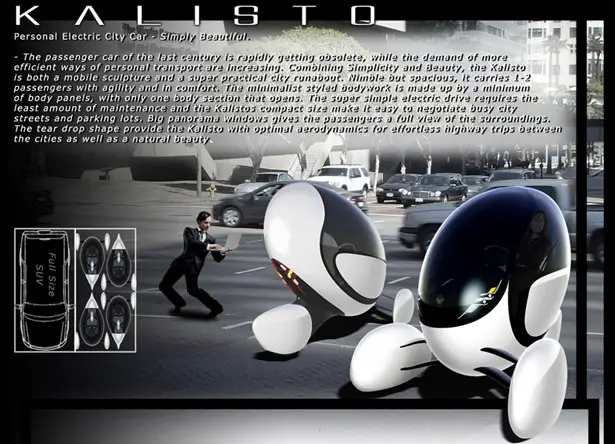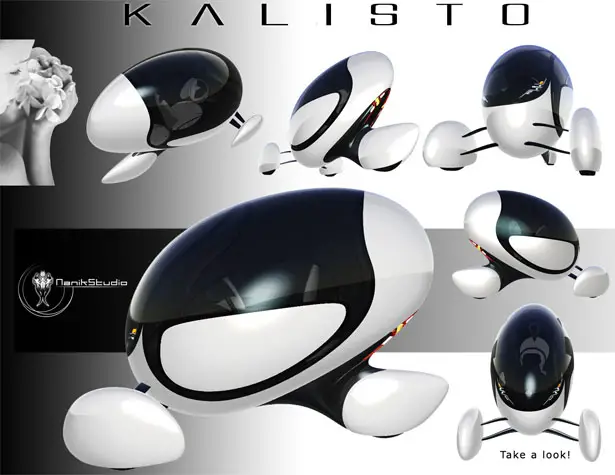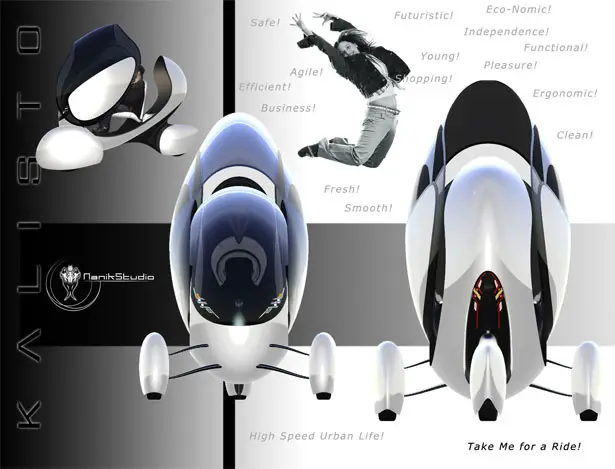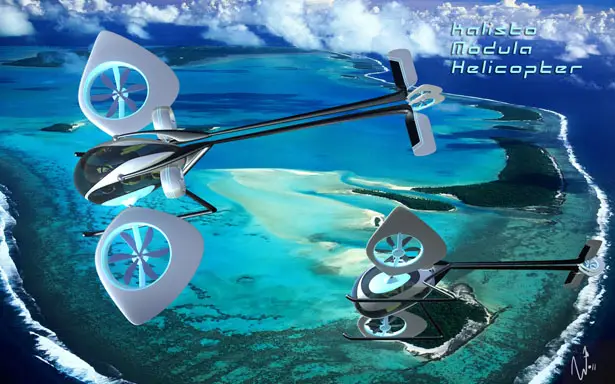 ---
Eventually autonomous technology is going to replace our conventional car. Driverless car might be said a new technology to us, but you can read in the news, currently giant auto manufacturers are developing their autonomous technology, pushing technology forward to reduce road accidents with self-driving cars.
Zoox Level 4 Mobility Company is an autonomous vehicle for the next generation. The unique Level 4 name is taken from a policy statement of US National Highway Traffic Safety Administration, it explains a spectrum of mobility systems from fully manual Level 0 to fully autonomous Level 4. The brilliant and creative designers of Zoox realize a great product is usually born when great design meets great engineering, take a look at Ferrari-Pininfarina or Wozniak-Jobs. So, instead of asking "how to integrate autonomous technology into a car?", they ask themselves "what does autonomous technology allow the car to become?".
From : Zoox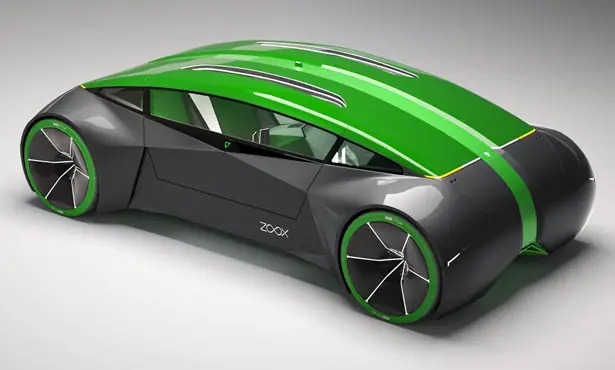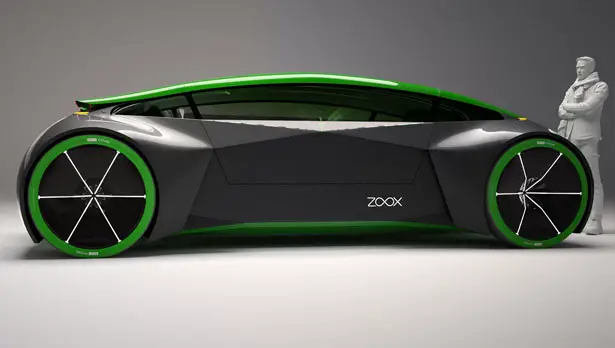 At first, the concept design is called the Boz for "bosses". It's not entry level L4, but it is designed for people who want high level of privacy and performance in their mobility. However, you might notice there's an element absent from this vehicle: front and rear windshield. It's actually a statement that you have the option to customize your car, especially when you plan to rent it for tourists.
Teardrop shaped body is chosen for aerodynamic efficiency, low profile roofline and absence of glass offer superior acoustic insulation. The side windows are pretty thin but double glazed to enhance these properties. Since this concept car focuses on privacy, passengers don't need to pay excessive attention to their exterior environment, thus, the car shields external sound and light to enhance the sense of serenity and safety. You can be in the middle of buzzing city, but once you're inside the car, you are in your own world.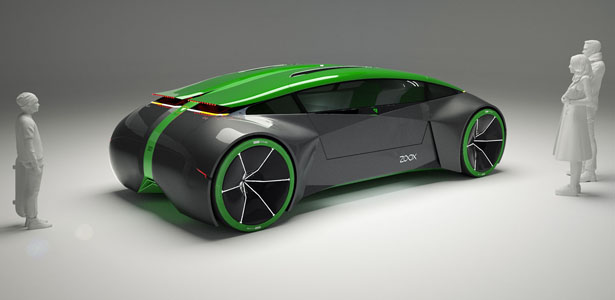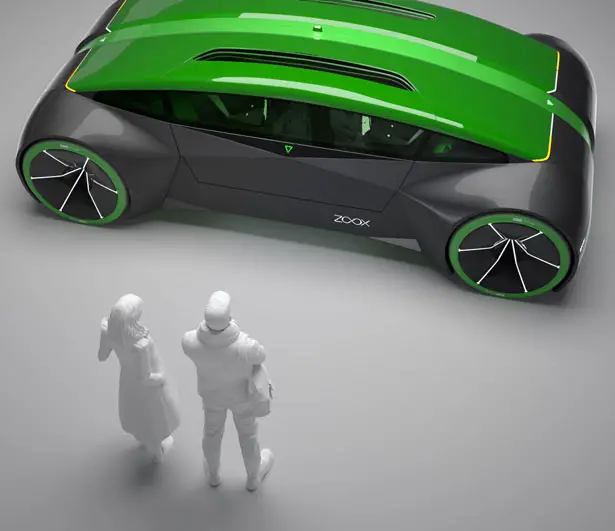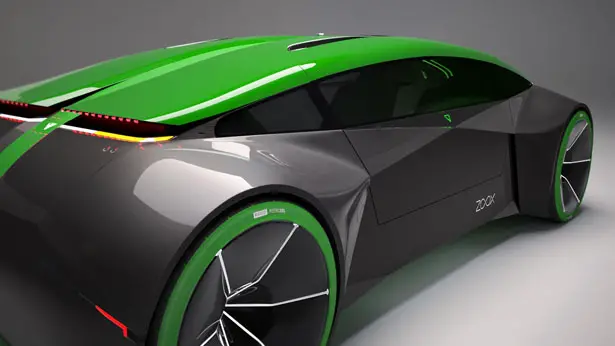 Zoox Level 4 Mobility Company features bi-directionality driving system that allows this vehicle to be driven equally in either direction. It's been designed to be symmetrical in its X and Y axes, so there's no differentiation between back or front, each quadrant of this car is mirrored and identical. The driver will never need to do 3-point turn or U-turn, when you are blocked off the road, simply depart the opposite way. This innovation is enabled by 360-degree machine vision and electric motors that spin in either direction.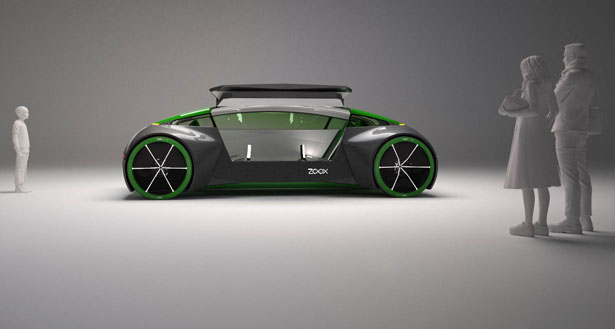 For the interior, it's been designed just like the old days when we were seated facing each other in a horse carriage, so that we don't have to twist our necks to communicate. The cabin layout of Zoox Level 4 Mobility Company allows you to recline, enjoy the view, and interact with each other comfortably. Passengers won't see any steering wheel, pedals, or accelerator, all are removed, even the dashboard. It's a great mobility where you don't have to worry about risk an accident or fine for texting.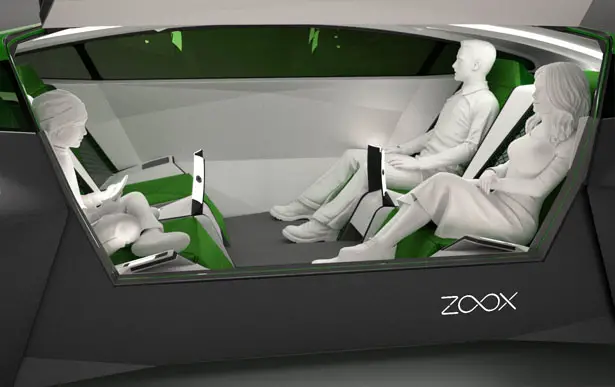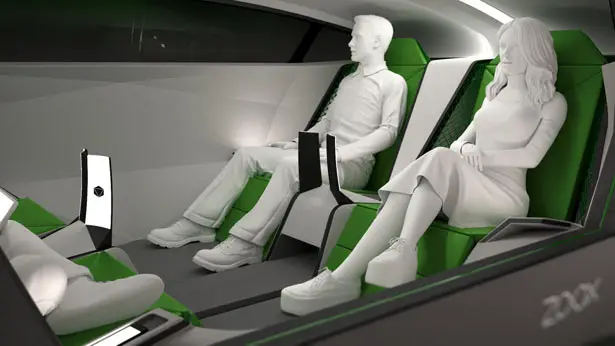 ---