If you have an old mobile phone that you care so much about and you chose not to throw it away, but to keep it as it is, a designer from Ireland, Sadhbh Doherty has found a solution to your problem. He created Arcque. An ingenious way to dispose of used mobile phones. The main idea was to find a solution to encourage the return of used mobile phones to manufacturers. This small bead, is what you receive back from the manufacturers, and it stores the digital memories the phone held. It houses the personal messages, pictures and music the phone once stored. We carry our mobile phones everywhere, we use them to communicate with friends and family, listen to music, watch movies and pictures, and sometimes even surf the Internet. Once the phone has reached the end of its life, the files stored are lost along with it. Arcque returns these digital memories to their owner, rather than using monetary gain. The bead contains a memory chip, and the Bluetooth chip from the phone. Its activated by a kinetic motor, if you shake the bead it powers up.
Designer : Sadhbh Doherty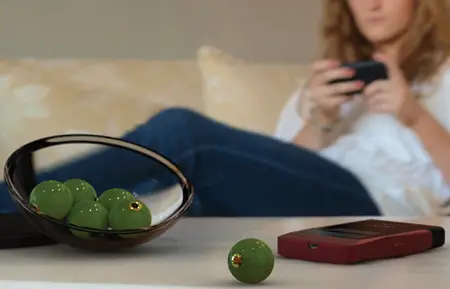 When enough power has been generated, the bead emits a wireless signal which can be read by a Bluetooth enabled device. Thus the user can access old phone memories. The outer shell of the bead is made from a plastic derived from pulverized circuit boards, and the detailing around the center piece of the bead is made from some of the copper found inside the phone. This center piece comes in different materials, regarding the period the phone has been kept without being used. For a period of more than two years, the finish is silver and if the period is more than three years, the finish is gold. Arcque is also a fashion accessory. The center piece is hollow, this enables the user to wear it as a shirt button, a ring, as earrings if the owner had two used phones to return or as a necklace. The variety of fashion accessories this ingenious bead can be attached to is endless, is all part of the users imagination. Arcque not only helps the users dispose of their used mobile phones properly, but also gives them the possibility to wear their digital memory in a beautiful and unique way.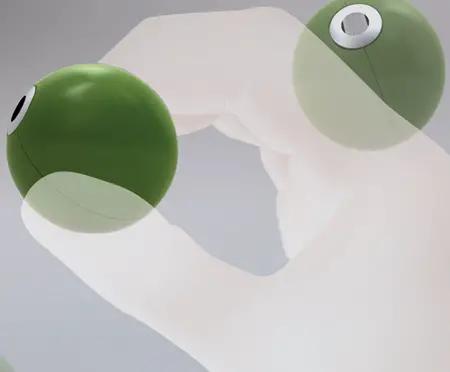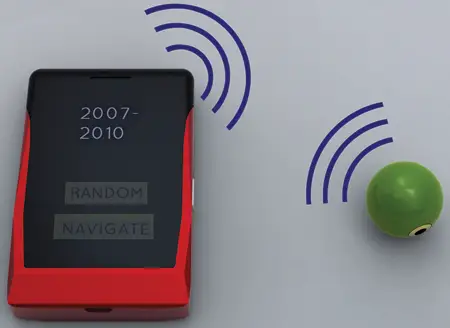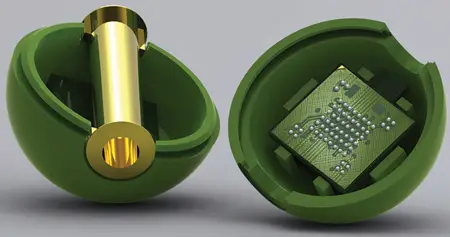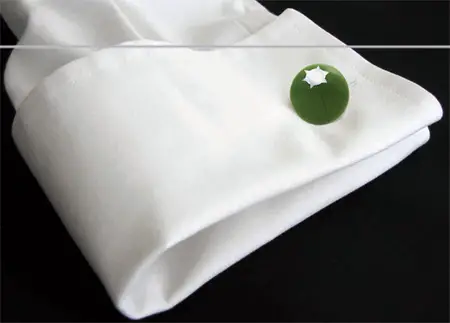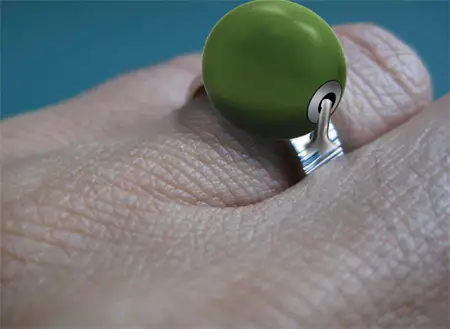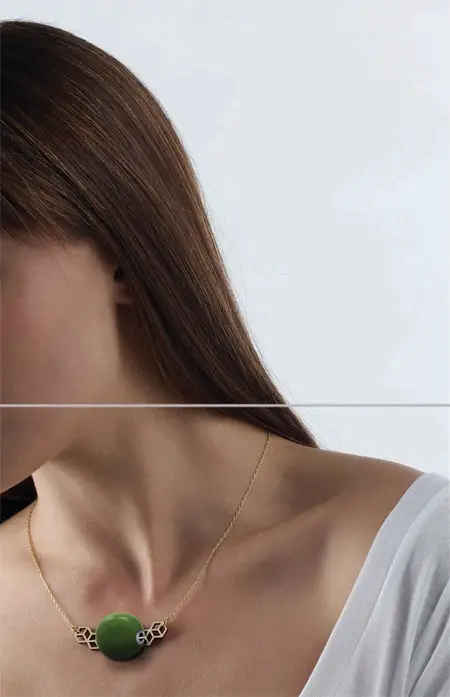 ---
It's time for Korean Online games, 'Game&Game World Championship 2007′ the final of the U.S. region was held on L.A.
More than 60,000 players participated at U.S. final selection from preliminary match of ?Shot online (Sports)?, ?War rock (Action)?, ?Silkroad online (MMORPG)? and US regional final event held successfully with 17 players who advanced from preliminary match and more than 200 supporters from all over the US.
This regional event was held successfully at the ?Internet PC Caf?? near LA area, and it began with press conference to help local presses understanding, and participants had great time through Korean online games with special events like professional DJ performances, and participants side shows.
Over 20 journalists from 14 local presses such as ?MMOGD?, ?WarCry? visited to this event, and they showed off hot interests to Korean game companies and Korean online games.
US regional final had various episodes and special participants due to lot of games took part of it.
Especially, ?Lunia (Allm)? has hot-spotlight than any other events, because more than 50% of Lunia users are located in US area.
The winner of Lunia, Travis Verhagen who is student of AIU, and wish to be programmer to make games like Lunia said ?It is great pleasure to win this event and I will try harder to get better result at Grand final at Seoul on Dec.?
The winner of ?Navy field (Enternet)? is Jedi1 (US), and OPR (Poland) took second place on 15 vs. 15 team play match. Even though it is US regional final, the ?Navy field? excited envy in other games because participants showed off great passion like came from all over the world (Canada, U.K., Poland, etc.) and prepare for the final.
Also ?Bomb?N Dash (Innodis)? brought big attentions because a user who has special job. US Marine, Jason who enjoy ?Bomb?N Dash? with his friends very much will dispatch to Afghanistan expressed inconvenience because he cannot play ?Bomb?N Dash? often after dispatch.
Last year regional finalists of ?Silkroad online (Joymax)? Gerald Bastien and Zachary Witeof took first and second place in this year event again, and have chance to win at Grand final this year too.
The ?War rock (Dream Execution) proceed this event with at scene registration. ?War rock? had great heat from more 50 participants who came very early to enroll this game.
Mr. Kwon (KIPA) said ?Over 60,000 players from US, UK, Canada, and Poland participated in this event, it proves that Korean online game already take great part of the world game market.?, also ?We will try best to lead world game market by Korean online games based on popularity of this event.?
Last August, starting with the GNGWC European Finals, Korea (Yongin, 9.29-30), Southeast Asia (Vietnam, Ho Chi Minh, 10.13), the United States (Los Angeles, 10.20), Japan (Tokyo, 11.17) the series will be held, each chosen gamers through regional finals will be join the Grand final on December 1 during the SoftEXPO & DCF 2007 Seoul COEX exhibition.
Via AVING
---
Satellite multifunctional grater is a kitchen product aiming to easing the grating process by making it more fun. It stands out with its ergonomic and hygienic design among other graters that are hard to use and clean kitchenware kind.
Satellite multifunctional grater has 7 alternative stainless steel knives. These knives can be used for mashing and cutting alongside grating. Each knife can be changed easily and dishwasher safe, this is the kind of specification that makes the product considerably hygienic and easy to clean. In addition, with its ergonomic handle and the enclosing shell that holds grater and knives together, Satellite is a product that is compatible with modern kitchen.
Designers : DesignNobis and Dr. Hakan Gürsu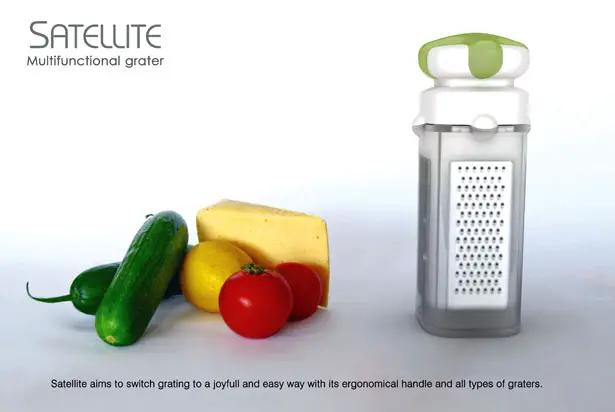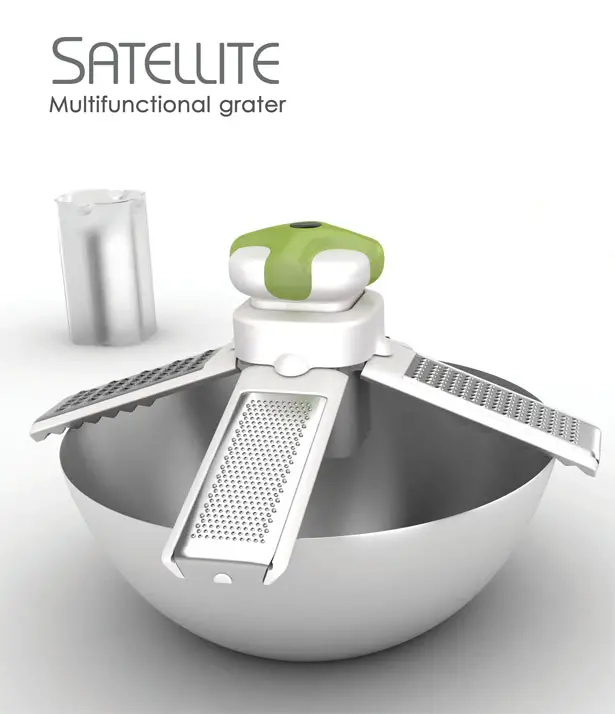 With its compact size, Satellite multifunctional grater uses very little space in your kitchen when it's closed. However, it fits to any plate, bowl or container that has an opening radius smaller than 30 cm, regardless of their depth. It can hold on to the sides of deep containers, while it also has legs to transform its wings to spread at the right angle in order to use on flat plates or cutting board. Satellite makes it easier to grate directly into the bowl.
The translucent enclosing shell holds the pieces together when the grater is not in use and makes it compact, while contributing to the visual quality of the product. The shell has slots for the three knives that are not on the grater and therefore it keeps the whole product hygienic.
The main body is made of ABS (Acrylonitrile butadiene styrene), while the translucent enclosing shell is composed of PP (Polypropylene). The knives are stainless steel. TPE (Thermo Plastic Elastomer) is used in handle for making it easier to hold and therefore to grate. Plastic parts are produced by injection molding, while the handle part is manufactured by co-injection.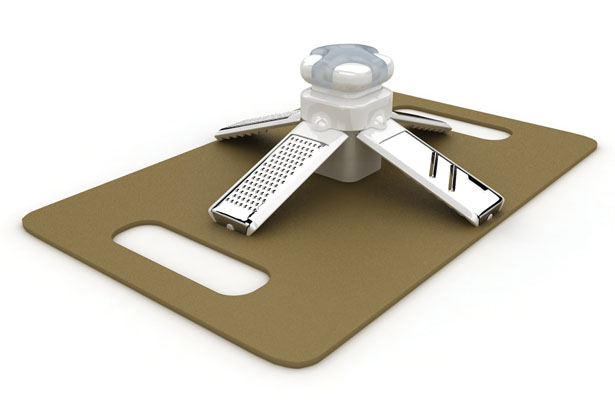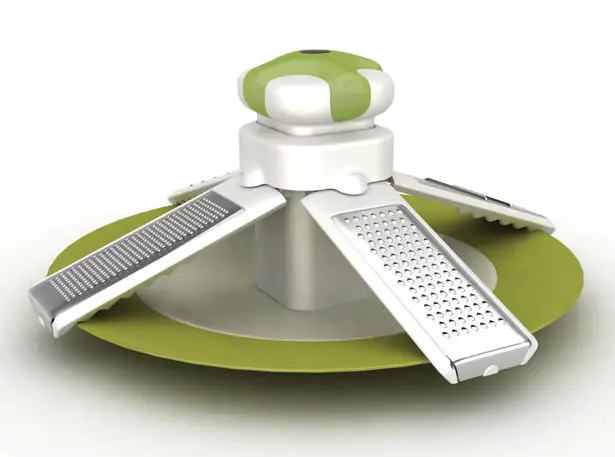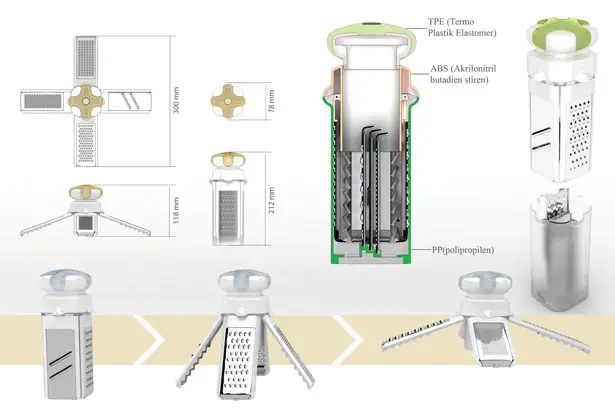 Click above image for bigger view
Tuvie has received "Satellite Multifunctional Grater" project from our 'Submit A Design' feature, where we welcome our readers to submit their design/concept for publication.
---