Having an electric alarm clock means the time would reset after every blackout, hate that don't you? TimeSmart App-Controlled Alarm Clock is a smart clock that would automatically set itself to the correct time when synced to your phone. It would be really easy to set your alarms, the alarm sounds, and snooze times through the TimeSmart app. Aside from being an alarm clock, this device also functions as a charger where you can dock your smartphone right from the clock using 1A USB port in the back. You can also use the clock to stream music from your phone during the day.
Inspired by time and space, Elliot Cohen, an industrial designer, designed the front and rear enclosures warp in like a black hole to the center where time stops. The front enclosure is complimented with a black chrome finish. The rear enclosure features a dot matrix pattern inspired by stars.
Designer : Elliot Cohen for Brookstone [Buy It Here]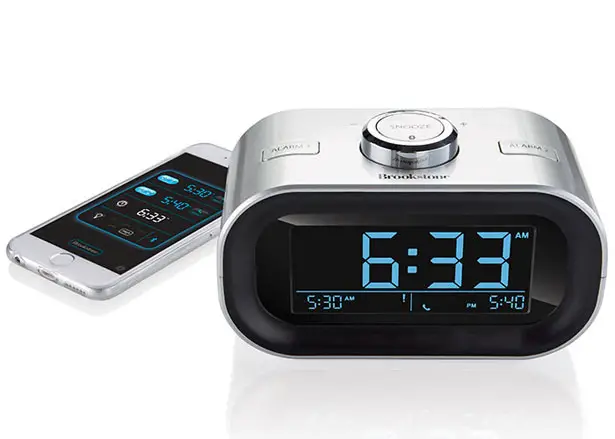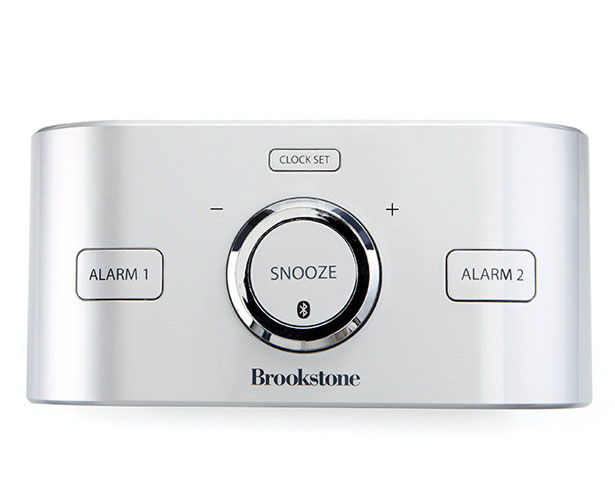 Having this clock means you don't have to set your alarm clock again, simply pair it with your smartphone and it'll set itself to the correct time automatically. You can use TimeSmart app to set everything up, making sure you'll wake up right on time with your favorite music. The reverse LCD screen with big digit display makes it easy to view the time, you can set how bright the dimmable backlight, also its dual crescendo alarms provide gentler wakeup calls.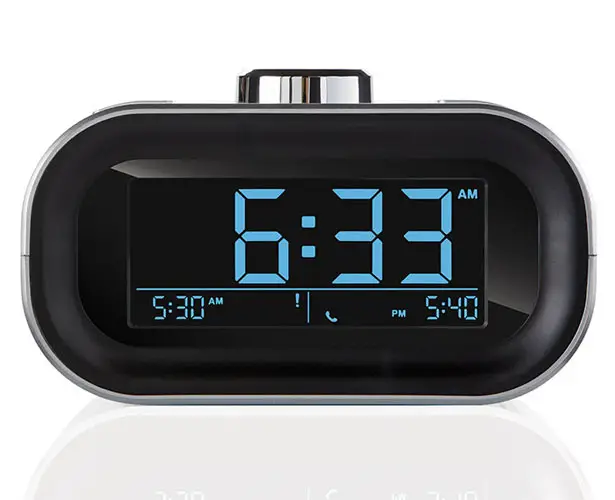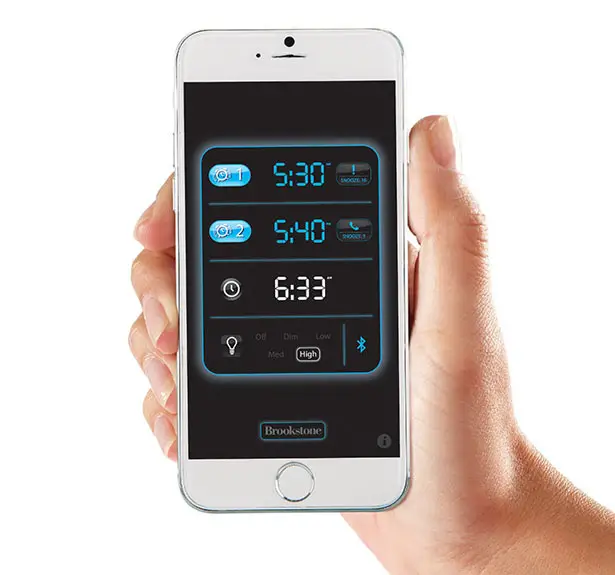 Tuvie has received "TimeSmart App-Controlled Alarm" project from our 'Submit A Design' feature, where we welcome our readers to submit their design/concept for publication.
---
Do you know that in the USA alone, approx. 150,000 people die from stroke annually? Stroke is also the leading cause of serious long term disability. Around 1/3 of stroke patients suffer from hyperthermia which is an abnormal increase in body temperature. Otivia is a conceptual medical device specifically designed to cool down and stabilizing body temperature of stroke patients suffering from hyperthermia. It works by increasing blood flow in the arm while at the same time drawing heat from it. The blood flow in the arm alone is enough to cool down the entire body, avoiding abnormal fever and other dangers associated with it.
Designer : Bilal Zia Chaudhry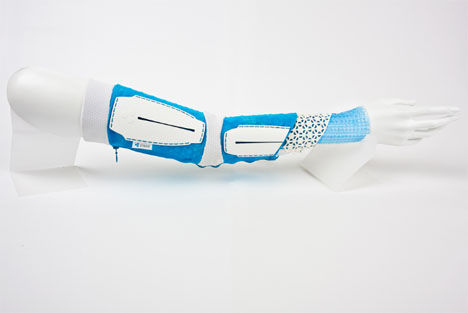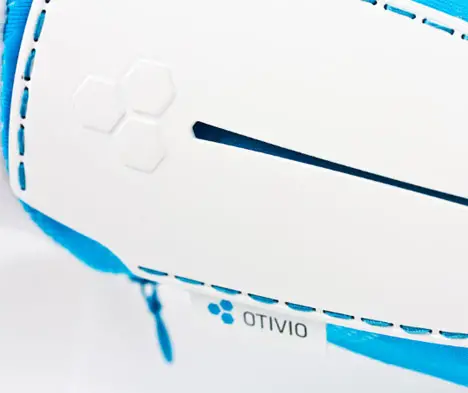 The arm unit Otivio prevents hyperthermia in stroke patients, reducing mortality and disability. This is accomplished by cooling down and stabilizing the body temperature over a 24-hour period after the stroke patient arrives at hospital. The unit consists of two main components: a disposable glove and an outer shell. Temperate water circulates in the disposable glove while negative pressure is generated in the outer shell. The pulsating pressure expands the veins in the patient's arm. This increases skin blood flow locally, while the water acts as an effective heat-transfer medium. Treating just the arm can cool down the entire body.
Patient rehabilitation is dependent on early physical movement, so flexibility is a necessary quality of Otivio. The layered disposable glove allows for a controlled amount of water to flow through a predefined pattern, which reduces the amount of water required and thereby reduces weight. The device also needs to be airtight and stiff enough to withstand the generated pressure, yet it must also allow movement. Otivio's mesh structure covered with a sealing textile satisfies these requirements.
Otivio is connected to an external control unit with two small tubes providing continuous temperate water flow. The control unit is also responsible for generating the pulsating pressure.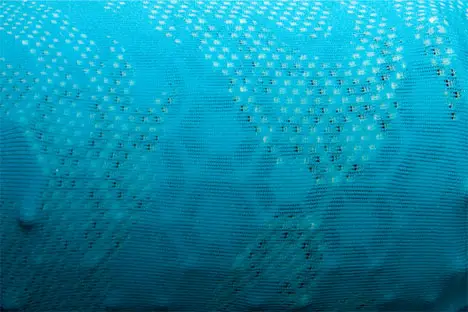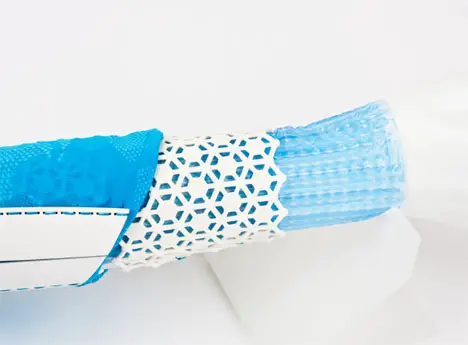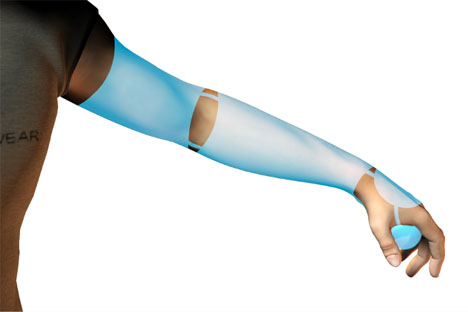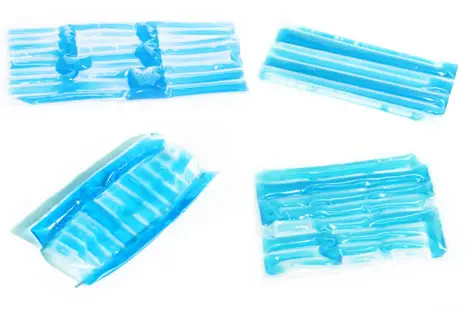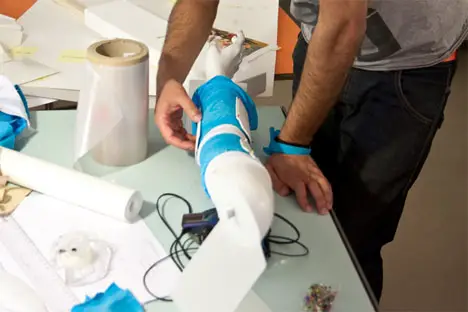 ---
Going green also means saving water. Do you know that we use around 150 litres of water for a washing machine ? After that, the water will go down the drain just like that, when we actually can reuse it. "Washup" is a conceptual design integrating washing machine with toilette-flush. It suggests a sustainable water consumption by storing the wasted water in toilette-flush tank and reuse it with flushing. Moreover, "washup" brings a solution for the problem of location of washing machines in small bathrooms, overlapping washing machine usage space with toilette usage space. It is fixed on wall upwards toilette, so that loading of clothes would be easier for the user without bending or crouching. A special interface including three semi-sphere control units & two flushing buttons is designed for a practical usage of the product. "Washup" is a green product offering solutions for the problems of standard washing machines.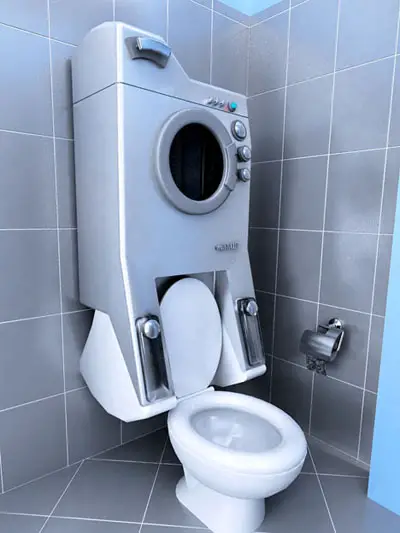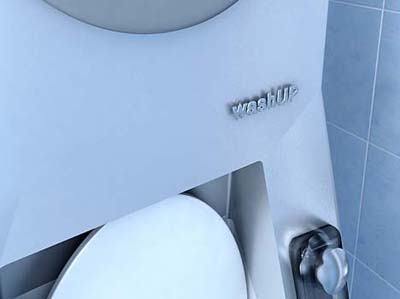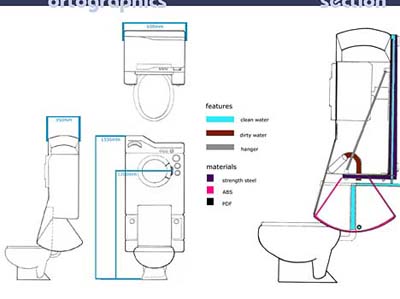 Designer : Sevin Coskun via BornRich
---