JACKCARD is a total different kind of gadget which gives you an extension of yourself. A game changing gadget like this could give a different experience of banking transactions. You could have as many banks as you like with just one card. Now it gives you the power of ultimate identity, convenience and accessibility of all your personal accounts.
JACKCARD will be used by all individuals in the near future. It would replace all ATM cards, credit cards, government ids, health cards and certificates like birth and marriage certificates, and driver's license etc. It will make your life easy as it simplifies and speed up the process in completing hospital, school, bank, corporate and government transactions.
It is advisable to use this product by all individual that is currently using debit/credit cards, employees, students, professional, and even senior citizens. JACKCARD is a wearable device and can be accessorize using id necklace or wear on your wrist when you enter a school or a tradeshows; wear it as id when going to your work/office.
Designer : Stephen Reon Francisco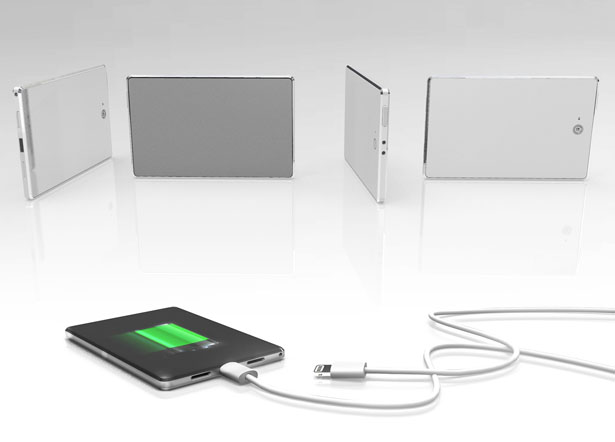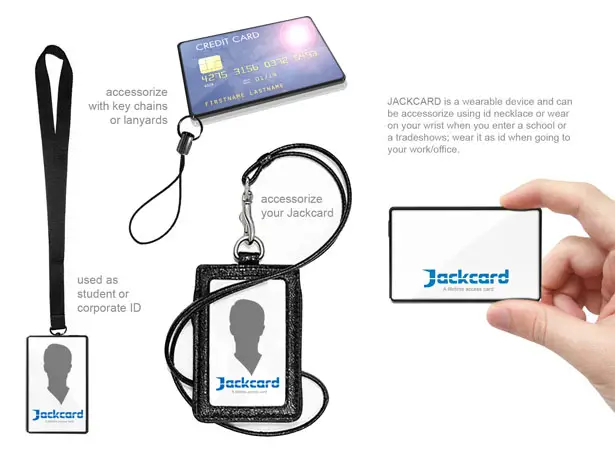 The best thing about JACKCARD is it saves our environment keeping our earth green. It could save a lot of paper, plastic and our precious time. Imagine how many debit/credit cards out there? We could save a lot of PVC cards, plastic cards, paper cards etc. You could use this gadget from birth up until your last breath. Imagine how much waste we could lessen, a lot of it. It would replace all debit/credit cards all sort of cards and certificates we use today.
With JACKCARD equipped with Sensing Technology it recognizes and store data of your voice for identity purposes. It also records important conversations and sounds you produce to save it to do specific instructions. Features like Face Recognition, Fingerprint or Eye Verification which identifies you by your "eyeprints". It also tracks the exact location of your family members and alerts you when they are in trouble, along with nearby safety points like hospitals and police stations. Locate the nearest ATM machines with JACKCARD's real-time map.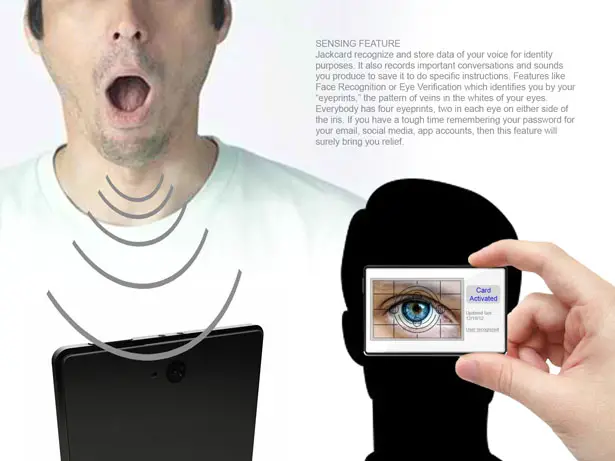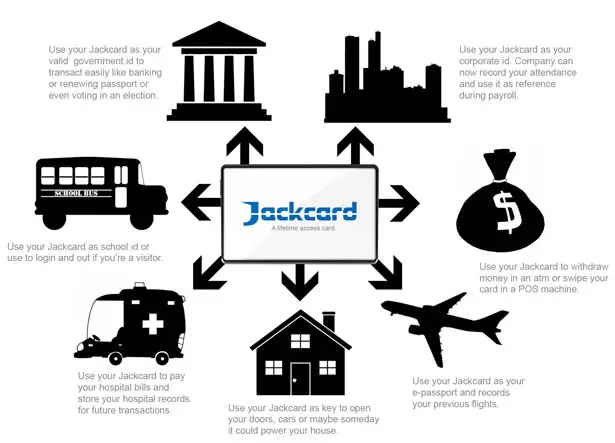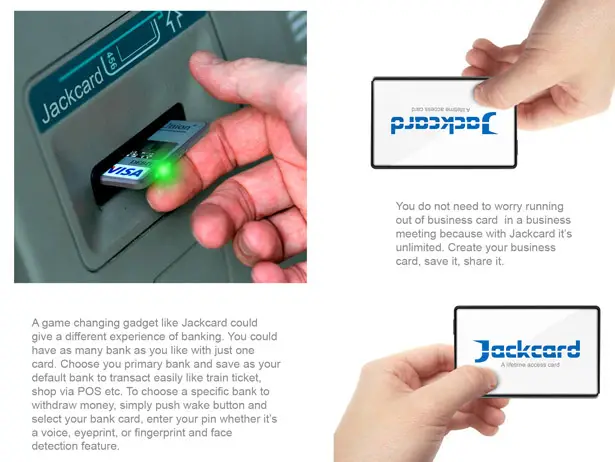 Tuvie has received "JACKCARD" project from our 'Submit A Design' feature, where we welcome our readers to submit their design/concept for publication.
---
Apart from the stereotypical traditional oil-lamps, Tumbler Lamp differentiates itself with its modern aesthetic look and its extraordinary function, as well. Its fresh look consisted of glass and metal is designed to replace the ornamental old-fashion candles. The spherical metal reservoir, the main purpose of which is to prevent tumbler lamp from falling off the surface, is the reason of the lamp's stunning effect. Tumbler lamp's functional concern brings an innovative dimension to the safety issue smartly. Literally, it never falls.
Designer : Hakan Gürsu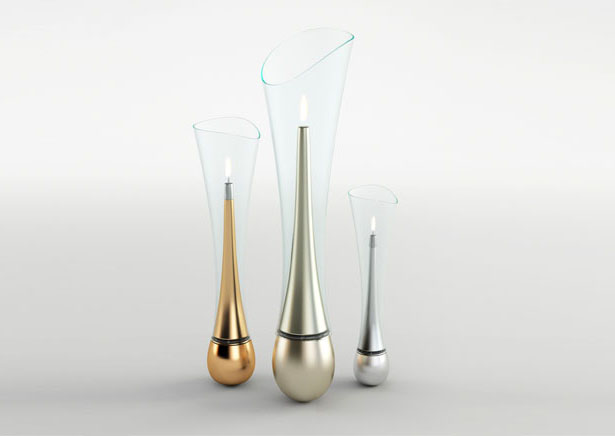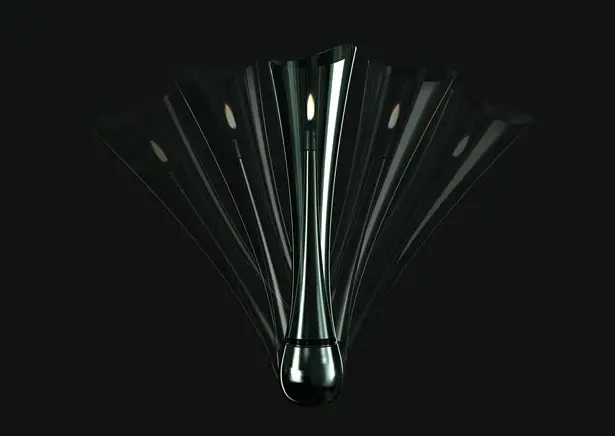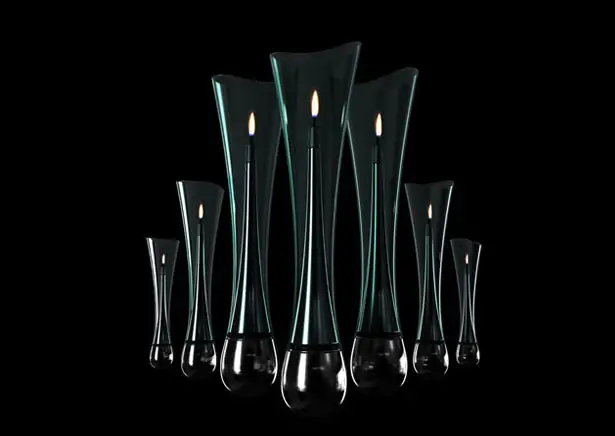 Tuvie has received "Tumbler Lamp" project from our 'Submit A Design' feature, where we welcome our readers to submit their design/concept for publication.
---
The G2 Greencycle 2nd generation is a project that draws from a two-year research study, to challenge current design practice to transform human-power transportation design. A culture-centric approach is used to shift design thinking and practices away from the ongoing unsustainable production of goods and services that are unfit for the human conditions in poor countries. Poor countries need and depend on this mode of transportation for a wide range of uses.
Designer : Paulus Maringka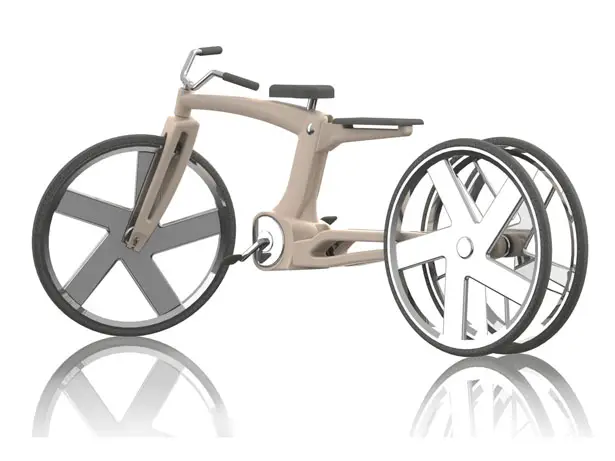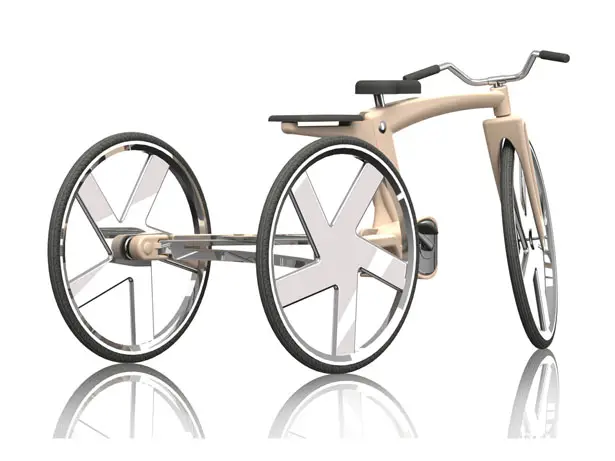 Pre-design information gathered from observation, interviews and participatory design approach of target users and bicycle manufacturers in Indonesia provided a good understanding of bicycle use in relation to the user's needs and wants in their natural environment. This information provided insights on how low income users modify their bicycles to maximize their personal needs.
This knowledge was later used to explore a series of new bicycle concepts and bicycle accessories to increase the bicycle's FUNCTIONALITY AND load capability aimed at improving the user's way of life. G2 is currently in the top 20 finalist of the 2011 International Design Bicycle Competition (IBDC).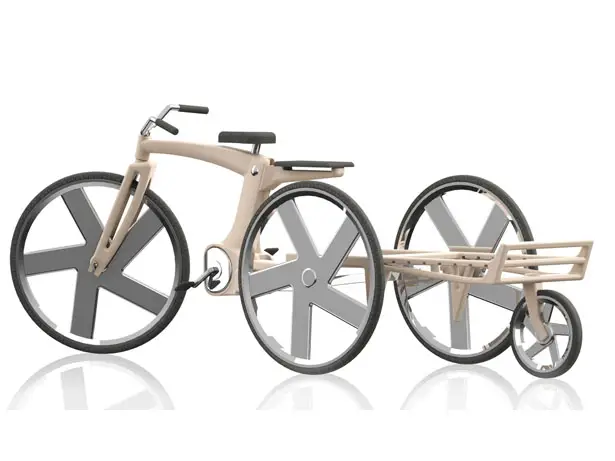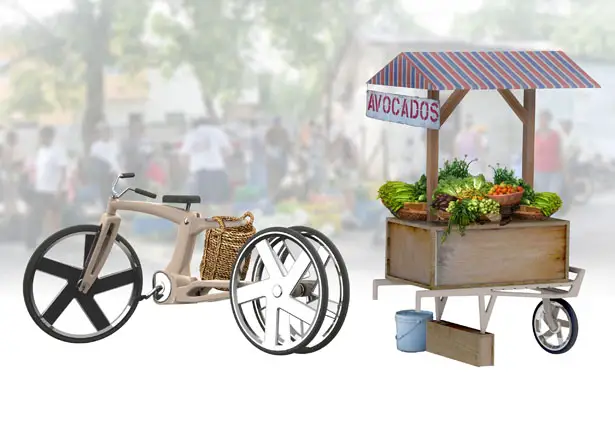 The G2 Greencycle 2nd generation incorporate the following optimum features:
1. A splayed rear wheel base to provide a stable surface for heavy load storage/ carrying which conventional bicycles don't have.
2. The ability to convert back to a two wheel configuration style when the terrain requires tight negotiation – like a narrow pathway through a padi field or poor road conditions as commonly found in Third World countries.
3. Provision for a basic frame for further customization depending on the user's needs and wants, such as a hawker's stand.
4. A splayed rear design has given an opportunity for a further fixing point for additional attachments.
5. An attachment that has a dual purpose as a wheel barrow for loading goods and as a trailer for carrying goods.
6. An S-frame shape instead of a diamond frame shape to free up and create as much space for loading.
7. A strong central core acting as an anchor for other attachments, such as a people carrier.
8. A stronger wheel design.
9. The main frame components made from environmentally friendly composite bamboo based materials which can be molded to produce the desired form.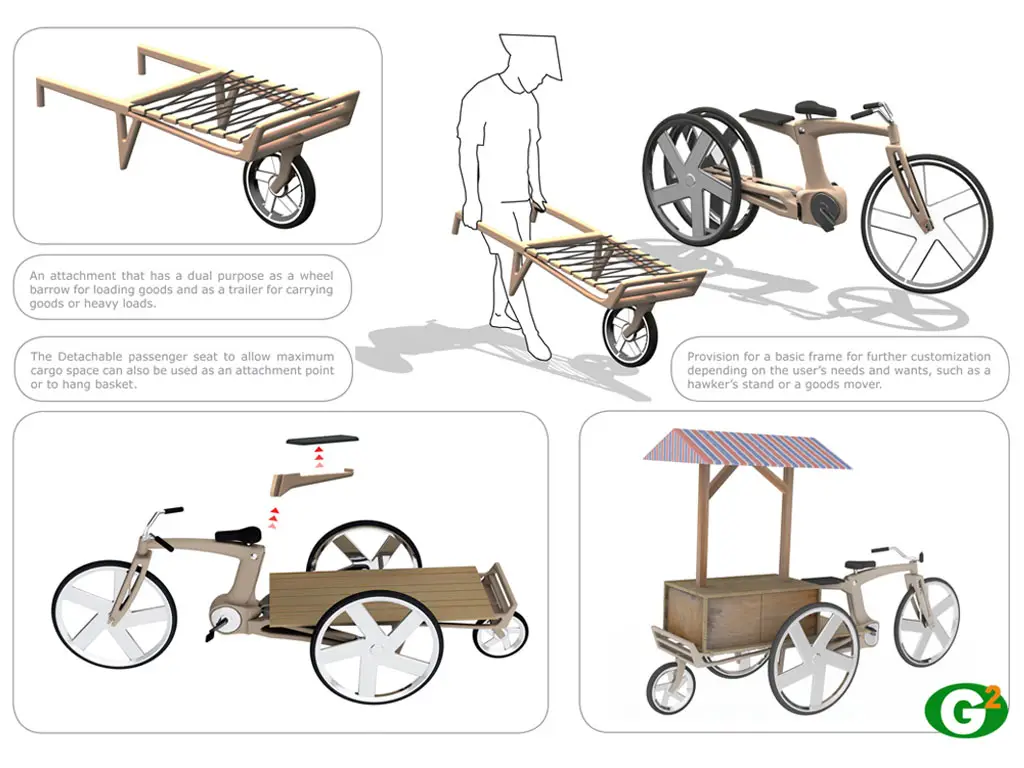 Click above image for bigger view
Tuvie has received "G2 Greencycle 2nd Generation" concept from our 'Submit A Design' feature, where we welcome our readers to submit their design/concept for publication.
---