Mercedes-Benz Aero Trailer is a design study from Mercedes-Benz to develop a new generation of aerodynamic trailer that features 18% less wind resistance and reduce fuel consumption by 5%. The objective of this design study is to show to the world that it is possible to further reduce the already low consumption and low CO2 emissions of state-of-the-art trucks.
Designer : Mercedes Benz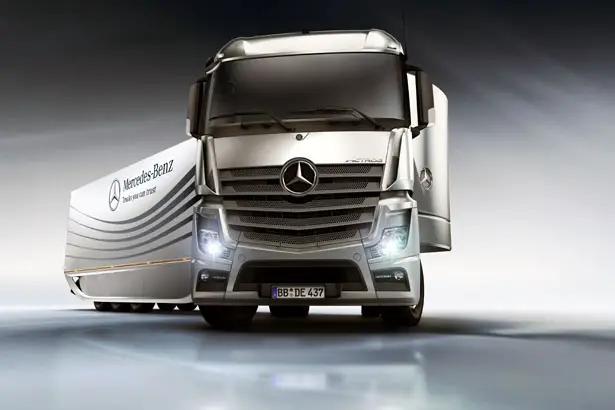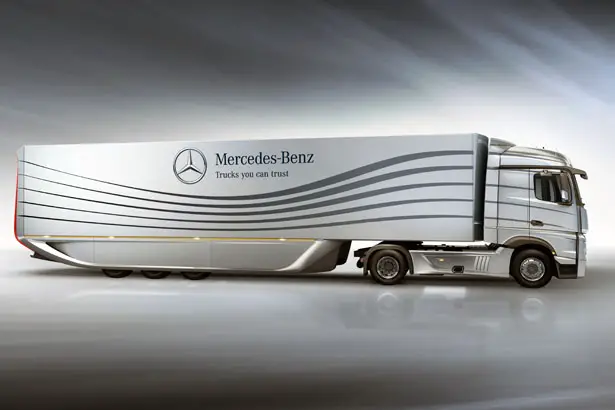 In collaboration between Mercedes-Benz and Commercial Vehicle Design department, they have managed to apply the same principles used in Mercedes-Benz Actros to bring wind resistance level down to 12 to 15 percent lower. The new Mercedes-Benz Aero Trailer front airdam reduces the distance to the tractor unit, thus lowering the wind resistance by one percent. The other contribution comes from the side trim panels design which contributes to 8 percent improvement. The overall design of this trailer is slightly draw-in at the front and characterized by an opening at the rear, in this way, it steers the air in the direction of the striking rear diffuser. The diffuser has the shape of a parallelogram and links up with the underbody paneling. This improves the wind resistance by one to two percent. The rear end taper design improves wind resistance by further seven percent.
By lowering the wind resistance level, Mercedes-Benz Aero Trailer provides great reduction in fuel consumption to almost 5 percent in real-life road traffic. Although the wind resistance level has been reduced, the fundamental load compartment design remains intact, the dimension remains unaffected. The only limitation would be the fact the this truck's length measurement go over current permissible limit by almost half a meter. Therefore, it's important to propose changes in legislation to permit Mercedes-Benz Aero Trailer to travel on the road.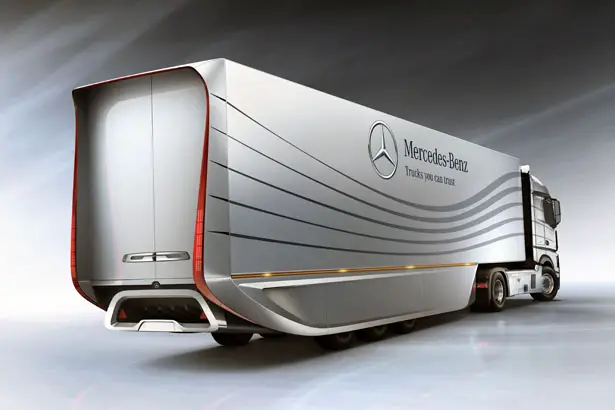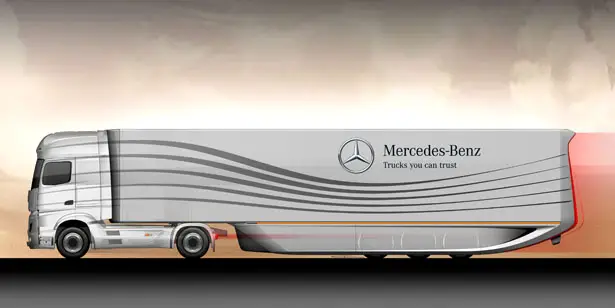 ---
The Clover is an eco-friendly mobile phone concept that has been designed to grow old with the user. This phone features four module interfaces; sound, sensor, vision and location, allowing the user to customize the phone according to their need and taste. Moreover, users can add quite a few numbers of additional modules to make the phone even more functional and attractive. The sleek black touchscreen offers different way of checking out the functions and a user-friendly operating environment. The phone is branded under the name of Samsung and is a great physical device that can develop and share environmental awareness through a built-in collaborative social network name "eco-map".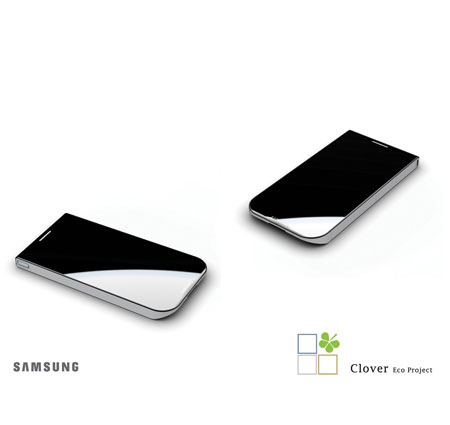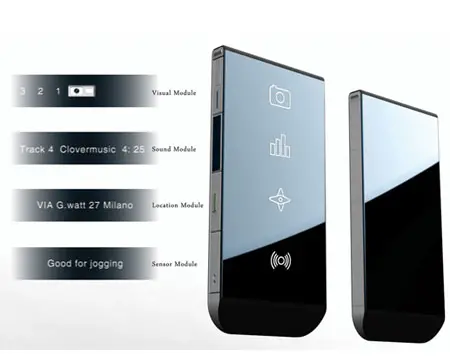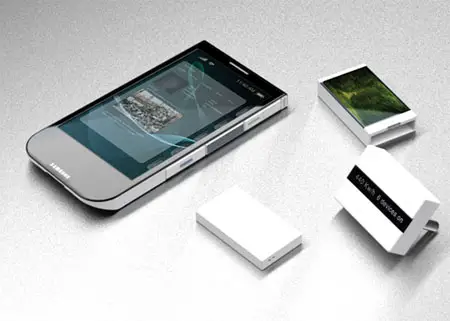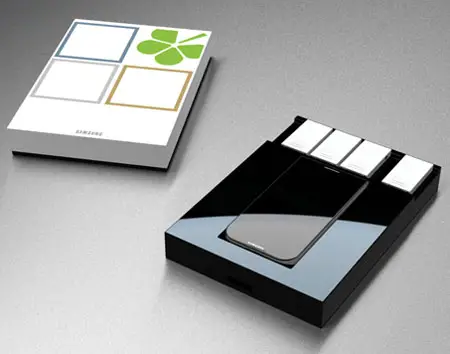 Designer : JinWoo Han
---
MoVille is a compact single passenger vehicle with artificial intelligence and zero-emission drive train. Once you look at this vehicle, you will feel that you have entered into Robot world. There are three magnetic wheels which are rotated with the help of electro magnets. For saving space in urban areas, MoVille can tilt up and down. It features wireless road network in order to connect to other vehicles and road network. With this feature, it can judge where it is located on the road and where other vehicles are. MoVille is also fully equipped with immediacy sensors, cameras, and GPS. Small size and Omni-directional wheels enable anyone to park it easily.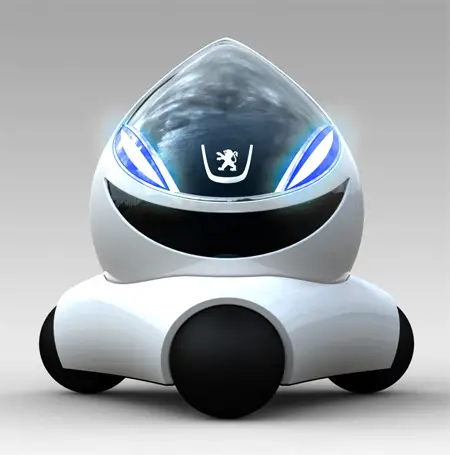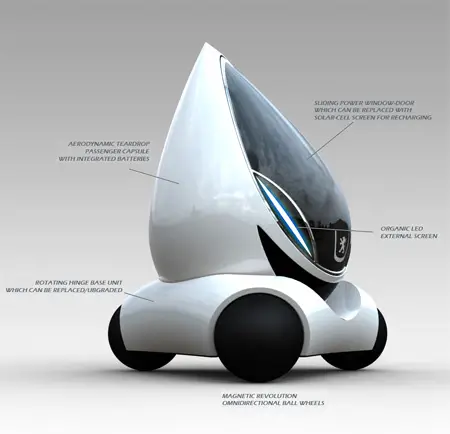 Text from the designer :
MoVille consists of a single passenger capsule over an electric drive train. Three magnetic ball wheels are rotated without frictionless through electromagnets. Passenger capsule is shaped in an aerodynamic teardrop shape for maximum efficiency. It also tilts up and down for saving space in urban streets and become more aerodynamic on highways.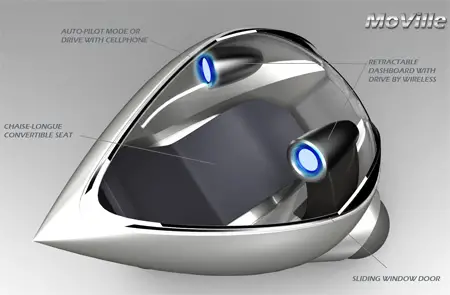 MoVille's compact size takes up less space in dense urban cities. Because it has a sliding window door, it is easy to get in and out of in tight spaces. The passenger capsule tilts vertically to save space on the road and pivots for getting in and out.
MoVille features wireless road networking that allows for it to communicate with other cars and the road network. It is aware of where it is on the road and where other cars are. This allows for reduced traffic jams since cars can accelerate/decelerate synchronously. It also reduces the possibility of accidents.
MoVille's small size and omni-directional wheels means it is easy to park. Equipped with proximity sensors, cameras, and GPS, MoVille can drive and park automatically.
MoVille features an organic led display on the façade that allows passengers to communicate and personalize their own cars. Because MoVille doesn't need any headlamps, the OLED "eyes" are used for displaying vehicle status (running/charging/turn signal/etc).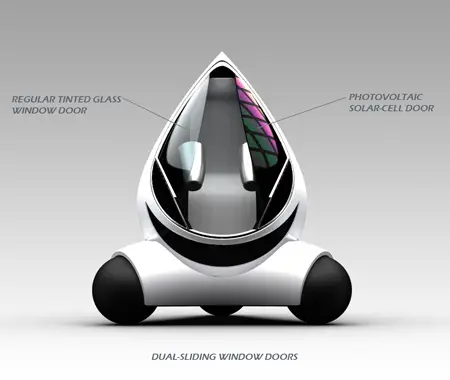 MoVille has an artificial intelligence which allows it to act more like a robot than a car. MoVille recognizes its owner and opens its doors when you approach it. MoVille can drive itself allowing the passenger to save time.
Although MoVille can drive itself, it can be manually controlled with your digital devices like cellphones and portable game consoles. MoVille communicates with these devices which allow the car to be driven wirelessly. The dashboard can be retracted on demand.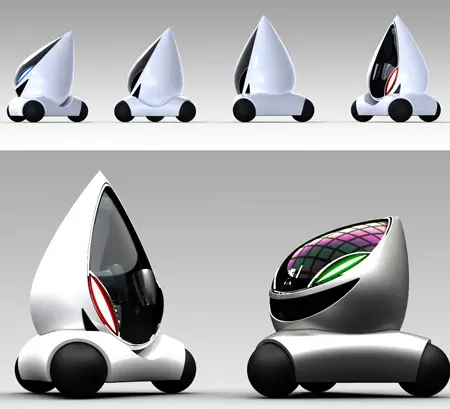 MoVille has an electric drive train that uses electromagnets to rotate the ball wheels. Because there is no mechanical transmission and internal combustion engine, it is more efficient, and more reliable. MoVille's compact body is built out of unpainted biodegradable plastic.
MoVille's unique form factor allows it to integrate a second sliding door with integrated photovoltaic solar cells which can recharge the car's batteries.
Designer : Woo-Ram Lee
---