No, it's not an audio cable, Anakonda KAN200 is an innovative flexible speaker, designed to meet your needs of ultra sleek, flexible, and reliable speakers. It's definitely not your conventional speaker box, the design fits for just about any distributed sound application, its lightness and body design help to make it easily integrated within existing structures. You can either use it as a standalone speaker or combined with K-array subwoofers, each module features 2m long and up to 32 modules can be interconnected with each other, thus creating continuous sound line. The design of male/female NL4 connectors hide the connection from plain sight, you would only see elegant, continues seamless line.
Anakonda KAN200 comes with 2 fabric socks, black and white. You can use the sock to protect the speaker from dust or any other foreign objects, you would also get wall bracket for easy and fast installation.
Designer : K-Array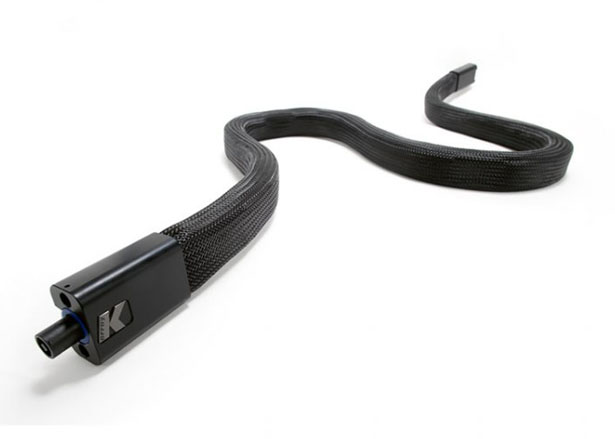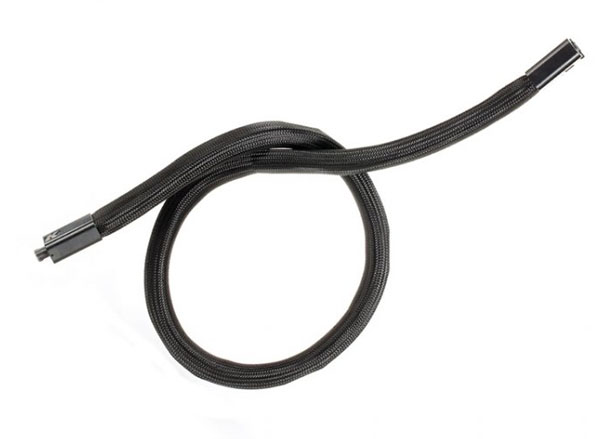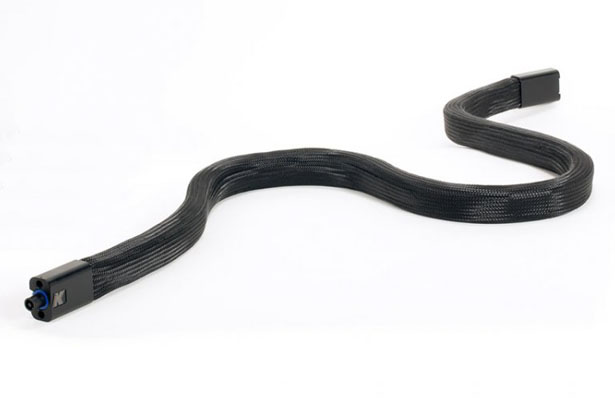 ---
People nowadays don't have the time to spare on their daily hygiene as they used to. Now everyone is more concerned about their job and carrier and how to earn more money. Even if you were a great business man, and you'd buy your clothes from luxurious stores, or if you spent hundreds even thousands of dollars on shoes that allow your skin to breathe easily, your feet would still present the specific odor we are all familiar with. It's not about the shoe brand and how this will help you get rid of the smell, it's about plain old hygiene.
For your convenience, Sonagra Bhagvanji, designed the UV-Blower. A system that uses UV rays and air to dry your shoe and to clear it of the bacteria that releases the odor.
The bacteria develops on your skin, because we wear our shoes 8-10 hours a day, sometimes even longer, depending on our job. Due to this stress, the air that is trapped inside the shoe around your foot, allows bacteria to be formed. This bacteria is not only found on your foot, it makes its way through the sock and into the interior material of your shoe. The UV-Blower is a wonderful solution to this daily problem. The main idea that encouraged Sonagra to create such a device, was to eliminate the embarrassing and awkward situation people are put through, due to the foot odor. The main mechanism of the UV-Blower is based on ultraviolet sterilization and forced air. At the tip of each shoe hanger we can see the UV bulb that removes the bacteria from your shoe. In the help of the UV rays, comes air, which is forced through the air blowing mechanism. The UV-Blower is the perfect way to keep your feet healthy and odor free.
Designer :  Sonagra Bhagvanji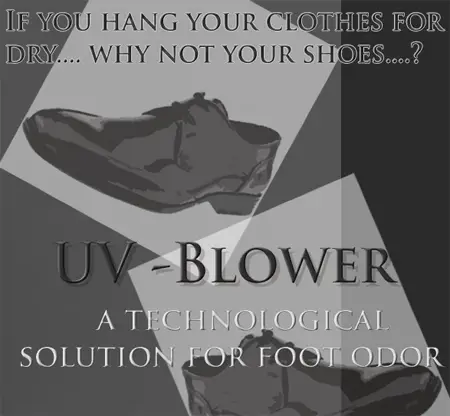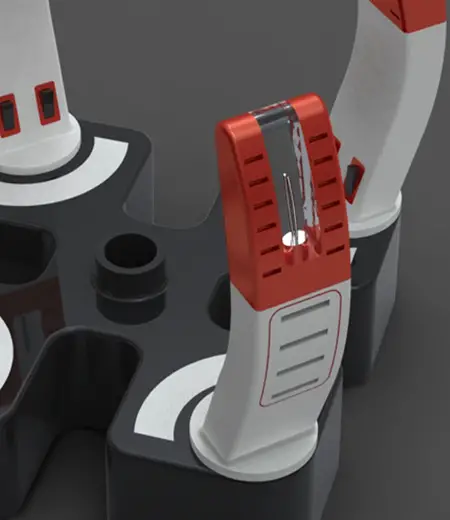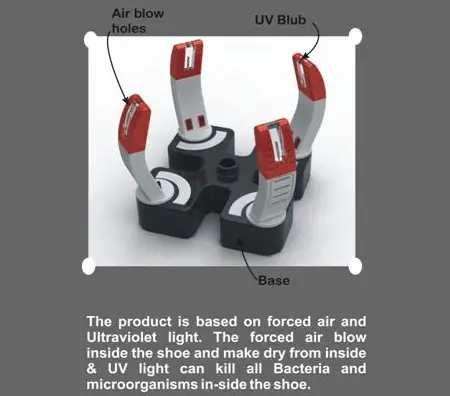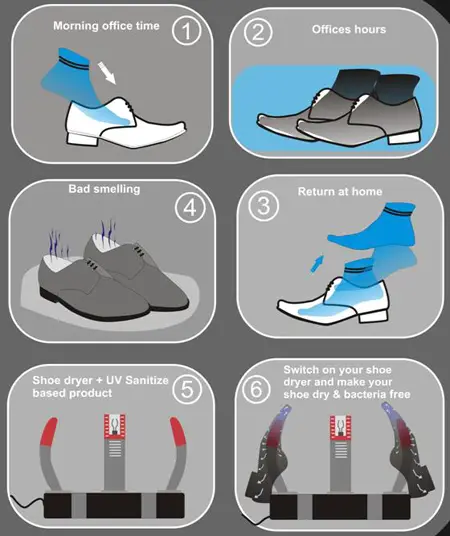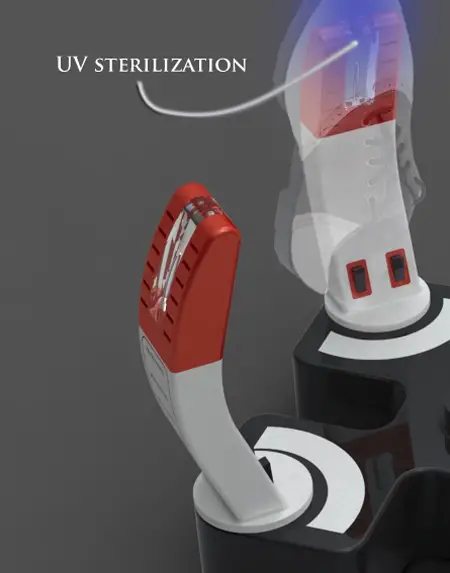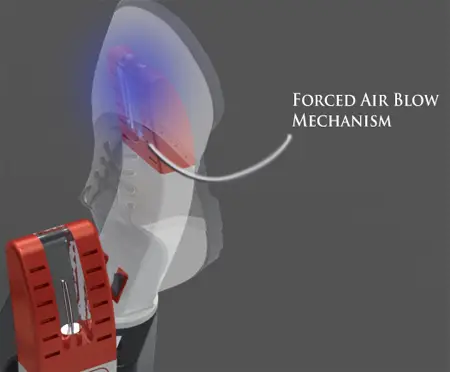 ---
With lots of innovative products being introduced into the world of furniture, designers tend to compete with each other in order to stay on the top notch. The new one, however, is Flying Cavalries' Fireplaces namely, Hillside, Aurora and Magma. Hillside comprises of a coffee table, a sofa chair integrated seamlessly together. This piece of furniture, inspired by the hillsides gives a warm and comfortable feeling when you lie over your back on its seat beside the fire.
This furniture has been designed with materials including oak, natural stone as well as glass. It serves dual-purpose of being used as a stylish coffee table and as an extraordinary fireplace in just minutes. It can as well be used as a relaxing sofa char with a fireplace. Simplistic in design and dualistic purpose, the Hillside would add the real comfort for your life. Hillside is environmentally friendly and is chimney free, while Magma would serve as an ideal piece of furniture with smokeless ethanol based fireplace, which is enough to keep you warm during cold weather. Similarly, Aurora takes the inspiration from aurora borealis called the polar lights. These three furniture pieces would not only help you stay warm, but would add more to your living area.
Designer : Flying Cavalries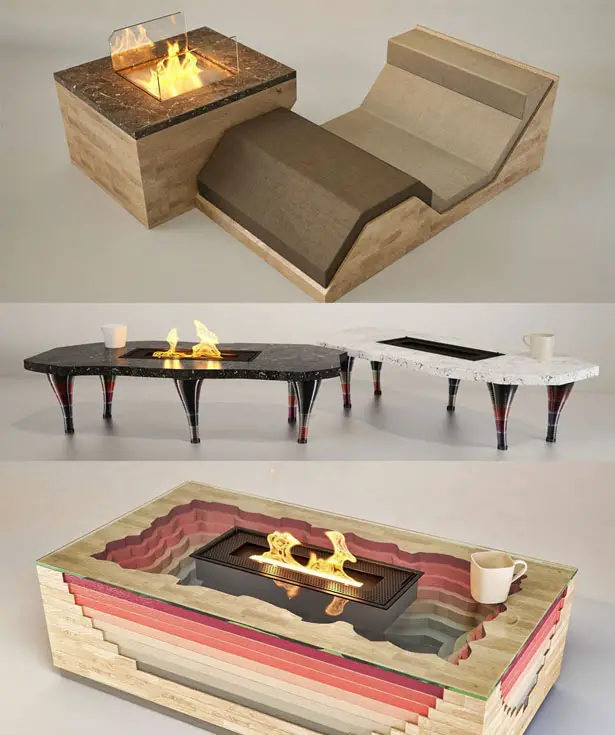 HILLSIDE 'improve your quality of life'
This fireplace is inspired by the hillsides and using it evokes the feeling of being on a hillside. Warm and comfortable emotions accompany you whilst you lie on your back on its ergonomic seat beside the fire.
Hillside is comprised of an ergonomic sofa chair, and a coffee table, that integrate seamlessly together. Both have been designed using only three natural materials: oak, natural stone, and glass. Hillside can be used as a simple and stylish coffee table when entertaining friends, but on cold nights can be converted into an extraordinary fireplace in just a minute. And then when you are relaxing alone, it can be changed once more, with a quick touch, into a relaxing sofa chair and fireplace. Hillside is so quick and simple to use that your life will change, just as you deserve it to. This creative idea makes your life easier and economizes on space.
It's adjustable, adaptable, efficient, and compact. In the comfort of your home you will feel far away from the stresses of everyday life. It will improve the quality of your life, the way you breathe, and the way you feel.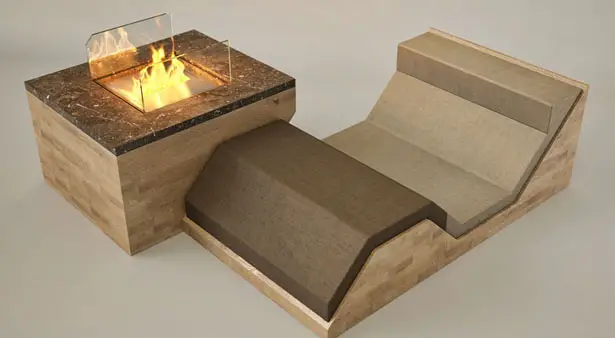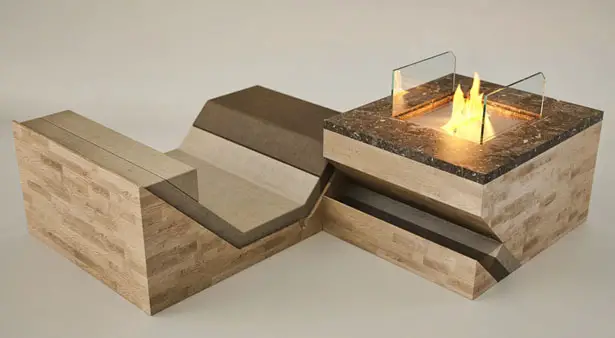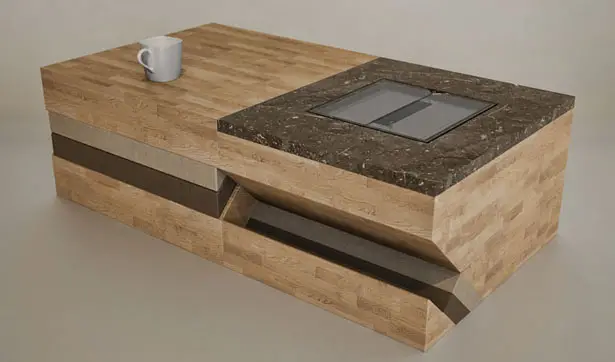 AURORA 'feel the harmony of lights and colors'
The modern and elegant Aurora is inspired by the aurora borealis: the polar lights. The aurora borealis is a natural and colourful light display in the sky, particularly in the north and polar regions, caused by the collision of charged particles directed by the Earth's magnetic field.
Normally observed at night, this colorful light-dance makes cold nights feel warmer. These complementary concepts of night and cold, and the opposing concepts of hot and cold, are both fused together in the Aurora, a free-standing chimney-free fireplace which is composed from a natural stone surface, colored transparent bearing legs, and a smokeless burner. The natural stone, which has been reshaped but sticks to the stone's natural form, combines with the fire burner to form a harmonious blend of hot and cold. When you touch the Aurora's natural surface, and enjoy the warmth of its fire, you will feel far away from the stresses of your life. This unique design concept reflects the polar aurora perfectly.
Its 5 legs symbolize the dance of the beam lights and its fluid lines will seduce you and open up the doors of your home to an amazing color harmony. Its extraordinary concept will not only improve your imagination and change your life, but also add different meanings to your living spaces.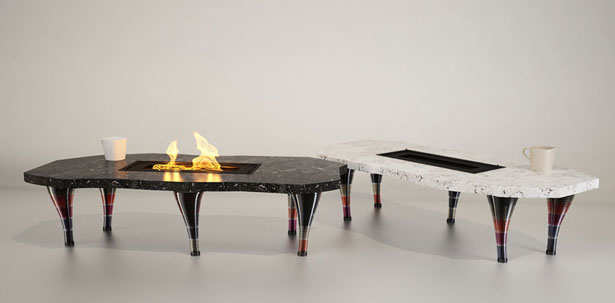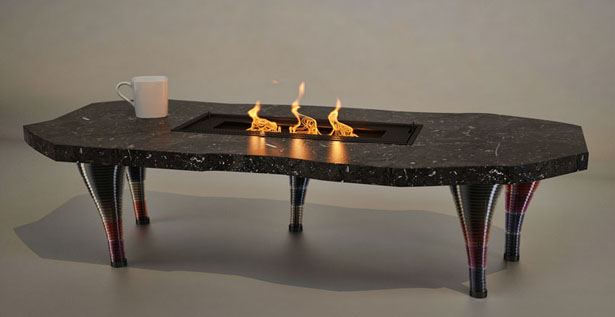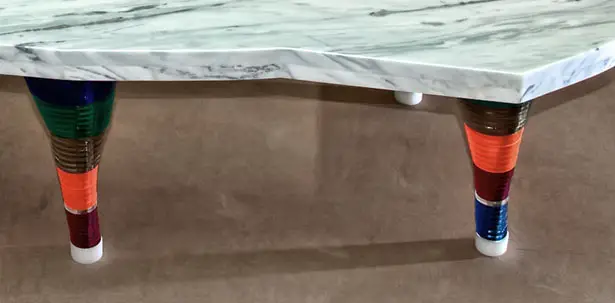 MAGMA 'connection between you and planet'
This fireplace is inspired by those natural pheonomena that are a source of enourmous energy: volcanoes. The Magma fireplace will be a source of energy for you, giving you back what you have lost during the day.
Magma will be the heart of your home. It has been designed with an eye to providing a connection between you and the planet, but it will also help you to refresh the connection between your soul and your body, as you watch the colours of the fireplace merge and integrate with one another: Magma's colours go from red and melt into gray. The coloured layering that distinguish and make this fireplace special can be seen both from the top-view of the fireplace, and from the side.
You will be passionate about this sculptural object. It will not only be an astonishing decorative element in your home, but also a functional and stylish coffee table to use every day, and a smokeless ethanol based fireplace to keep you warm in the cold weather.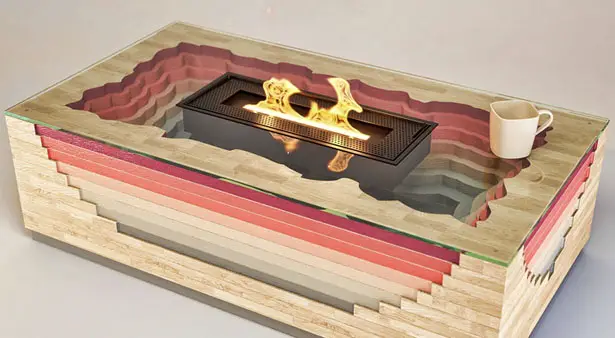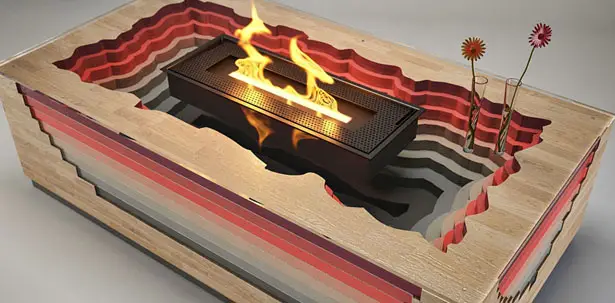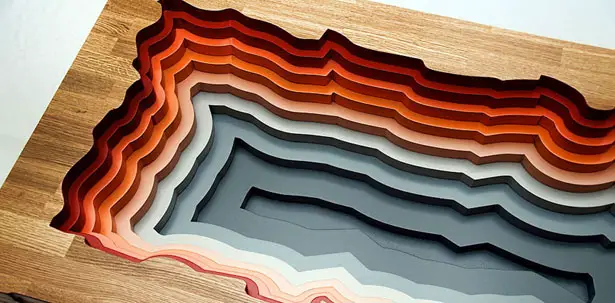 ---