During their research trip to India, the designer noticed that Tefal were selling European cookware in a country that has strong food culture of its own. That is why they are trying to design the best pots for each country, responding to local food culture in Asia and Latin America. Mosaic Cookware design offers different cookware for each country.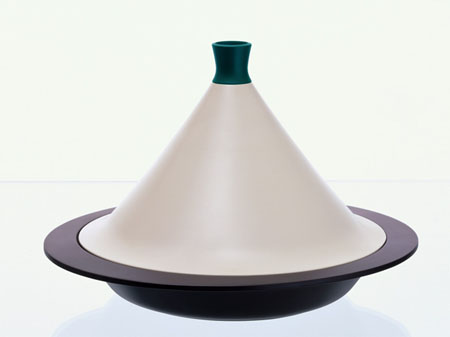 Mosaic Tajine for Morocco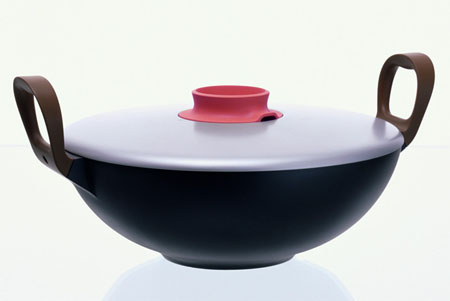 Mosaic Karhai – India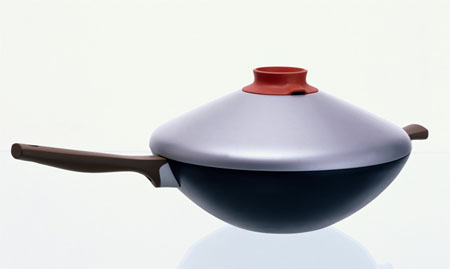 Mosaic Wok for China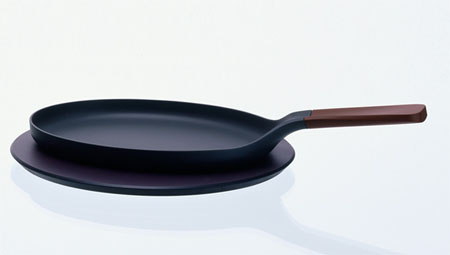 Mosaic Fajita for Mexico
Designer : Doshi Levian
---
Watch as 2 beautiful particles collide on Collider Watch. It's a beautiful concept watch designed by Samuel Jerichow to give you a visual illusion how 2 different types of particles move fast and collide at the center of the display and create beautiful explosion.
The explosion pattern is based on analog watch display, the red ones inform you about hours while the blue ones inform you about minutes. However, there's a little twist, on analog watch, hour hand is shorter and closer to the center, however some explosions also cast red LED which is further away. It's not just explosion effect, this red LED indicates PM. All blue LEDs located a bit further away from the center inform you about minutes in 5-minute increments, while those additional blue LEDs located closer to the center represent single minute that you need to add to the first minute value. You can view images and animations below to get clearer visualization.
Designer : Samuel Jerichow for [Tokyoflash]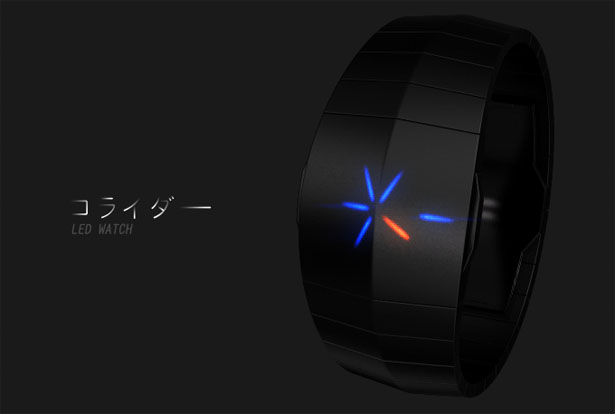 At first sight, it looks just like random explosions, we really love the animation by the way. There are 2 buttons which should be pressed in order to cast out those time particles, the designer says that it reminds him about 2 essential keys concept that have to be pressed in the event of emergency. We're not sure if this is something that Tokyoflash would manufacture, but we keep our fingers crossed.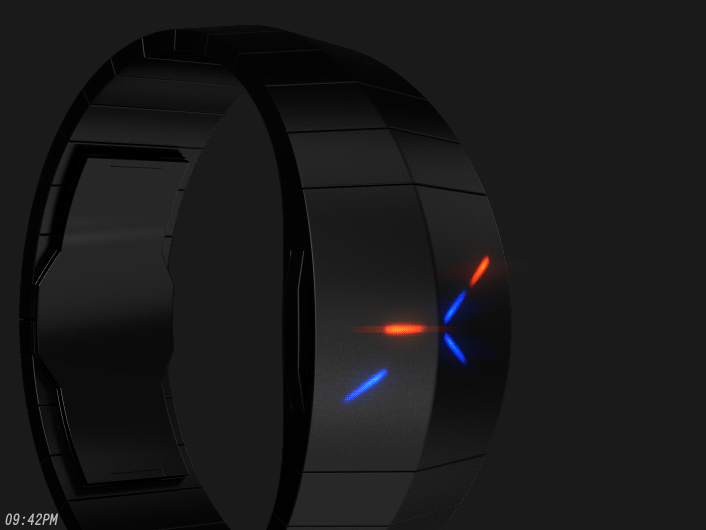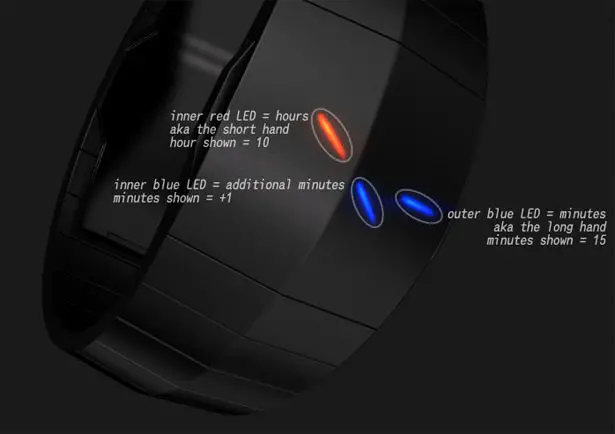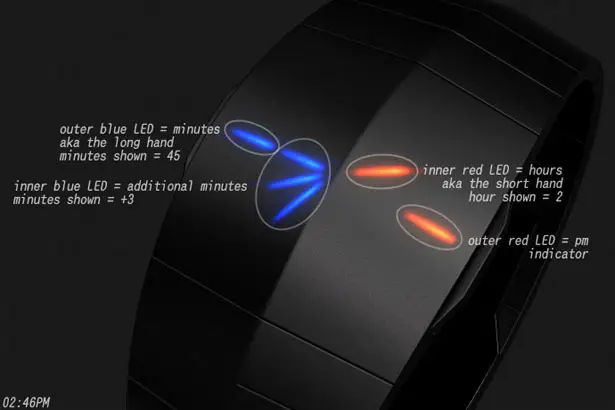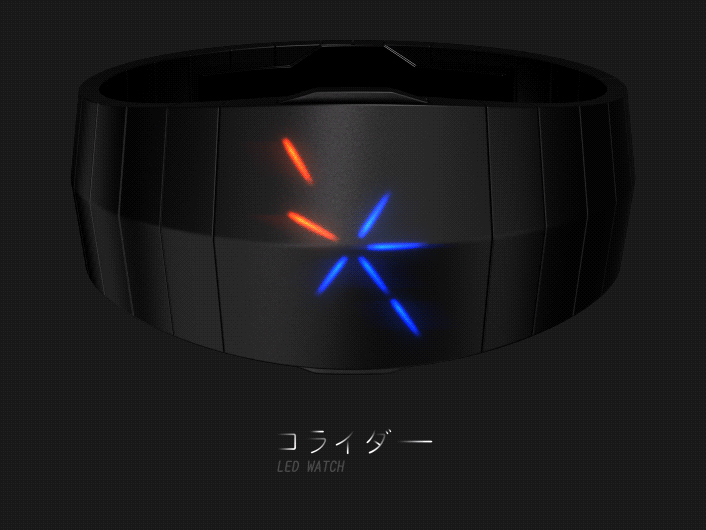 ---
Anders Gloslie, a Norwegian designer who is studying at IED Tornio currently in Italy, developed the FROST concept electric car. The stylish exterior design of this extraordinary car was enthused by and developed to suit arctic climate conditions. The asymmetrical bodywork of this car was influenced by formations of ice and features plenty of 'cracks' which cover the lighting systems. This motivating natural inspiration source also denotes that the idea takes of various shapes seen from different angles. The FROST concept layout mixes the proportions and the 2-seat design of a racing car with the rough potential of an off-road vehicle.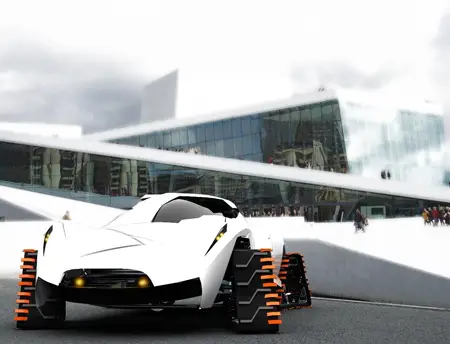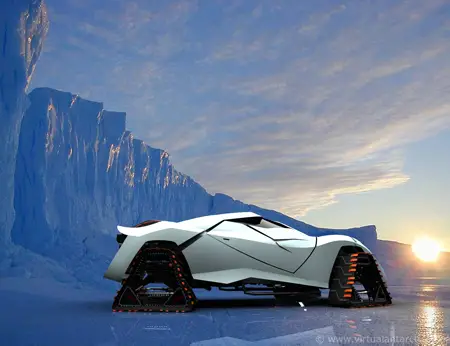 Anders says:
"Since most of the worlds power supply comes form water, I wanted to use this as a concept. Th!nk is a Norwegian brand, so I also got inspiration from arctic clima. Arctic clima+water=Ice. Freezing water creates natures most powerful force. So that would be good to use for an electric car as an inspiration and concept for clean power. I wanted to create something different from all other works i have seen, mixing sports car looks with off road set up.

Using the non symmetric structures of ice as styling inspiration. Creating hard edgy and non symmetric surfaces. I wanted the car to look different, when its seen from different angles. The cracks in the body, hides signal lights over each belt, as the original think cars do. The huge fans at the back, controls air onto the cockpit also, and adjust the engine and cars temperature. The information hose at the back sends data about weather,temperature and all information thats needed, viewed from inside the car, and also outside. The data information will be shown on screens near at the fans, at the back of the car. That means you can operate the data info from the outside.

This 2 seater car has AWD, 4-wheel steering, independent suspension and hydraulic wheel extenders, for maximum traction and maneuverability."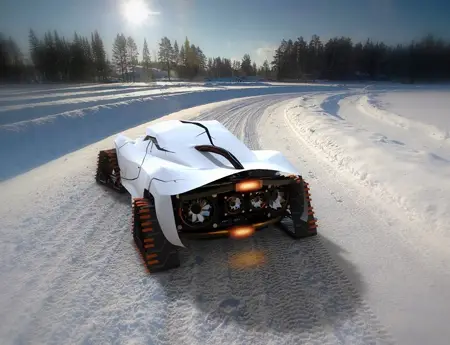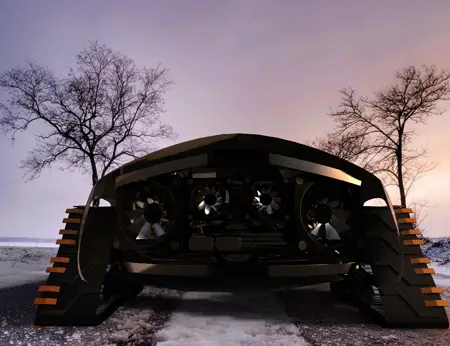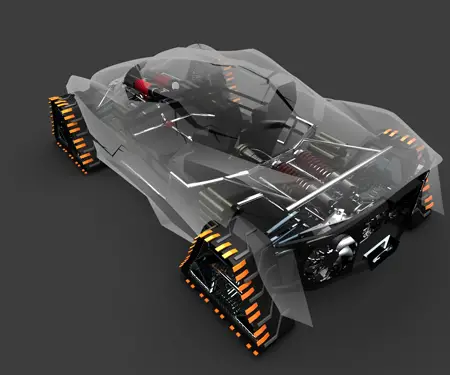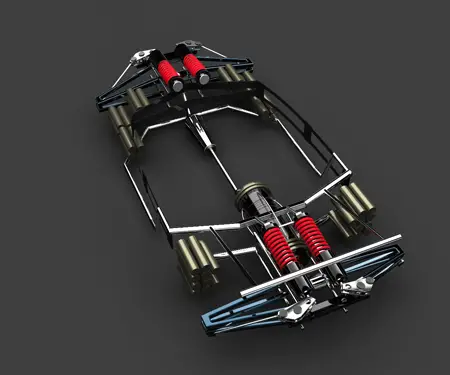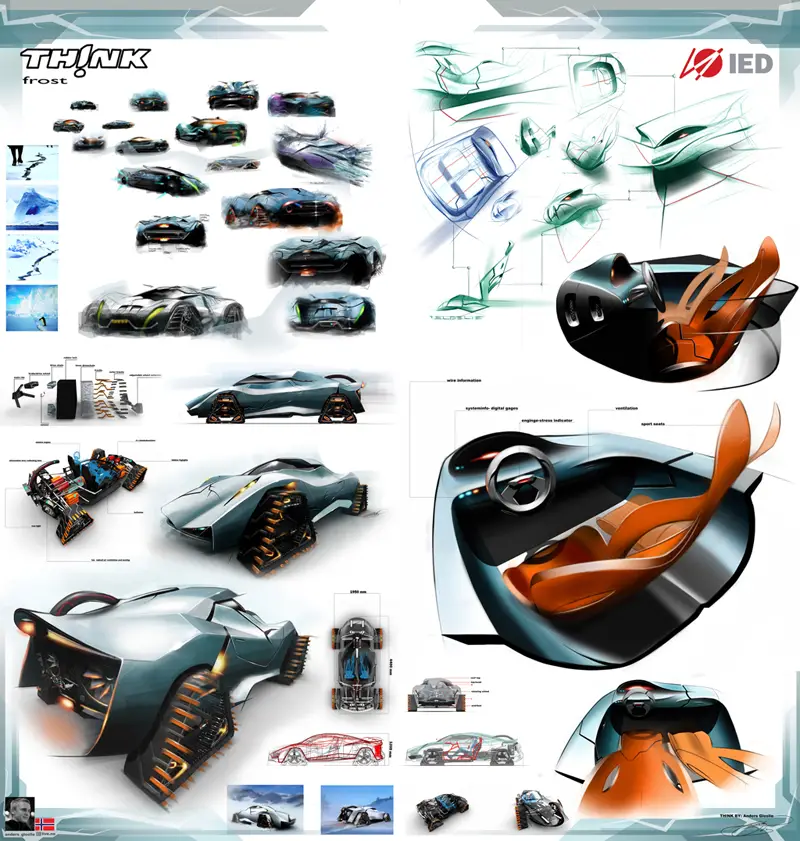 Designer : Anders Gloslie
---