National Geographic is famous for its daring expeditions and adventures, life-threatening challenges for all adventurers. Zaire is a concept vehicle which has been designed and developed for National Geographic in 2035, a tough all-terrain vehicle which is an ideal companion for anyone to explore places where no one would dare to venture before. Here's what the designer says about Zaire:
In a different manner from existing Dakar Rally or F1, Volkswagen will provide National Geographic with very special car to promote its own technology power in 2035. It will have another promotion effect globally by providing National Geographic direction team of which history and recognition are solid with specialized cars. In 2035, National Geographic elite films team formed of 5 members leave for Africa. In order for them to catch the images of hidden regions and scenes of Africa, they needed their very own transportation equipment which can quickly breakthrough unpaved roads and survive through any environment. Therefore, National Geographic creates Zaire, which is formed based on the combination of Michelin of the Volkswagen and its previous technologies, and can drive through any circumstances. Innovative Zaire is released as personal transportation equipment for National Geographic elite films team under the cooperation with Michelin.

This vehicle is a unique transforming magnetic wheel system and is based on innovative mechanism as it possesses both frequency abilities and previous wheel mobility. Since it heads towards the hexagonal direction of greenhouse, it has been designed so that more diverse directions can be filmed. In addition, it has been designed in the way that it possesses spacious interior space with very wide left-and-right body and safe unturning position.
Designer : Dongman Joo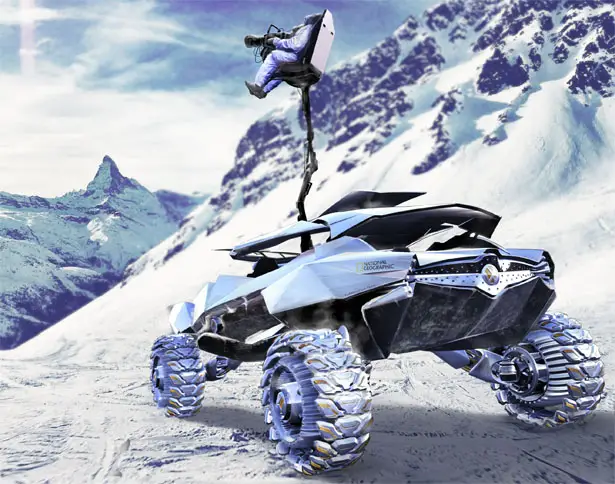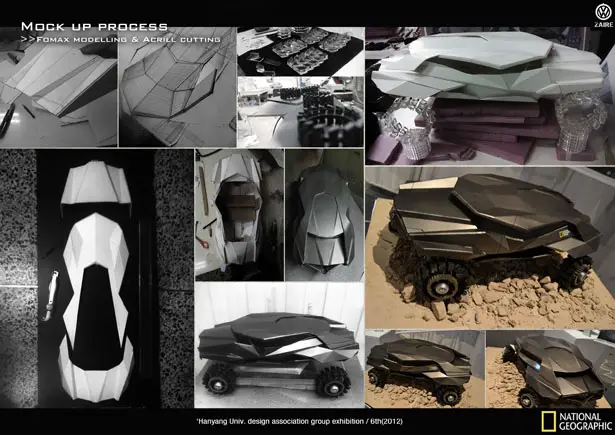 Click above image for bigger view