Stack futuristic car is one of Michelin Challenge Design Finalists where this year theme is to design a car for the year of 2046 that features art, life and ingenuity. Based on these automotive designers analysis, they concluded that by the time we reach 2046, India would be the second largest economy after China. This country would have very significant growth of its economy especially in Mumbai which is the financial capital of India. This economic growth also affects the population growth rate to pretty impressive numbers that in the end creates several space issues.
Stack futuristic car has been designed to answer these challenges by providing a unique user experience of commuting. In the future, our world energy supply would mainly come from sun, wind and water. Nano technology and Artificial Intelligence (AI) would be used in many applications, making Stack would be just one of them.
Designers : Tejas Purohit, Kunal Kulkarni, Divyanshu Mittal, Rushikesh Galande, Amruta Ghosalkar, and Nischint Gavate
School : DSK ISD International School Of Design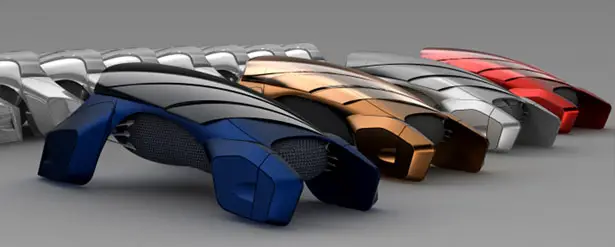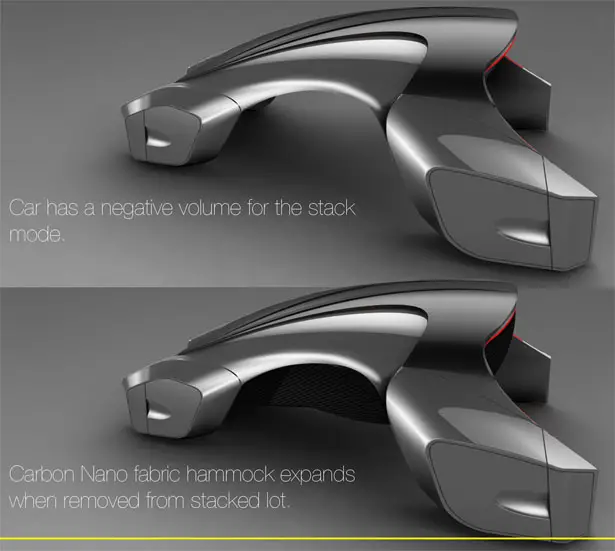 Just like its name, this car can be stacked when parked. Let's say that if there were 2 cars parked, 50% of the length of this car would go inside the car in front of it. In this way, these 2 cars only take up as much as 1.5 car space when parked. These designers explained that Stack futuristic car design consists of two elements: shell and hammock. The shell is the rigid exterior structure (solar cells) that suspends the Hammock (flexible carbon nano fabric). Why hammock? It's because hammock is flexible material that suitable to adapt to different users' needs.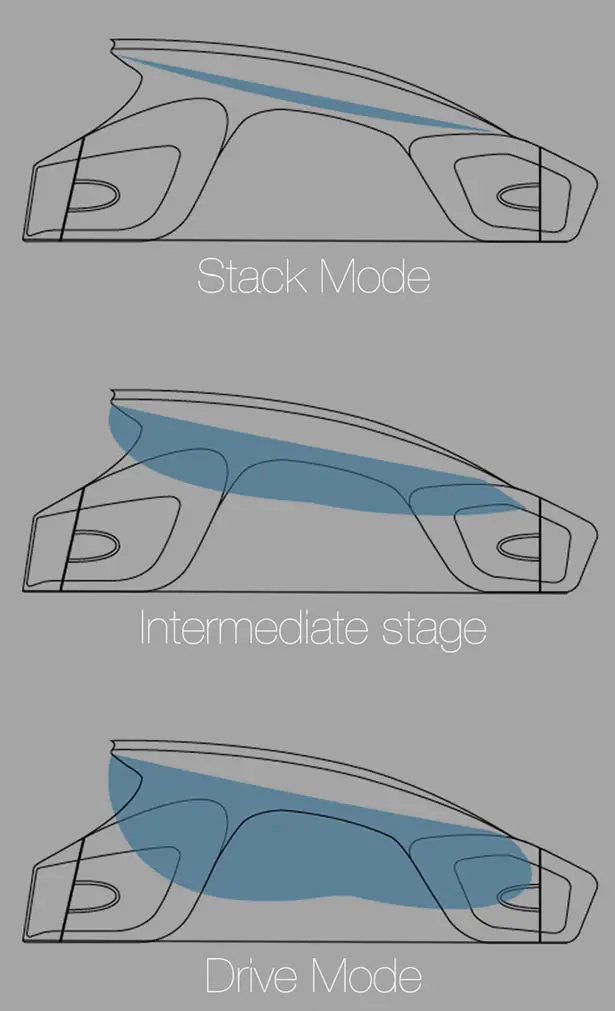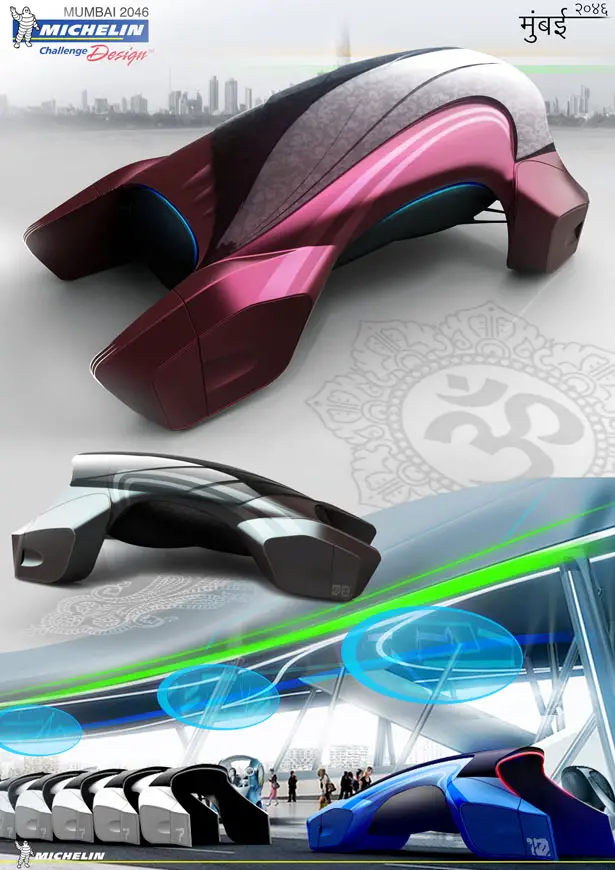 Checkout the door of Stack futuristic car, it's been designed to resemble the poetic blooming of a lotus flower. The asymmetric roof design was inspired by 'Saree', the traditional Indian dress of women. The layers of the roof help the aerodynamics of the vehicle creating the golf ball effect. Stack is propelled by magnetic levitation technology and utilizes two magnets, one rotor magnet and one magnet connected to the wheel. To prevent any magnetic fields interruption, wheels of this car are covered with wheel caps. The gap between these two magnets acts as shock absorbing system for this vehicle. Powered by four batteries, the shell is responsible to generate energy from the sun to recharge these batteries.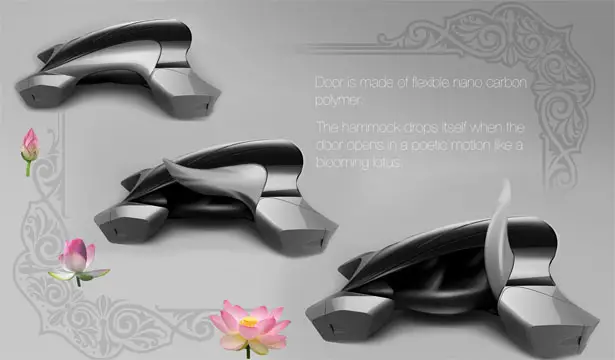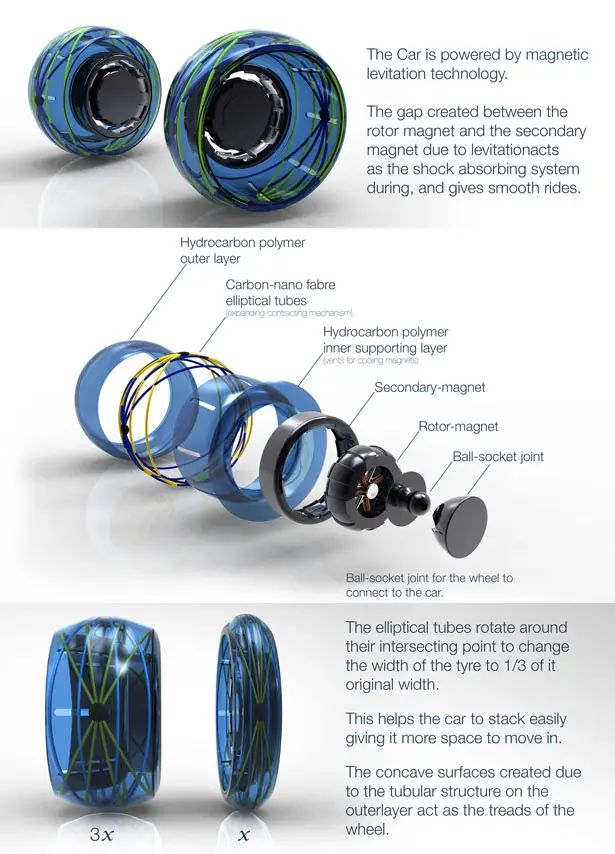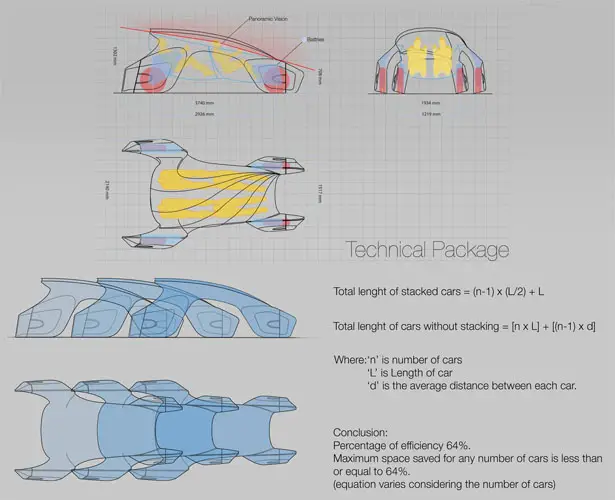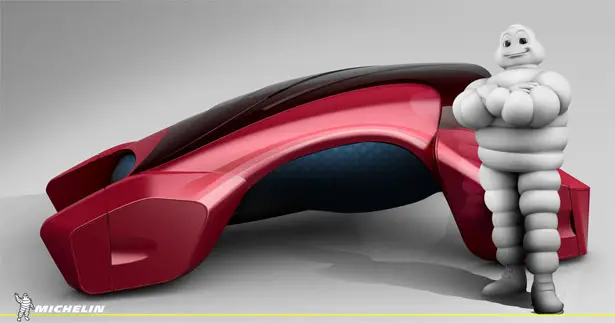 ---
East and West. Industrial design and craftsmanship. Two cultures and two design languages usually far apart from one another blend in the common language of design and tell the story of a project that spans from research to the creation of innovative products for markets around the world. This design and cultural blend produced Fusion: two kitchen knives made of ebony and white maple. Handmade in Kyoto as a limited edition by Japanese artist/craftsman Issei Hanaoka, these knives are inspired by the traditional Japanese art of wood crafting and they have a minimalist design: extremely simple yet modern and universal.
Both knives feature an ergonomic handle for slip-resistant ultra-comfort grip. They are available in two sizes and two types of blade: serrated, ideal for bread, and non-serrated, ideal for cheese, fruit, and desserts. The seamless design allows for unparalleled cleanliness and easy care. Thanks to their ultra-fine edge, the knives are extremely sharp but also easy to sharpen. For the packaging, the traditional Japanese boxes "Kiribako" have been re-defined according to Italian design where shape is driven by purpose. Here the boxes enclose the products and protect them from humidity and the passing of time. Both models are available on demand.
Price: 12.000 Yen (Short) / 18.000 Yen (Long)
Dimension: W262 x H34 x D18 mm / W358 x H34 x D18 mm
Material: Ebony / White Maple
Designer : Andrea Ponti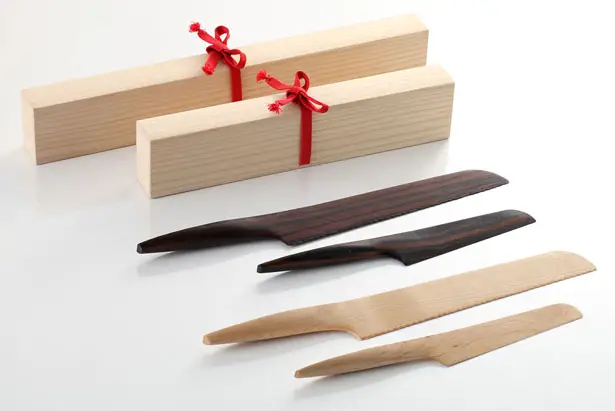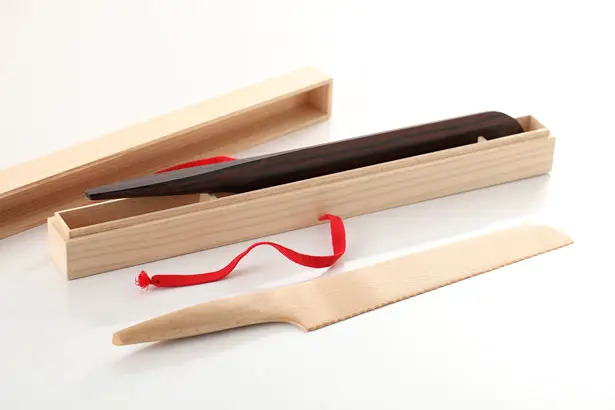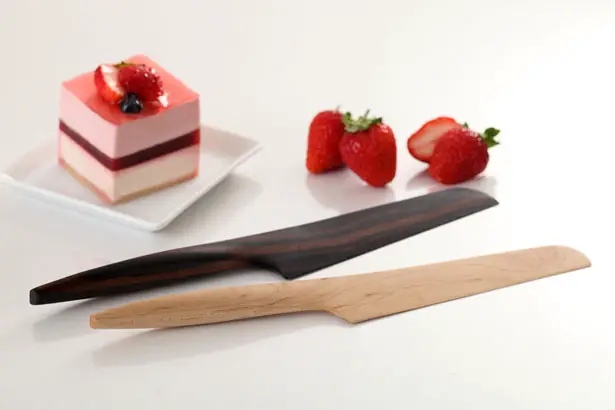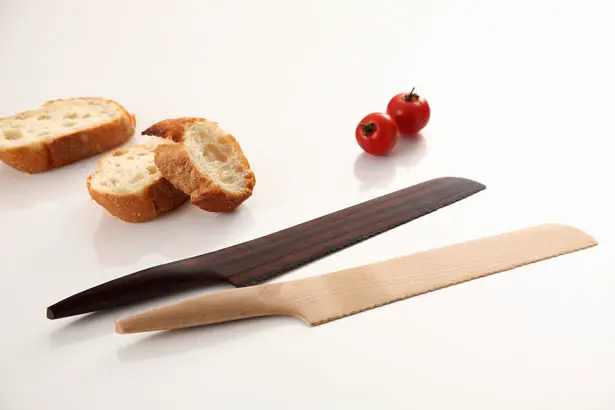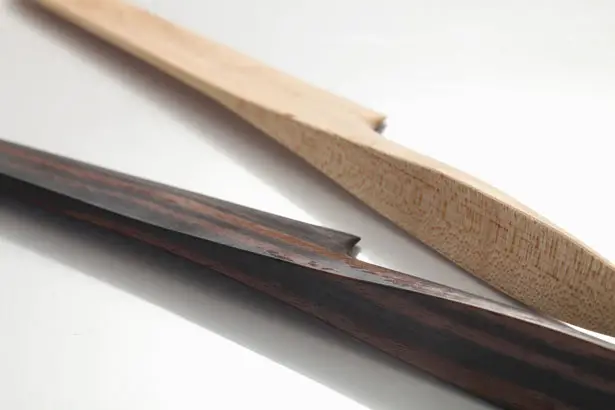 Tuvie has received "Fusion Wooden Kitchen Knives Collection" project from our 'Submit A Design' feature, where we welcome our readers to submit their design/concept for publication.
---
Vacbin is a vacuum cleaner within the trash bin. This design is based on the idea of invisible essential objects. Vacuum cleaner is one of many household objects that we'd rather hide in places like storeroom. However there are times when we need to use it and hope it would be easier to get it out. Vacbin hides the vacuum cleaner within the trash bin, an object that is out in the open. It makes the vacuum cleaner invisible when not in use, yet easily released when needed. Clever design, isn't it? Place the vacuum back in its place when you're done, it will automatically empty itself into the bin.
Designer : Joce Sieys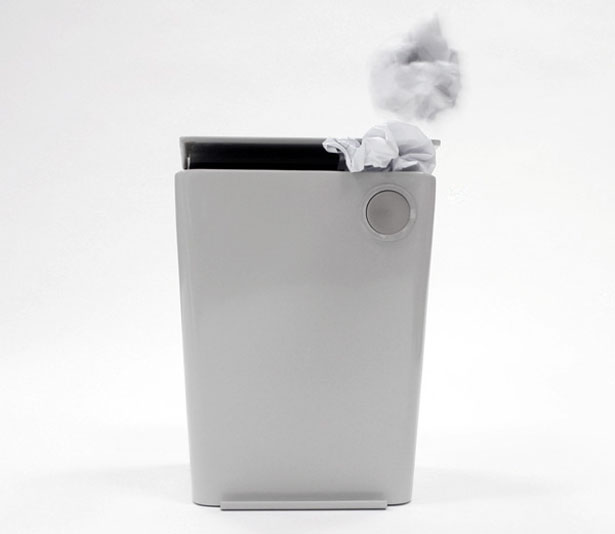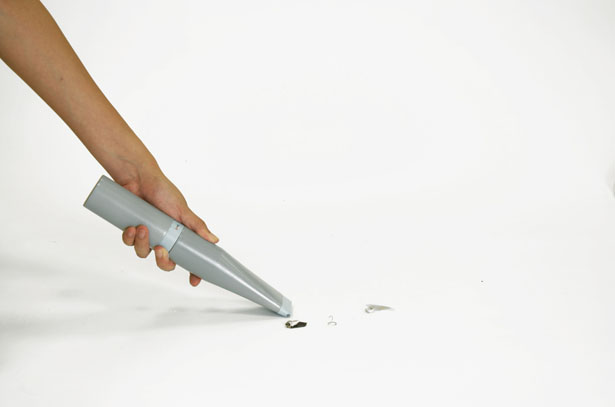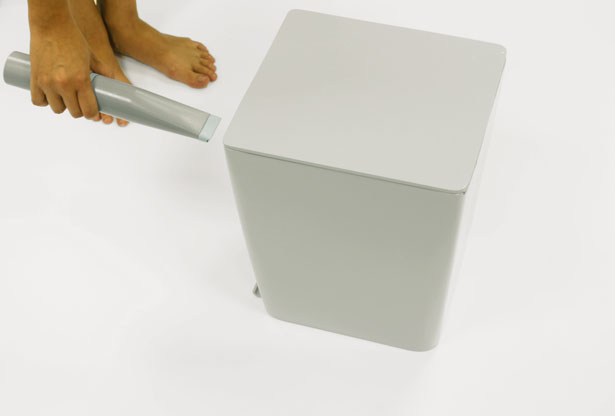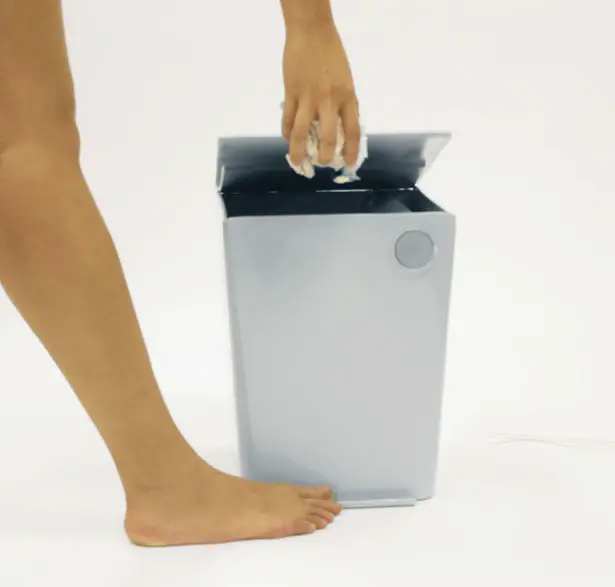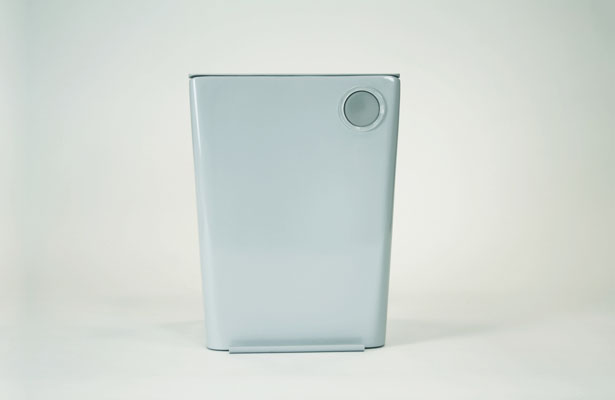 ---