After successfully redesigned Cathay Pacific's flagship lounge at Hong Kong International Airport, Foster + Partners has carried the luxury lounge design into Cathay Pacific Luxury First Class Cabin of Boeing 777-300ER fleet. The cabin has been designed with warm white leather, dark grey surfaces, and walnut finishes, it creates calm and relaxing atmosphere. Every element has been carefully considered and refined, starting from handmade woolen carpet, new reading light, refurbished bathrooms, stitch of the seat covers. All premium passengers would enjoy high levels of privacy, your flying experience with this aircraft will be highly enjoyable. Just sit back, relax, and enjoy the flight.
Each passenger will have full access to an LCD touch screen controller, from adjusting back support, make the seat recline, or turn the reading light on and off, everything can be done by the touch of a button. Sleeping in the airplane will be more enjoyable, transform the seat into a bed, enjoy thick mattress with duvets, pillow, and cushions.
Designer : Foster + Partners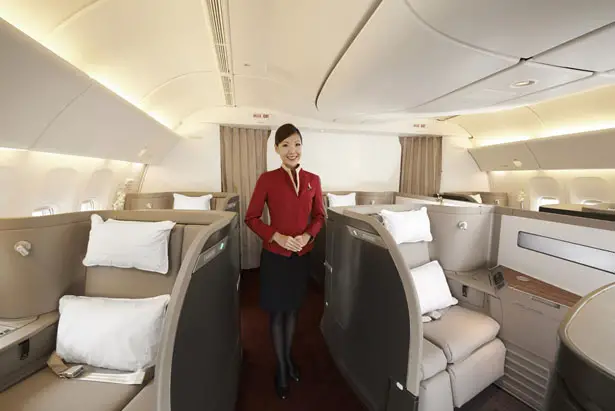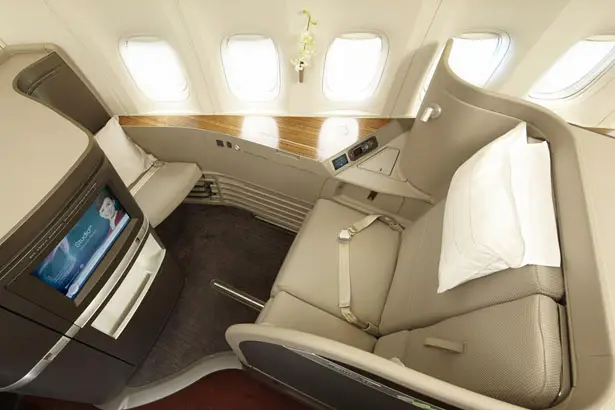 ---
The Breathing Bathtub concept is designed to turn a simple bathing into a healthier experience and is radically more proficient in terms of water and energy consumption in comparison with other conventional tubs. The lining of the bathtub features sponge like material that can mold itself according to the shape of the users, ensuring ultimate comfort and therefore, requires less than half the water generally used. The sponge materials are able to filter the water via a process like osmosis of plants, making water 100% pure by trapping any sorts of impurities. Another great feature of this concept's lining is the ability to let the user know about the water changing requirements.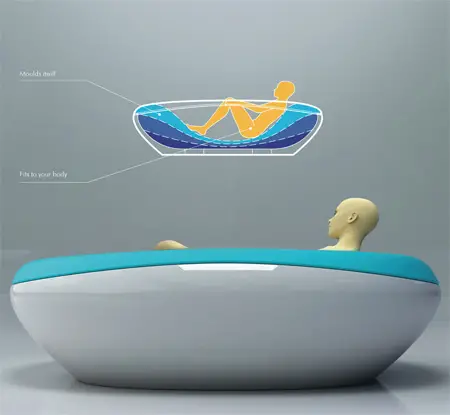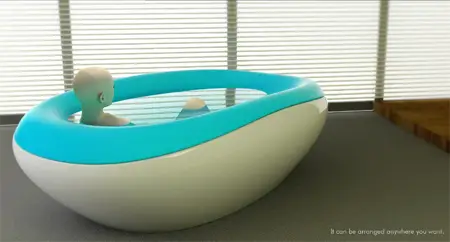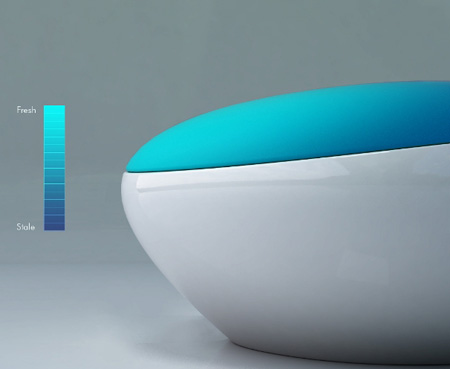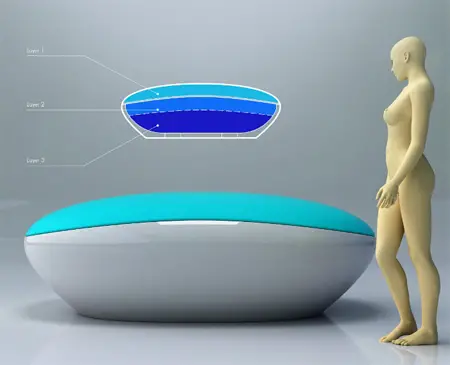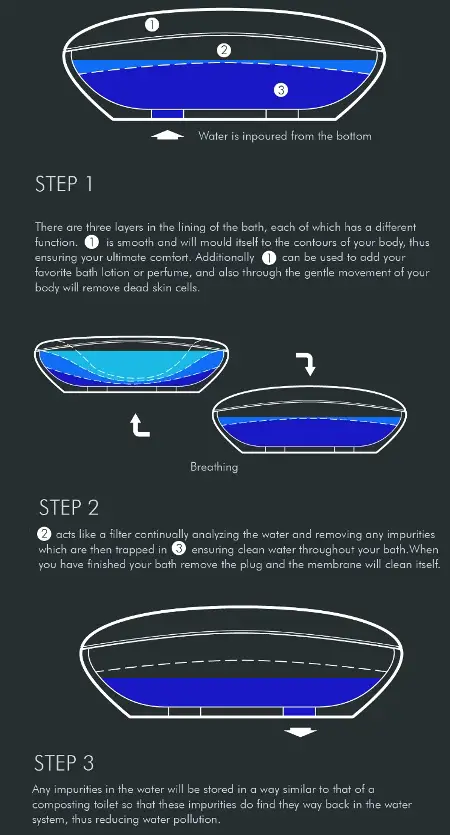 Designer : Li Xi
---
Anders Gloslie, a Norwegian designer who is studying at IED Tornio currently in Italy, developed the FROST concept electric car. The stylish exterior design of this extraordinary car was enthused by and developed to suit arctic climate conditions. The asymmetrical bodywork of this car was influenced by formations of ice and features plenty of 'cracks' which cover the lighting systems. This motivating natural inspiration source also denotes that the idea takes of various shapes seen from different angles. The FROST concept layout mixes the proportions and the 2-seat design of a racing car with the rough potential of an off-road vehicle.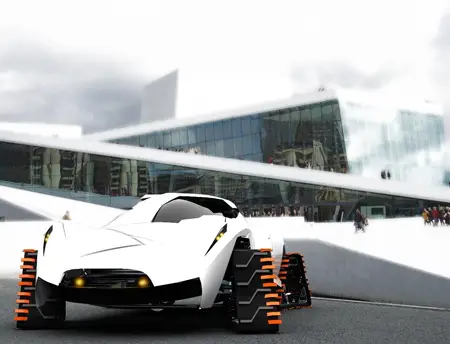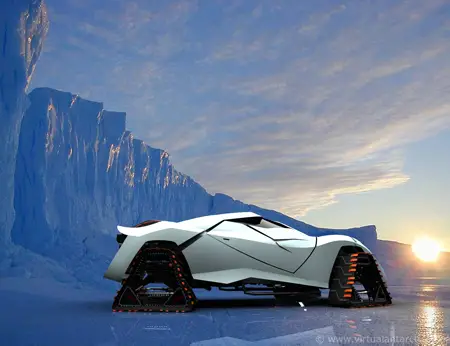 Anders says:
"Since most of the worlds power supply comes form water, I wanted to use this as a concept. Th!nk is a Norwegian brand, so I also got inspiration from arctic clima. Arctic clima+water=Ice. Freezing water creates natures most powerful force. So that would be good to use for an electric car as an inspiration and concept for clean power. I wanted to create something different from all other works i have seen, mixing sports car looks with off road set up.

Using the non symmetric structures of ice as styling inspiration. Creating hard edgy and non symmetric surfaces. I wanted the car to look different, when its seen from different angles. The cracks in the body, hides signal lights over each belt, as the original think cars do. The huge fans at the back, controls air onto the cockpit also, and adjust the engine and cars temperature. The information hose at the back sends data about weather,temperature and all information thats needed, viewed from inside the car, and also outside. The data information will be shown on screens near at the fans, at the back of the car. That means you can operate the data info from the outside.

This 2 seater car has AWD, 4-wheel steering, independent suspension and hydraulic wheel extenders, for maximum traction and maneuverability."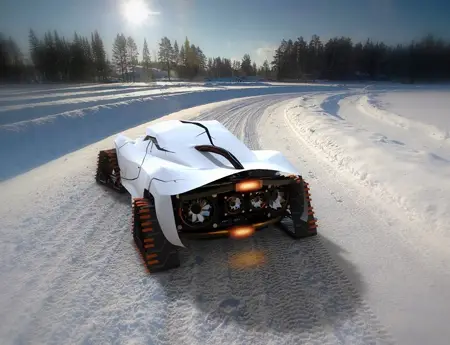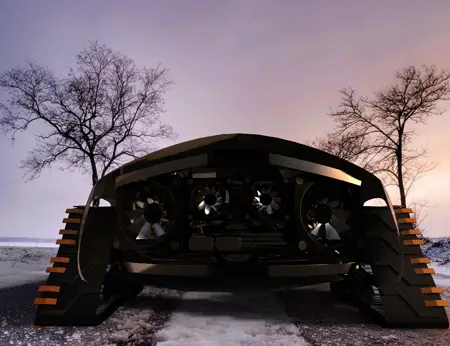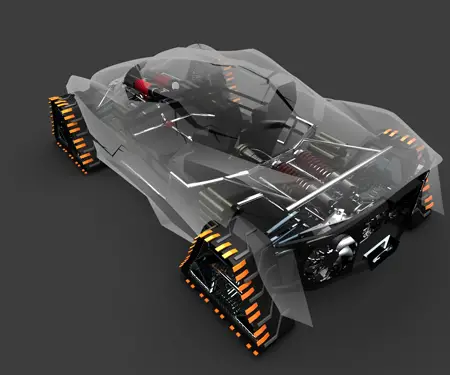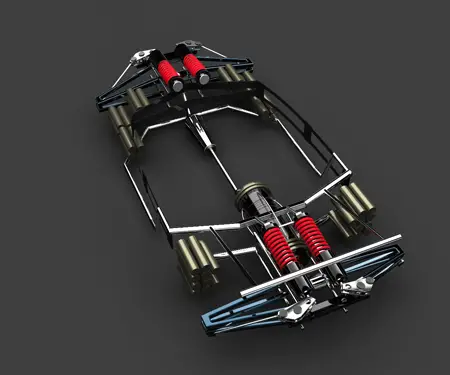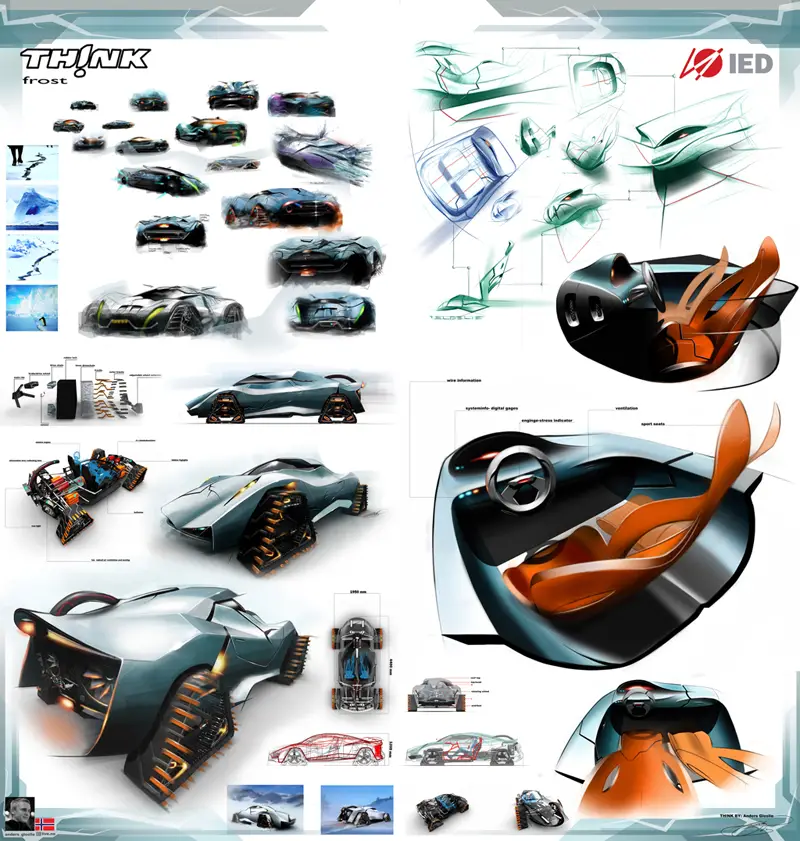 Designer : Anders Gloslie
---