Dual-Mode headphone offers multi-function device for mobile users. It's a Bluetooth concept headset that emits sound in 2 different ways: ear buds or embedded speaker. We know that many of us enjoying listen to the music wherever we are, whether we are cycling, driving, jogging, hiking, etc. However, when you are wearing headphone to listen to your music, it shuts out external sound, thus, it's difficult to know what's going on around you. It might cause serious accidents.
With this Dual-Mode headphone, you can choose how to listen your music. You can choose to use the speaker while riding your bike or use the ear buds when in a train or a bus. This concept device doesn't have any button, to make the music starts, you can simply tap the front part and tap it again to turn it off. Swiping the side backward to turn the volume up and swiping the side forward to turn the volume down.
Designers : Yeom Ilsoo, Choi Eunji, and Lee Nari for LG Electronics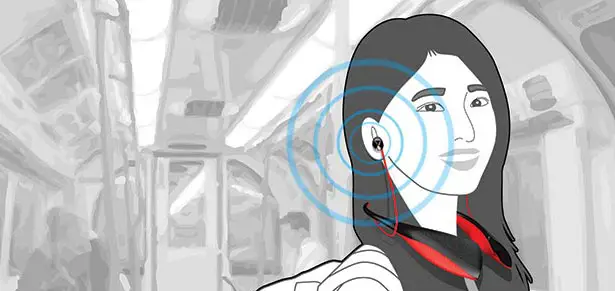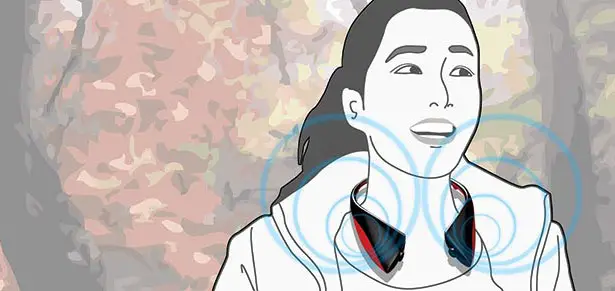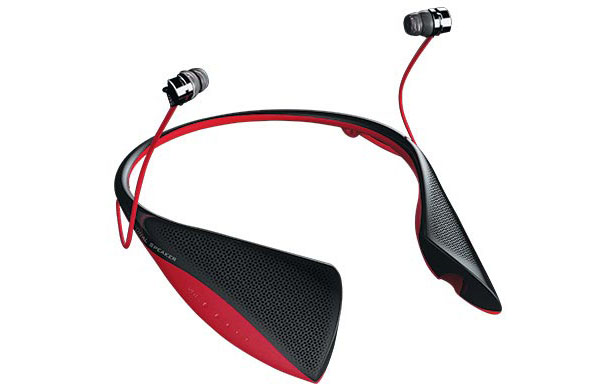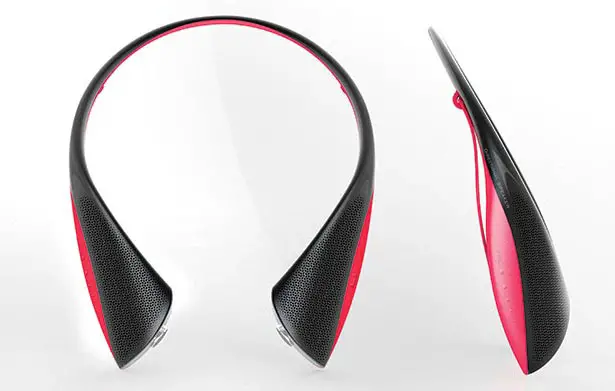 ---
This Cordless Kettle is the second product released in 2012 as part of Kitchenware design for Peel. You probably still remember the coffee machine design, this kettle features similar artistic design with subtle soothing blue light. The main aesthetic centrepiece of this unique kettle is the elegantly crafted surfaces that peel away to form the spout.
The lid comprising of a sleek rippled surface pivots open to help communicate where to fill with water. Both the lid and handle are crafted from pressed stainless steel, with their edges falling away into a sea of soft blue light encircling them. Continuous soft glowing LED band lights up the room with colour to indicate when the kettle is boiling and subtly indicate the water level display.
Designer : HJC Design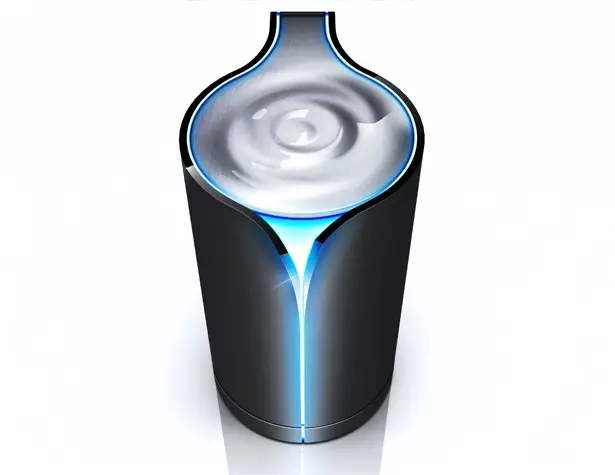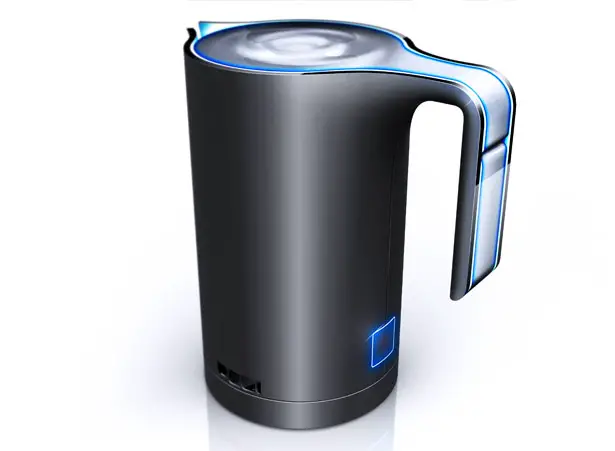 Intricate 3D lines seamlessly fuse the kettle through an unbroken jet black polished band to contrast with the satin matte body.
The kettle boasts a 1750ml maximum water capacity, detachable base, auto-shut off and a flat stainless steel concealed element for fast boiling and easy cleaning.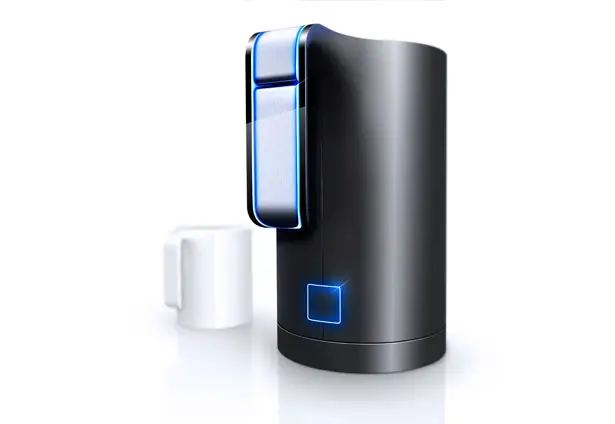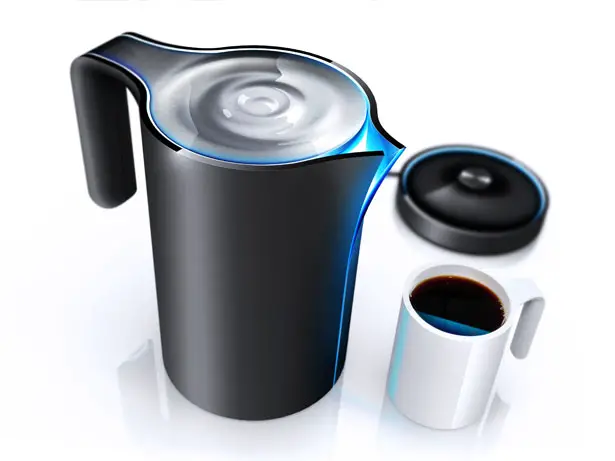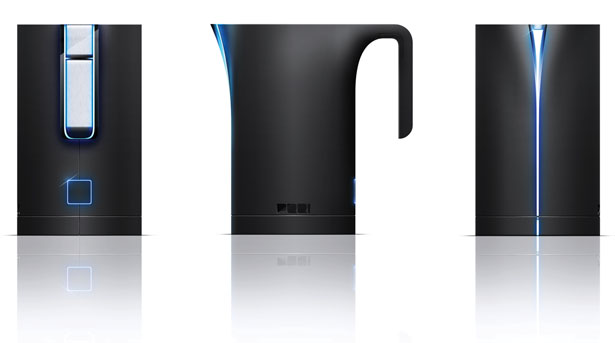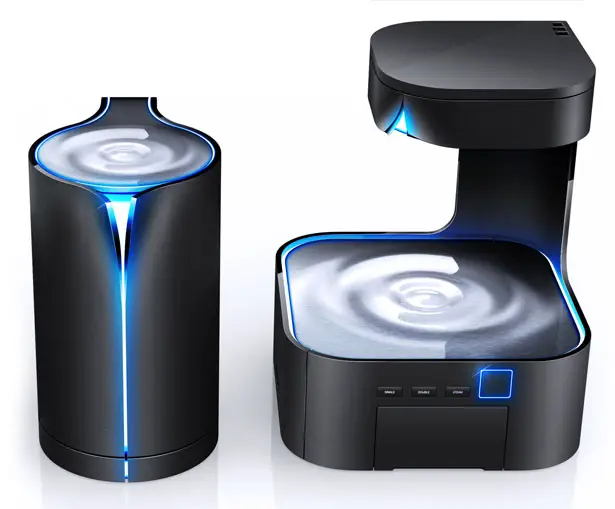 Tuvie has received this "Cordless Kettle Design" from our 'Submit A Design' feature, where we welcome our readers to submit their design/concept for publication.
---
Ever dream about a drainer that prevent your hair from clogging up a sink's trap and pipes ? Take a look at C&C designed by Yao Hanjiang that can help you cleaning your sinks and pipes easier. C&C reconfiguring drainer to better keep sink traps and pipes free from hair-clogging. The principle of C&C is the use of two cones ? one being inverted so that the vertices almost meet ? placed within the drainer. The C&C conical surface of the cone above is perforated with fine gaps, which trap the hair at the bottom, without reducing the speed of water discharge. The filters are replaceable and individual parts can be cleaned.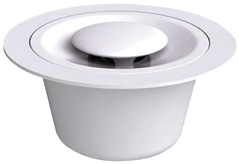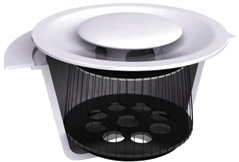 Designer : Yao Hanjiang
---