This Citroen concept car has just entered from future for all Citroen 2CV lovers. This concept is designed by David Portela to present a classic model. You will get what you can expect from Citroen 2CV such as the same curved bonnet, hunk sides, roofed rear wheels and much more. Not only this, this futuristic robo-car also features modernistic panoramic windows and steampunky exteriors. Once you have this on the road, you will surely have a feeling of uniqueness and unbelievable. So, get ready to give a modern look to your old Citroen 2CV and just zoom…!!!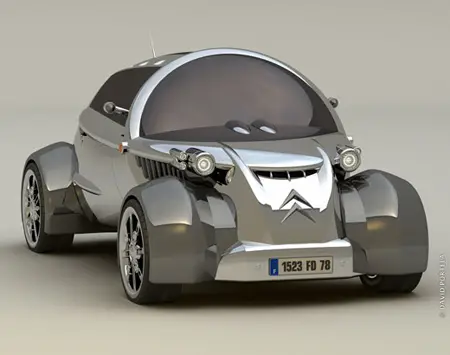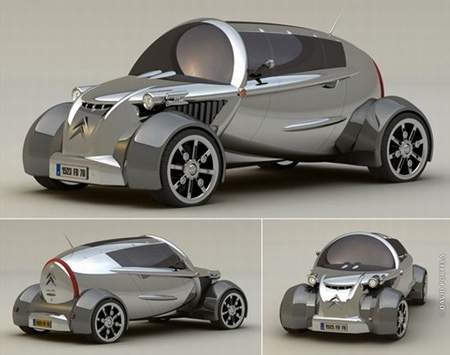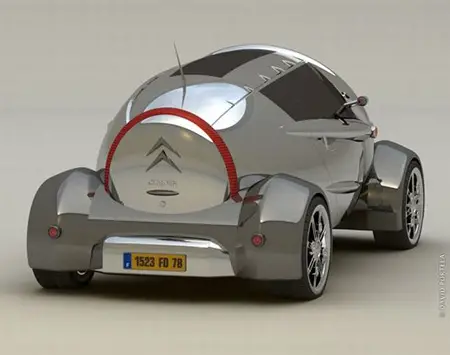 Designer : David Portela via AutoMotto
---
POSTA is a device that aids the transfer of a wheelchair passenger into their seat. It integrates the seat cushion from the aircraft seat with the device eliminating any lifting required to board the passenger. Before a flight, POSTA device is positioned next to a modified seat where the seat cushion is able to be transferred onto the device. It is then wheeled off the aircraft and into the boarding gate. Once the passenger is transferred onto the device in the boarding gate, they are then wheeled onto the aircraft and position next to the same seat, a guide rail from the device then folds down onto the modified seat frame of the aircraft seat. The passenger then slides across via rollers underneath the cushion.
Once across, the armrest is folded down, locking the cushion into the seat frame, and the device is detached from the seat. This process is then reversed when it comes time to disembark. The POSTA device also allows for a backwards transfer. This can prove beneficial for seats in the front row where there is sufficient room in front of the seat. It also allows for a transfer into a business or first class seat. However, the seat cushion would have to be modified accordingly.
Designer : Peter Short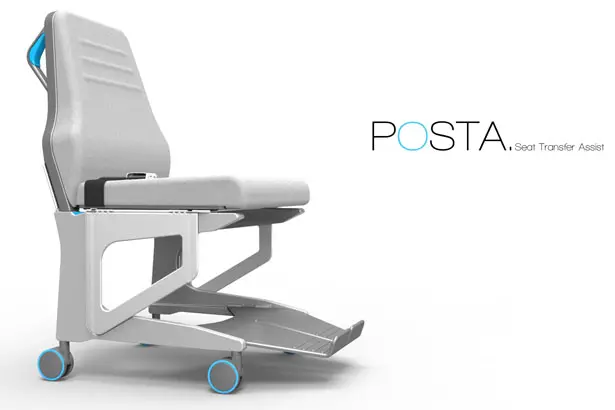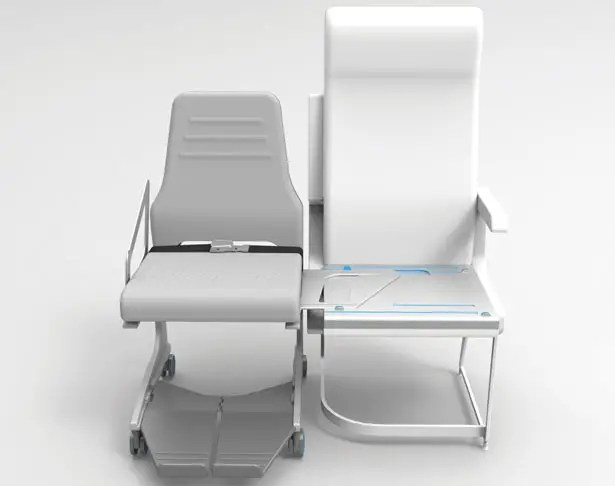 By reducing the time and effort it takes to board a person with reduced mobility (PRM), the airline industry can see an increase in disabled air travel as the process becomes easier and more convenient. A large percentage of wheelchair users choose not to travel by air simply because of the inconvenience and embarrassment.
The POSTA is constructed from a gas-assist injection molded frame, and 7075 aluminum alloy guide rails. The device is also able to collapse and be stowed in an onboard compartment, allowing it to be used during the flight to transport the user to the lavatory. Its 4 swivel castors enable it be easily manoeuvrable, which is important onboard the restricted space of an aircraft cabin. The POSTA device can be manufactured in a variety of sizes according to the aircraft it will be assigned to, this would be specified by the airline.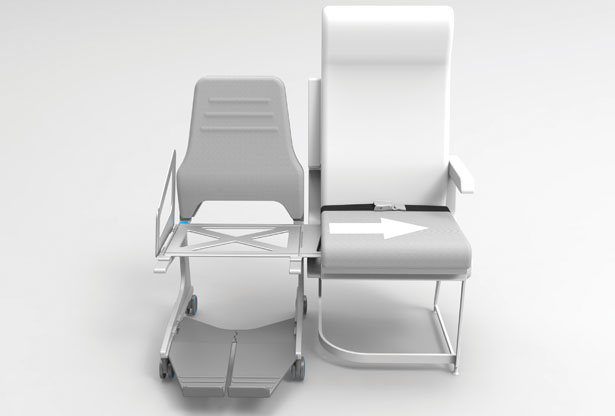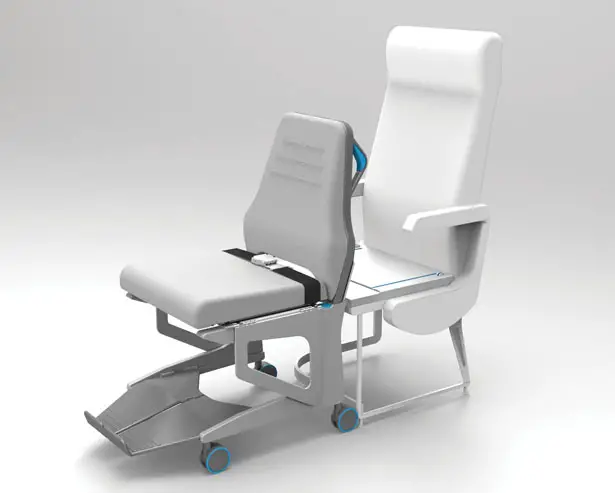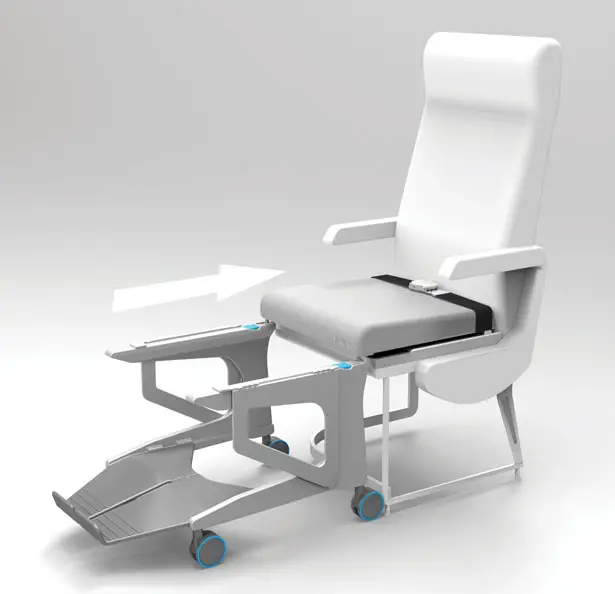 Currently, wheelchair users board an aircraft with the use of an aisle chair. This can be quite an embarrassing experience as an aisle chair is very narrow and highly unappealing to use. Not just for the passenger, but the airline staff run the risk of injury as they physically lift the passenger to and from their seat in such a restricted environment (aircraft cabin). Its trolley-like function can also dehumanise the passenger and deter them from flying again.
The POSTA device solves this problem by providing a safer and quicker way to transfer a passenger into their seat. As well as PRMs, able-bodied passengers can use the aircraft seat as only the seat frame is modified, the POSTA uses the same cushion as any other seat onboard. With a small amount of modification to the aircraft seat, the POSTA can be seen as a realistic solution to a problem that all airlines face.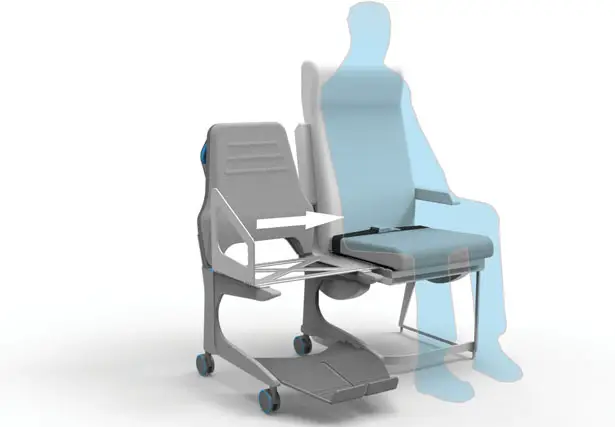 Tuvie has received "Posta Seat Transfer Assist" project from our 'Submit A Design' feature, where we welcome our readers to submit their design/concept for publication.
---
The return of supersonic jet, Flash Falcon (FF) is a concept futuristic jet from Oscar Vinals. It's his personal future vision of how airplanes should be for the next generation.
Flash Falcon has been designed based on extensive study of today's and upcoming technologies, Oscar says that this concept project would be the last one of a trilogy (Sky Whale, Progress Eagle, and Flash Falcon). This futuristic airplane belongs to generation that has taken advantage of fusion's energy where currently it's still under development, but in the next 15 to 20 years, who knows, we could generate enough electric energy to fly a jet.
Designer : Oscar Viñals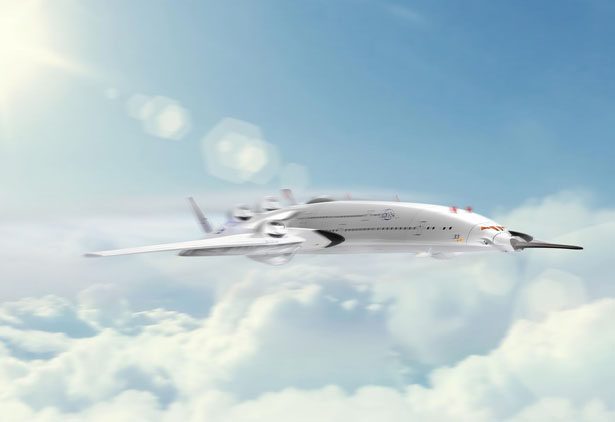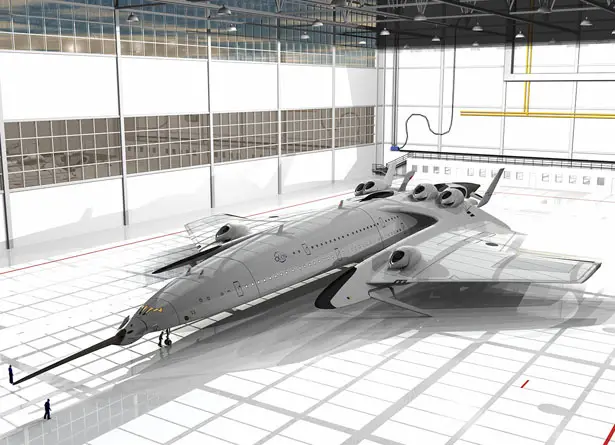 Imagination can take you anywhere, don't you agree? FF would be a supersonic jet with a powerful thrust with capability to reach Mach3 speed. It's an environmentally friendly jet with two decks that can accommodate up to 250 passengers in very comfortable conditions. The advanced electric-combustion (EC) engines combine an electric superconductive fan with a special combustion chamber to generate power thrust. The EC could control its exhaust gases to front, rear, and down side, at the same time, it could swing from front-rear and left-right from 10 to 20 degrees to stabilize the plane during maneuvers, take off, and landing.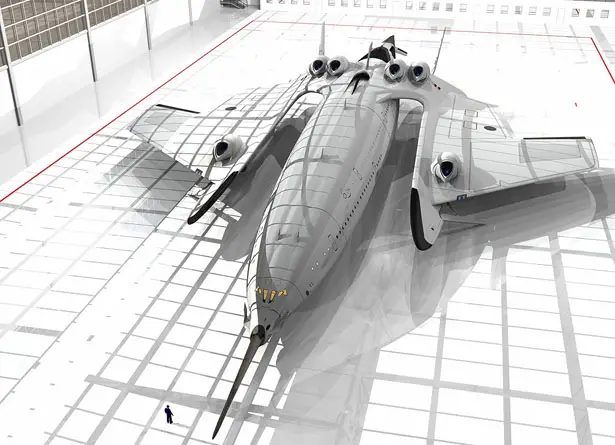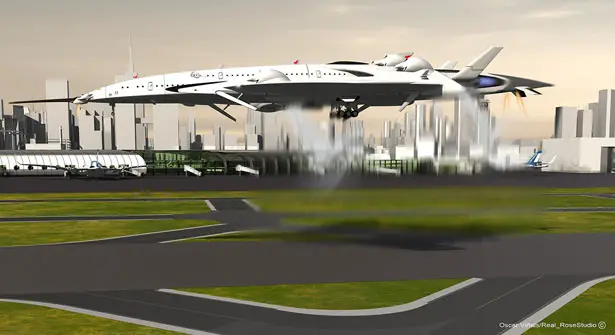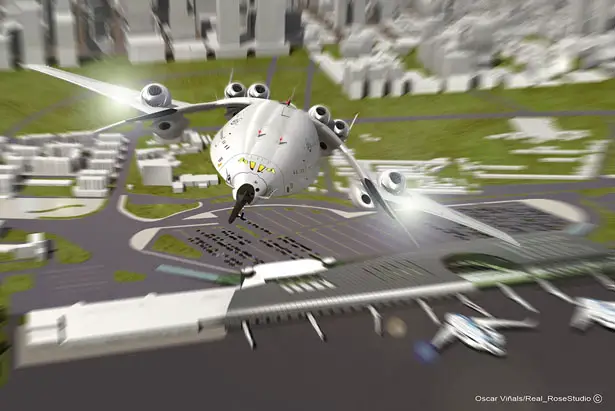 Supersonic Engine based on portable fusion reactor can reach Mach3 speed, it means that you can fly from Paris to NYC in less than 3 hours. This type of engine can fly for a year and only requires a little amount of fuel's fusion. Located at the rear part of the airplane, the engine is housed inside indestructible section that's been built with most resistant and lightweight materials in this 21st century. FF has remarkable features such as possibility to take off and landing vertically just like a Harrier jump jet, the smart wings can change their angle of inclination in relation to the central fuselage in order to get better aerodynamics performance, and special wing-shocks that support the weight of the wings and engines when the airplane is landed.
The main cockpit features smart and holographic windows to assist pilots with essential data. Due to the airplane's body shape, the pilots are obliged to announce inclination since the direct views are limited.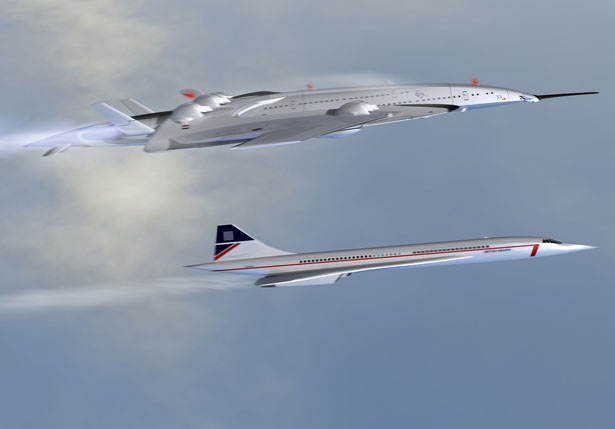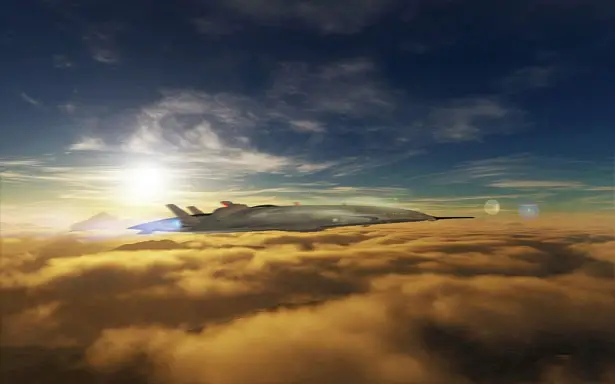 Tuvie has received "Flash Falcon (FF)" project from our 'Submit A Design' feature, where we welcome our readers to submit their design/concept for publication.
---