The total number of sound enthusiasts is increasing everyday all over the world and speaker manufacturers are always trying to offer something unique and powerful to attain their customer base. Professional Sound Reproduction is a 2.1 sound system featuring two wireless 360º speakers and a sub-woofer that can be positioned anywhere to enhance the surround sound perception. CUBE 2.1 includes a powerful dock where MP3 players, TV or a computer can be connected with a USB interface. Easy transportation of this speaker is a remarkable feature which allows a user to carry it with its simple four step foldable handles.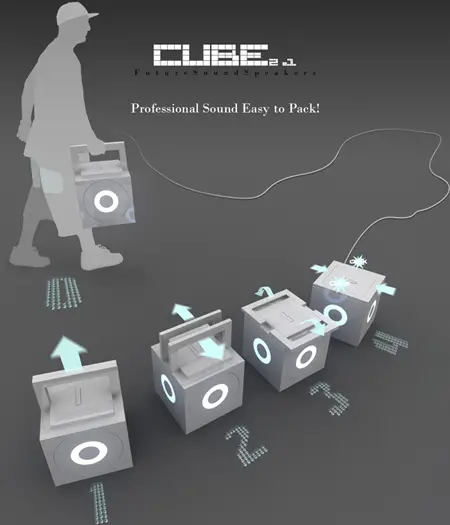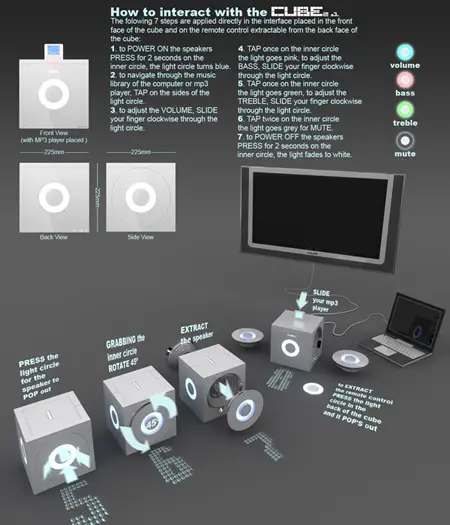 Text from Joao about Cube 2.1:
With portability, professional sound reproduction and intuitive usability in mind, the CUBE 2.1 speakers where projected:
PORTABILITY-Thought for people that are constantly changing from place to place or just changing from the country house to city house without leaving their sound entertainment, the CUBE 2.1 speakers can be carried easy, first because they can be packed in one 25 cm cube with no strings attached, featuring a rechargeable Battery, wireless speakers and a remote control.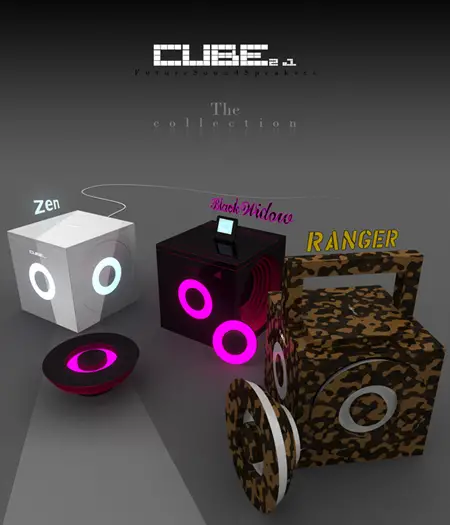 PROFESSIONAL SOUND REPRODUCTION-Featuring a 2.1 system (two wireless 360º sound speakers that can be placed anywhere that enhances the surround perception, plus a sub-woofer), the CUBE 2.1 is a powerful Mp3 player dock that also allows to connect the TV, Computer or a additional Mp3 player due to it's USB plug-and-play feature.
INTUITIVE USABILITY-With a clean appearance objective and having trough all the design process the conscience that I was designing speakers and not some multifunctional gadget, the result was a simple interface that controls the necessary features and enhances the "Pro" look of this product, allowing this way it's user to absorb it very fast.
Designer : Joao Carneiro
---
LEGO is one of the leading premium toy manufacturers with numerous products around and many more waiting to be launched. Their product range is always lovable to all range of kids and the Lamborghini Gallardo LP560-4 is one of the most playful set with various playing options to offer. This remarkably detailed 1:17 scale model features real looking Lamborghini Gallardo car with opening doors and engine cover which is able to offer sheer fun to your kids solely or with friends. The authenticity has been down with the eminent Lamborghini rims and includes detailed and easy to follow instructions for rebuilding a spyder Gallardo or coupe Gallardo with retractable top.
The dimensions of the vehicle are 10.5 inches long, 4.5 inches wide and 3 inches high and contain 741 pieces of 1:17 scale models including levels of real Lamborghini to give it an even more realistic look. This amazing playset is perfect for children of 9 to 14 years old. Lamborghini Gallardo LP560-4 is also great for christmas gift. [Buy It Here]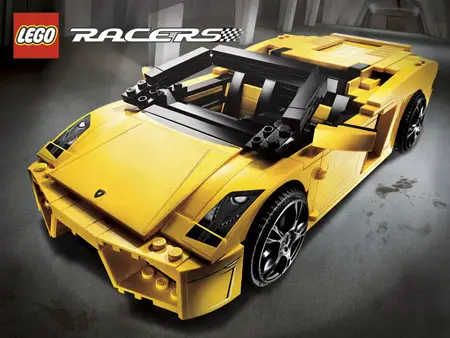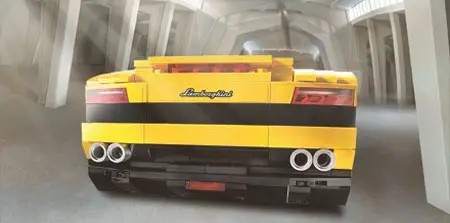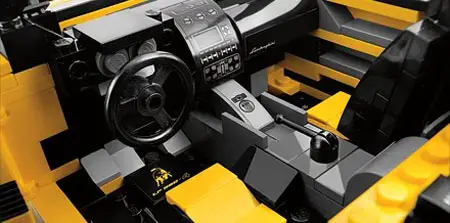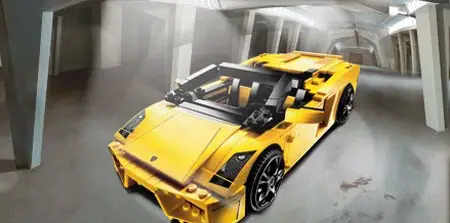 From : Lego [Buy It Here]
---
I hate coins. When traveling, I usually try to pay everything with coins first to make sure I don't have to carry too many of them in my wallet. You might come across the situation where you have to dig deeper in your wallet to find the exact change/amount. Based on that situation, eCoin was designed.
eCoin is a digital representation of small amounts or coins. The semantic values are derived from existing coins and their graphics. This device is equipped with small LCD display, few buttons, and infrared controls as receiver/transmitter. It runs on coin sized lithium battery. It can provide you with balance, transfer, or received amount information with currency name. To select the right amount of money, user you can use the buttons.
Designer : Abhinav Dapke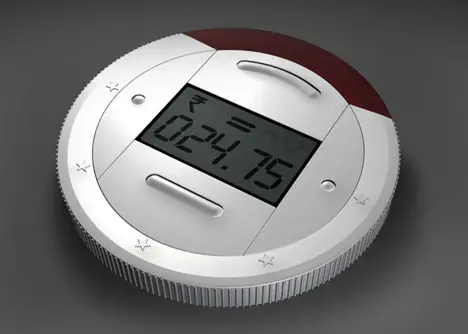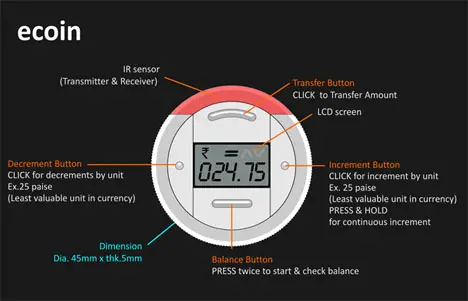 In a small amount payment scenario, the amount receiver and sender, both should have this device. The sender presses the balance button to startand check the available amount in his device. He will then press and hold the increment button to reach desired value. The value increases or decrease in the multiple of least valuable amount (ex. 25 paise), the sender can adjust the amount by clicking increment or decrement button. The receiver starts his device by pressing balance button. Both, the receiver and sender align their devices (IR part), then sender presses the transfer button. The receiver can check the received amount on the LCD screen while sender can check the remaining amount on his device.
This device can be topped-up/recharged at small shops. These shops will have similar eCoin or eCoin box (big IR unit). The user has to pay the desired amount in cash to shop owner to charge their device. Similarly, the user can collect the cash from the shop by transferring funds from their eCoins to shop owner. These devices can be developed for different currency for respective countries.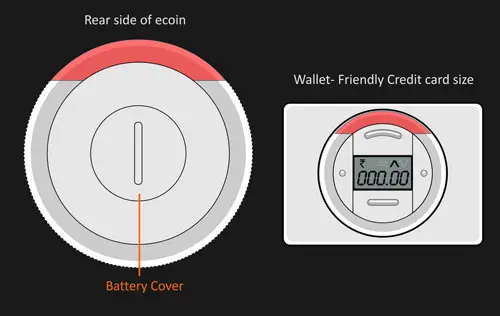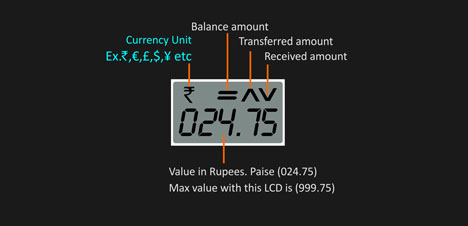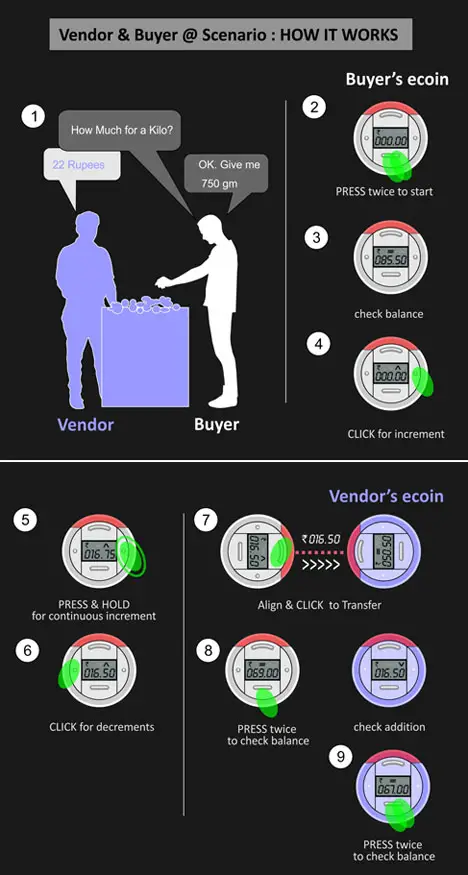 ---