Due R and Due X are the first 2 series electric motorcycle from Armotia, they feature 2-wheel drive and equal electronic distribution of torque. These motorcycles have shown outstanding traction features, giving the rider amazing driving sensations on any kind of route, both on and off road.
These motorcycles also come up with series features and smart equipment, one of them is integrated smartphone that you can use to make videos, monitor your driving performances, or share your route. You can also customize your ride by pairing with other cool parts made with 3D printer, a unique motorcycle that represents your style.
Designer : Armotia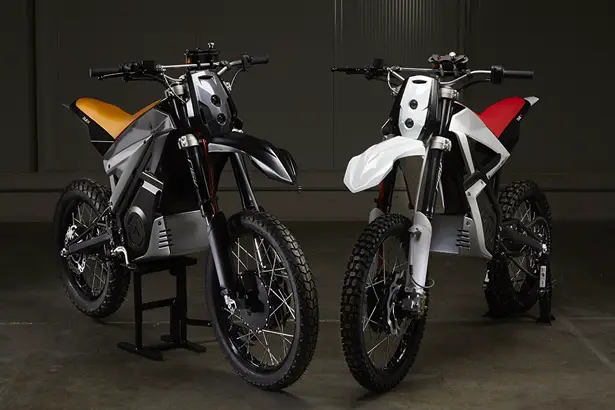 Armotia Due R Motorcycle
The main seat is lowered by 20mm to give rider an optimal control of this bike even when you are on everyday roads. It features a total power of 15 HP-11 kW, total torque to wheels is 180 Nm, and is able to reach a maximum speed of 90 km/h. The high power li-ion battery can last up to 1h and 20 minutes of continuous run.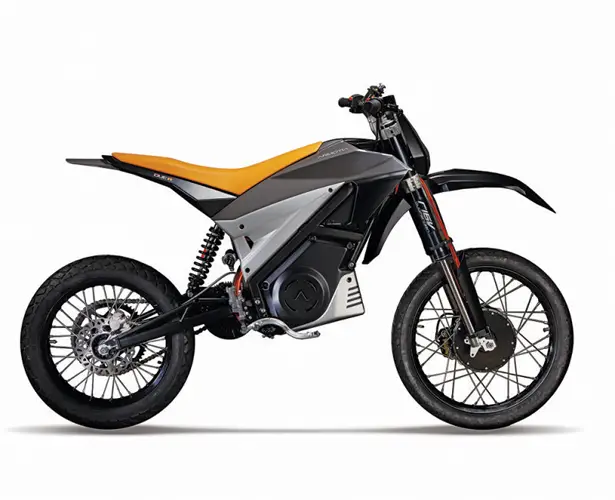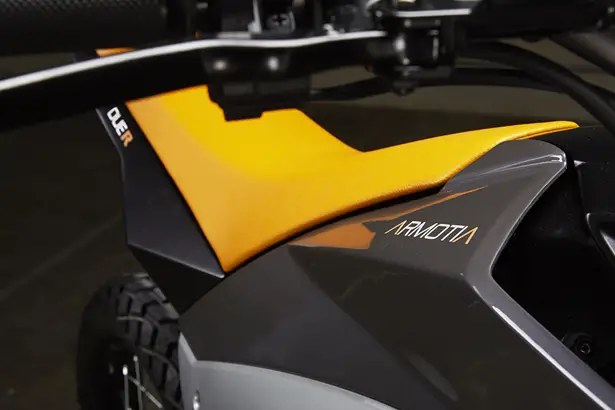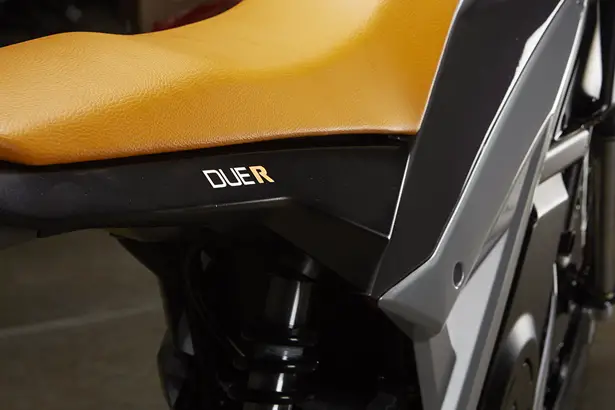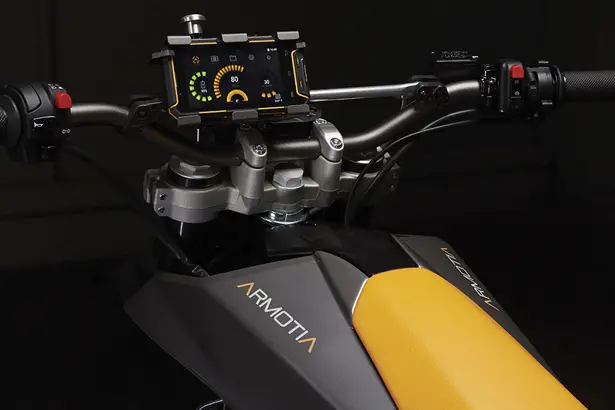 Armotia Due X Motorcycle
This motorcycle has been designed for off-road, it is equipped with exclusive Armotia 2WD to keep rider off every hard condition. There are 3 riding modes that rider can choose to tune the traction. Just like Due R, this motorcycle also features a total power of 15HP-11 kW but the total torque to wheels is 200 Nm. It is able to reach a maximum speed of 80 km/h. The high power li-ion battery can last up to 1h and 20 minutes of continuous run.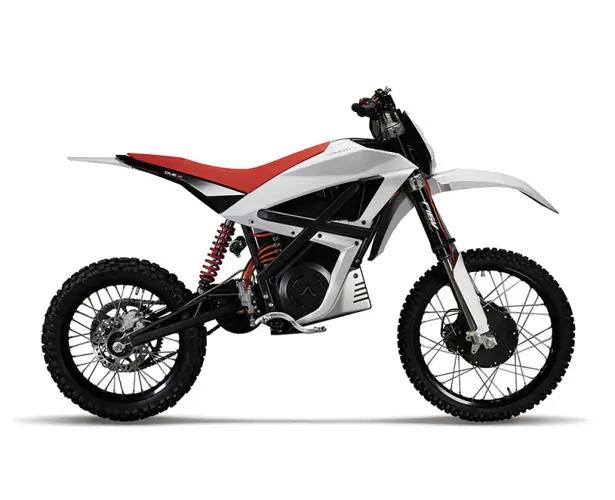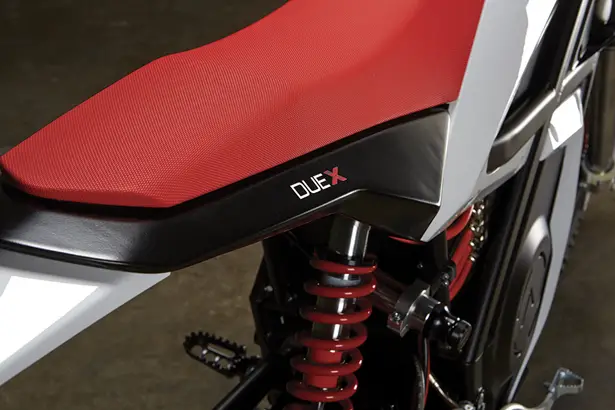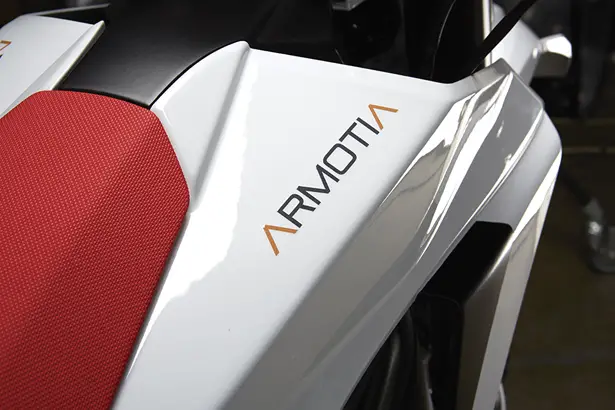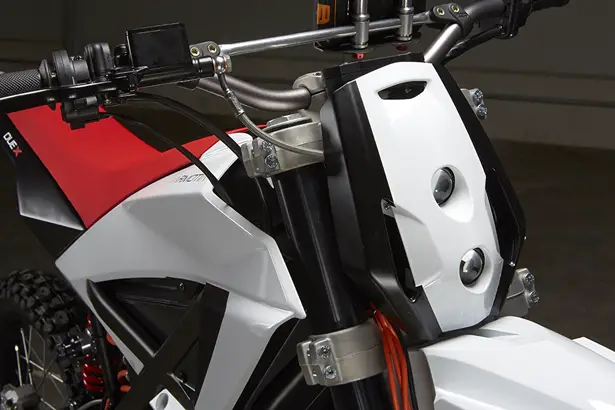 ---
Mark Hostler, a transportation designer, has envisioned the next generation of hypercar called Maserati LaMaserati. It was inspired by LaFerrari platform, utilizing the same V12 engine with re-turned KERS system to reduce the overall weight. Graduating from Staffordshire University, Hostler has designed LaMaserati to be the purest expression of the Ferrari's core values, which are elegant, stylish, striking presence, high performance with finesse.
Built around the flagship of LaFerrari hypercar, LaMaserati in so many ways are more like Maserati MC12 which was built around Ferrari Enzo. Take a look at those smooth curves, sweeping widescreen, and aggressive front fascia along the classic Blue and White color scheme link LaMaserati aesthetically to the Maserati range and the company's heritage. The airflow inspired bodywork is designed with a focus on smooth, unbroken lines and fluid surfaces wrapping around the wheels, creating a contemporary and dynamic aesthetic.
Designer : Mark Hostler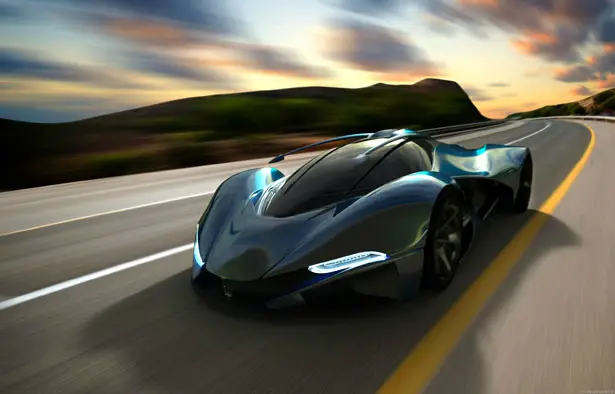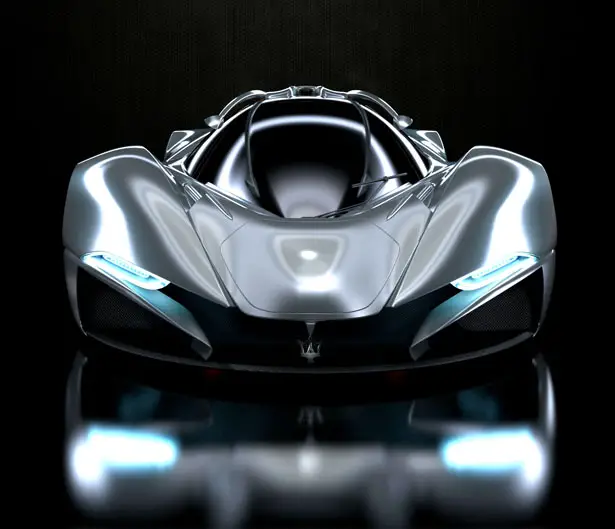 With Laferrari's Kers system removed to save weight, and the Ferrari 6.3l V12 re-tuned to compensate for the loss of power and torque, LaMaserati is geared more to the sensation of driving than final performance figures. The lightness, handling, and an analogue driving feel take priority over power and overall speed.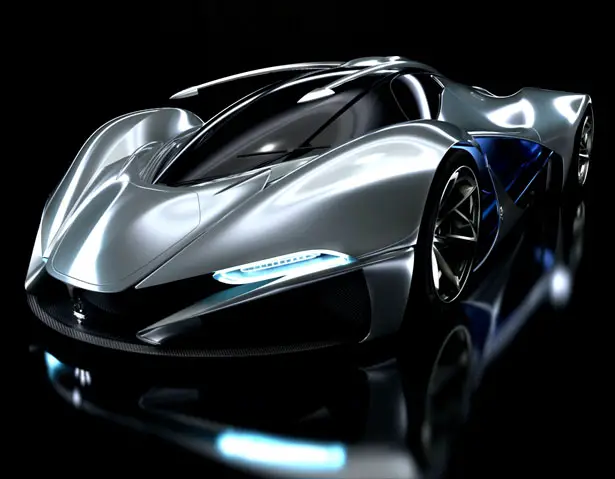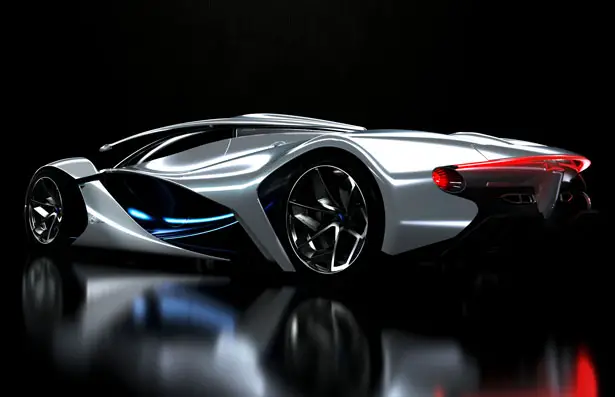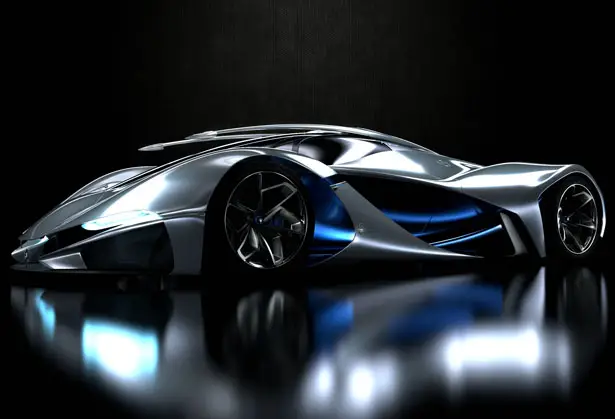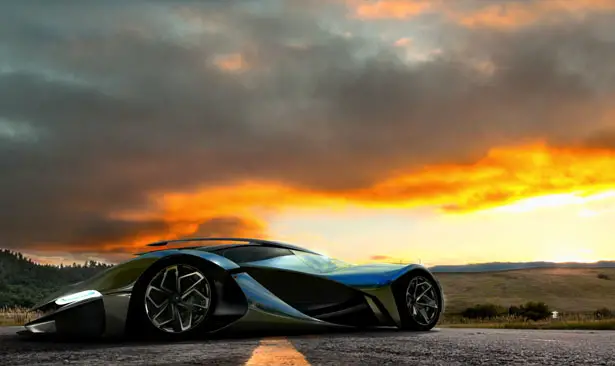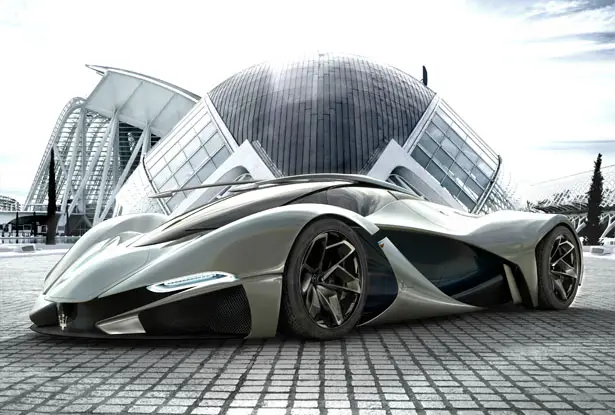 Tuvie has received "Maserati LaMaserati Car" Project from our 'Submit A Design' feature, where we welcome our readers to submit their design/concept for publication.
---
In 2056, when cancer is probably cured, F1 cars can be the leading of motorsport once again. At this moment, Formula 1 is preparing to get into a step closer to the 1000 horsepower turbo cars, the new car designs with bigger wheels and engine power aim to attract more fans to celebrate Formula 1 racing, an ultimate test of man and machine.
Mclaren MP6/P concept F1 car by Nathan Dearsley aims to bring back radical design with a hybrid of an electric 4-wheeled system combined with full on combustion drive at the rear. In this future scenario, in order to go back to their roots and hopefully regain dominance during the Senna/Prost times, McLaren have decided to turn their focus to classic Marlboro racing livery powered by Honda. This concept car features simple aerodynamic design with incredible low speed traction. The primitive body design gives power to kick a non turbulent flow air out of the rear boasted overtaking opportunities, however, in return, it would create unpredictable results with heavy breaking overtaking maneuvers to the delight of viewers.
Designer : Nathan Dearsley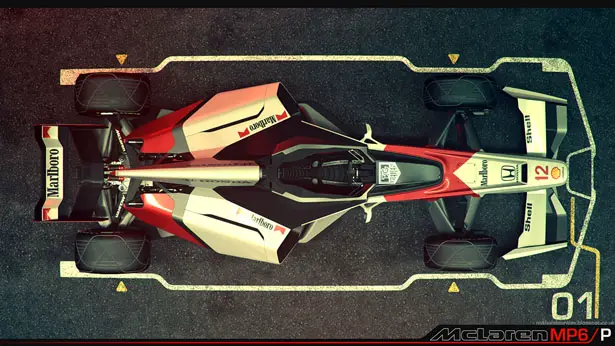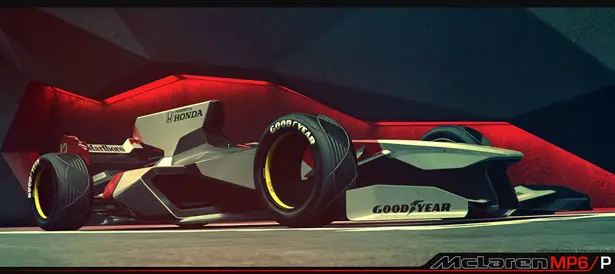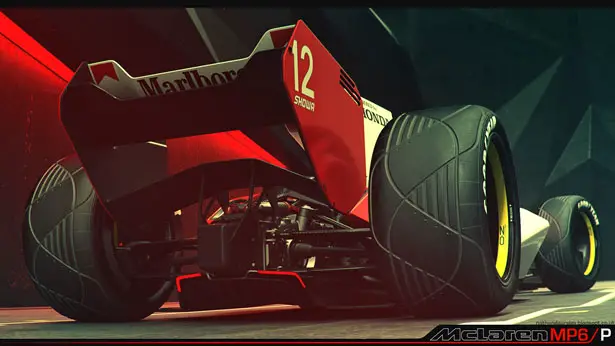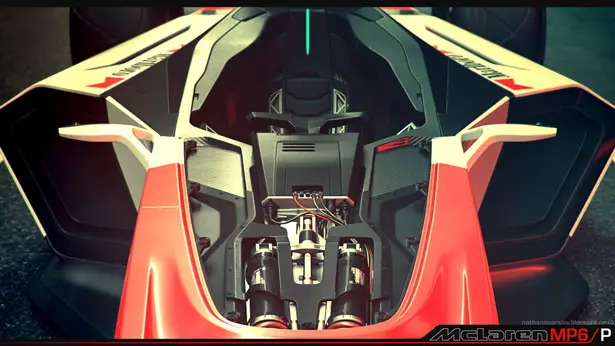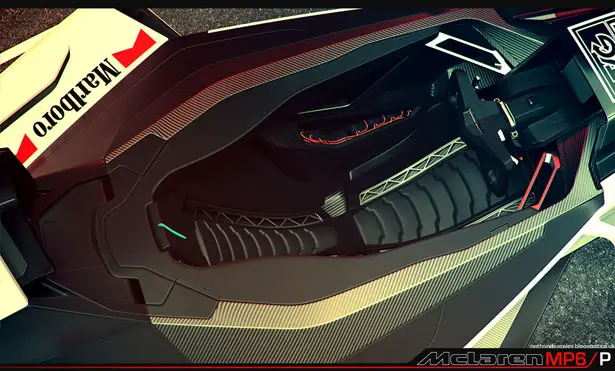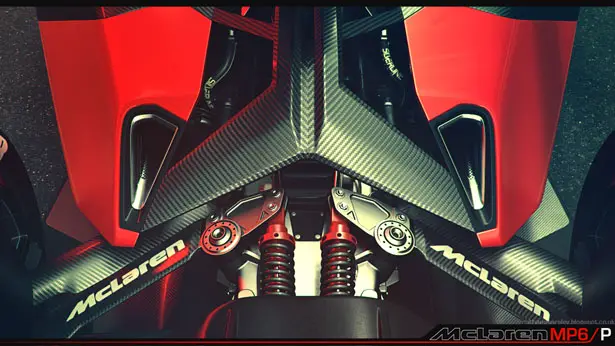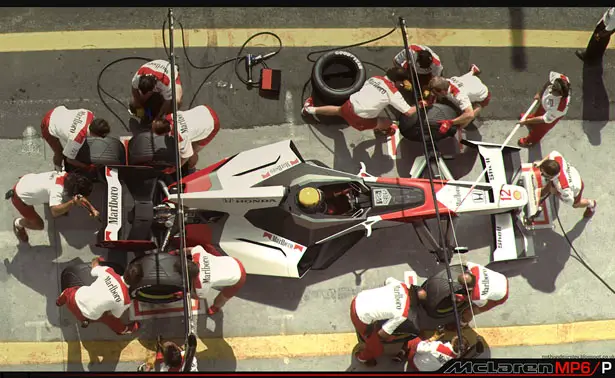 ---