This solar notebook concept is a laptop with complete power independent. Its independence is due to powerful batteries that are recharged by wide Solar Panel attached to the computer. Equipped with satellite link GPS, internet access, and satellite telephone which makes this device not only power independent but also universal tool for communication and exchange information literally from any spot on the planet.
The solar panel may be completely detached from the main body to be put away for recharging, then smaller battery inside the computer is on. This small battery is recharged with solar power too when DC is plugged in.
This sure do will come in handy for scientists or researchers who work far away from civilization and power source.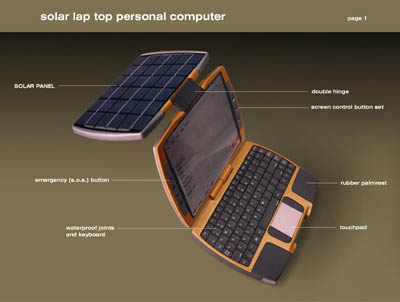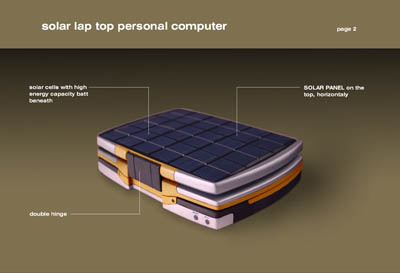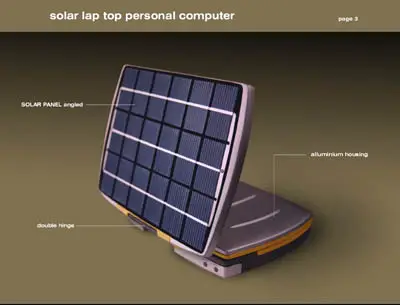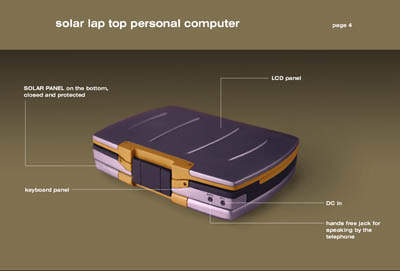 Designer : Nikola Knezevic
---
Renault Kwid concept car was unveiled at the Delhi Auto Show, it's a stylish and modern car that highlights Renault's commitment to new markets such as India. It's a proof of Renault's ability to produce appealing products in small car segment. The overall exterior features fun design to target young customers in these markets, it also boasts technology driven features for the interior.
The design of this futuristic car was based on inputs from Renault Design India, they know what they're talking about. It is covered by the "Explore" petal of Renault's lifecycle-based design strategy. The vehicle features ideal proportions and dimensions to get the impression as bouncing vehicle, not to mention the very short overhangs. Its oversized wheels make it look like a buggy car.
Aside from playful design, Renault Kwid concept car's chunky wings and protective guards give the impression of strength, don't underestimate this compact car.
From : Renault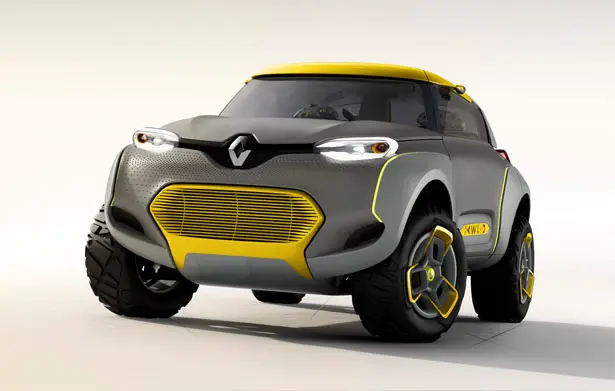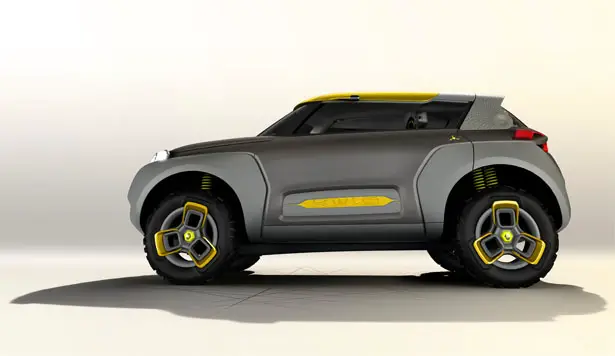 Inside KWID, you can find a cocoon like appearance; it's inspired by a bird's nest. The seats are suspended over a nice base in white to give an impression of lightness while the 2-tone elastomer material give a sense of brightness. The rear air conditioning can be controlled from driver seat's back along with ventilation through concentric perforations. At the dashboard, there's an integrated tablet that you can use for commanding the navigation of the Flying Companion.
Renault says that Flying Companion is the first of its kind in automotive world, it offers safe and fun driving experience. It can be operated in one of 2 modes: automatic (using a pre-programmed flying sequence and GPS location) and manual. In manual mode, it can be controlled using the tablet at the dashboard. What does a Flying Companion do? Well, a lot of things actually, it can help you scouting traffic, taking pictures, or detecting any obstacles on the road ahead.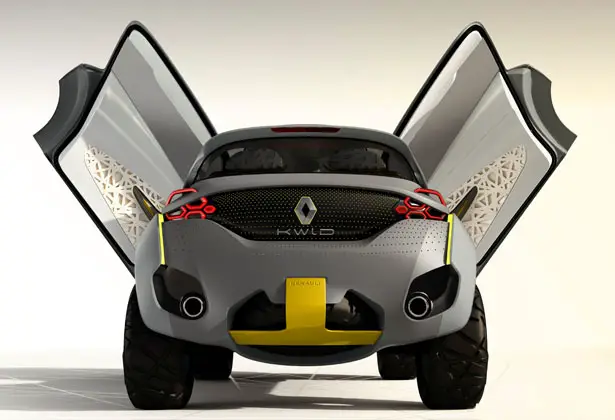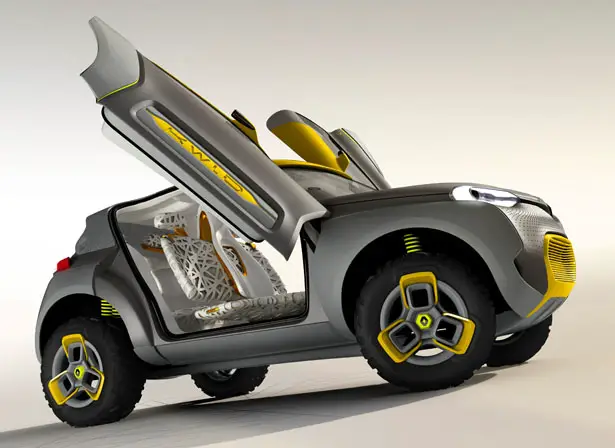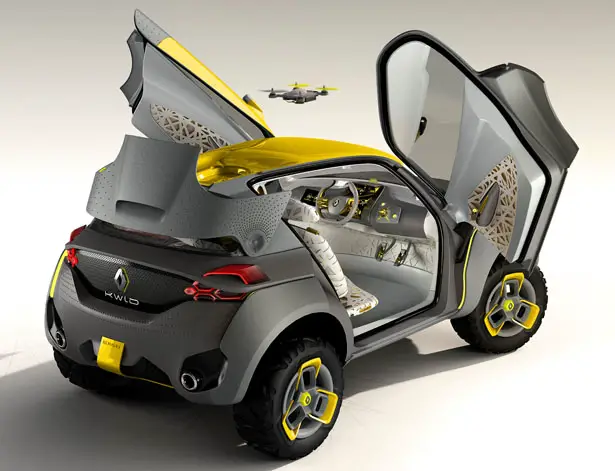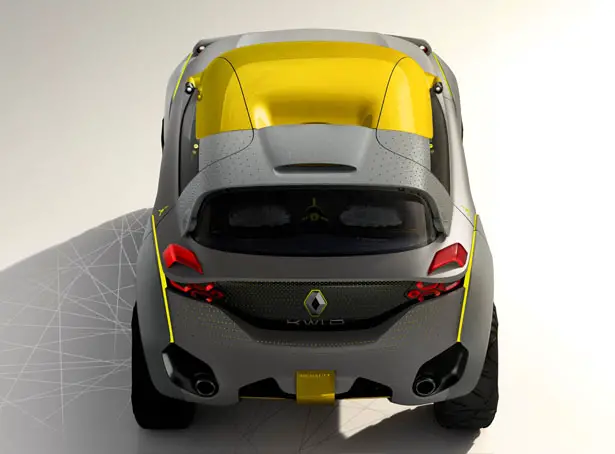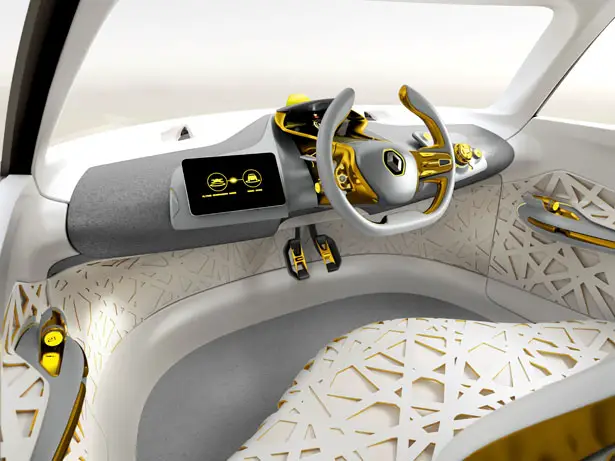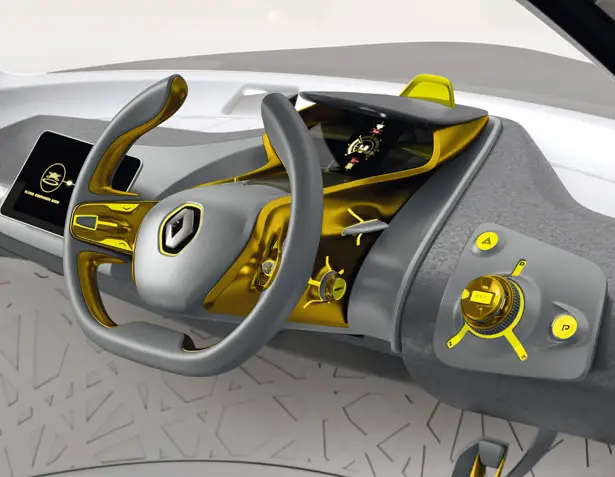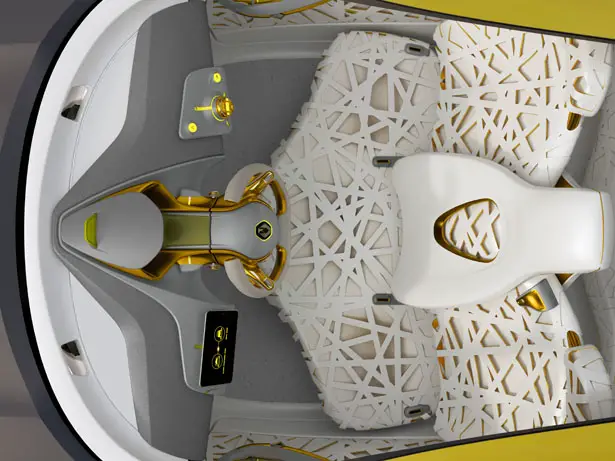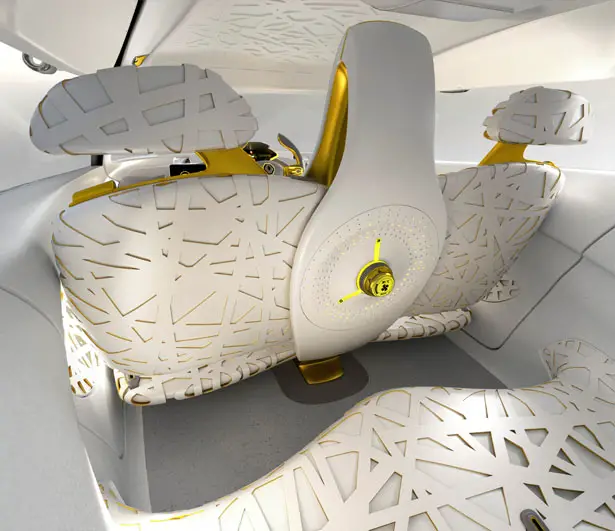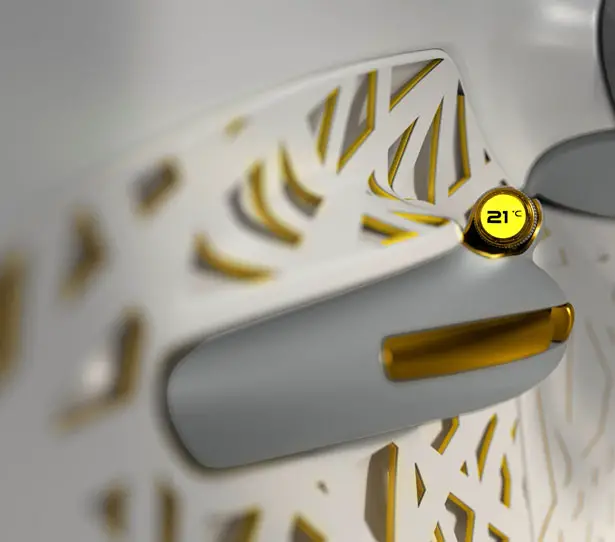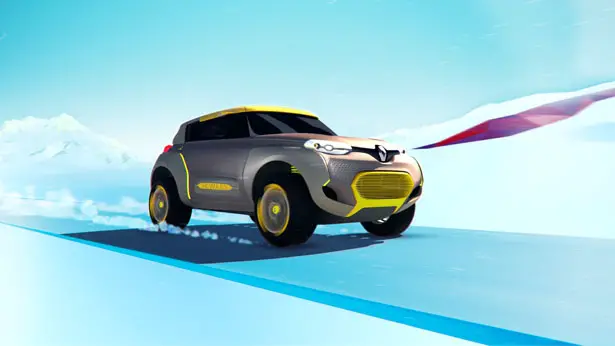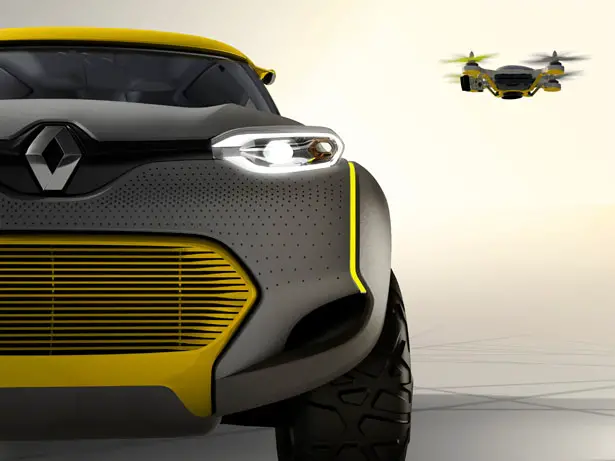 ---
Kitchen spills happen all the time and often the user is left with no other option but to use their dirty sponge or trusty kitchen rag for all their clean up needs. This habit can lead to adding or spreading germs to your "sterile" counter-top. UVacuum is a personal handheld kitchen vacuum that can be used for either wet or dry messes, while providing UV sanitation. UVacuum is designed to be a statuesque product and undoubtedly a conversation piece in the kitchen.
Designer : Galen Eliason-Carey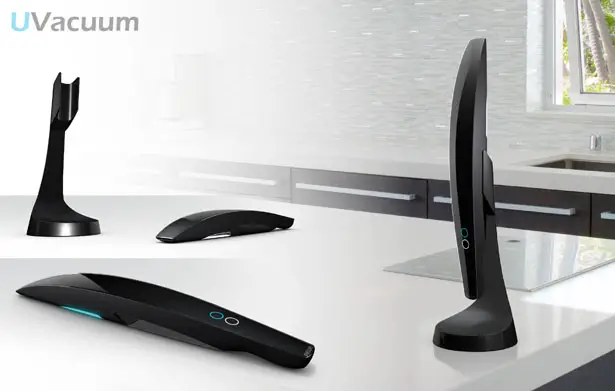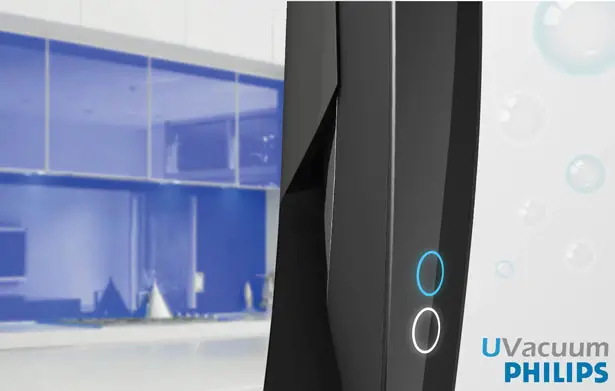 Simple is better and that's why this product is so easy to use. To use simply remove the vacuum from its charging stand. Through capacitance technology; the white icon turns on the wet/dry vacuum for basic clean up needs in the kitchen. When sanitation is necessary (when is it not?) the user can engage the UV light by pressing the blue button. These features can be used independently or in unison for a quick and easy cleaning process.
When the user opens the display box a pre-packaged LED simulates the UV power. The packaging is eco-friendly and can also be recycled.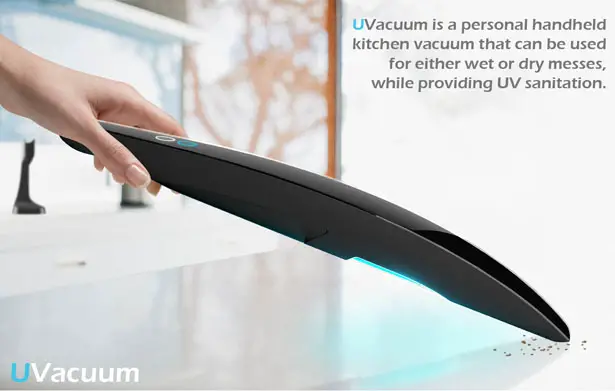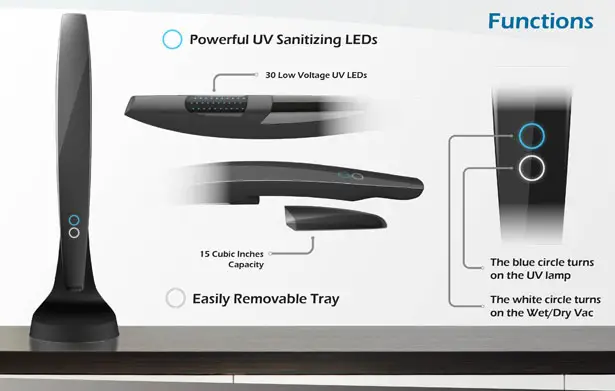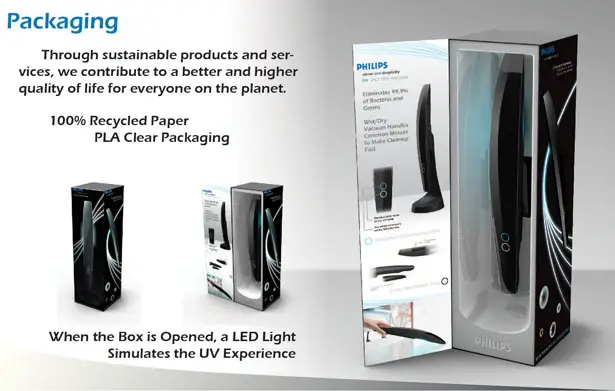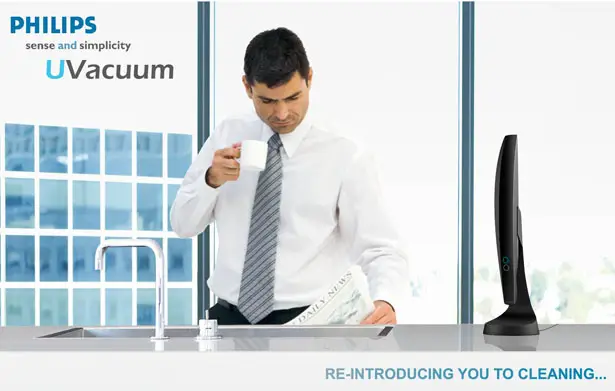 ---