For the love of photography, this designer has come up with Fsnklvr Backpack design to accommodate your precious camera and accessories in style. Todays, you can see young generation has fallen in love with photography world, there's something magical about taking a photo that tells story and captures the essence of a moment in time. It's a common thing to see people carrying SLR camera everywhere such as vacations, family gatherings or even just simple trip to the park. One thing for sure, many of them are carrying bulky and ugly camera bag, some to avoid looking like tourists, hide the camera into a stylish non-camera bag and wrap the camera with t-shirt. Since they use non-camera bag, the camera might come in contact with other stuff which leads to scratches.
Designer : Funfere Koroye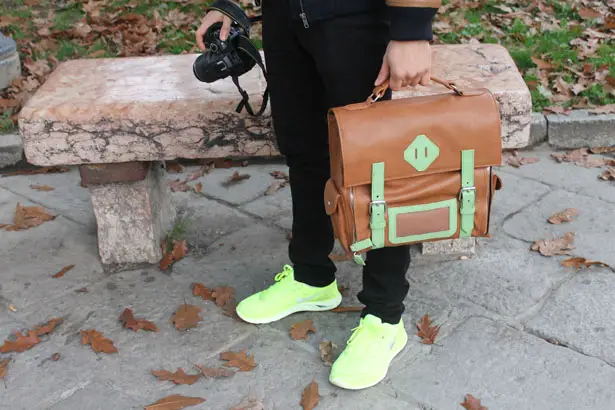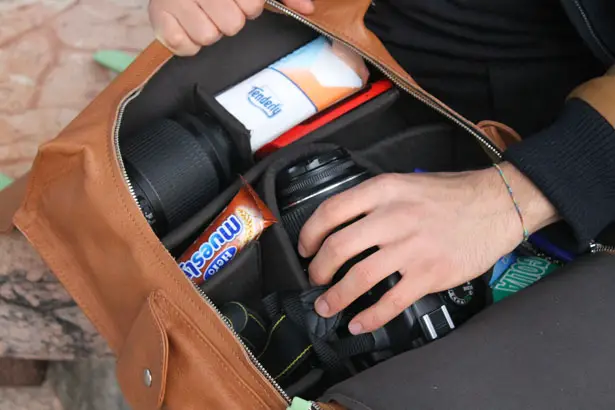 Fsnklvr Backpack has been designed and handcrafted by a dedicated team that pays great attention to every detail. Each one is made with passion and desire to create great product that complements your style while protecting your precious camera gears. The designer believes that your camera bags and accessories should be rich and imaginative, just like photos that you take.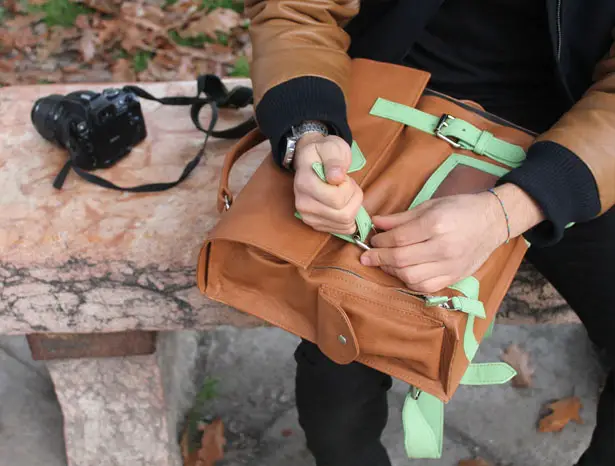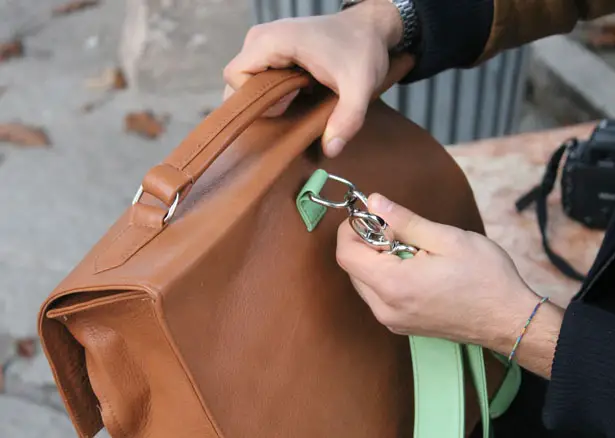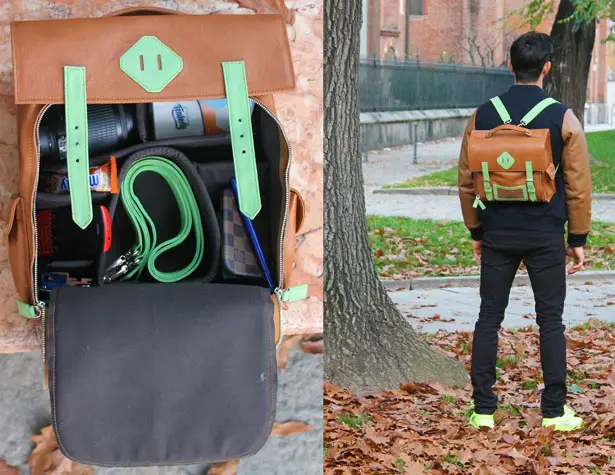 Tuvie has received "Fsnklvr Backpack" project from our 'Submit A Design' feature, where we welcome our readers to submit their design/concept for publication.
---
Toyota releases their vision for not-too-distant future vehicle called Toyota Fun-Vii which redefines the way people, cars, and society are connected. Mobility definitely can change the world. You can personalize this vehicle by changing the exterior or interior as easy as downloading an application. The whole body can be used as a display space, from advertisement, announcement, information to your own personal messages, the body color and content are changeable at your will.
Designer : Toyota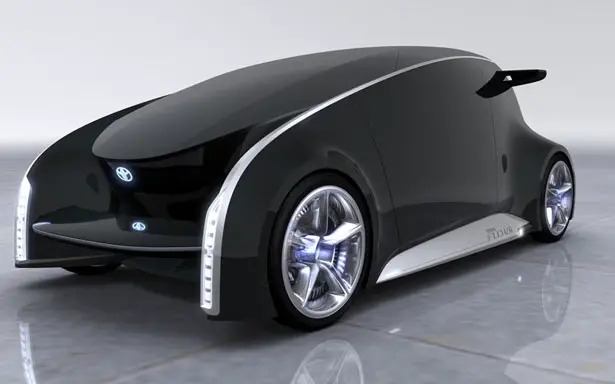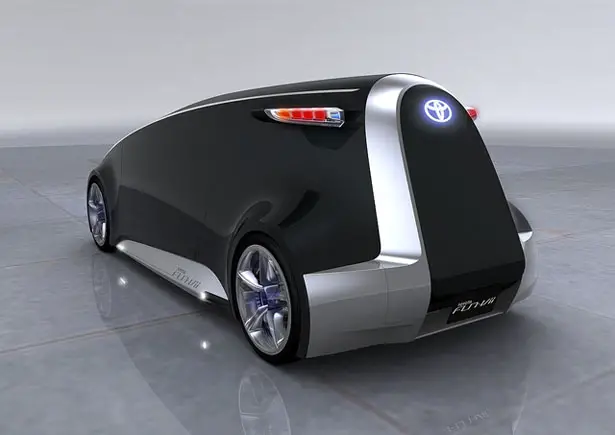 Like we said above, even the whole Toyota Fun-Vii interior also functions as display space. Choose different themes of your interior based on your mood at the moment, the futuristic navigation system blends perfectly into the interior through out the use of augmented reality. Remembering Minority Report movie? This navigation virtual helper provides the passengers and drivers with driving information and guidance through a vocal interface.
The network system installed in this futuristic vehicle will ensure all you software versions for the vehicle's drive, control and multimedia system always up to date.
Toyota Fun-Vii can link to other vehicles and infrastructure within its surrounding, in this way, this vehicle can detect other potentially hazardous vehicles, such as vehicles in blind spots. Passengers can also connect with other friends who might be driving nearby.
Toyota Fun-Vii brings out the theme of "Fun to Drive, Again" to many people again through out this fresh design proposal.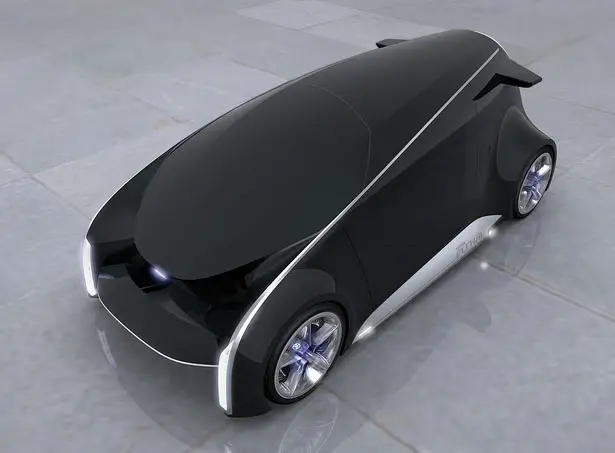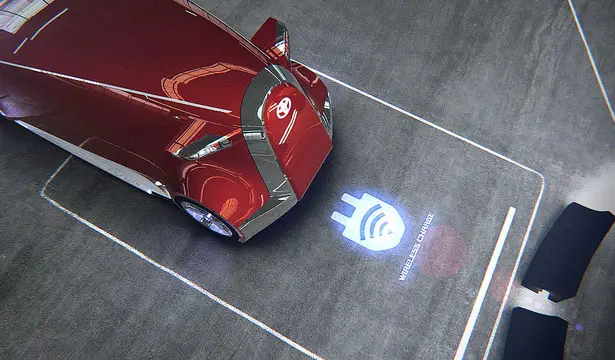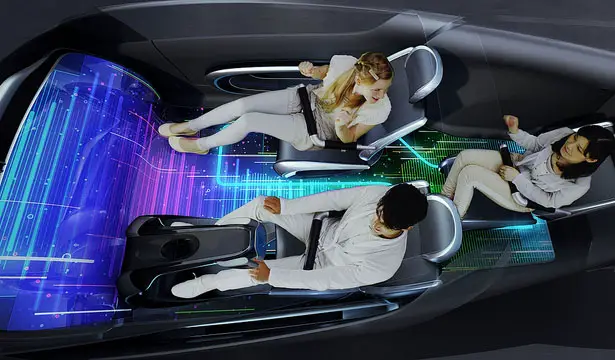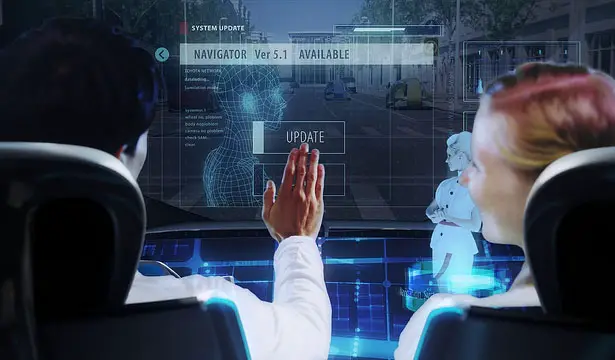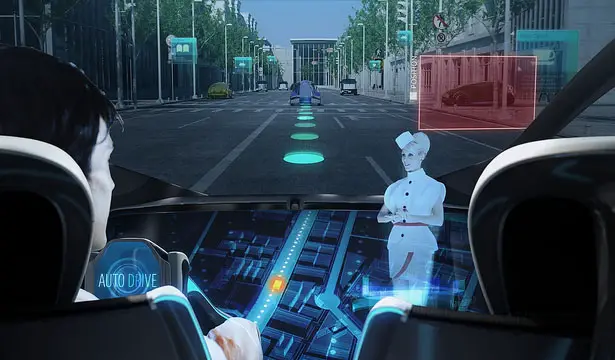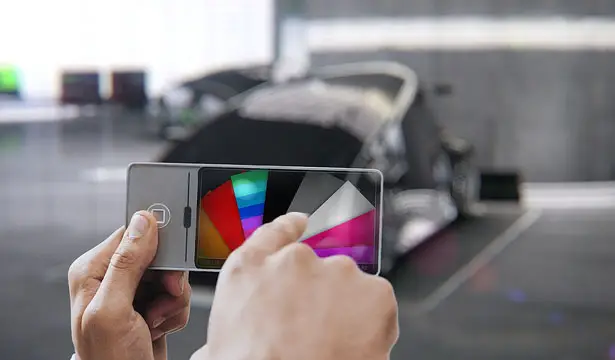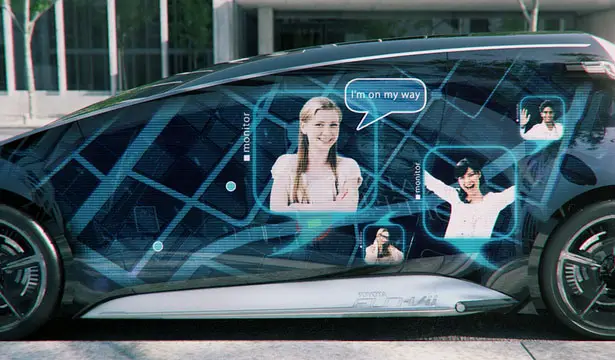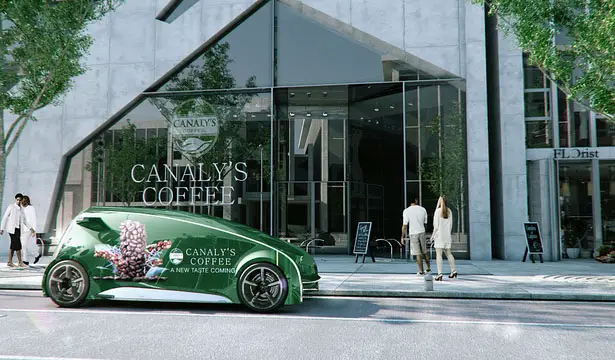 ---
London Garden is a concept car free zone in downtown London allowing bicycles and busses only as transportation means. In this connection, the designers have created an innovative transportation system combining a bike and a bus including the supporting infrastructure.
The bicycle is designed to generate energy when riding and this energy can be used as currency to pay for your bus rides. The bike electronically folds into the bus seat storage mode for space and weight efficiency and to fit on the bike stand. Bike stands can be found at the bus stops where the bikes will be stored securely in order to collect energy from the sun and wind. Moreover, it contributes energy to the bus system that was generated during riding and stored in inner batteries. Finally, the energy will be accumulated from all the bus stops into the London Garden network system, which is the Universal Electricity Network of this concept.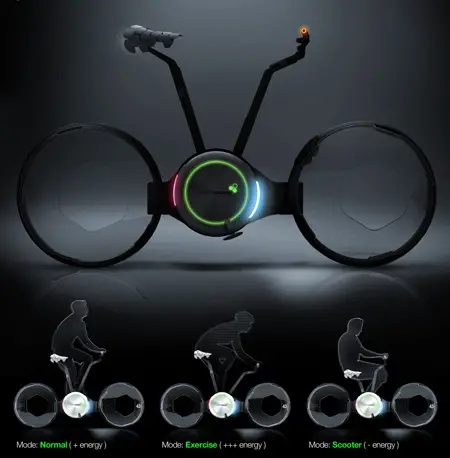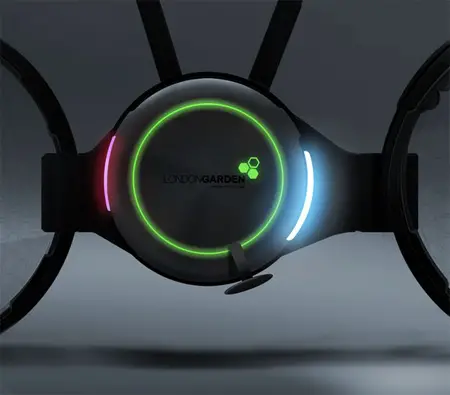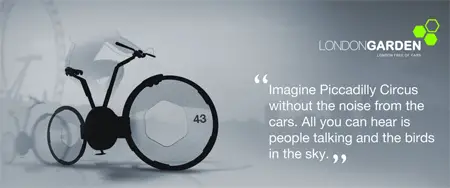 (Click to view bigger image)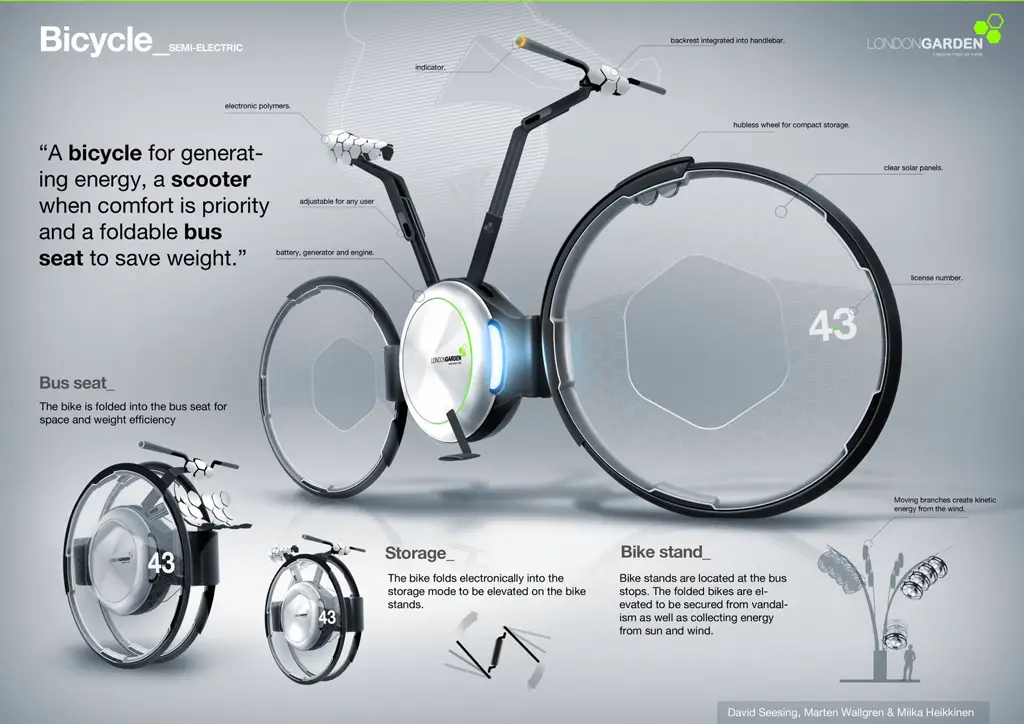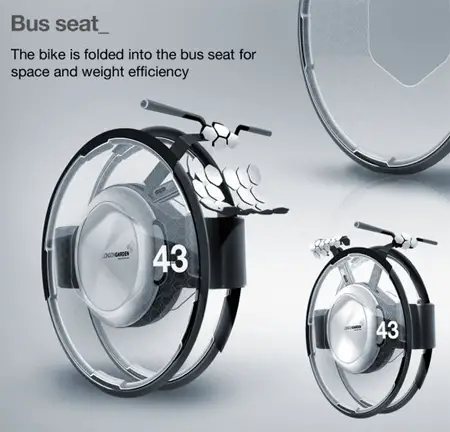 (Click to view bigger image)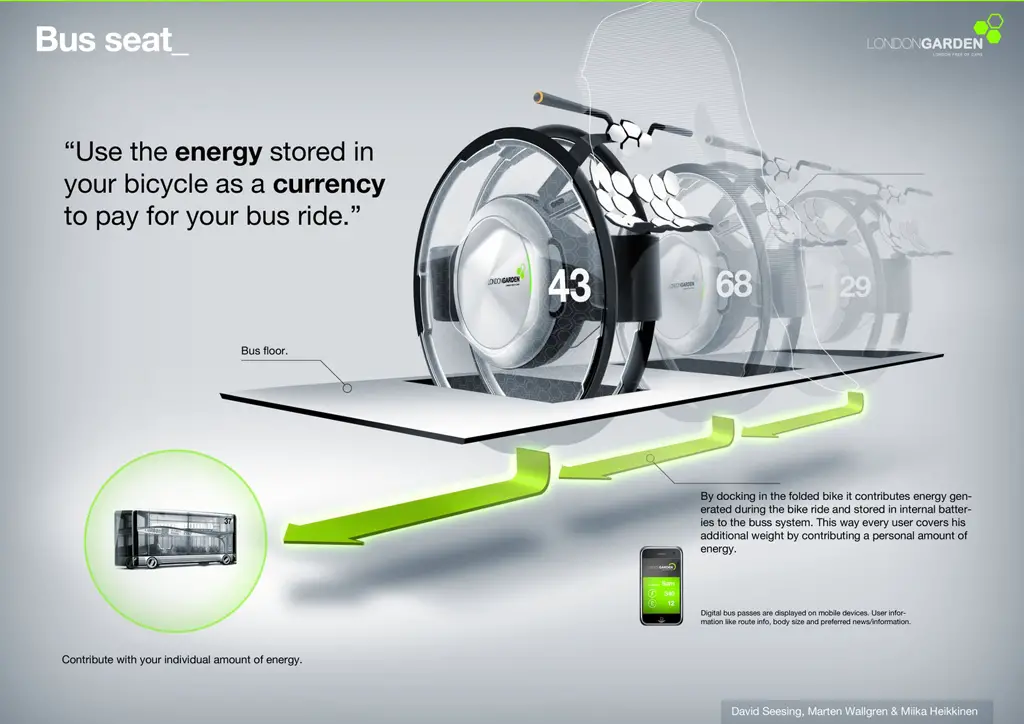 (Click to view bigger image)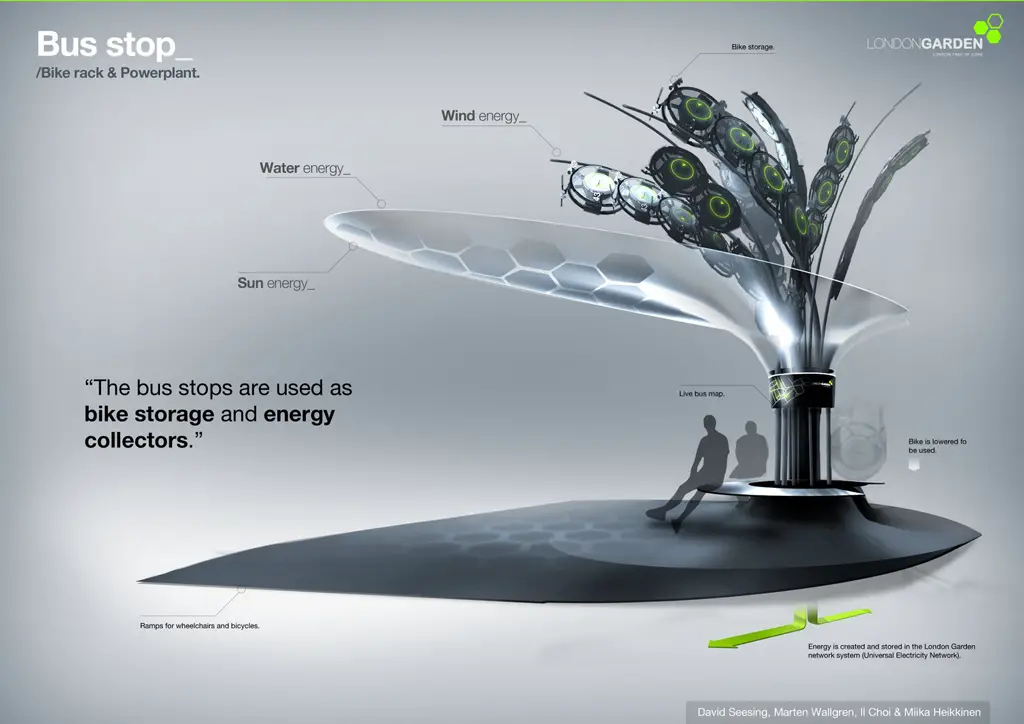 Designer : Marten Wallgren, David Seesing, and Miika Heikkinen
---