Water switch humidifier is an innovative concept, unveiled by the group work among Cheng Zheng, Fan Zhang and Yu Zhang with Chengyuan Wei as the leader. This concept is similar to a base of water that people used to have inside the house in order to keep the air damp. It has been designed in such a way that lets people to turn the humidifier on by touching the water surface rather than turning on plastic switches. The humidifier works on the basis of electric capacity, where, on touch of the water surface, the total amount of capacity would change, sending electric signal to a chip that controls the humidifier's ON/OFF operation. The real challenge was to construct an electric capacity environment with water and whole chips and circuits. After several failure, designers decided to airproof the circuit as well as chips with hot melt glue in order to solve the problem. While the first version of the water switch humidifier is displayed in Zijingang Design Center, the second version sustains the original structure, looking more inventive and integrated.
Designer : Chengyuan Wei, Cheng Zheng, Fan Zhang and Yu Zhang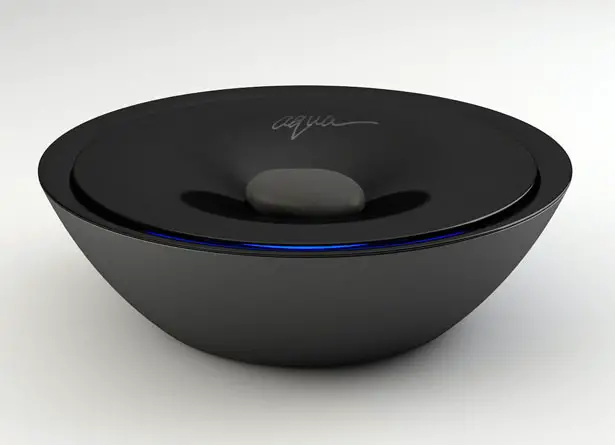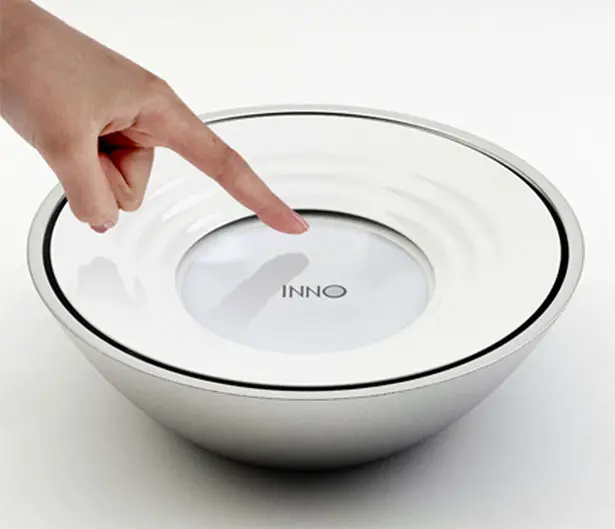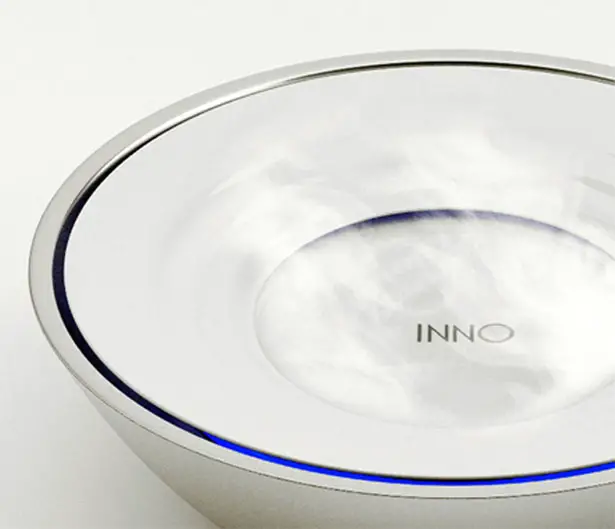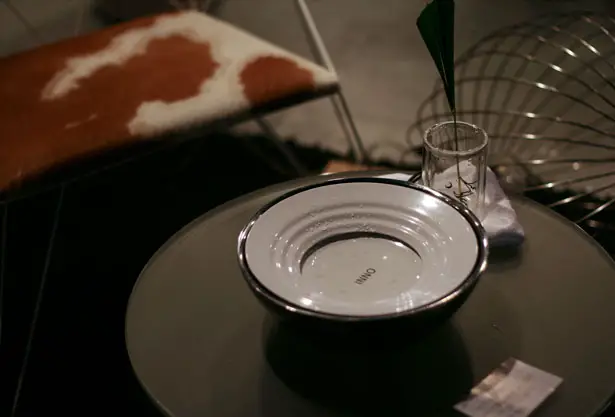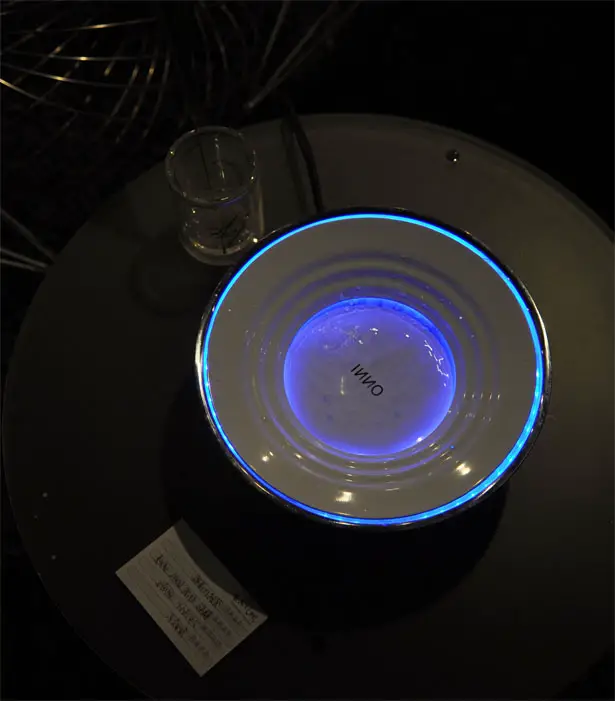 ---
Seesaw water saving faucet helps reducing water waste in public bathrooms or kitchen sinks. Do you know how much water is wasted while you're soaping your hands? Normally, people won't bother to turn off the water while soaping their hands, they let the water run for nothing, thus resulting a large amount of water is wasted daily. Seesaw faucet solves this issue with a simple design structure.
Designer : Chanhee Han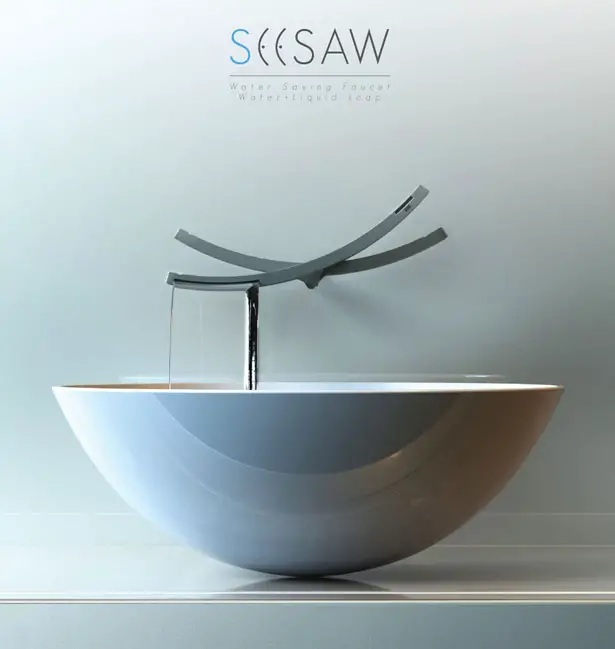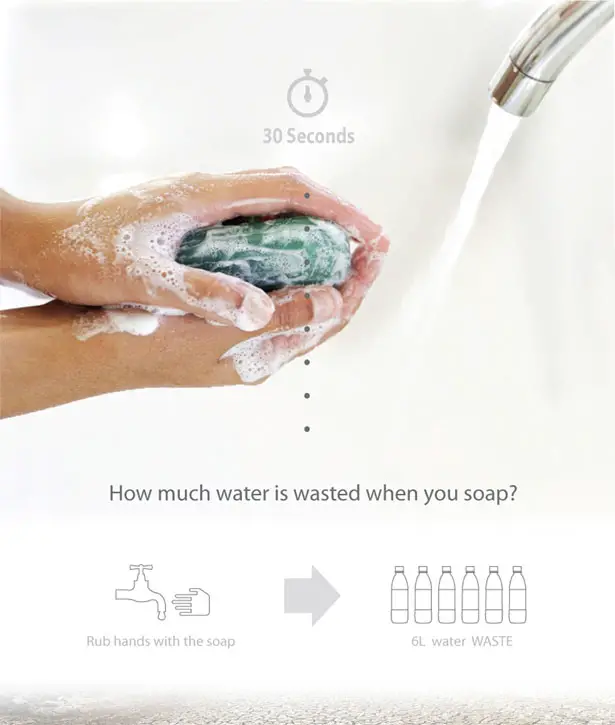 Seesaw water saving faucet has been designed to double as a soap dispenser. If one side of seesaw goes up, the other side goes down. When one function operates, the other one will stop instantly, vice versa, just like a simple principle of a seesaw. User can press the left side to let the water flow. The faucet bar's left side will be automatically tilted and stop the water when user presses the right side to dispense the soap. Press the left side again to make the water runs.
This is the kind of faucet that public restrooms need to have. Seesaw water saving faucet design is expected to reduce water waste.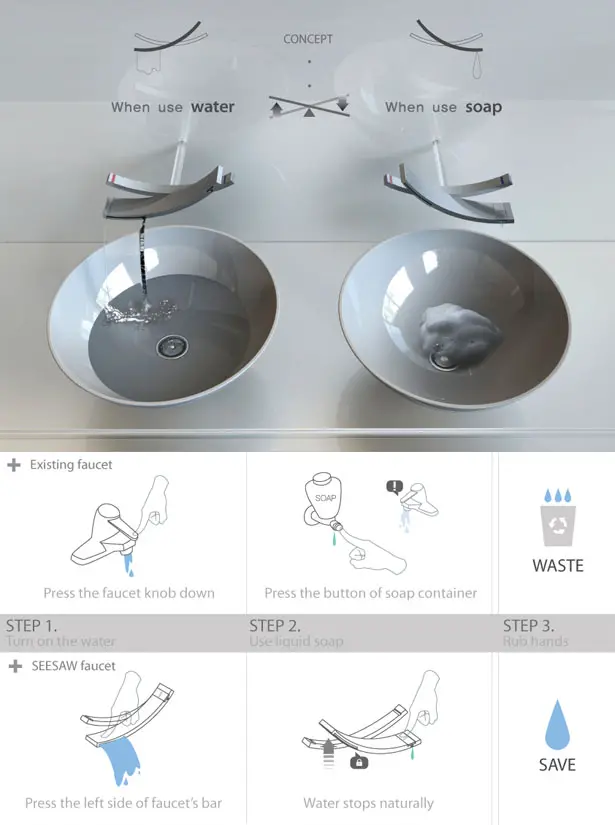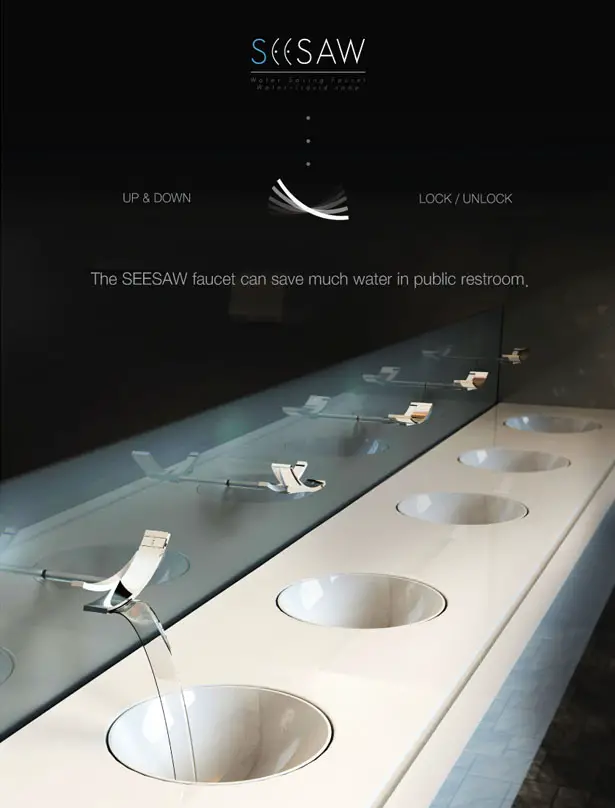 ---
X2 concept car is designed by Yeon-woo Seong, a Korean industrial designer with 4 years experience in automotive industry. This car has been designed with symmetric structure to offer some advantages especially when you are trapped in traffic congestion. Due to symmetric front and rear structure, it is possible for the driver to drive in any direction, anytime.
X2 concept car has been visualized for Shanghai in the future where due to its population growth that affects the traffic growth as well. Parking space will become limited and we have to think creatively to manipulate any available space to accommodate more cars. Therefore, the wheels are designed to enable X2 to rotate 360-degree in just one area. Inspired by 1958 Zundapp Janus, this electric car has been designed with 2 driver's seat, front and rear, it allows the driver to run this car in any wanted direction. It feels like having 2 cars.
Designer : Yeon-Wu Seong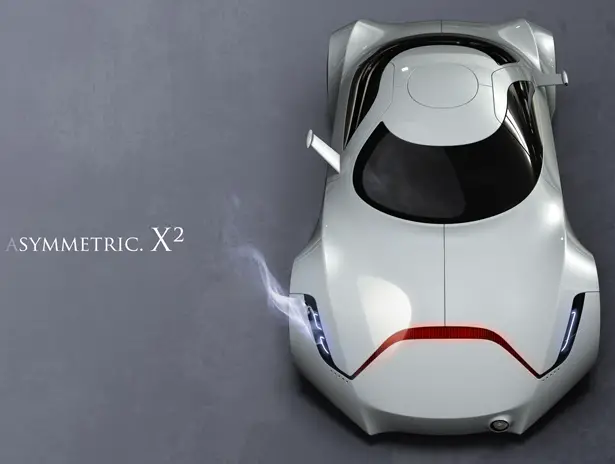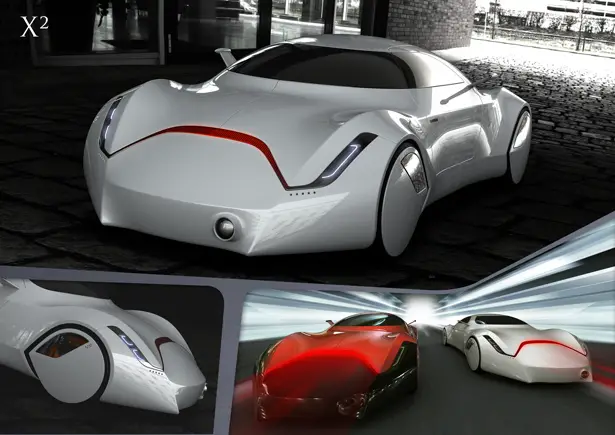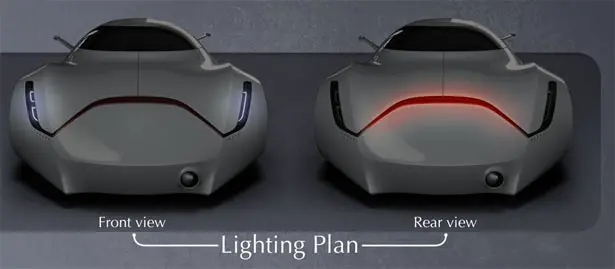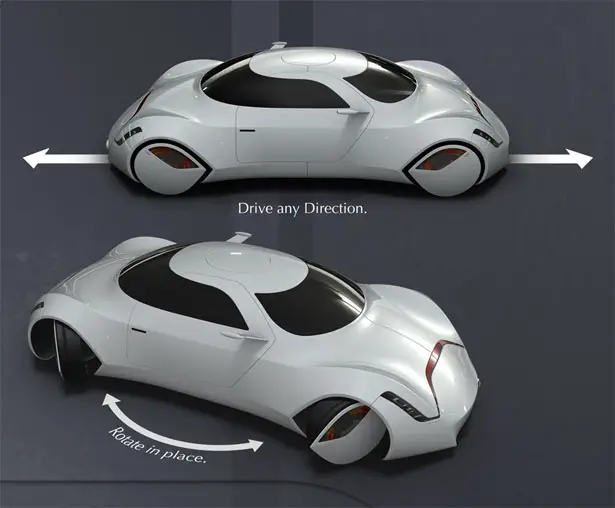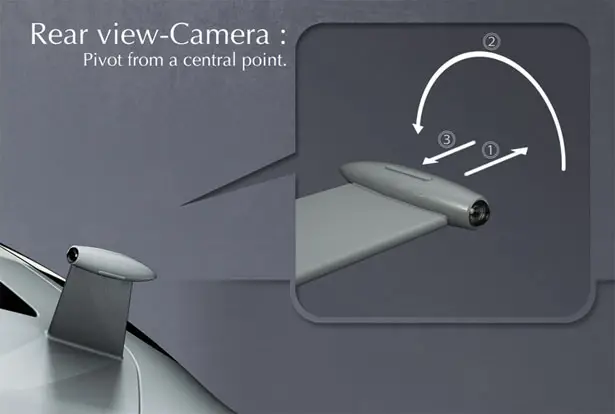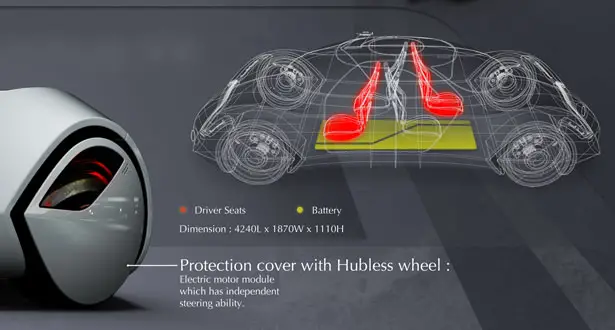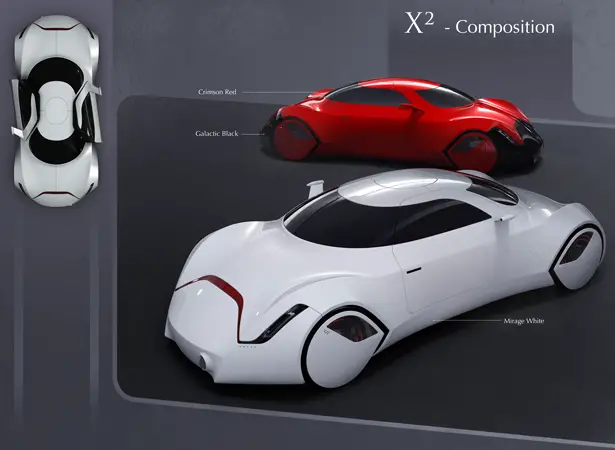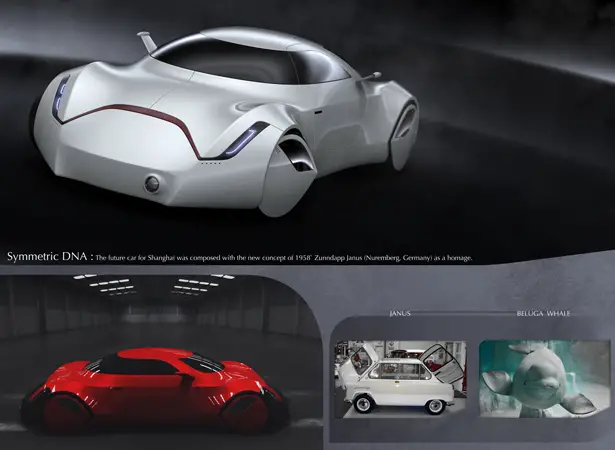 ---