Awesome, Tokyoflash Kisai Vortex LCD Watch features spiral time display underneath a sleek concave lens. It's a limited edition touch screen watch that features dual time zones, alarm, date, animation, audio feedback, and LED light up, housed in a beautiful stainless steel case with beautiful gunmetal finish.
At first sight, it looks like just a vibrant cyclone of rings, but when you know the secret, you can easily read the time at a glance. It looks complex at first, but actually this watch displays time just like any regular clock. You need to pay attention to the gap in the second outer ring of 12 large blocks, it indicates the hour which is positioned just like any conventional clock. The smaller dots inside display the minutes of 1 to 60. the rest of inner 2 rings display hours and minutes for second time zone. So, what's the outer ring for? Well, it indicates seconds.
From : Tokyoflash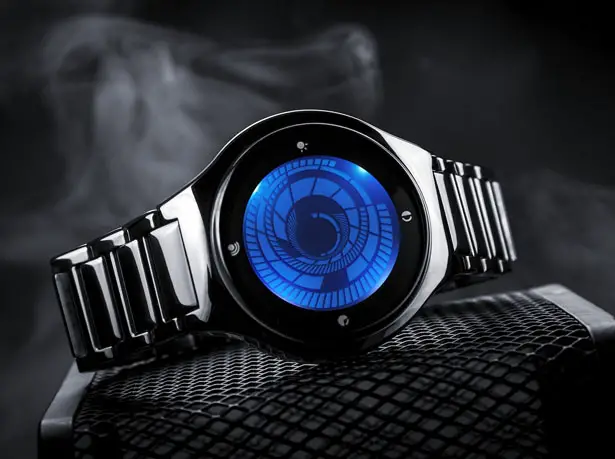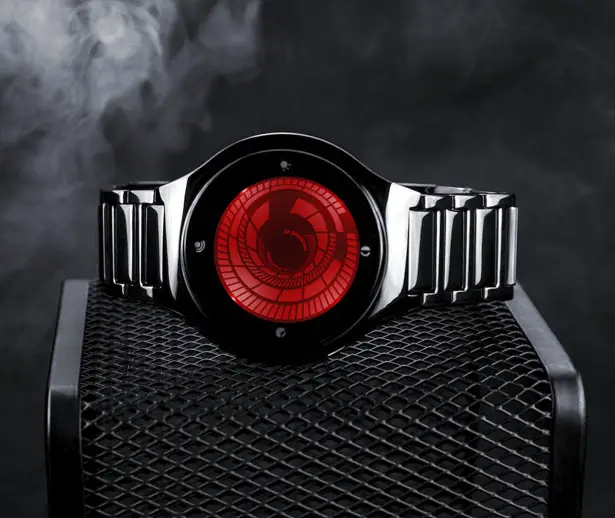 The hybrid display means you can always read the time by the LCD panel without having to press any button, however, just in case you are under low light vision, simply touch the screen to activate LED backlighting. There are 4 hot zones on the display: top, bottom, left, and right. You can change each zone to change modes from time, alarm, date, or light up.
To set an alarm, simply hold your finger a bit longer, you can do the same to set the time, it's simple, intuitive, and fun to operate. Just like touch screen device, Tokyoflash Kisai Vortex LCD Watch also comes with lock feature (after 60 seconds idle) to prevent accidental input, simply swipe the screen from left to right to unlock. This futuristic watch is available in 2 display color options: cool blue LCD with blue LED backlighting or natural LCD with red LED backlighting.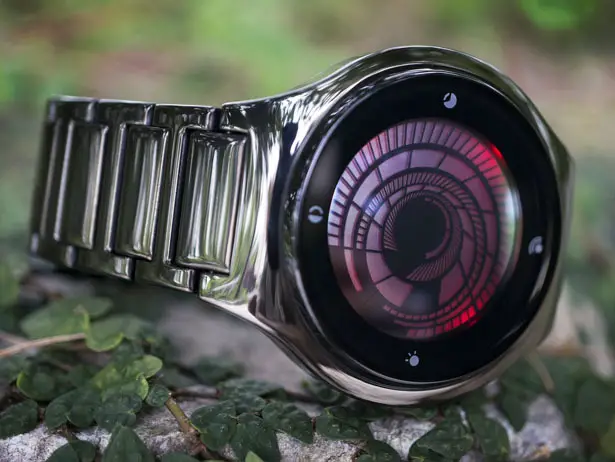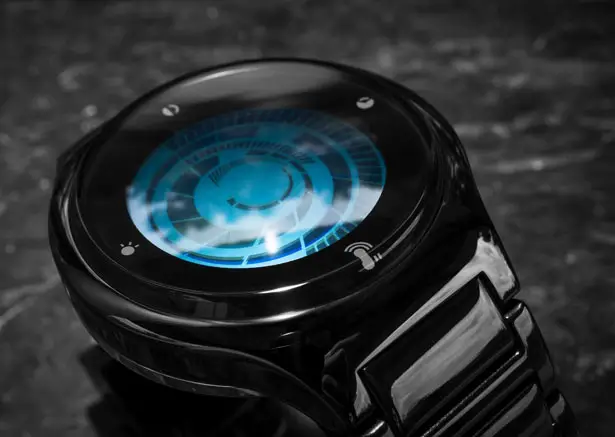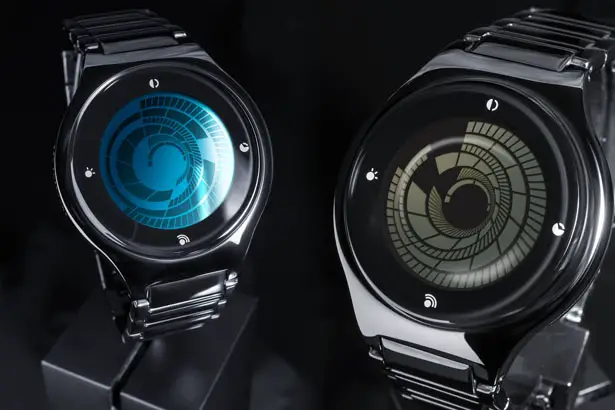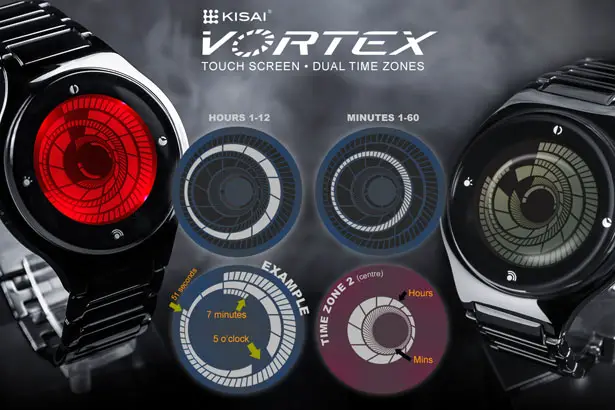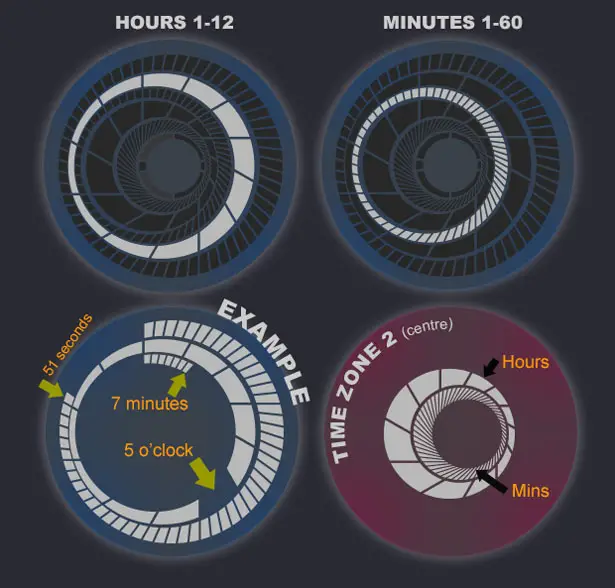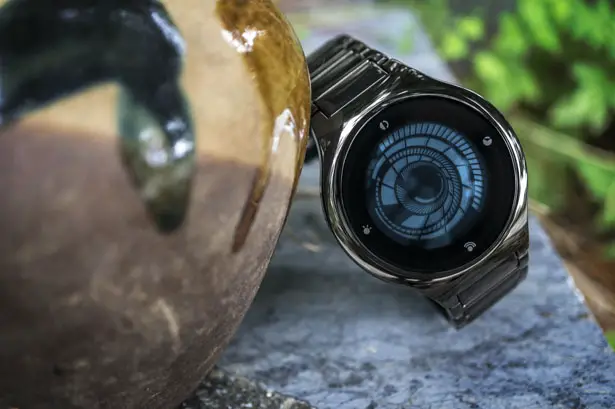 Tuvie has received "Tokyoflash Kisai Vortex LCD Watch" project from our 'Submit A Design' feature, where we welcome our readers to submit their design/concept for publication.
---
This new Kodigy watch concept features hexagonal watch face and displays the time to you according to your choice: Code -by default- a simple alíen key, it is based on the known sequence 5-9-12 or if you prefer with digits. KODIGY changes the color of displays from dark -AM- to -PM- clear, it may also indicate the date or warn if you wish, with an alarm. Reading order is the same for numbers and code, its interpretation is explained in animation below. Different technological solutions can be used: LCD, TFT… according to energy savings intended, as well as different finishes and materials.
Designer : José Manuel Otero for [Tokyoflash]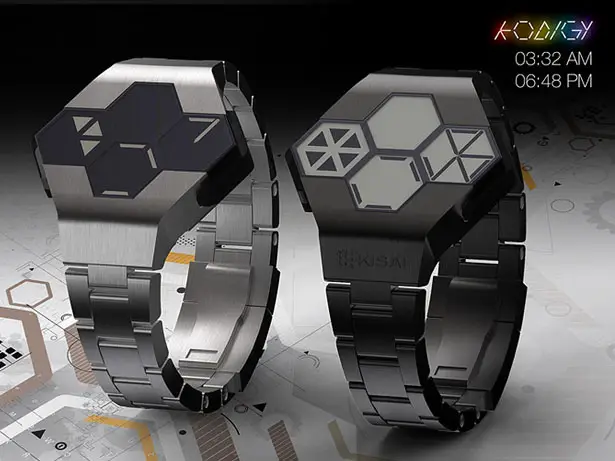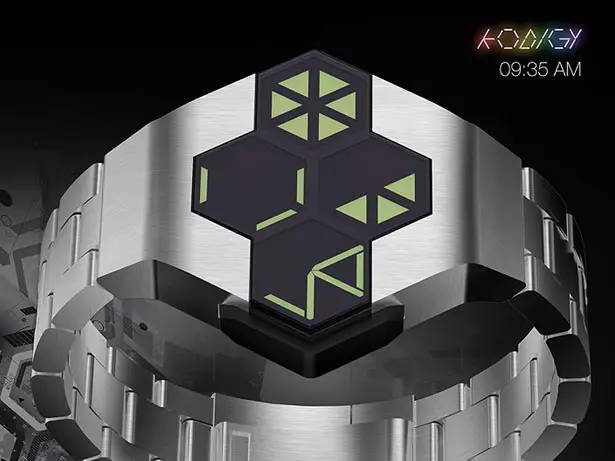 The potential for the development KODIGY is very high: animations, colors and other more advanced features including touch technology can evolve it to a smart watch. Stand out among other features, the originality in arrangement of the display follows a pattern of hexagonal mesh, sleek style, readability. This simple and technological appearance appeals to a wide variety of public among which we can mention those who are interested in wearing unique pieces that go beyond the purpose for which they are designed, SciFi enthusiasts, interested in fashion and new trends, interested in new technologies, lifestyle. It's a universal watch for both men and women.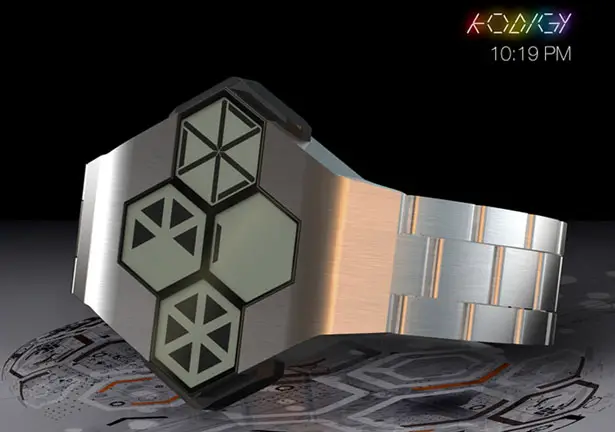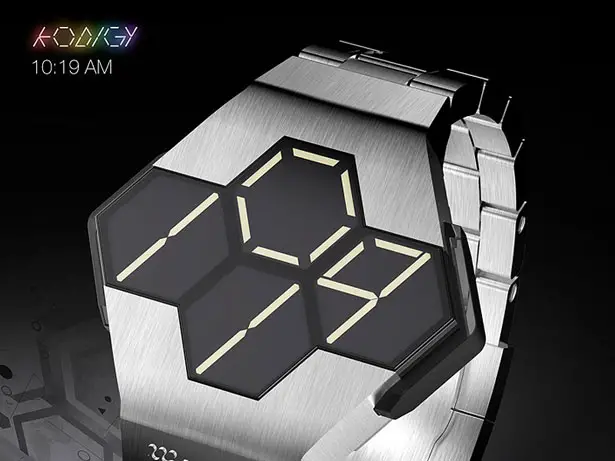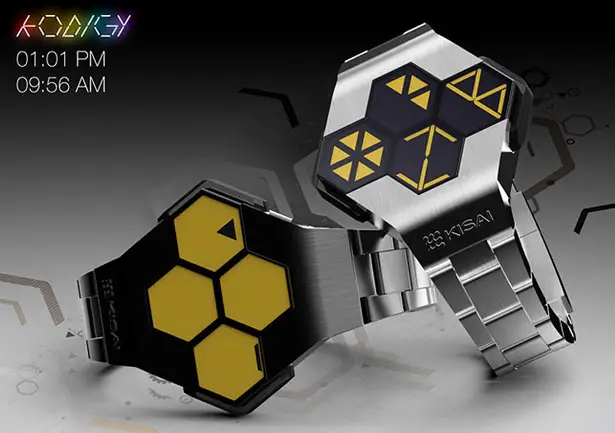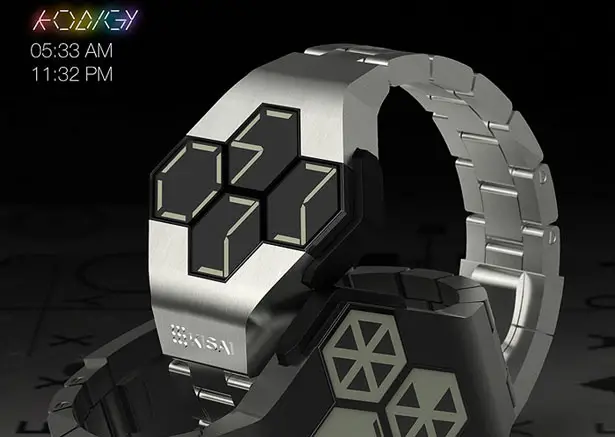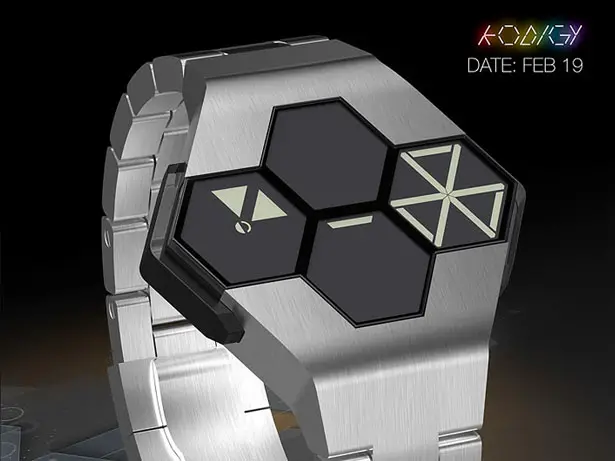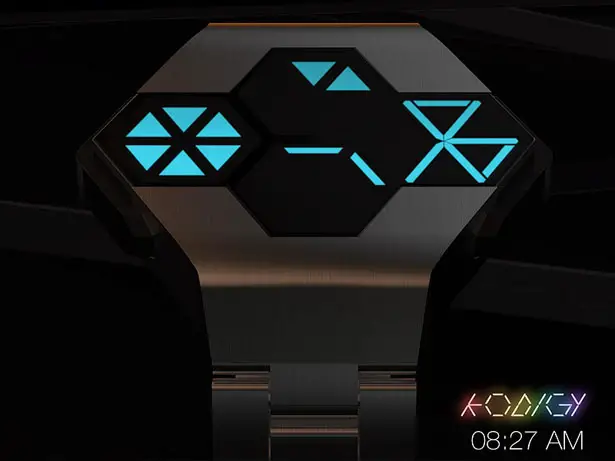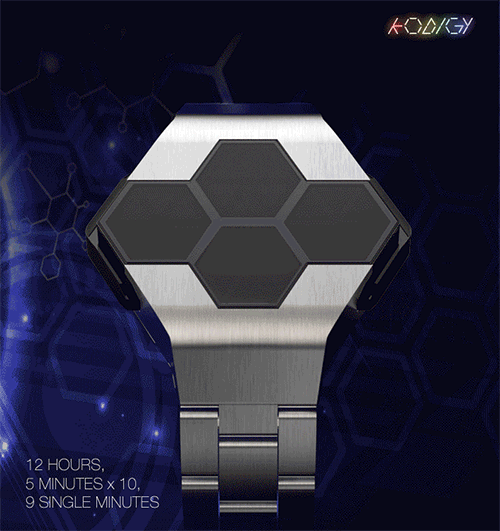 Tuvie has received "Kodigy Watch" project from our 'Submit A Design' feature, where we welcome our readers to submit their design/concept for publication.
---
IDAT stands for Instant Data Analysis and Transfer, is a specially designed product having hospital's context in mind. IDAT aims to develop and support a simple but strong interface by optimizing the quality of data circulation and communication. Therefore, IDAT has two major modules and an external charger.
The first module is for general use and allows smooth communication between workers. It includes embedding wireless technology via Bluetooth, a warning light, a vibrator motor and the key function buttons. IDAT shows warning lights along with vibration when the noise pollution levels of a hospital goes over a certain limit and thus increasing workers and patient's quality of environment. The second module incorporates the log-in system and data visualization technology.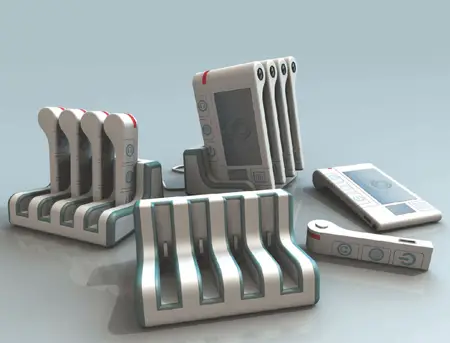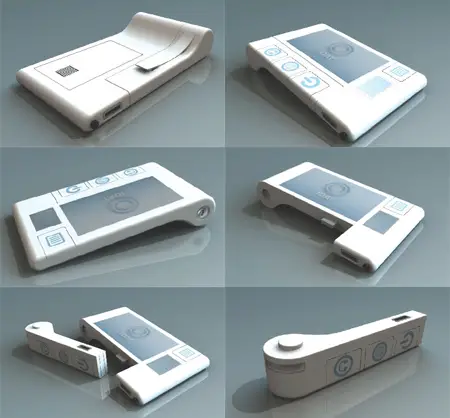 IDAT provides two types of information, data access and communication. Every worker will have access to the module/communicating system, but the inner data system is guarded by finger print security and only authorized medical personnel are allowed to access. However, it is necessary to keep the data module always connected with the communication module as it works only when provided by the communicator technology.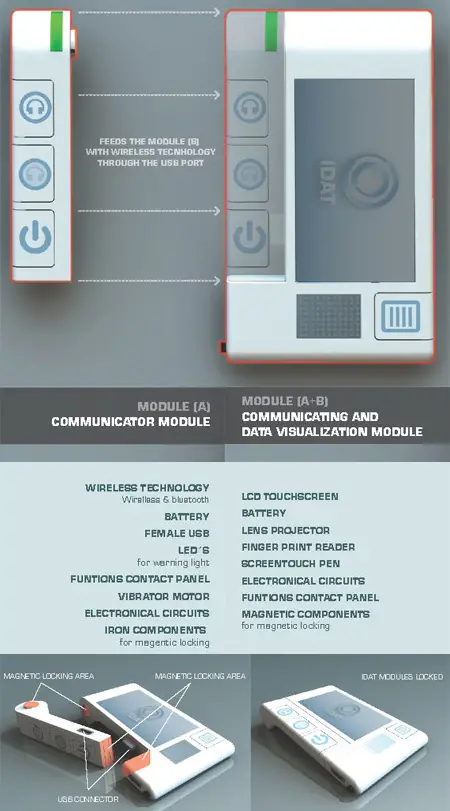 Another innovative characteristic of IDAT is the Lens Projector. This function designs a new shape of visualizing data and allows multiple solutions. The external charger module completes the IDAT project which can charge both the access management and modules.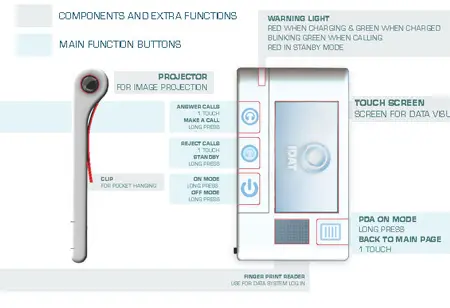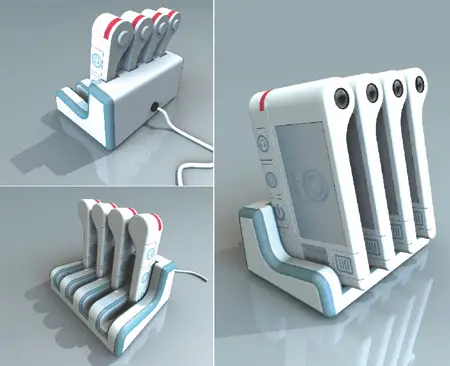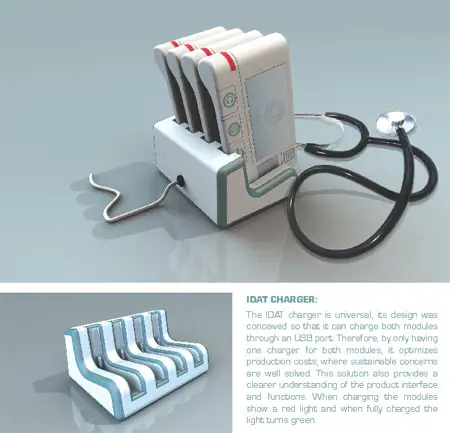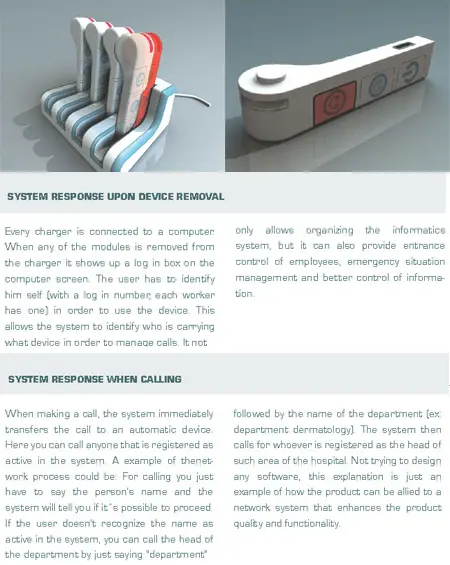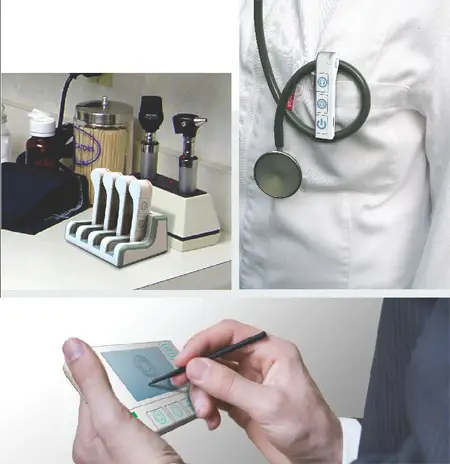 Click to view bigger image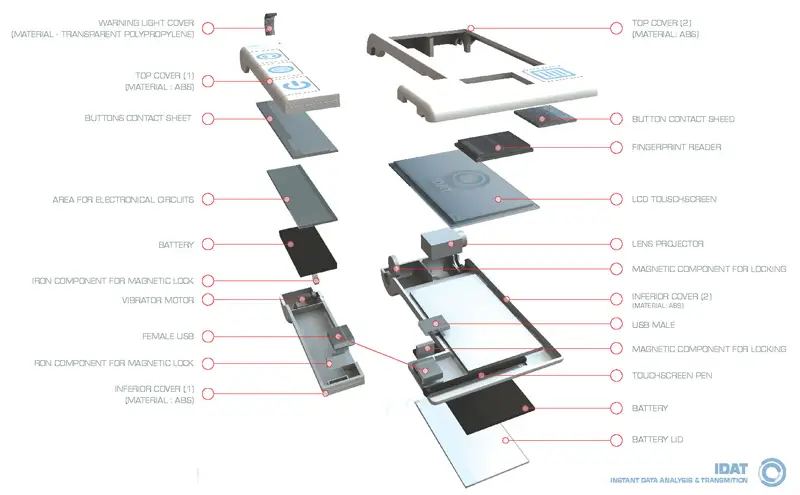 Designer : Pedro Gomes
---