LIVDIN sofa stands for Live and Dine young sofa. It's a smart and flexible sofa which will be highly functional especially in limited space room. Designed by Terrence Seah at ChangeXDesign, you can easily transform this sofa into a dining table. As you already know, space in our urban dwellings has become at a premium, thus it's pretty challenging to find space for our domestic activities. LIVDIN sofa has been designed to answer this challenge, it combines the functionality of a sofa with a dining table, a perfect furniture for small living space.
You can enjoy your dinner in front of your television or throw a small dinner party with friends and family, or perhaps you can make space for a home office. LIVDIN sofa helps you save space without sacrificing style, so why waste another square foot?
Designer : Terrence Seah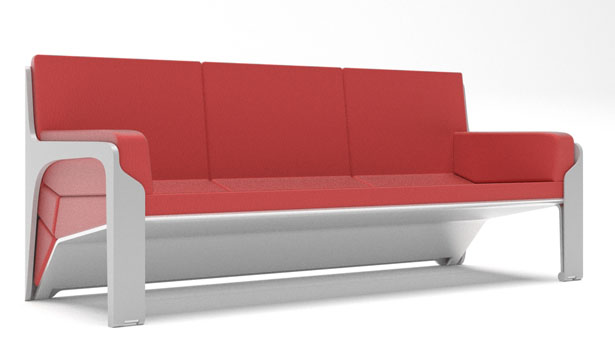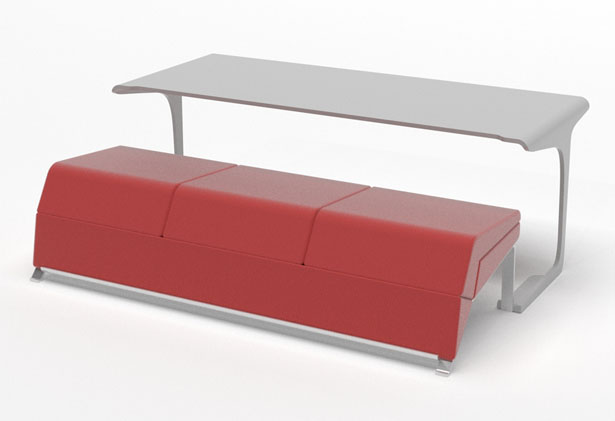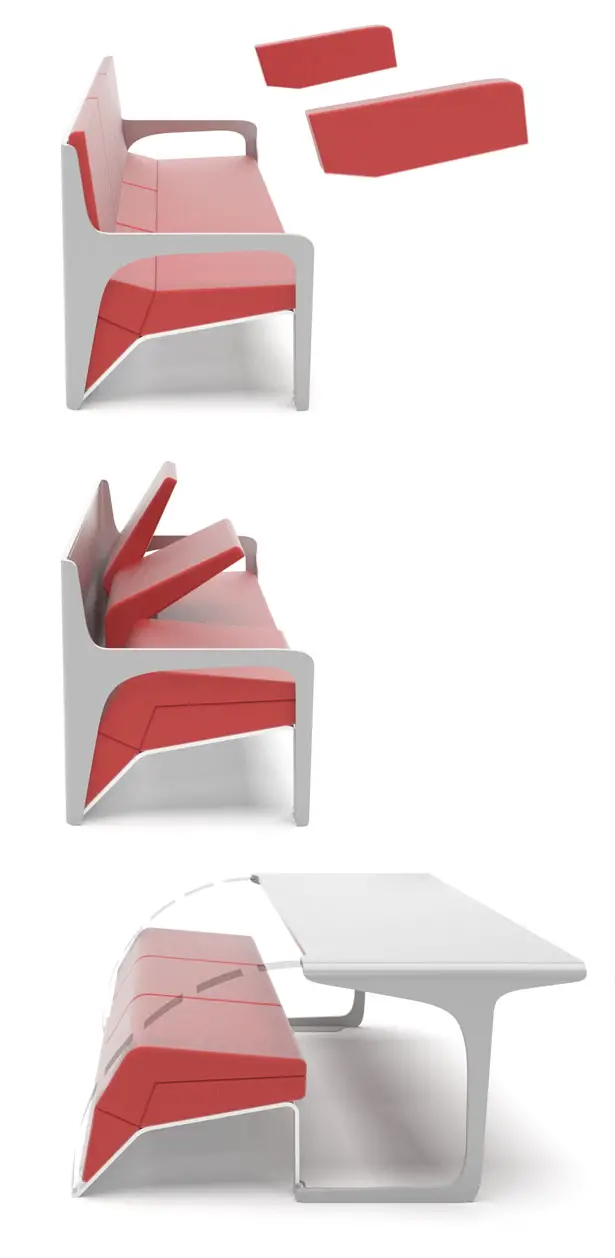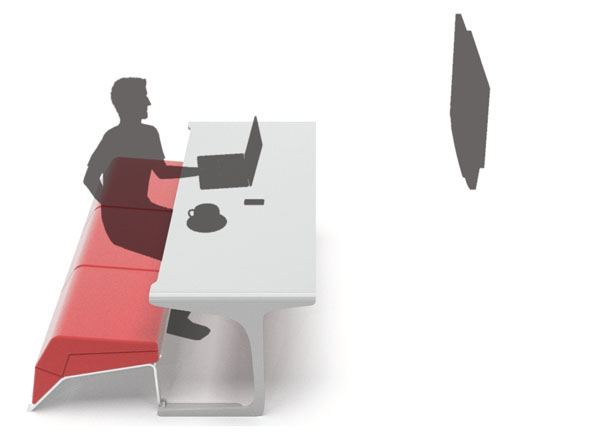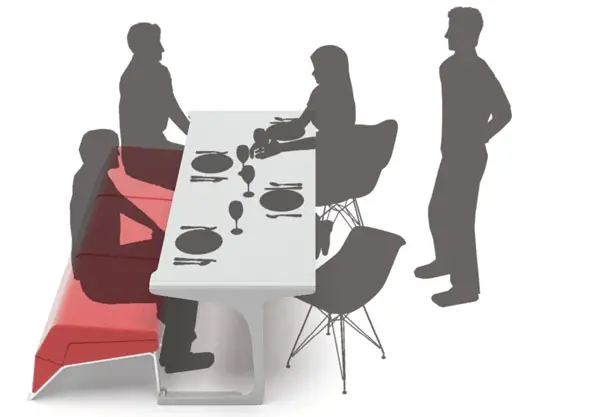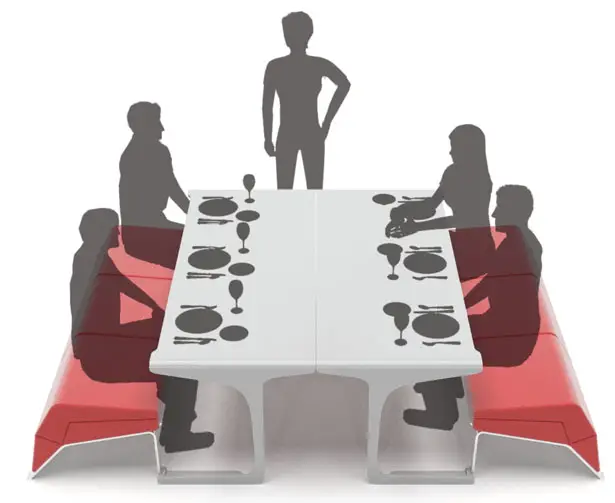 Tuvie has received "Livdin – Live and Dine Young Multifunctional Sofa" from our 'Submit A Design' feature, where we welcome our readers to submit their design/concept for publication.
---
The Other-Half watch offers unique small secondary watch face located on your inner wrist. It's been designed with aim to keep your long distance friends, family or lovers close to your heart. This watch serves as a constant reminder of that special person; you can set the watch to the time zone of your 'Other-Half' and it turns into the small window into their world.
Designer : Daniel Kamp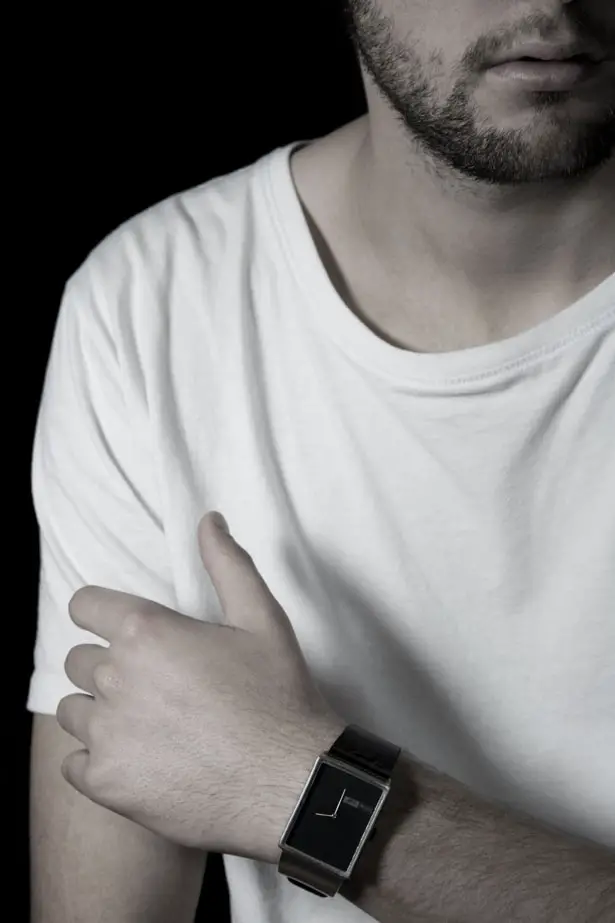 The Other-Half watch's innovative strap design is derived from its meaningful function. The strap consists of two halves, one of which is 3-d printed in solid stainless steel. This references a bracelet or bangle (gifts which are generally given to represent a particular moment or relationship between two people). The second half, a black leather strap, stays true to the traditional watch aesthetic and wraps over the steel. The overlapping form is derived form the act of holding hands (a small but intimate gesture) and this juxtaposition of materials creates a piece which sits somewhere between a traditional watch and an item of contemporary jewelry.
An adjustable notch was developed to connect the leather and steel. The Other-Half Watch system allows for easy size adjustments to fit most wrists and has a simple clipping motion, making comfortable and easier to wear than watches with traditional clasps.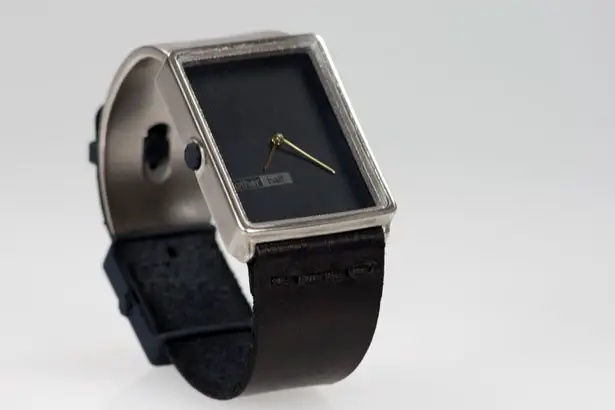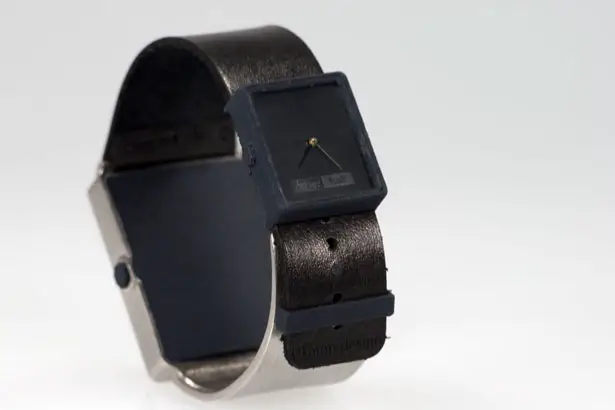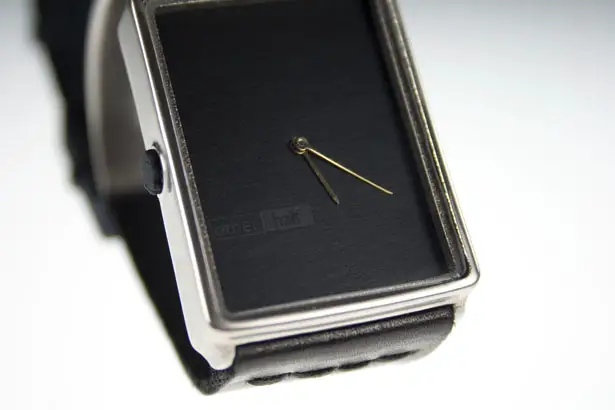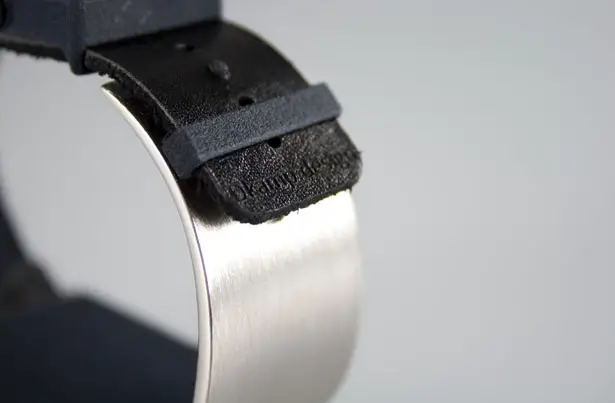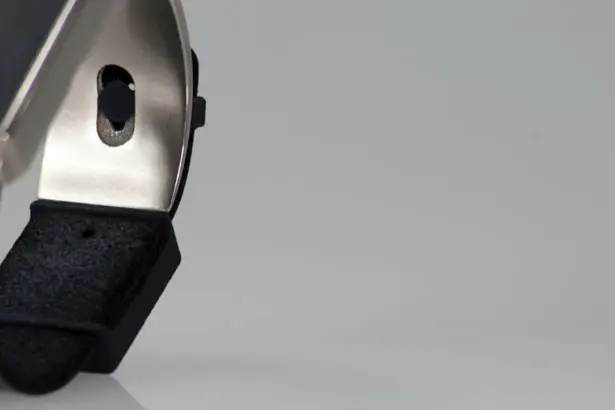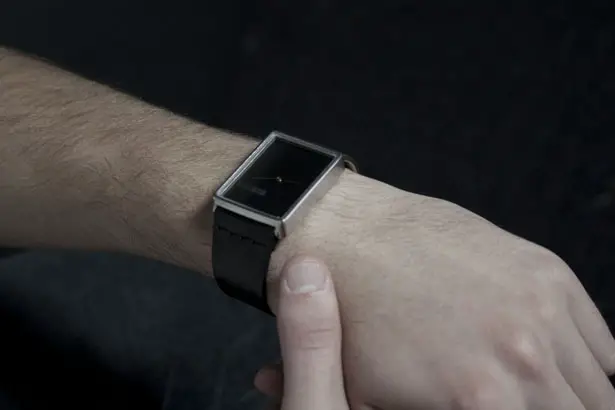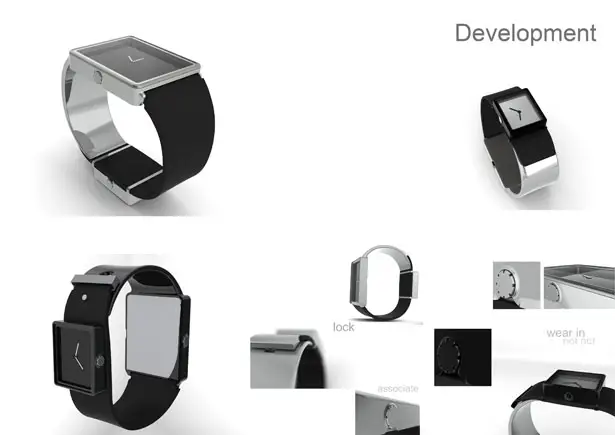 ---
Most of us are serious water conscious. Being in the midst of water scarcity, we tend to save water. There are many water saving devices available in the market today, however, the new Whirlpool Faucet Band looks exceedingly cute and easy to use as well. The band features the LED time monitor for effortless monitoring, color altering LEDs as marker and side push buttons for control. The Faucet band is very simple to use, you just have to fit the band over the top of the spout and set your preferred goal for running water time in the LED time screen by pressing those side buttons and you're done. As you run out of the specified water time, the water will start to change color by making use of the band's color changing LEDs. This way you will be warned whenever the water consumption exceeds the desired levels and therefore it won't allow you to use more. Simple and inexpensive as it appears to be, this gadget helps save water within the home.
Designer : Linda Xinrui Jiang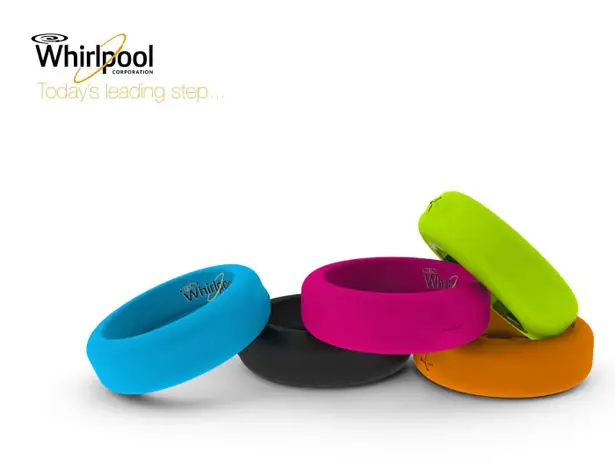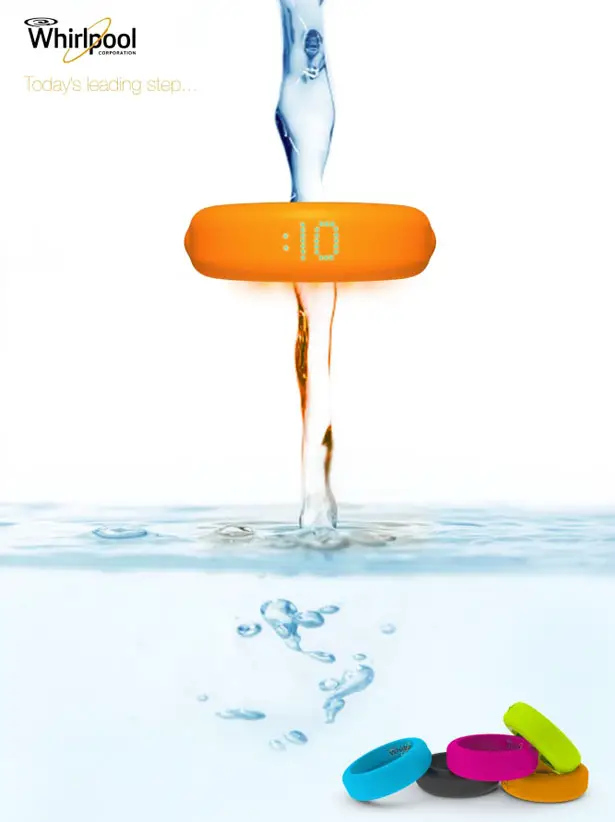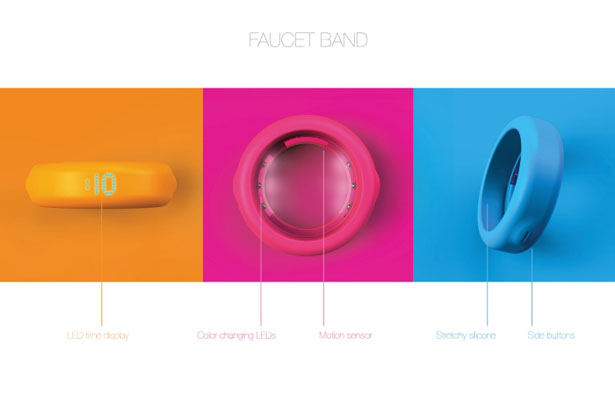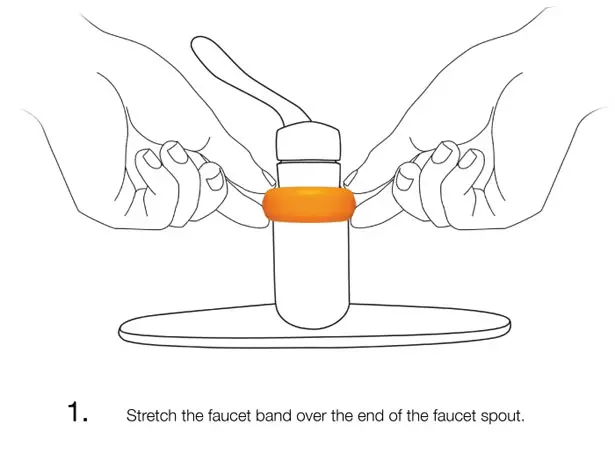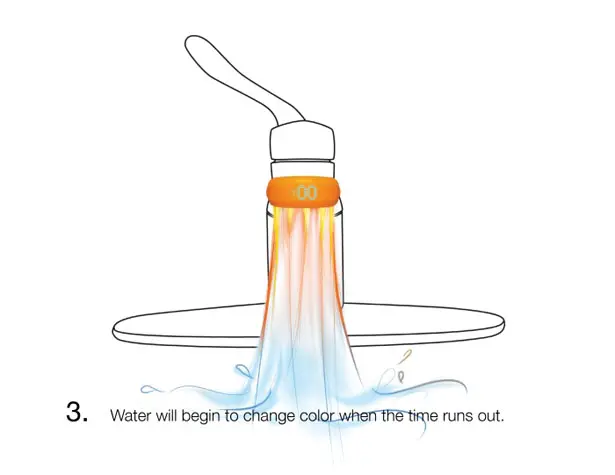 ---