When summer is here, it would be great to set up Omega Outdoor Cooking Table and enjoy family activities or gathering with your friends outdoor. This cooking table has been designed to combine both the full enjoyment when cooking outdoor while still retain the social aspect of entertaining your guests. Easy to setup as well as easy to store, simply fold flat when not in use. It uses gas powered appliance to cook your food, it's practical and great solution for outdoor eating.
Designer : Edward J. Frame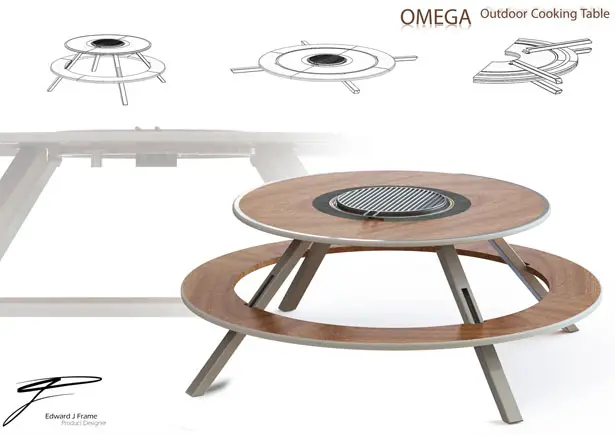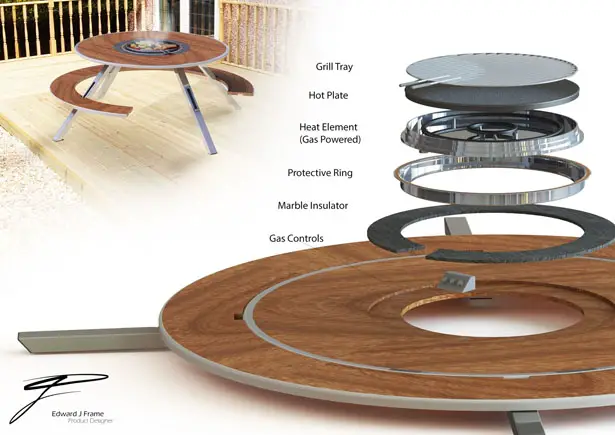 ---
It is quite evident that with the passage of time the designs and shapes of the vehicles, commonly used by people will change drastically. They will become environment friendly and also much safer than the current ones. iMO is a great vehicle that is designed to accompany the users as it seems alive with the insertion of several organic parts. It is round in shape and available in colors like yellow, blue, red and black. They have a transparent shield to cover the interior which makes it a fully secured car. The wheels are small, smoothly polished by immensely efficient at the same time. iMo is only a student project for Coventry University with no commercial means.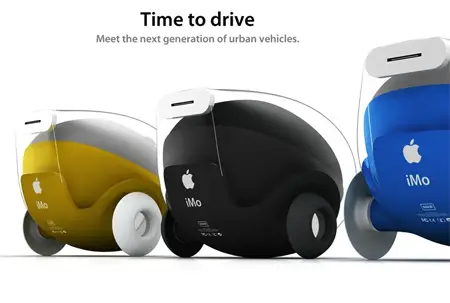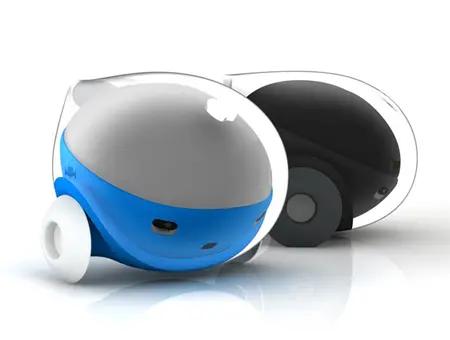 Anthony says:
Apple iMo is a city car, using advanced form-changing material, exploring the possibility of robotics to bring a new and simplified approach to personal mobility. The design ofiMo is based on the Apple philosophy which consists in applying a process of elimination to come up with simple and elegant solutions, by means of cutting edge technology. The result is a two-wheel robot designed to assist you throughout your daily life. There is no need to wonder where to park iMo, it takes you where you want and go to park by itself using specific parking systems called iPark. In fact, having no stationary vehicle in the streets to liberate ground space, is the main concept of iMo+iPark. To do so iMoparks against building walls, underground or even in the sky. Amongst other originalities, iMo features form-changing seats and wheels made of Nitinol and a holographic gesture-recognition driving system.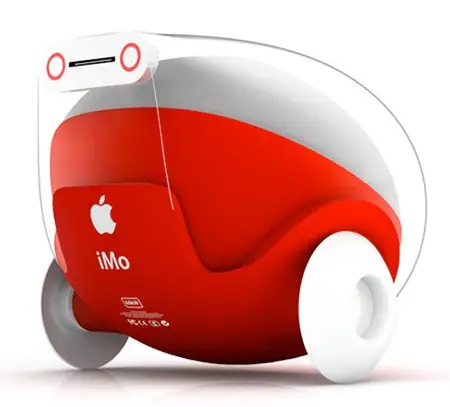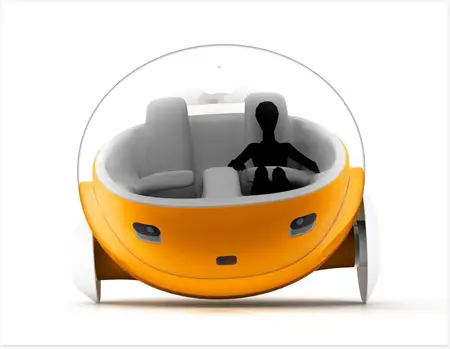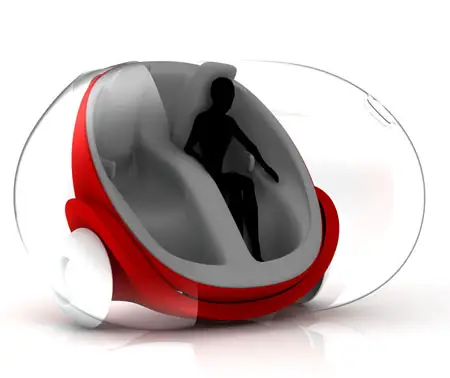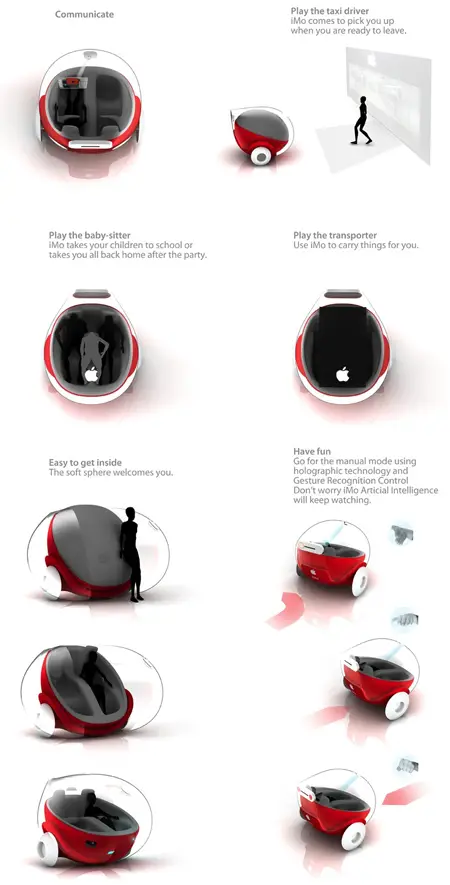 Designer : Anthony Jannarelly
---
What 's "Crab"? It's the personal concept of an artistic-technologic urban vehicle designed by Andrea Filogonio for the chaotic megapolis of tomorrow. Crab's design melts Art Noveau-inspired shapes to a real crab concept : Art Noveau for its elegance and sense of surfaces while a living crab for the freedom to move everywhere and in any direction. Moreover, its shell is very hard and protective.
Designer : Andrea Filogonio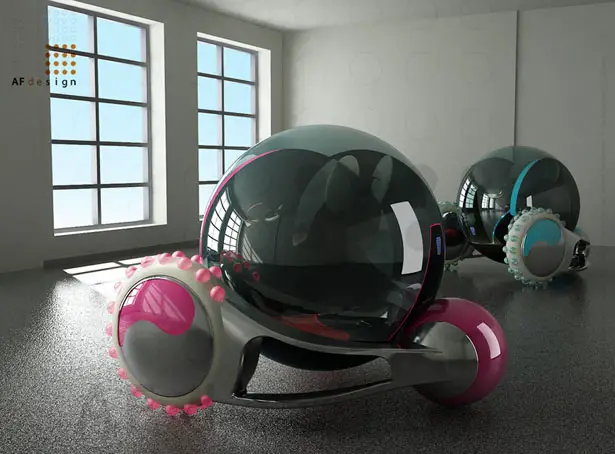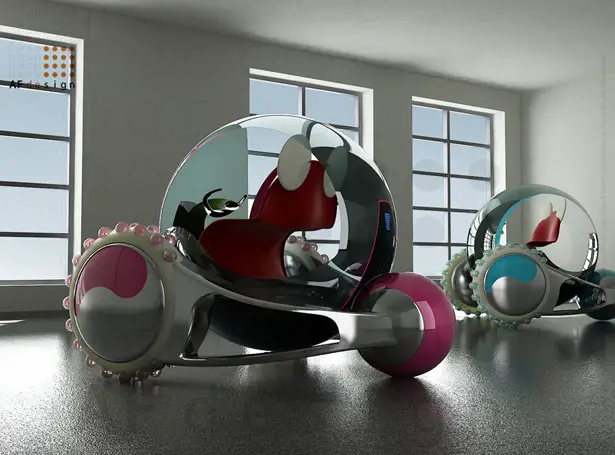 Now, leap forward and apply all that we've just said to the megalopolis of tomorrow: very busy, but with environmental awareness, luxury accustomed, socially involved and technologically advanced. "Crab" is elegant, shiny, customizable, comfortable, and safe. A small car for all the people with three wheels drive. The cabin is suspended and cushioned by an electrical field generated in the two chassis arms. So it's floating and not linked to the chassis, giving a soft response for better comfort. When the car is parked it's strongly attached to the chassis.
Each wheel has its electrical engine, linked externally to the suspension, so that every engine is at the same time: engine, suspension, brake, steering. All driven by wire. The large back sphere is the main steering device when the car is moving. In the parking-mode, the little spheres on the two front wheels allow you to move perpendicularly to the road.
When needed, the same system allows you to run light off-road increasing car height, to go to the beach, for example, using 3 wheels drive. You can adjust your car height and suspension stiffness, to increase its performance. "Crab" is very small, and we know the importance of space in the city. Besides, you can decide who's the driver without swapping your seat. The steering cloche, when the car is not moving, can shift from the left to the right.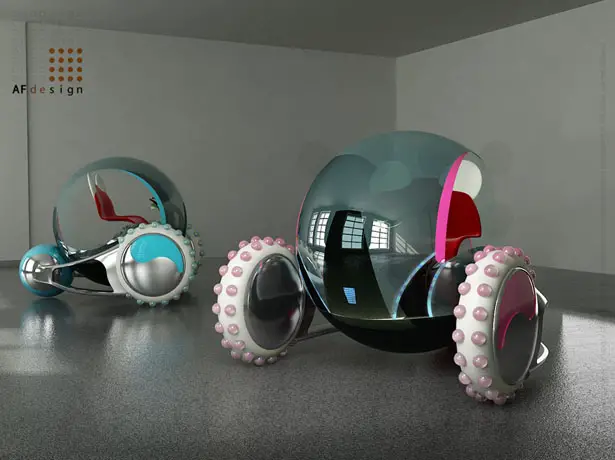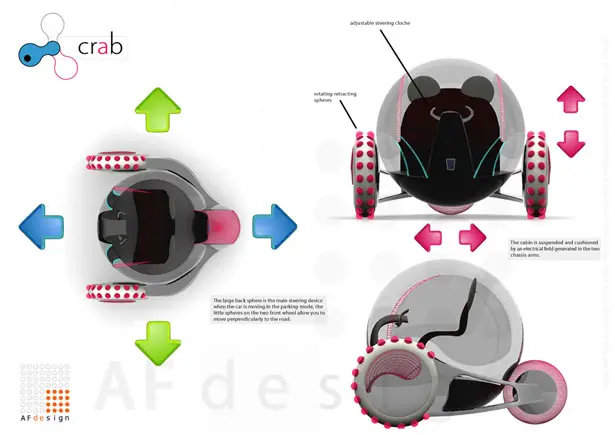 Click the above image for bigger view
"Crab": Copyright (c) afsmartdesign 2011. Any reproduction or use of this design project, images, logos or part of them is not allowed without Andrea Filogonio's written permission.
---