Satellite multifunctional grater is a kitchen product aiming to easing the grating process by making it more fun. It stands out with its ergonomic and hygienic design among other graters that are hard to use and clean kitchenware kind.
Satellite multifunctional grater has 7 alternative stainless steel knives. These knives can be used for mashing and cutting alongside grating. Each knife can be changed easily and dishwasher safe, this is the kind of specification that makes the product considerably hygienic and easy to clean. In addition, with its ergonomic handle and the enclosing shell that holds grater and knives together, Satellite is a product that is compatible with modern kitchen.
Designers : DesignNobis and Dr. Hakan Gürsu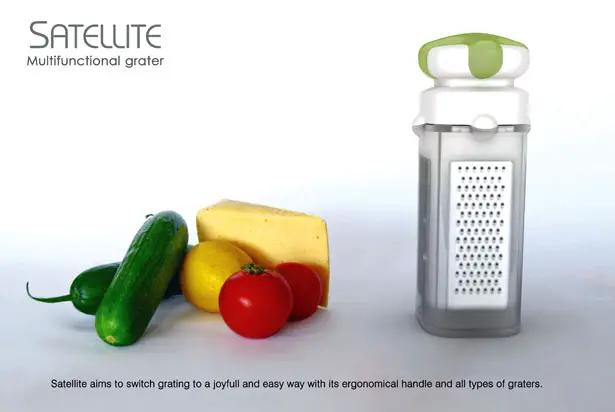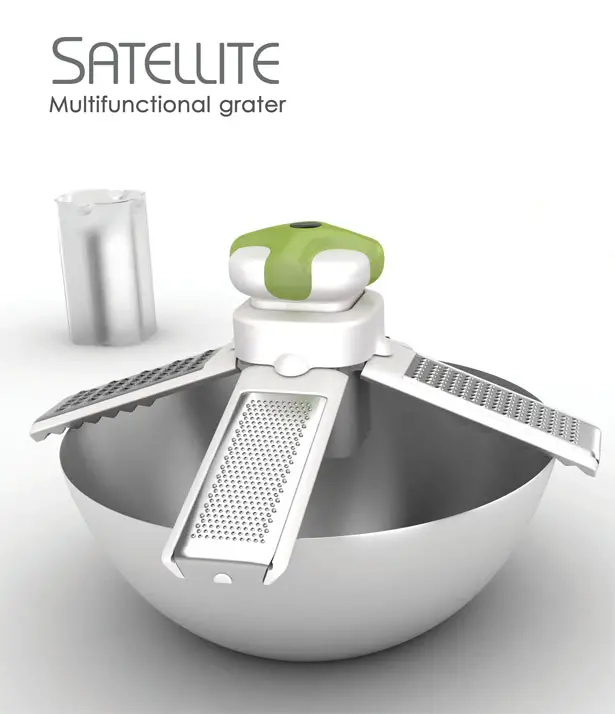 With its compact size, Satellite multifunctional grater uses very little space in your kitchen when it's closed. However, it fits to any plate, bowl or container that has an opening radius smaller than 30 cm, regardless of their depth. It can hold on to the sides of deep containers, while it also has legs to transform its wings to spread at the right angle in order to use on flat plates or cutting board. Satellite makes it easier to grate directly into the bowl.
The translucent enclosing shell holds the pieces together when the grater is not in use and makes it compact, while contributing to the visual quality of the product. The shell has slots for the three knives that are not on the grater and therefore it keeps the whole product hygienic.
The main body is made of ABS (Acrylonitrile butadiene styrene), while the translucent enclosing shell is composed of PP (Polypropylene). The knives are stainless steel. TPE (Thermo Plastic Elastomer) is used in handle for making it easier to hold and therefore to grate. Plastic parts are produced by injection molding, while the handle part is manufactured by co-injection.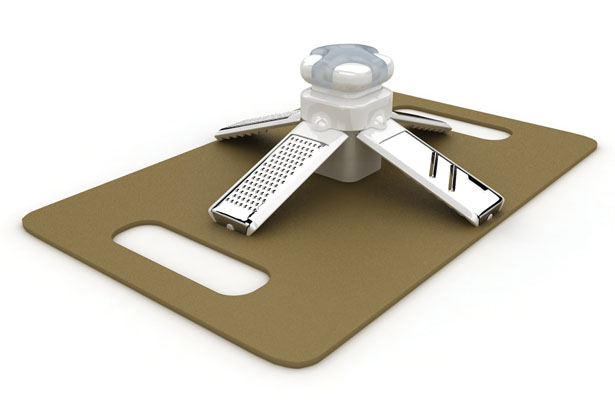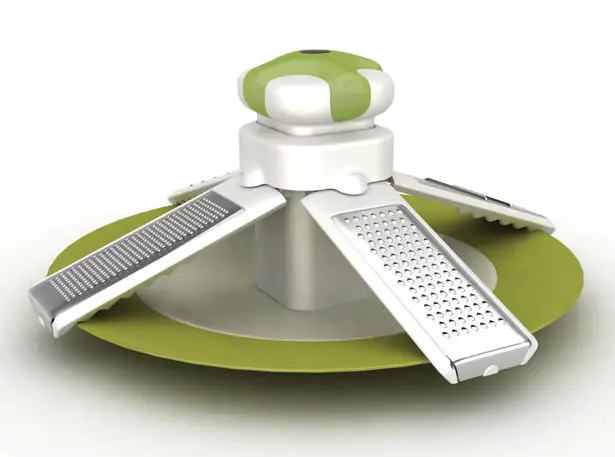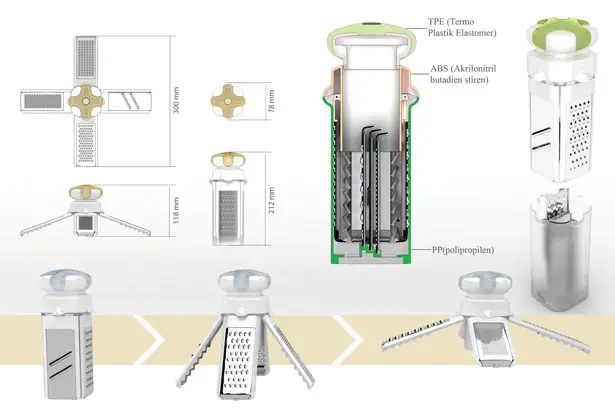 Click above image for bigger view
Tuvie has received "Satellite Multifunctional Grater" project from our 'Submit A Design' feature, where we welcome our readers to submit their design/concept for publication.
---
Hello Tomorrow phone concept has been designed with the intention to revive the magnificence desk phone that has been outclassed by those cellphone industries. If you are one of Tuvie's loyal readers, you'll notice that there are many futuristic designs for future cellphones but so few for our beloved desk phone.
Designer : Ronny Sauer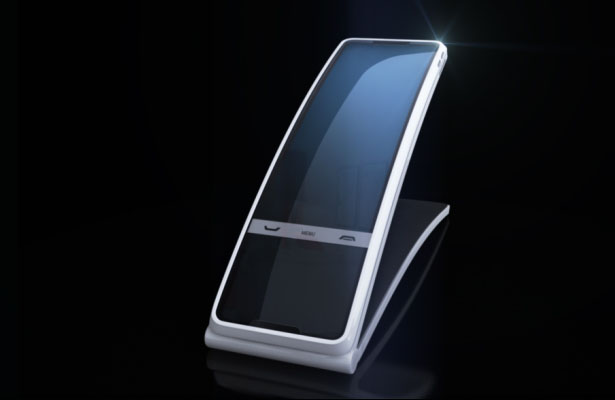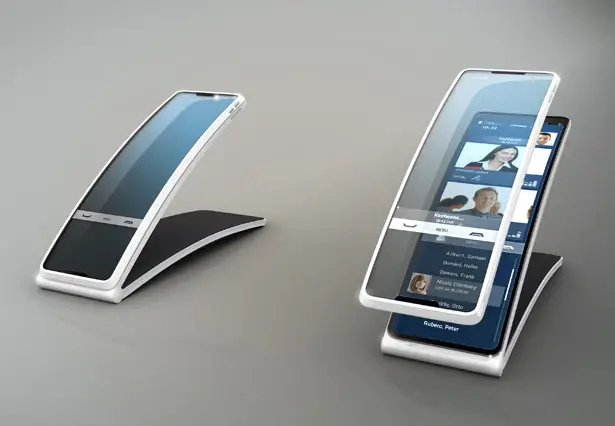 Hello Tomorrow phone concept features an adjustable interface where you can customize individually at home or in the office to meet your personal needs. You can also embed a clear display on the receiver to get all access to these phone functions, even when the receiver is docked on the phone. Thus, this phone can also be used to make conference calls. Keeping elderly people and children in mind, it is very important to design this phone to be able to make a call by using a single touch of a button. This should be really helpful when your children alone in the house and would like to make an emergency call.
Hello Tomorrow phone concept offers an evolution of today's desk phone into the future that elderly people and children can use.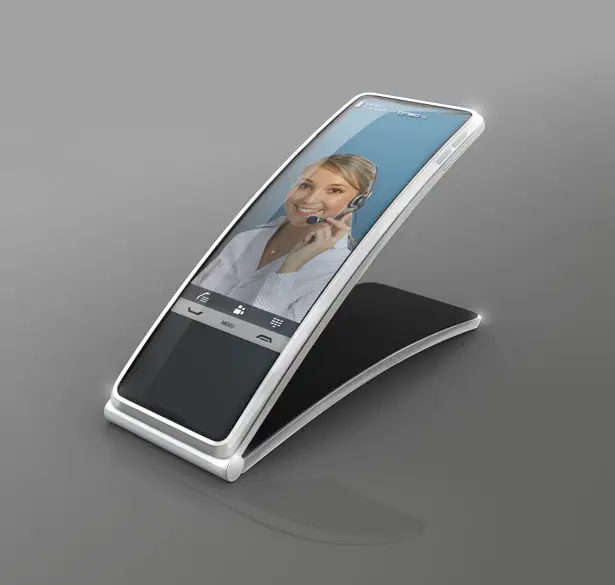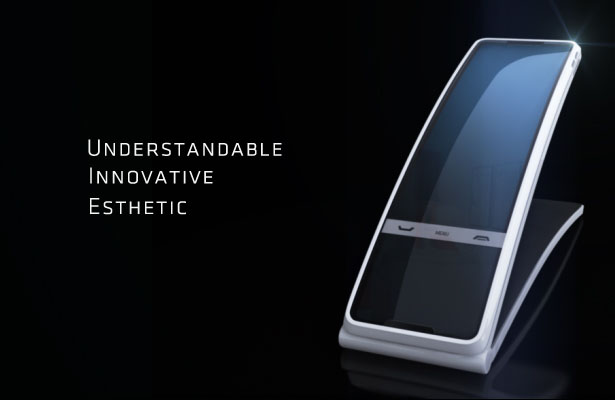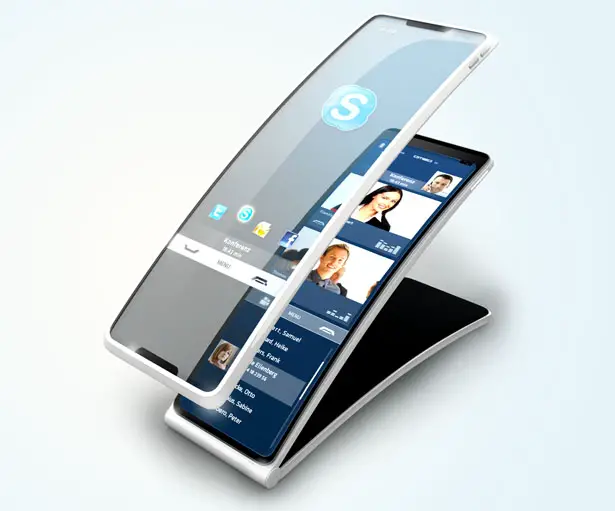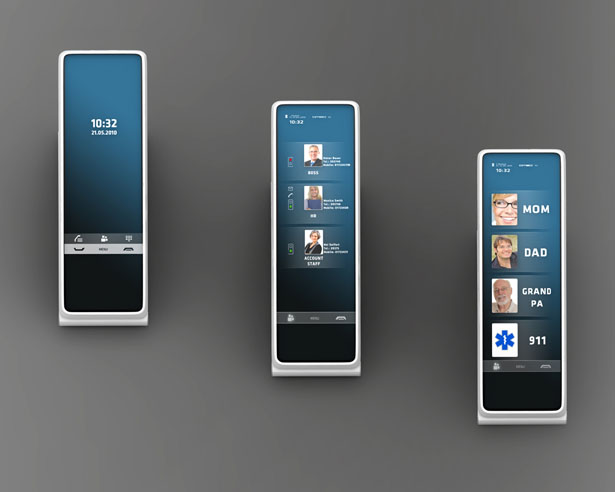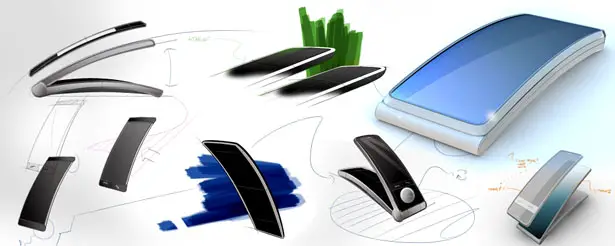 ---
Today, it is quite a pleasant surprise to see that a personal flight is getting closer to reality. It is no more a dream because Eclipse 400 Personal Jet has taken a right step in this direction. This is a single engine and four-seater Jet that has the capacity to travel up to 1,400 miles on a single tank at a maximum speed of around 380 mph. This private flight will cost you $1.35 million. Eclipse 400 has completely unique and classy design with combination of style and comfort. If you think you can afford this Private Jet then go for it.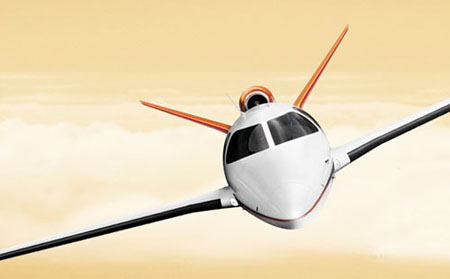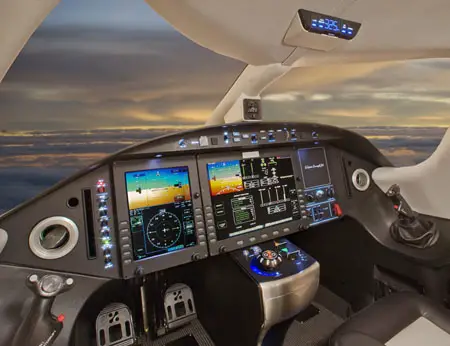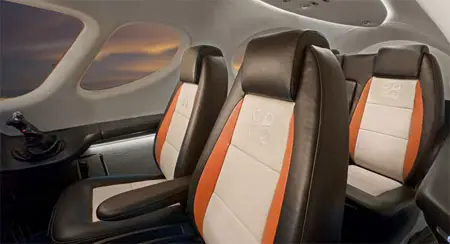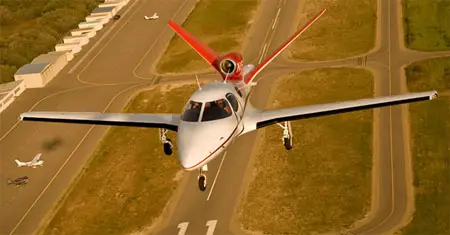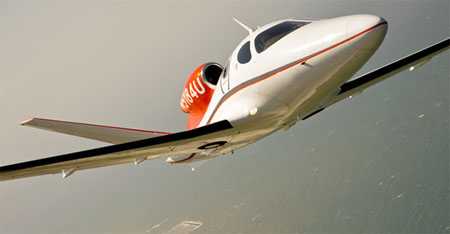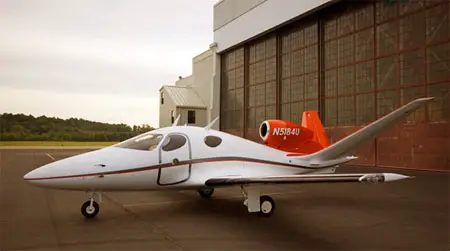 Designer : EclipseAviation
---