Helios is a grill with the energy-efficiency of a solar oven. It stores upright to keep a small footprint and easily cantilevers open and locks in place, when you are ready to cook. In order to maximize safety, Helios is designed so that the reflective solar dish is pointed away from you while cooking. If the time of day or weather is not appropriate for solar grilling, it features a retractable plug, stored in the base, as an alternative energy source. Helios utilizes a reflective parabolic dish to focus sunlight onto a solar receptor, transforming it into usable energy. The energy travels from the parabolic dish to the grilling platform and heats a coil in order to cook food. Green and Healthy with Helios grill.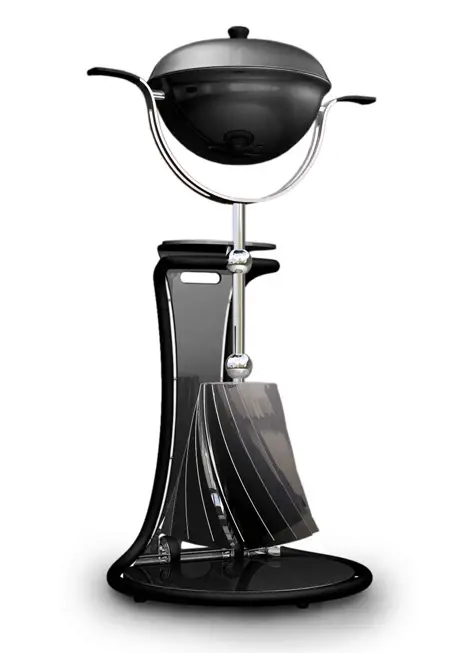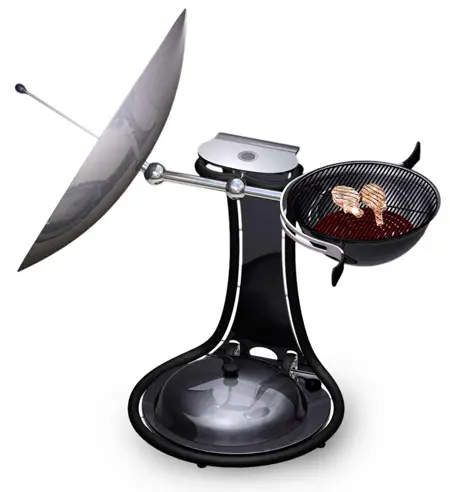 Designer : Sean McGreevy
---
Tea4Two is a portable concept electric tea kettle that can prepare tea for two persons at a time, one with its inner container and the cap of the kettle will act as a tea holder for another person. The simple and nice looking kettle offers great user friendly operating with only one functional power button that will switch on the kettle and will be switched off automatically once the tea is ready. The glossy body is made of highly durable and heat resistant plastic that can easily be cleaned with wet cloths.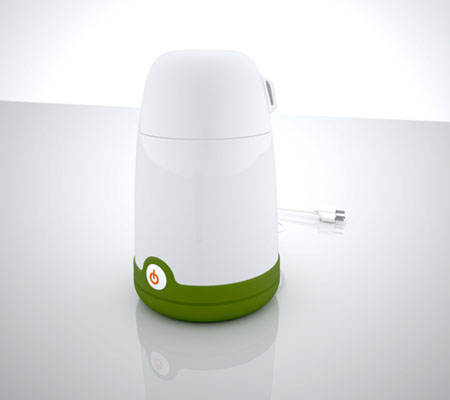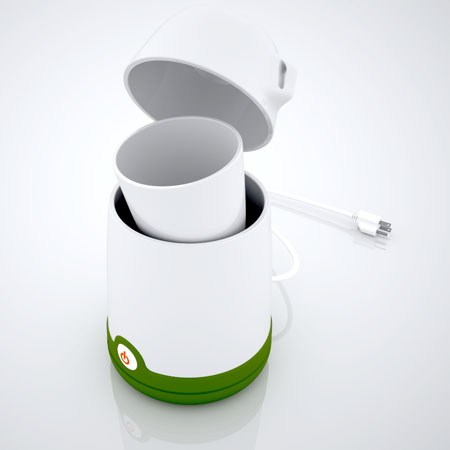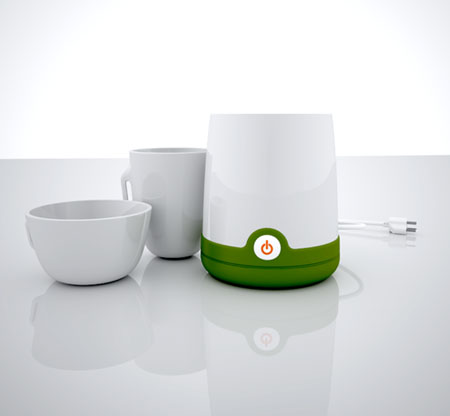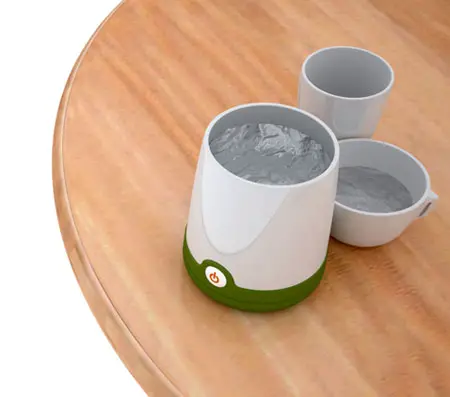 Designer : Ben Peterson
---
Levitation bike is an eco-friendly bicycle that charges your gadgets, from smartphones to tablets. It is mean to be used in our community since using this bike on the community scale would produce clean and sustainable energy, there's a USB port hidden at the handlebars. The pedal power produces energy, thanks to on-board generator, which is stored at high capacity batteries. You can monitor how much electricity has been generated through the LCD screen as well as your heart rate, and by the way, this bike doubles as WiFi hotspot as well.
When you need the electricity power stored in this bike, just connect your gadgets to the USB port, as simple as that. This bike also features "drain plug" system that allows you to offload any spare power back into the grid.
Designers : Michael Strain, Ramerio Diaz and Brandon Hartley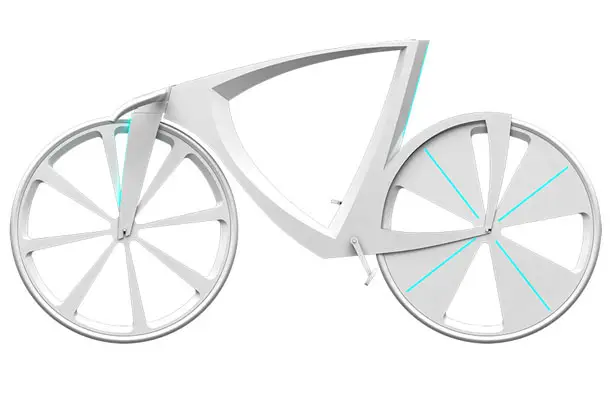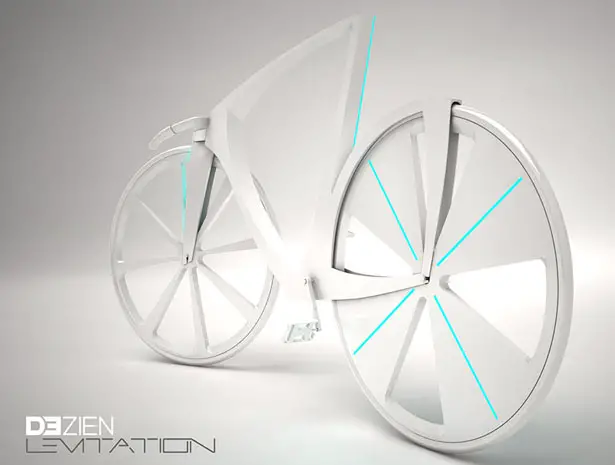 You probably notice something unusual with the bike's frame, it features triangular shape which is made from HIMACS material. The idea is to have everyone use this bike to produce free zero-carbon energy and practice healthy living while reducing carbon emissions during commuting.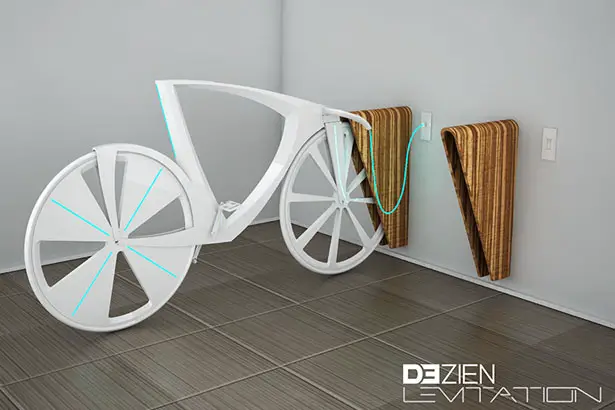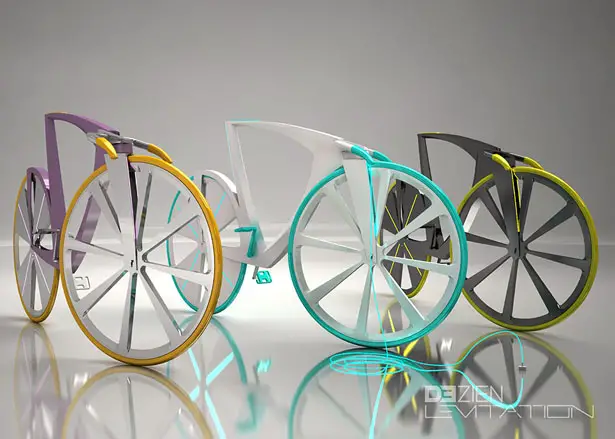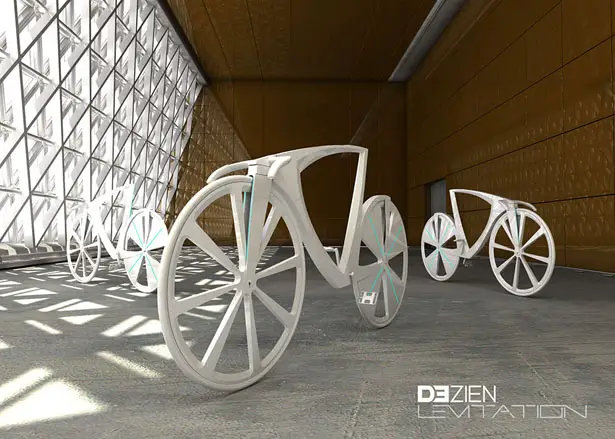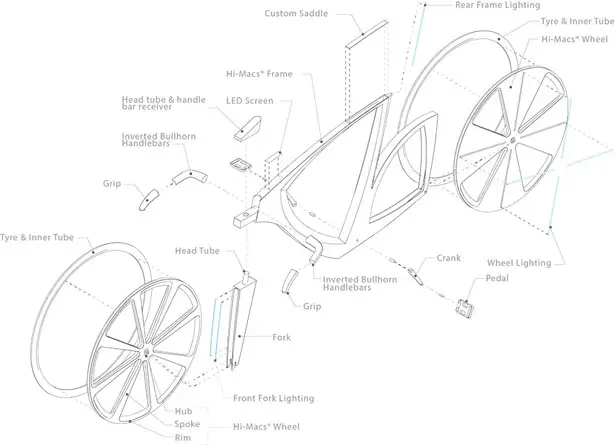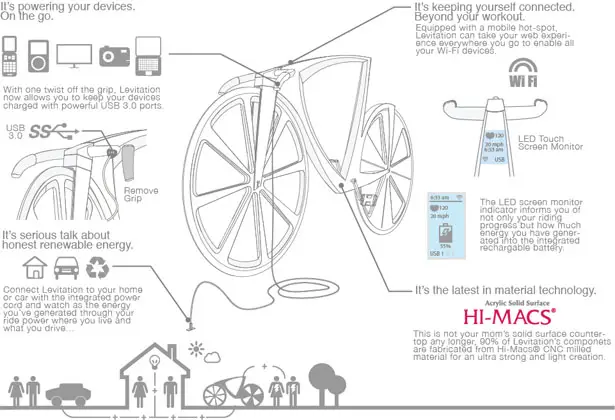 ---