Smartcall is a smart watch designed especially for hearing impaired people. This watch has the ability to alert or make calls to both hearing and speaking impaired people. They can't hear your calls or notice signals if you are behind of them. The device works with a paired Bluetooth and GPS enabled mobile phone or two paired smart call watches. The device is useful between two impaired users or one impaired and other non-impaired user. Press and hold the call button to make an alert or to respond to one, the receiver would get a vibration feedback when receiving an alert. The Bluetooth technology transfers the call to vibration and GPS locates the direction of an alert, also the user can give an alert to a group of people in the Bluetooth range.
If both users are hearing and speaking impaired then they can use smart call watch to transfer alert or call if the device is already paired. At the same time, if the first user is impaired and other is non-impaired, this Bluetooth and GPS enabled mobile phone can be used to make a call or send noise alert if you installed a smart-call application in your phone. The impaired people should always wear the smart-call watch like blinds carrying their walking stick.
Designer : Raees PK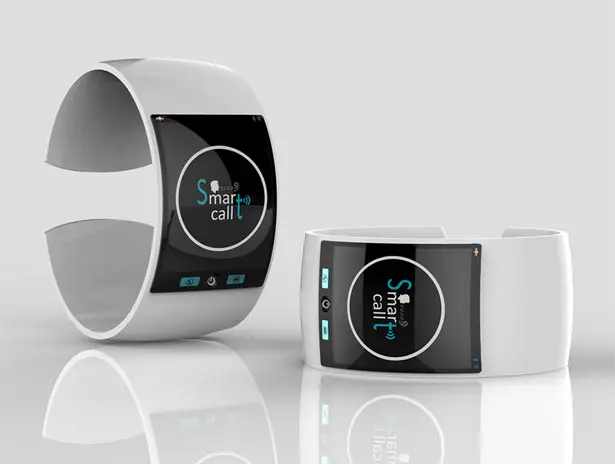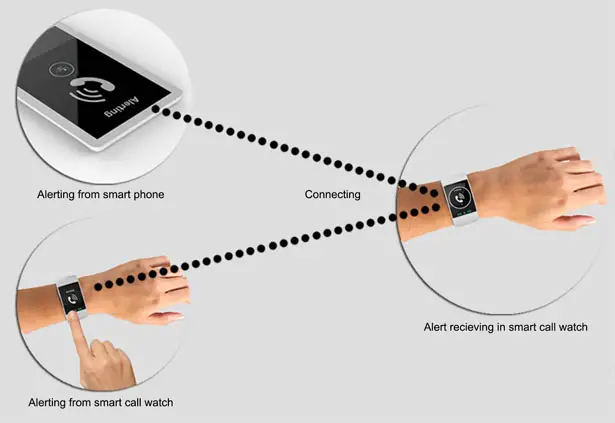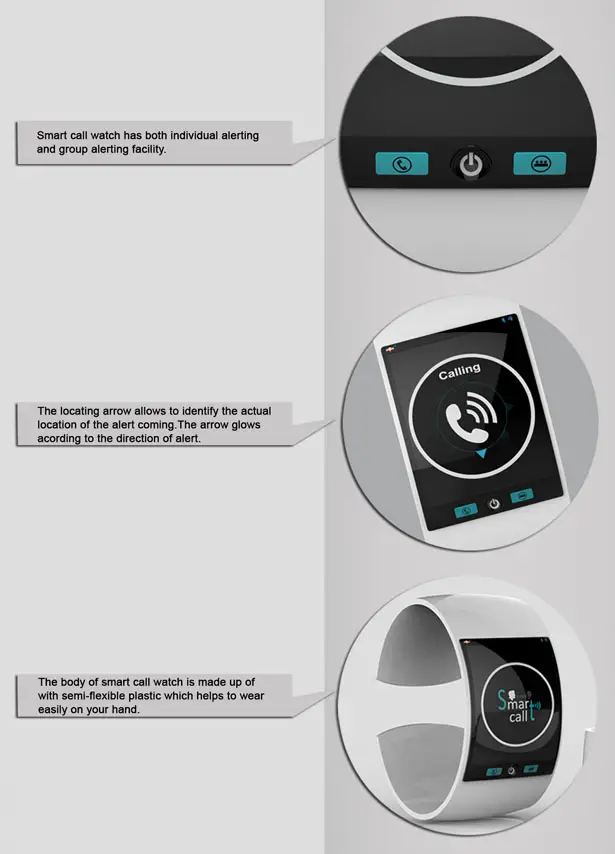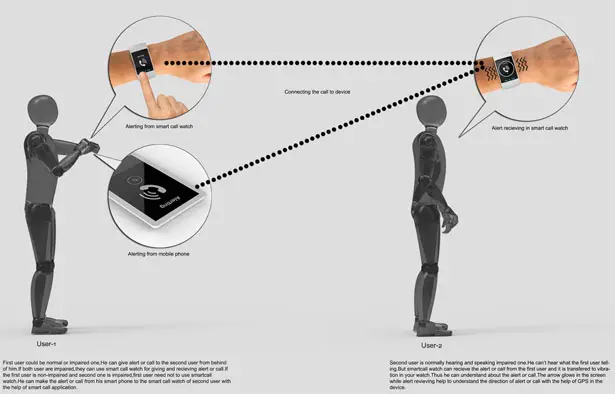 Click above image for bigger view
Tuvie has received "Smartcall Smart Watch" project from our 'Submit A Design' feature, where we welcome our readers to submit their design/concept for publication.
---
Amazing! Yes, we are amazed by the design of A4 Foldable Scooter. George Mabey has done a great job in redefining the meaning of portable transportation. We already have foldable scooter in the market but nothing like this, some of them are even too bulky and awkward to carry. A4 scooter design can be folded compact enough that you can toss it inside a handbag, yep, this award-winning concept is so small that you won't even bother others when carry it on a bus or a train.
This concept scooter is developed by linking pieces of aluminum with a cable. User can tighten and pull these pieces together to support an adult's weight. This scooter weighs just around 11lbs or 5kg, very light for a vehicle. If you are interested in this product, you might want to prepare for £1,000, it might be commercially available soon.
Designer : George Mabey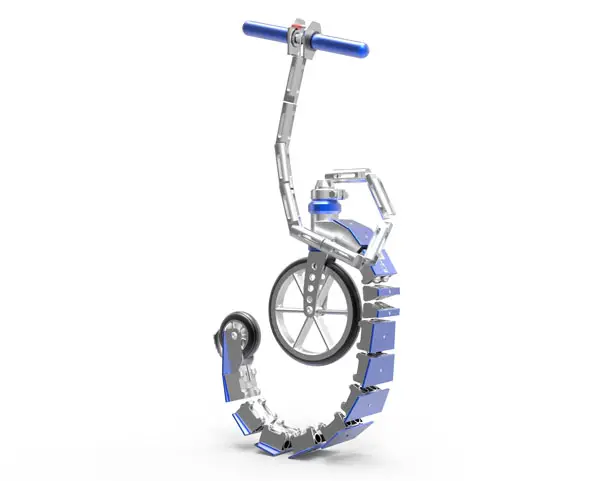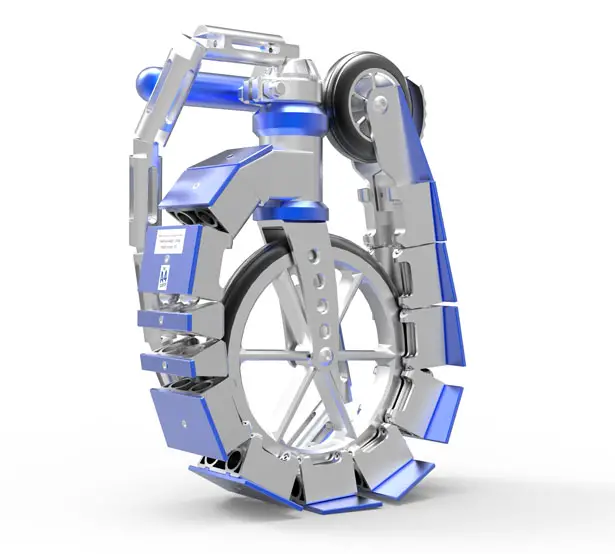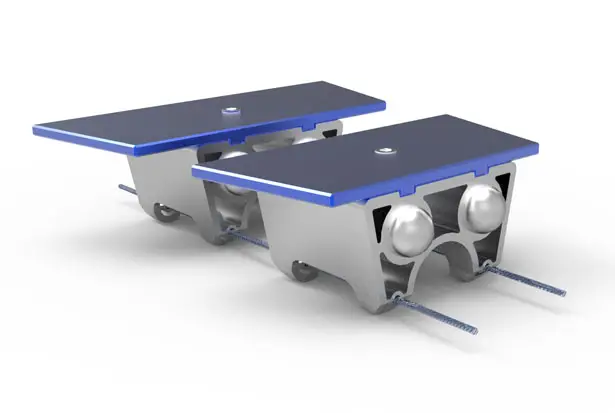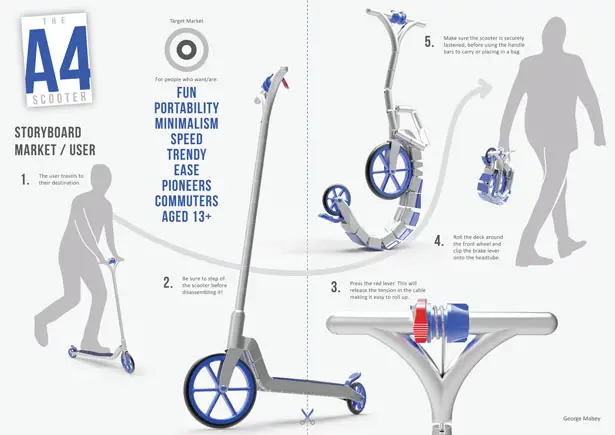 Click above image for bigger view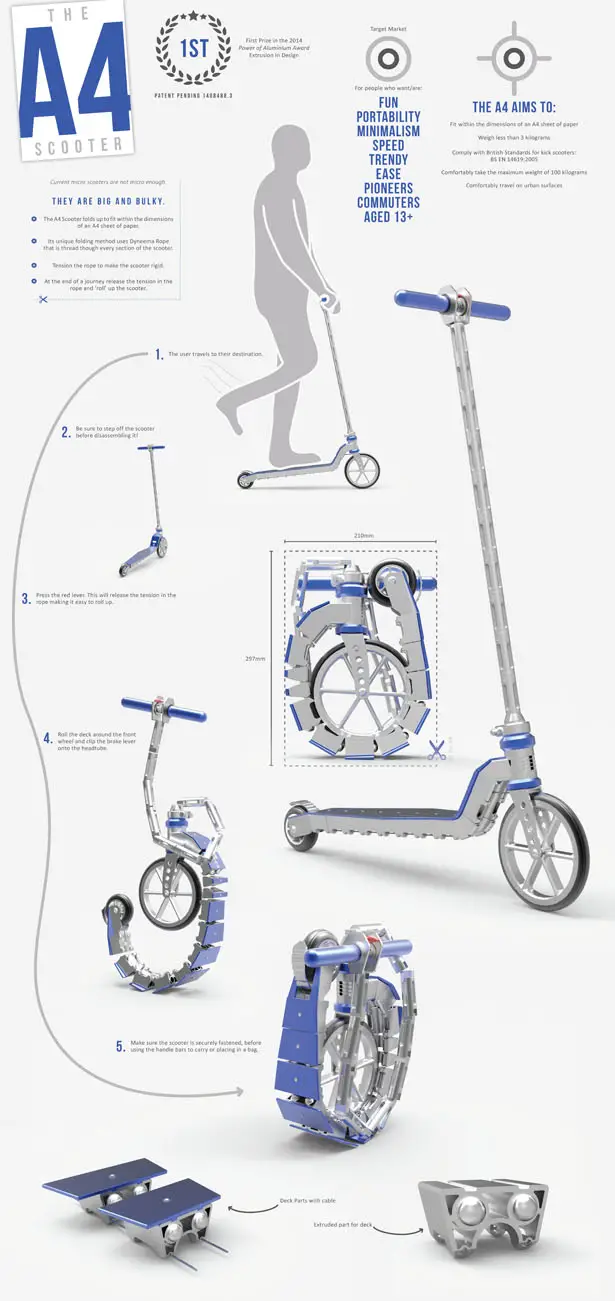 ---
The Marionette Clock is a unique concept clock, where the entire wall acts as a clock and the hand is attached with strings that are clasped up to a conveyor on the top. The innovative design of this clock has made it like a puppet play, performed by the Mint boys, who are moving the clock's hand by controlling the strings, while riding on a roller between their legs that are powered by electric motor.
Marionette boys control the vertical wires attached to the clock's hand by winding and unwinding the crank. The vertical wiring is controlled by the stepper motor and the function of its module is to calculate the vertical wire's length to a high level of accuracy. Display of time is done by calculating the vertical wire length and the unicycle's position to their appropriate figure. The unicycle, on which the Marionette boys ride, is made of "Mycom", which runs by the stepper motors and let the Marionette boys stay put. The Marionette boys are equipped with rechargeable and interchangeable battery, kept in a backpack on their backs for better balance and this unique design prevents the ride of the boys from falling off, even when they are positioned in an angle.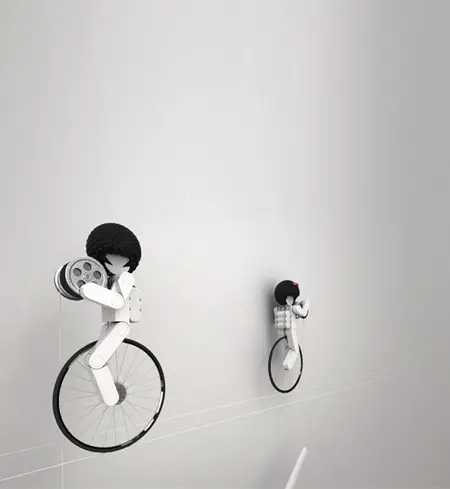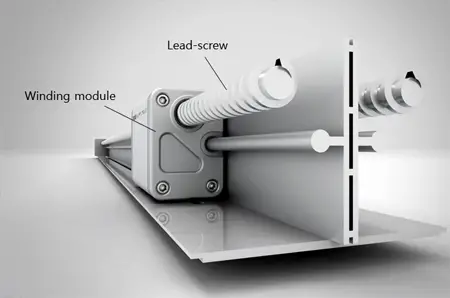 Marionette clock forms a kind of tiny circus show with two moving Marionette boys back and forth on a unicycle to show the time which certainly will create an artistic sensation.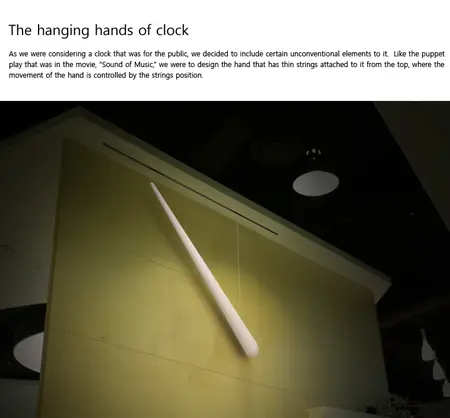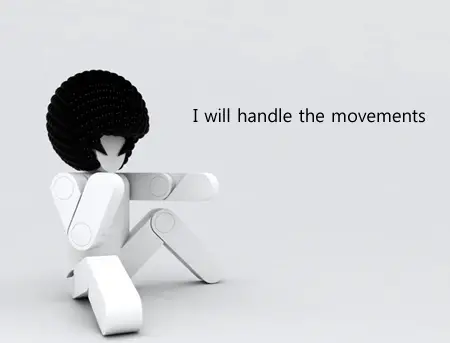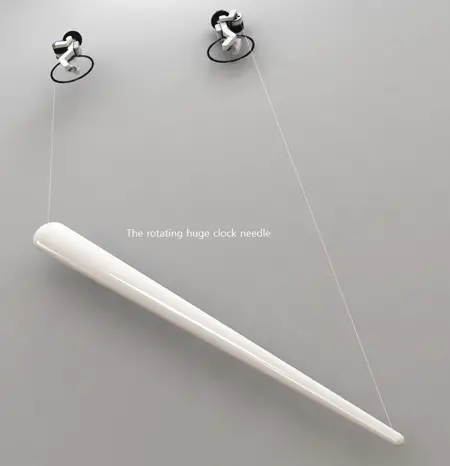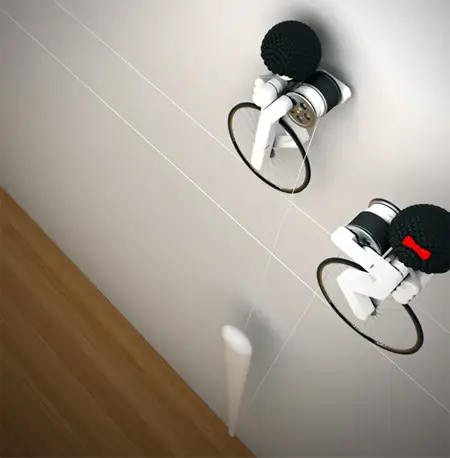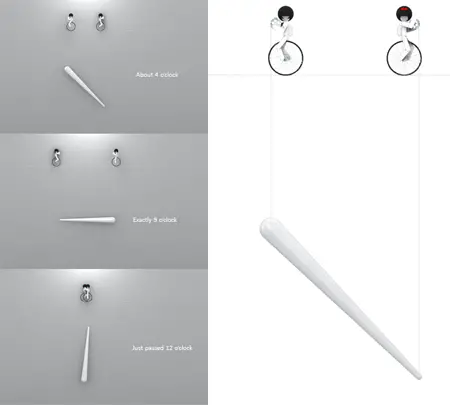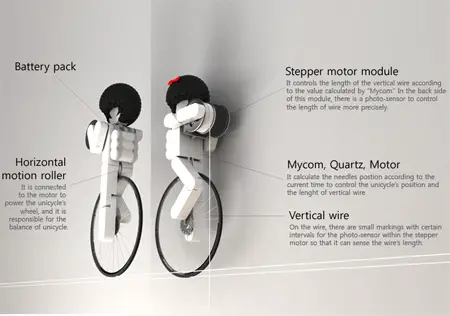 Designer : Mintpass
---