Australia's outback areas are unpaved and uncharted areas, they are accessible by Australian aboriginals in their traditional Walkabouts. Palm Valley Buggy has been designed to provide you a reliable vehicle when you exploring these areas, it is far more effective compared to riding a standard vehicle.
Inspired by Australian lizard, the design features modern buggy design with flexible body, thus giving much of suspension. Each wheel is equipped with electric motor while the battery blends perfectly with the body. All seats are hung from the main frame so that they can be brought up and down or tilt depending on the environment. The arm structure that connects the wheel can flex, extend, and tilt, this gives lots of possibilities to the vehicle.
Designers : Mehdi Alamdari and Ali Doostdar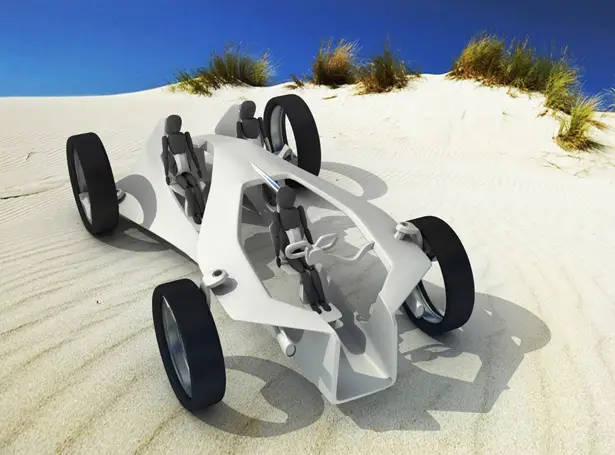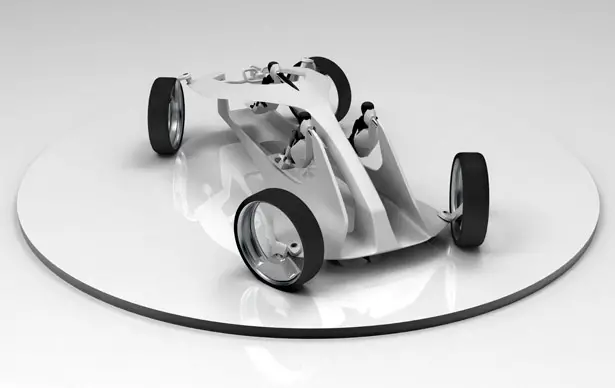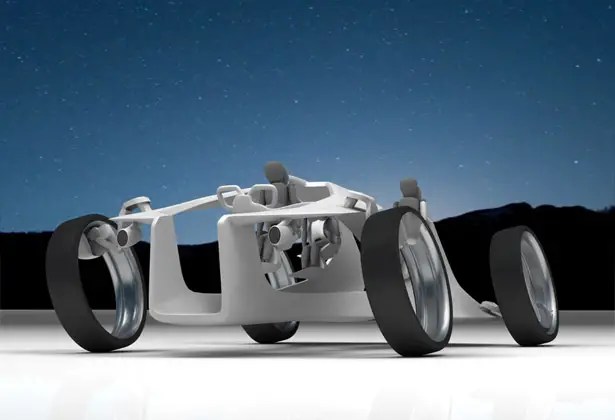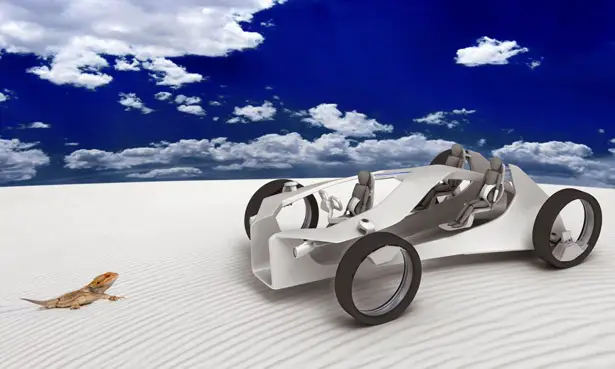 ---
Mobility designers Springtime (Amsterdam) developed an E-bike for a very specific target group that currently isn't addressed by this category of bicycles: students. The result: Adam, a bike that is awesome to see, great to ride and incredibly adaptive to a student's 24-hour lifestyle. A user centered design exploration.
Amsterdam is one of the world's bicycle capitals. This makes it a great place to do research on different use patterns amongst the various demographic groups in the city. The design team went into town for several days, armed with camera and notebook. They identified a number of groups with clearly different cycling behavior: commuters, school kids, students, families, senior citizens, tourists. There is great variation in the types of bicycle they ride, the frequency of use, the luggage solutions they have, the physical state of their bikes, etc.
The E-bike category originates from a supporting, senior citizen perspective. Over time, the product has reached the group of daily commuters, and is even picking up in active sports like downhill mountain biking. So what could an E-bike mean for some of the other groups? They picked the students and developed some day-in-the-life scenarios for them.
Being a student can mean a couple of things for your bike use:
You have a daily commute to your school. An E-drive might be just what you are looking for those stormy morning commutes during Fall.
You'll bring electronic devices like laptops, phone and use them throughout the day. Where is a power outlet when you need one?
During lunch breaks and after class, you might hang outside with your friends. Some music might be nice.
You're likely to have a social evening program at least 2-3 nights a week. But parking your valuable E-bike outside of a bar doesn't seem a good idea, does it?
So how could an E-bike support all of this? Expanding the definition of E-bike to "having electricity on your bike", this has provided lots of room for thought and ideation. The result: Adam. (where a'dam is short for Amsterdam).
Designers : John Kock, Niels Caris, Coline Jarry, and Stijn Kroeze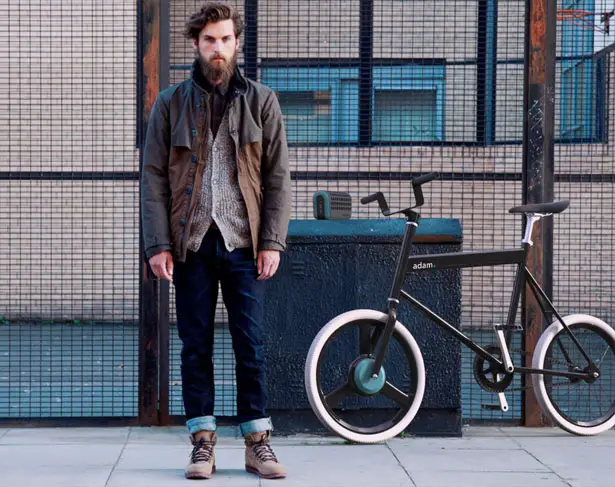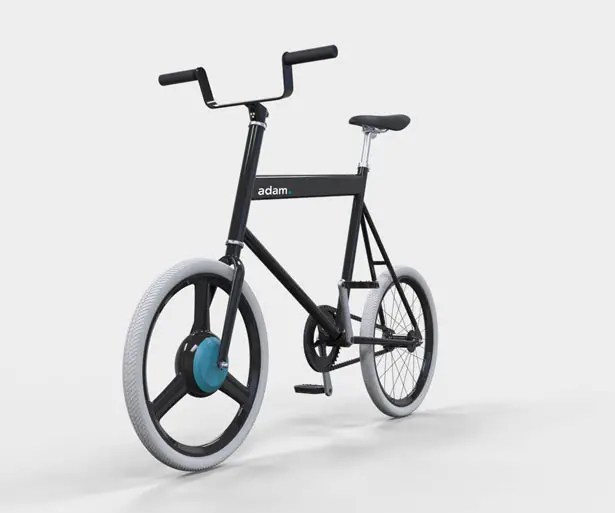 Adam is a 20-inch minimal single-speed bike that is built to survive city use and look awesome while doing so. A front wheel hub motor that is fully incorporated in the front wheel design power assists the bike when needed. The detachable battery is placed on the handle bar and doubles as a portable speaker and power bank. The use scenario is immensely versatile.
During your commute, you can make use of the electric drive, and use your phone for navigation, reading incoming messages or play music.
In school, take out the battery and you have a great power bank to charge your laptop or phone, and play music during the breaks
In the evening, simply leave home the battery and you have a rock solid naked bicycle to enter the nightlife. No vulnerable cables, nothing to break or take off. The only remaining part of the electric drive, motor, remains safely integrated in the wheel.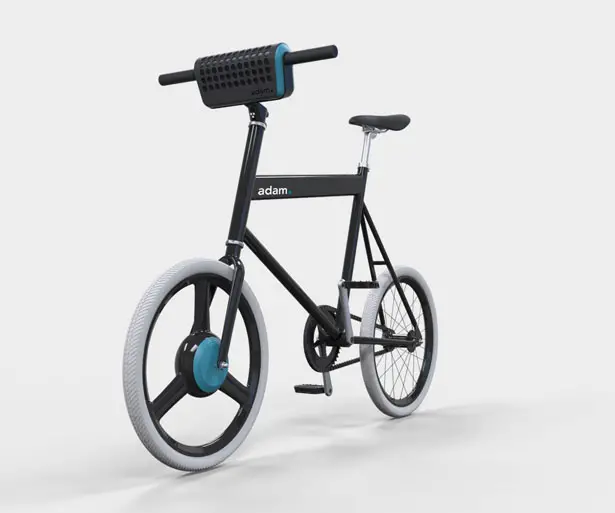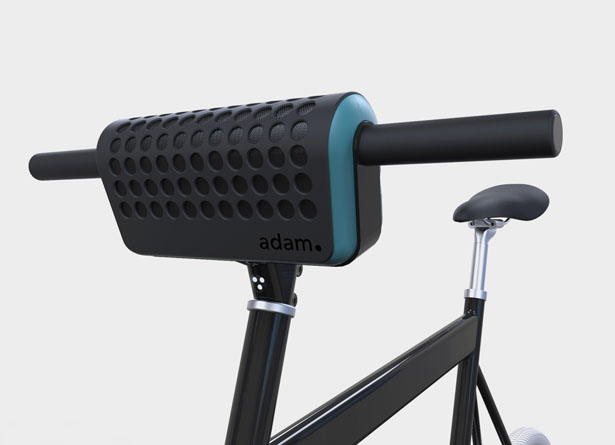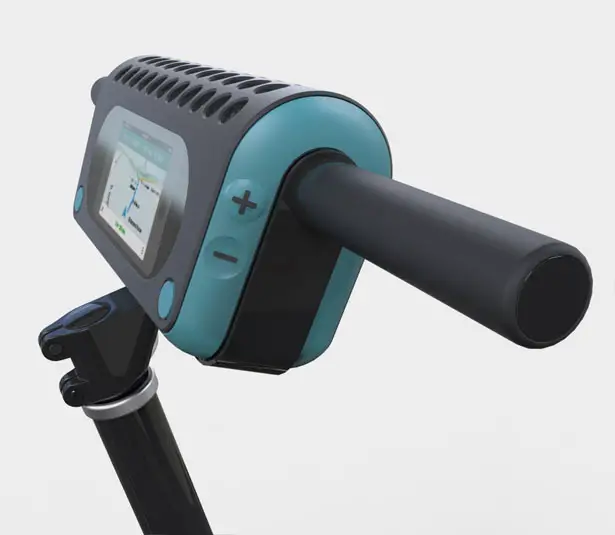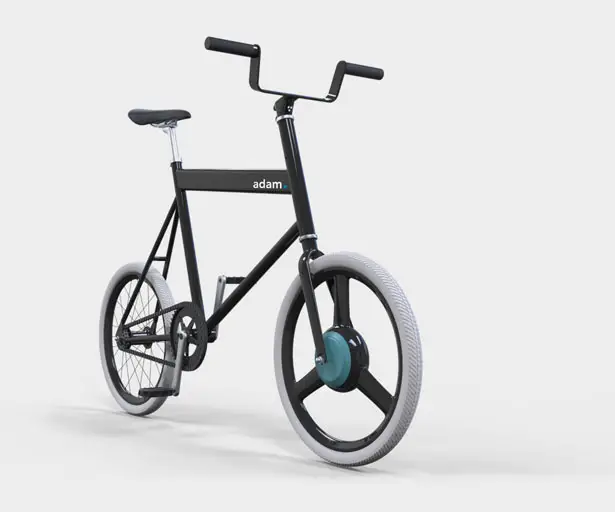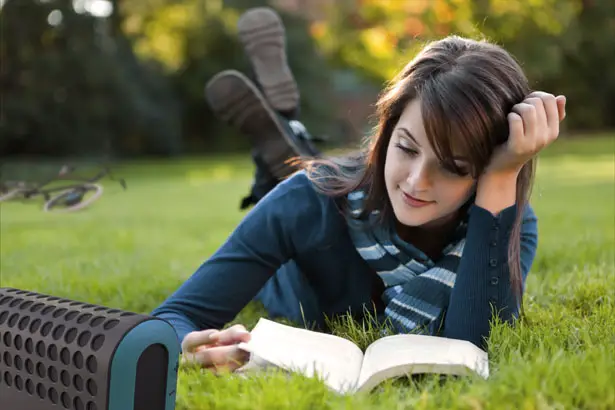 Tuvie has received "Adam Student e-Bike" project from our 'Submit A Design' feature, where we welcome our readers to submit their design/concept for publication.
---
The rising cost of fuel has become a big matter of concern these days. Adding up to this is the increasing amount of pollution in the city, all of which contributes to depleting the quality of air. Based on Department of Transport (England) 55 percent of UK emissions results from cars and taxis, while the remaining from coal burning as well as lorry exhaust. To deal with such situations, OPTI driverless taxi intends to create another mode of transport that not only reduces emissions but transports people within city environments. This project has been proposed for people commuting to London. The concept is pretty simple. This vehicle, acting as a taxi or bus, would have hire points at central bus as well as train stations. Lithium ion batteries located within the chassis floor is the main source of power for the vehicle. The shape of the vehicle is small as to accommodate for short voyages. The seating position has been designed to be upright instead of laid back to design a smaller vehicle.
Designer : Paul Piliste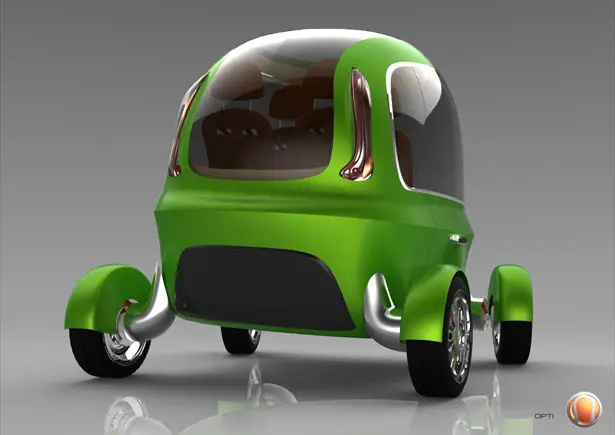 Another interesting feature of this vehicle is that, it is equipped with satellite navigation, proximity lasers, parking sensors as well as cameras, which make the OPTI, available 24 hours a day. The payment method appears to be via credit or debit card, generally verified using 3G. This purges robbery of the vehicle. Perhaps, the 3G is used to check the vehicles location for safety purpose. Even though OPTI driverless taxi is intended for 2025, but I hope that it arrives here sooner.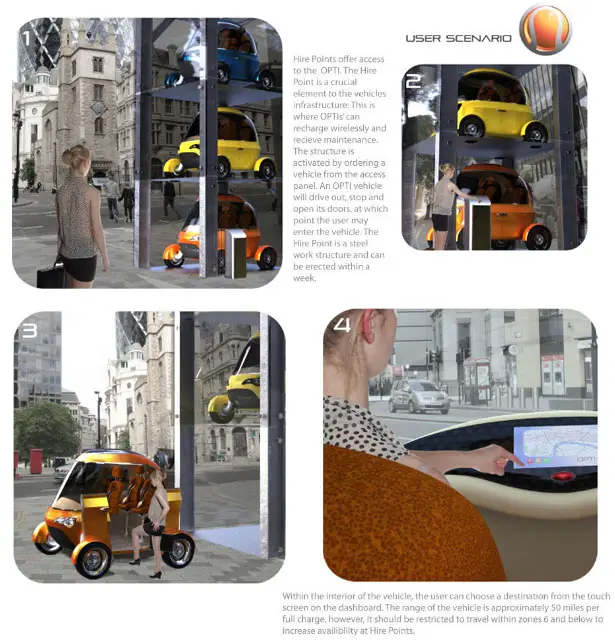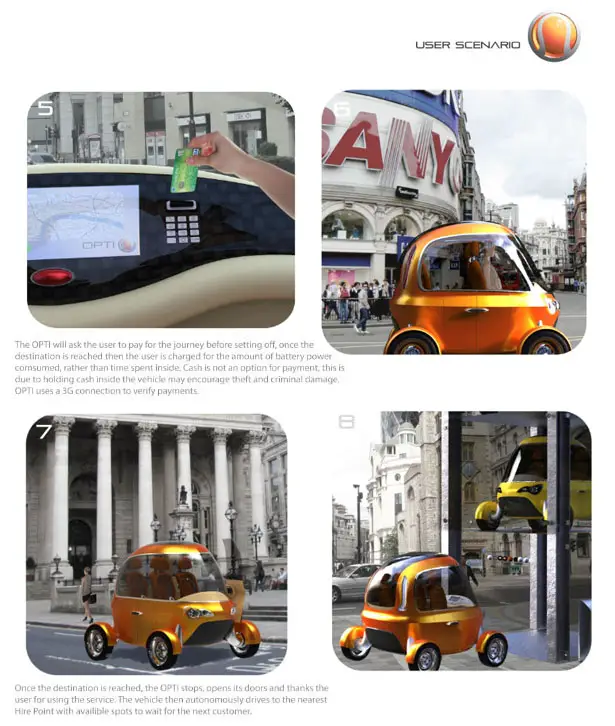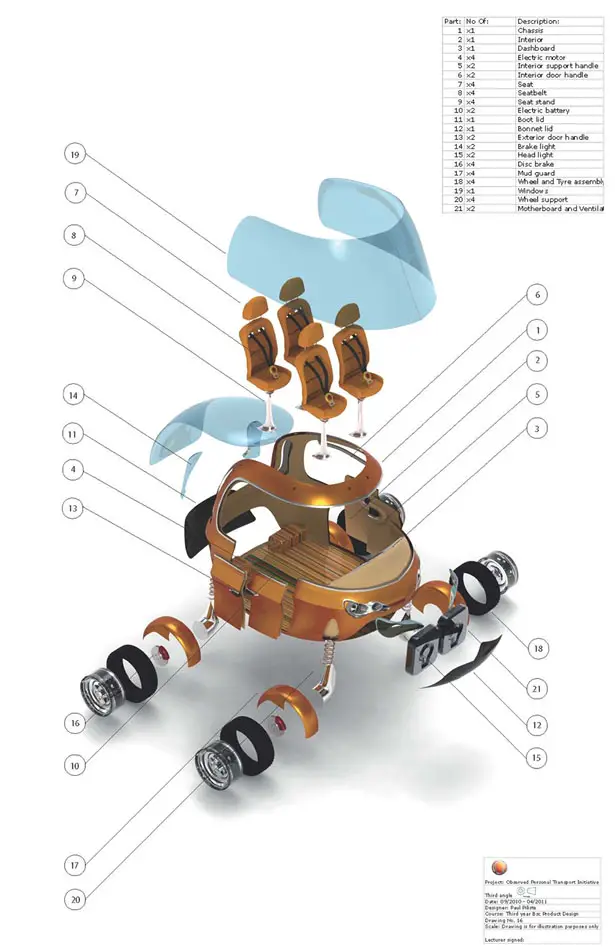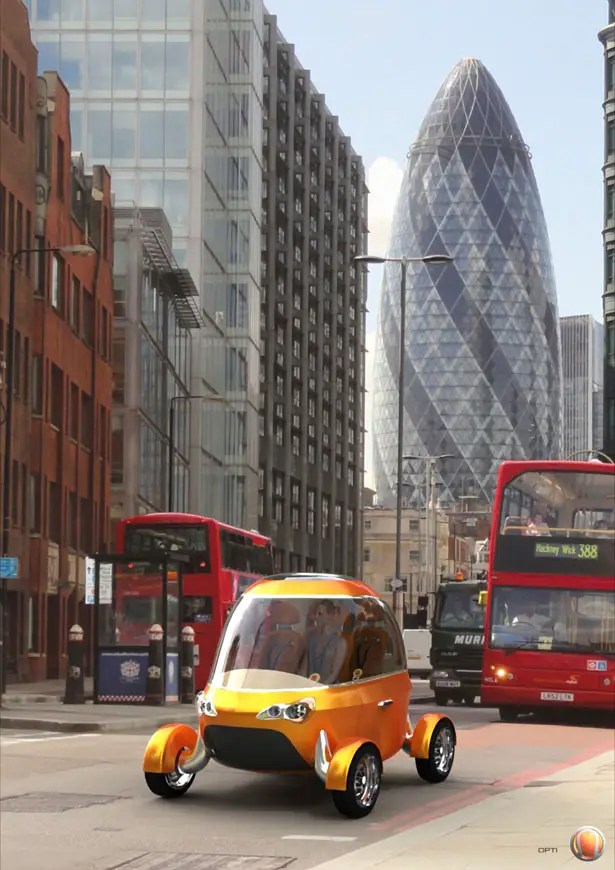 Tuvie has received this project from our 'Submit A Design' feature, where we welcome our readers to submit their design/concept for publication.
---