You might already familiar with this 3 wheeler concept, Johnathan Cote just tried to offer his re-design proposal for the legendary T-REX. With the the first prototype released in 1994, the T-REX is a pioneer in the rapidly expanding world of modern 3-wheeled transport that has now spawned such exotic gems as the Can-Am Spyder, Brudeli's Three-Wheel Leanster, TriRod's F3 Adrenaline and the upcoming ZAP Alias highway electric car. While respecting the T-Rex's DNA, this remodeling offers refreshing new lines and added new assets. Overall, the beauty of this design imparts elegance and refinement worthy of the best sports cars.
Jonathan new design integrates several storage areas into the vehicle, blending cargo space into the vehicle's outline and adding a small storage space and two smaller glove compartments in the front. Two windshield versions are also catered for: raised or F1 style.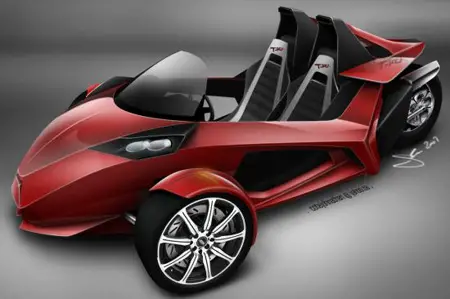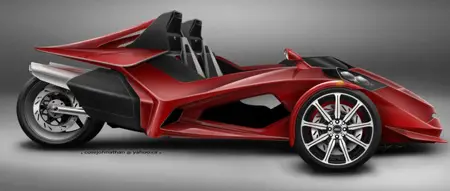 Designer : Johnathan Cote
---
Showerhead and speaker in one brings out the singer in you, this is what Kohler Moxie Showerhead and Wireless Speaker all about. The speaker is located in the middle of showerhead, attached using embedded magnets, don't worry, its 60-angled nozzles will still provide you with full spray coverage. Admit it guys, you all love singing in the shower because bathroom offers excellent acoustics to hit high notes, oh yeah, suddenly you are a bathroom diva. Pair this shower head wirelessly with your music player or smartphone via Bluetooth to bring music to you shower, the speaker offers clean and crystal clear sound. Once you make the connection, you don't have to cut the song short, just dance away from shower to dressing room before you head out the door, nice heh?
Kohler Moxie Showerhead and Wireless Speaker comes with built-in rechargeable lithium-ion battery which can provide you up to 7 hours of continuous music play. There's a LED light to indicate if the battery's low, it's in pairing mode, or charging is completed.
From : Kohler [Buy it here]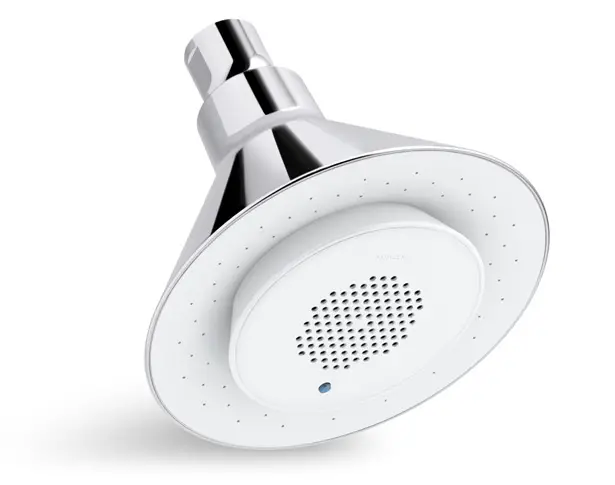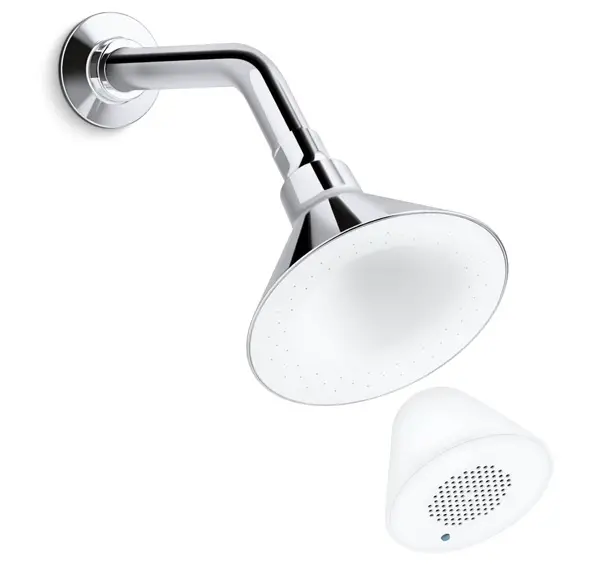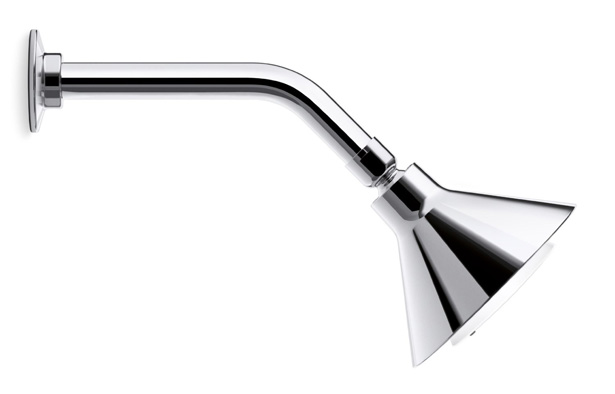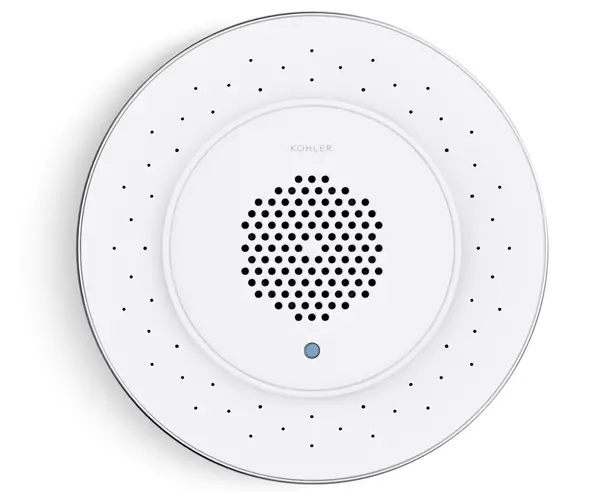 ---
Most of patients don't carry their Epinephrine auto-injector around and usually after 3 months, they forget how to use EpiPen. EpiShell Epinephrine Injector is a concept EpiPen inspired by the use of smartphone. Yes, most people have and carry this little gadget as if their life depends on it, patients also need to make an emergency call after injection, not to mention smartphone also functions as reminder and deflect medical fear. This project combines portable power charger for your smartphone with Epi-pen, it works as a complement of your smartphone and health.
The goal of EpiShell design is to become a user-centered solution for Epinephrine injector carriers, hopefully it deflects user's fear for using an injector and reminds patients to always carry it daily. The integrated wireless mobile charger, Bluetooth connection and voice guidance make it a handy device to carry. The voice guidance feature is activated automatically from the cell phone when EpiShell is opened. There are only 3 easy steps to perform the injection. User has the ability to manage functions of this medical device such as IFU, emergence contact, Bluetooth connection, and refill/exp. date reminder. It works more than just medical device in your daily life.
Designer : Hong Ying Guo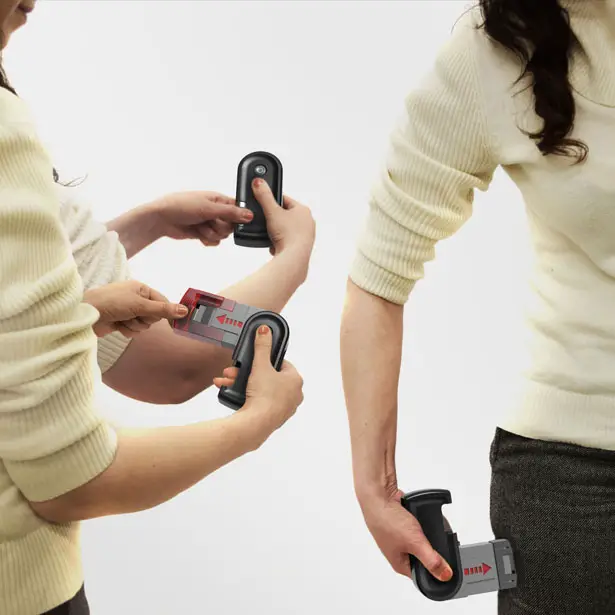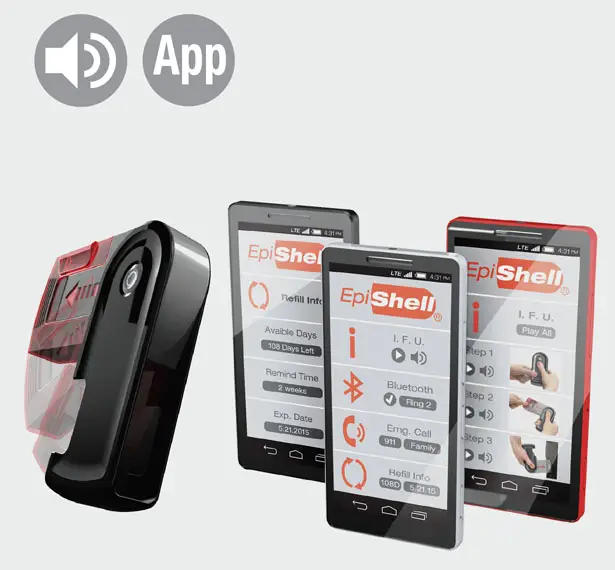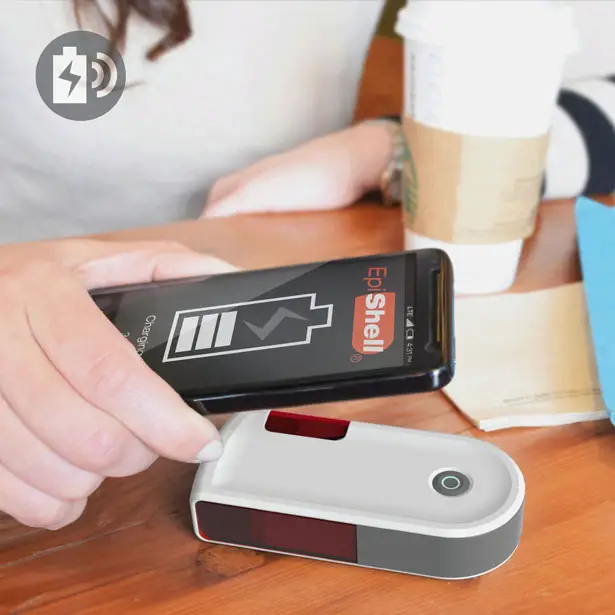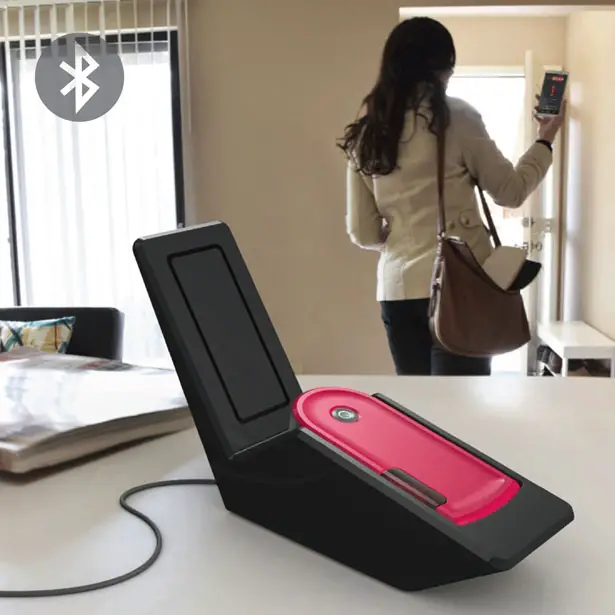 ---